On Saturday, October 25th, DEFY presents Kingdom Come on FITE TV. The show emanates from Washington Hall and features five matches. Among them, includes one match is a feature involving the King himself, Minoru Suzuki, and longtime visitor to the DEFY faithful, 'Filthy' Tom Lawlor.
We will also witness two DEFY championship matches on the card as well. So who will retain and who will walk out as the DEFY Worldwide Tag Champions and DEFY Women's Champion? Here is our preview for Kingdom Come on FITE TV.
DEFY presents Kingdom Come
DEFY Worldwise Tag Championship
State of Emergency with Tara (c) vs. Second Gear Crew (Mance Warner & Matthew Justice)
The Canadian duo of Miles Deville and Sebastian Wolfe come to Washington Hall to prove how dominant a tandem they are. But standing in their way is a team that is as willing to do as much damage to themselves as they are to their opposition. Warner and Justice are two of the current faces of ultraviolence.
But this match won't cultivate doors or light tubes when they stand across each other. Instead, they will put the current DEFY Worldwide Tag Championships on the line with the risk of losing great, but how they lose them is even greater.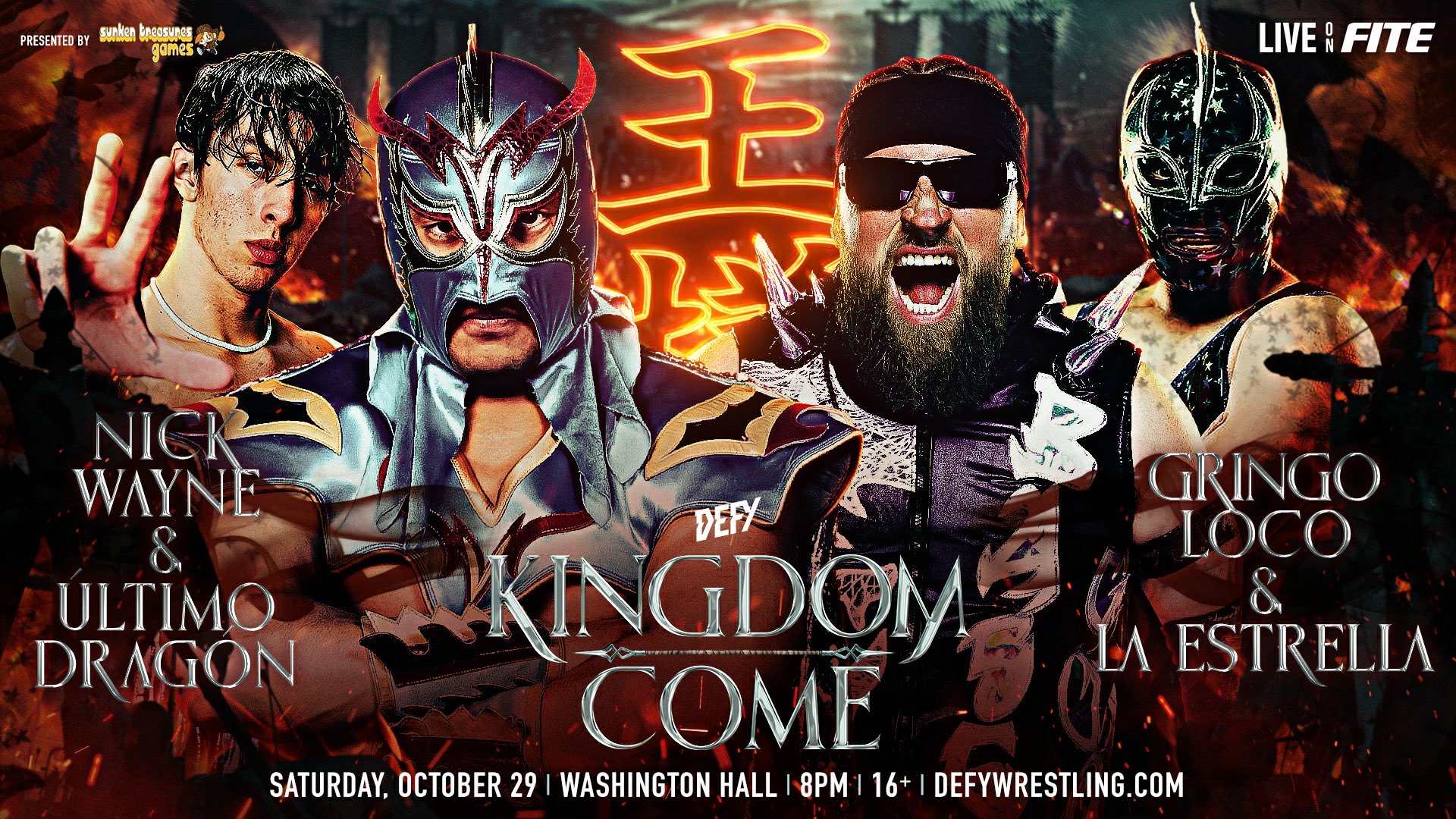 DEFY presents Kingdom Come
Nick Wayne and Ultimo Dragon vs. Gringo Loco and La Estrella
In a match that pits a team with more than three times one of their ages between them, it is sure to be a battle that will be hard to catch all the action. Nick Wayne is 17 years of age. His tag team partner is 55 years of age. Dragon is more than three times the age of Wayne. While some may argue that he may not be able to keep up, Ultimo Dragon would beg to differ.
Across from them are the tandem of Gringo Loco and La Estrella, who have never teamed together either. Loco has been quietly practicing his craft for more than two decades. Much like Wayne, La Estrella is also someone that's been in the ring a short time as well. So who will win this battle of veteran and less seasoned talent?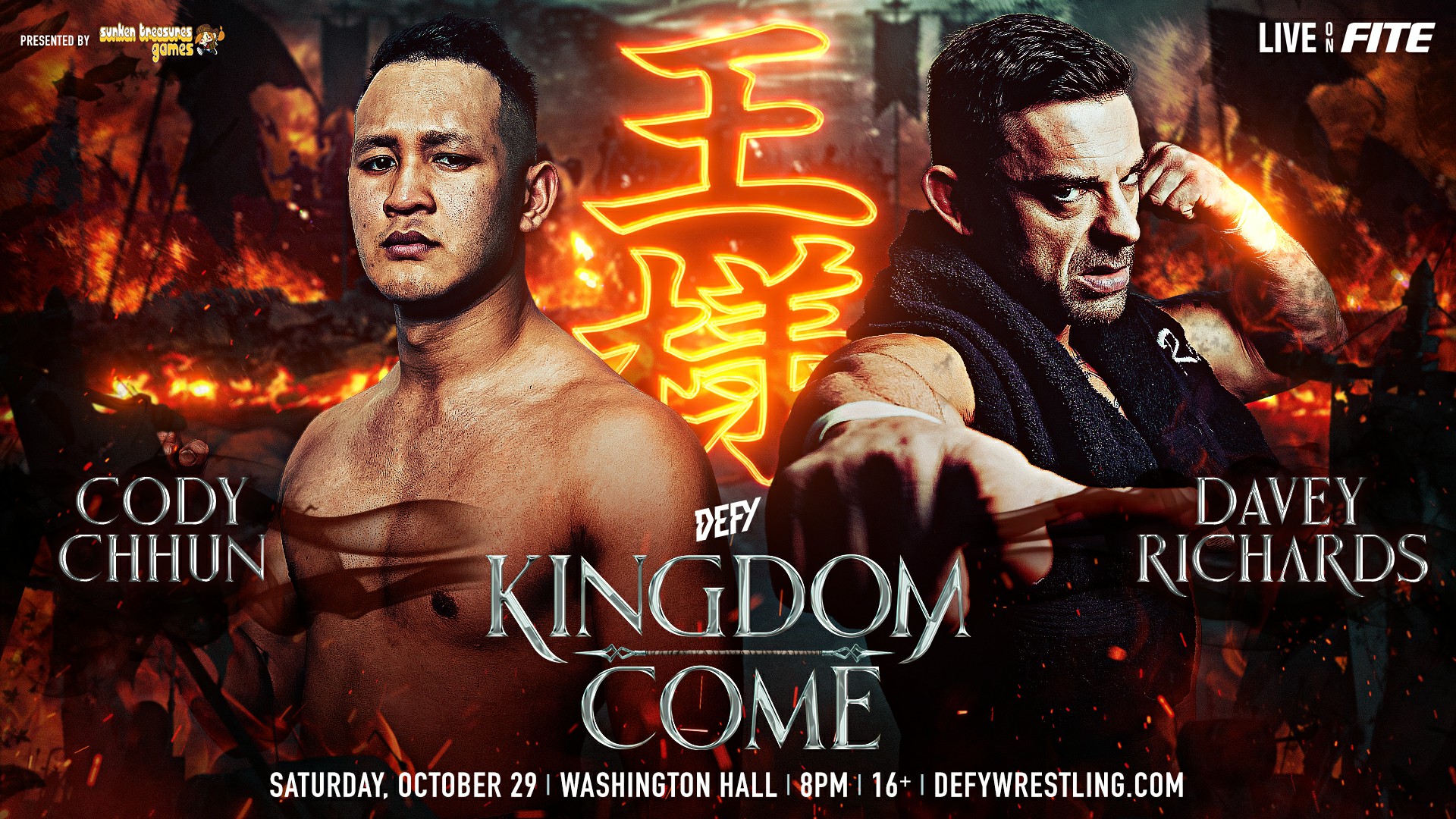 DEFY presents Kingdom Come
Cody Chhun vs. Davey Richards
Chhun's history in DEFY speaks for itself. He has a following that isn't unlike that of anyone else in the promotion. However, he stands across the ring from former World and Tag Team Champion Davey Richards. This is the first-time-ever meeting for both men. To put it into perspective, Chhun has competed for seven years.
In six of those years, he has competed for DEFY no less than three times a year, and those were during the pandemic. Richards is no stranger to DEFY, but this is his first time in the promotion since July of this past year. Does Chhun overcome the wealth of experience he faces when he takes on the former ROH Champion?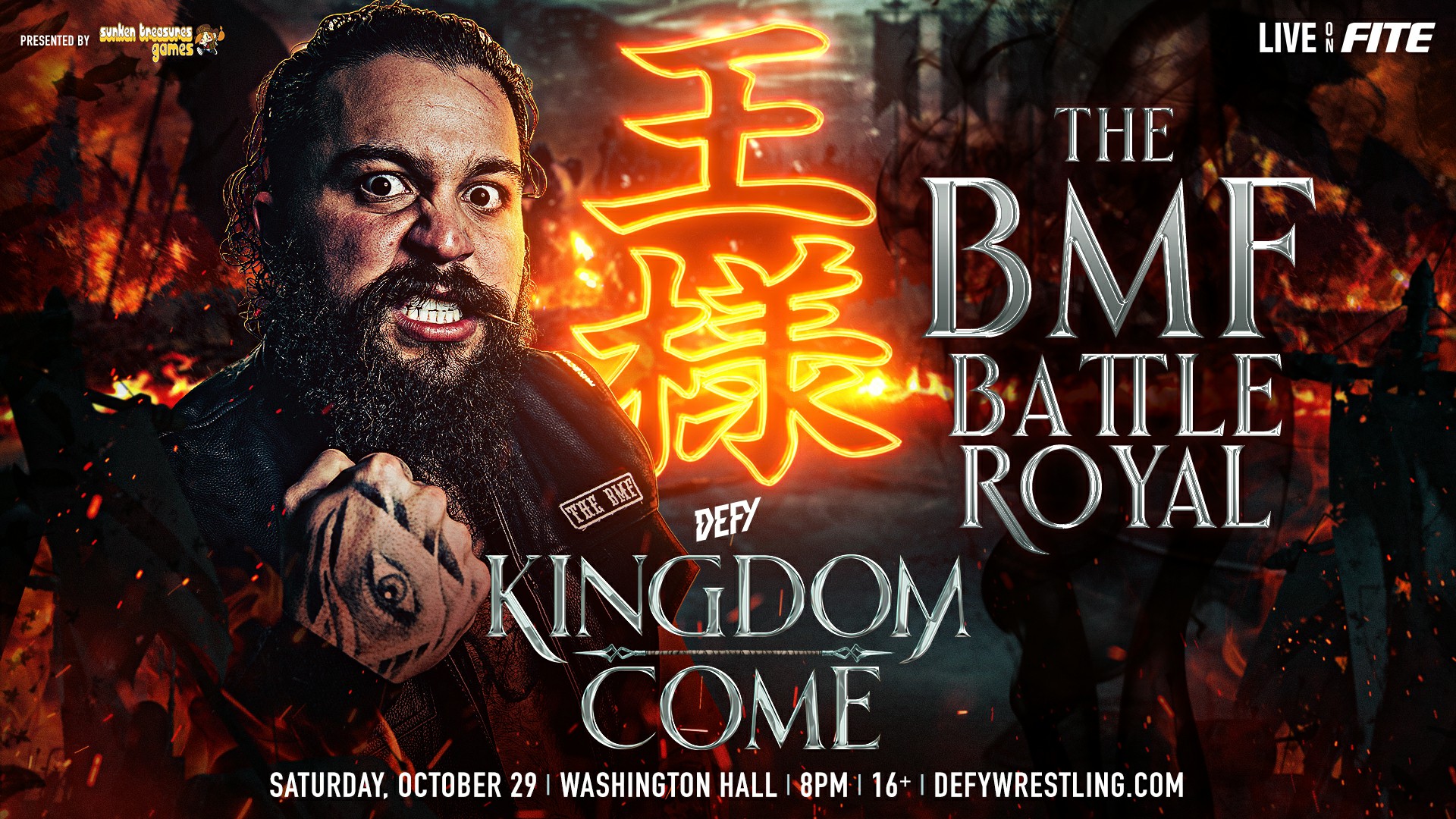 DEFY presents Kingdom Come
The BMF Battle Royal
Named after the man himself, Schaff, the BMF Battle Royal won't disappoint. With bell-to-bell action planned, the biggest question is who will be a part of this Battle Royal. While we could anticipate DEFY regulars being a part of the match, we could also expect some surprises.
One of the keys to DEFY's shows is its ability to keep fans on their toes! Whether the threat is someone that has a significant following or is popular on television or someone crossing the border, whoever is part of this match is sure to stand out.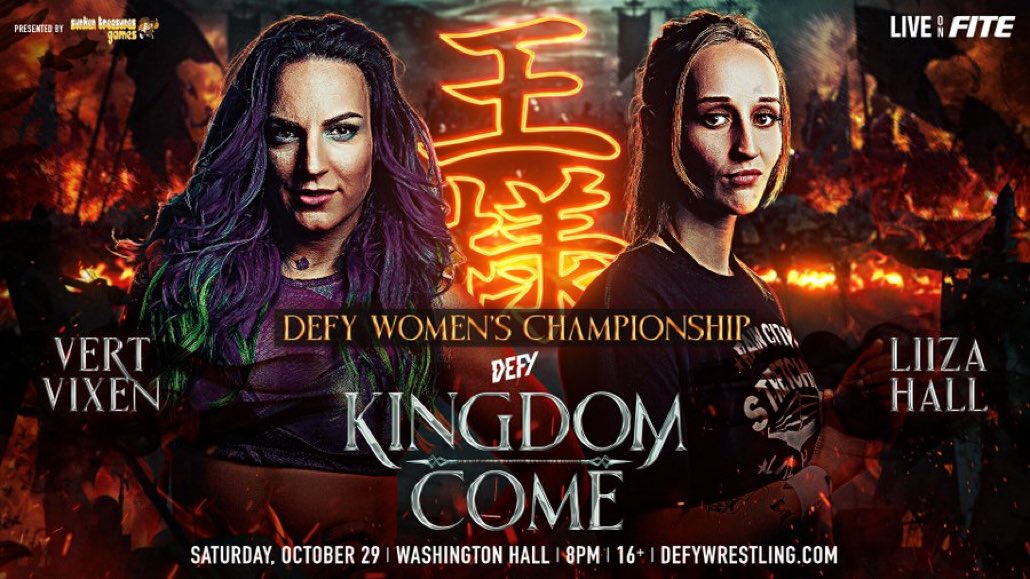 DEFY presents Kingdom Come
DEFY Women's Championship
Vert Vixen (c) vs. Liiza Hall
As a three-year pro, Vert Vixen stands across the ring from someone who may be younger but has more in-ring experience than her. Vancouver, British Columbia native Liiza Hall comes to DEFY to square off against someone making her return to DEFY in Vert Vixen. Their match is sure to excite those in attendance.
Vixen brings with her a martial arts background and will put it to good use against Hall. Hall has remained active, moving around the Pacific Northwest despite the pandemic. What she brings to this match is a legitimate threat for any title and someone Vixen better be cautious of and not take lightly.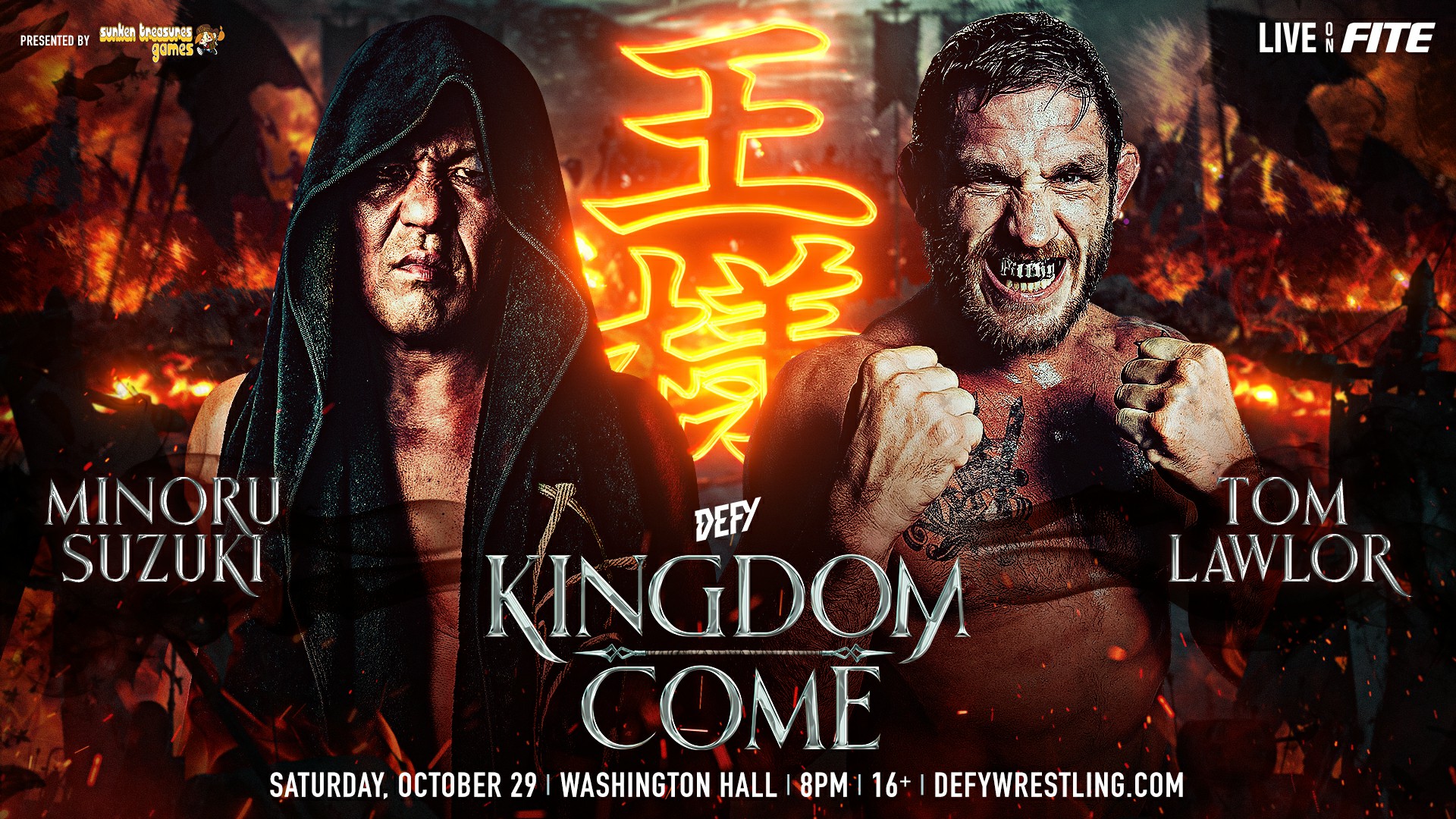 DEFY presents Kingdom Come
Minoru Suzuki vs. 'Filthy' Tom Lawlor
In what will be only the third recorded time these two have been in the ring together, the result will be about as stiff and tense as any match anywhere in 2022. Both men have an MMA background behind them, and they have established quite a following behind them. If we were to do a tale of the tape behind them, it's clear Minoru Suzuki has decades of experience behind him.
For Lawlor, it will be about trying to and fight a battle that utilizes speed and technique. He'll have to do everything in his power to avoid the frightening offense of Suzuki.
*****
Stay tuned to the Pro Wrestling Post for this and additional stories from the wrestling world. Readers can rely on Pro Wrestling Post to be their daily source for all things inside the squared circle. As a result, readers can expect daily news, history, and so much more. Please visit DEFY Wrestling's official website here for news and information on the promotion and upcoming events and FITE TV's official website to watch DEFY's Kingdom Come this coming Saturday, October 25th, at 8 pm PST / 11 pm EST.