DEFY presents BRUTALIST. DEFY had originally had John Mox planned for the card for Brutalist; however, due to circumstances that are perfectly understandable, Mox had to bow out, at least for now. We wish him well and hope to see him back very soon! Our friends working behind the scenes at DEFY did not let us down as they had to formulate alternative plans.
This was complicated further with our DEFY family in Canada, who remain behind a closed boarder due to the pandemic but are no less loved or forgotten.
Brutalist is a card that exceeded the expectation of this writer and many others. We have beloved talent returning and some talent not unknown to us making their debut. Let's take a look at the seven announced matches. These matches are not listed in any particular order; it would be impossible to guess which might be the main event as anyone of them could easily fit that position.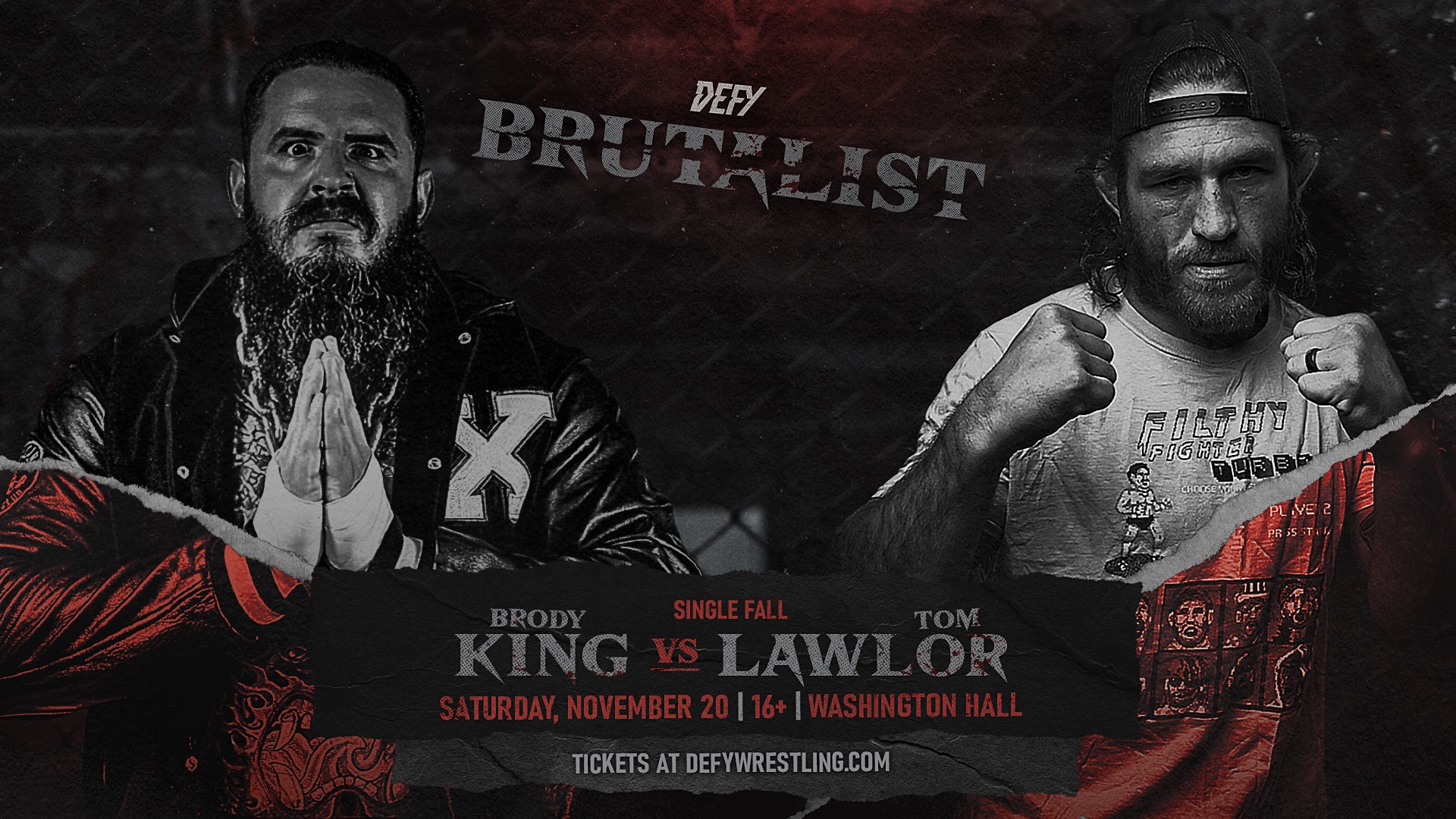 DEFY presents BRUTALIST
Tom Lawlor vs. Brody King
These two competitors have basked in the halls of DEFY before, and it seems likely they are both going to receive a warm welcome back to Washington Hall. Tom Lawlor is always a joy to have in any show, and you can count on him showing up and giving it 100% there is no dialing it in for this guy.
The same could easily be said about Brody King. He is a tough-as-nails competitor. These two are not going to hold back, and we are likely to feel the foundations of our historic venue shake as these two titans of wrestling bring the house down!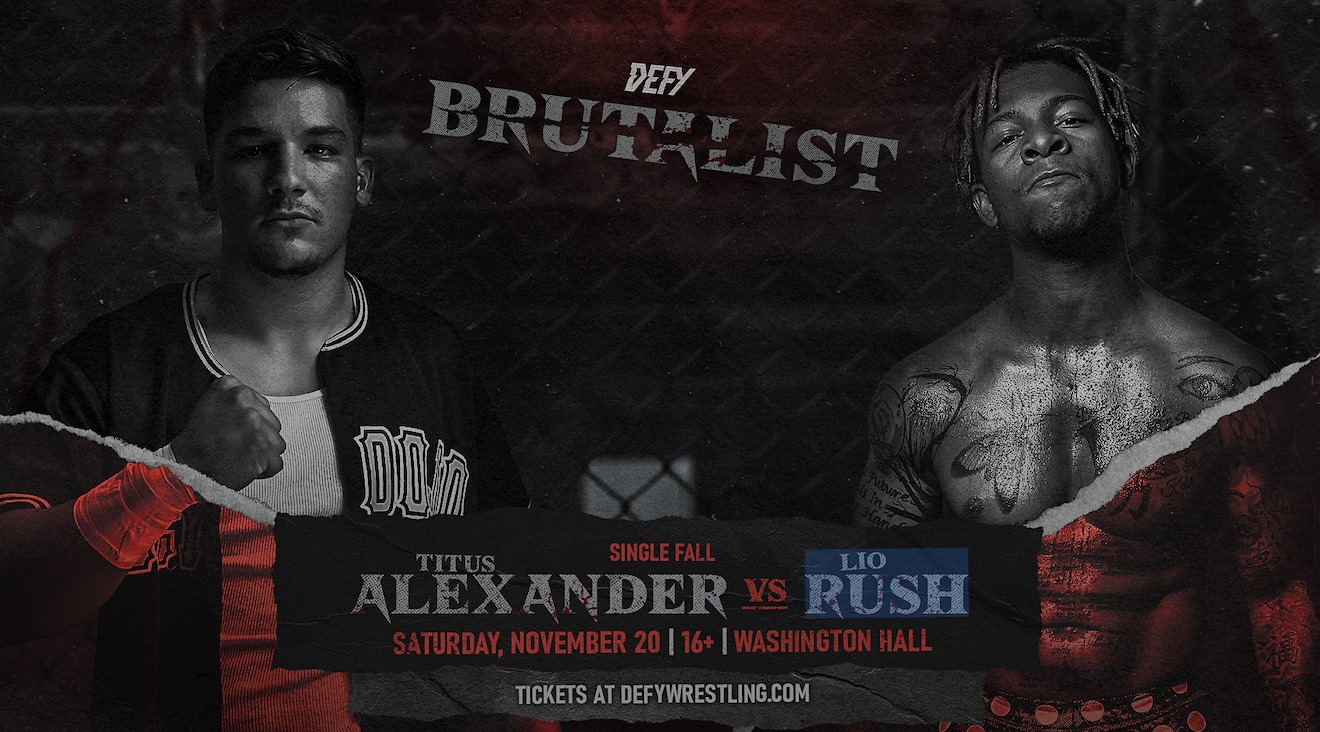 DEFY presents BRUTALIST
Lio Rush vs. Titus Alexander
Lio Rush has been here before. It's been a while, but he's coming back, and after his stint in WWE, we're excited to see him freshly back into the independent scene. This powerhouse is going to be facing one of the rising stars on the local scene…
Titus Alexander. This young man has distinguished himself as an amazing talent with no limit to his trajectory into stardom. If you haven't seen him yet, you will see on Saturday night why DEFY has elevated this fresh face in their promotion.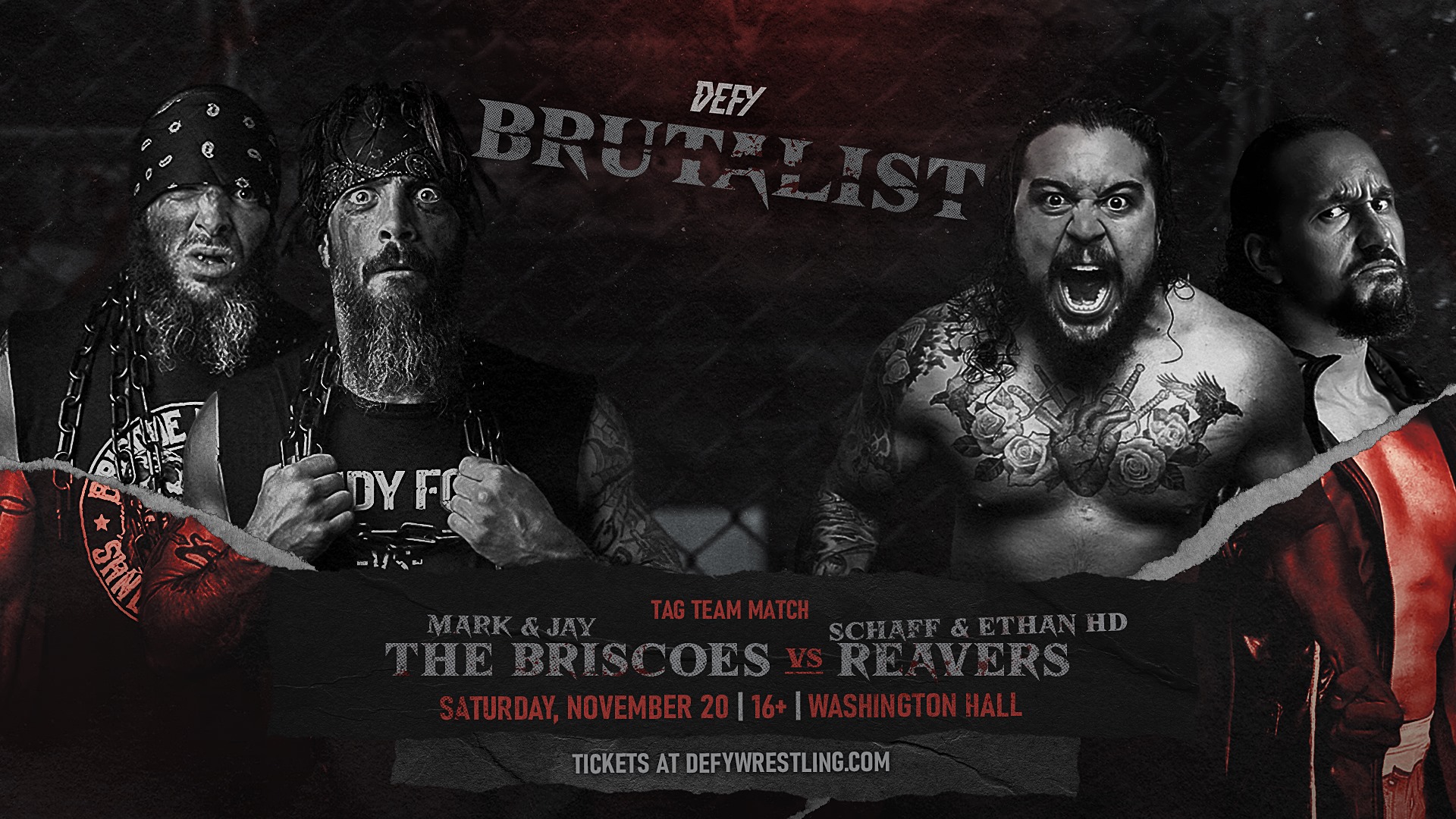 DEFY presents BRUTALIST
Briscoes (Mark & Jay) vs. Reavers (Schaff & Ethan HD)
There may have been some squealing when this match was announced. We don't need to get into who that might have been. What is important is that Mark and Jay, the Briscoes, will be making their debut at DEFY! If you haven't seen or heard of the Briscoes, there will be no open judgment made about you; however, you should probably go take a look at their work at ROH.
DEFY isn't taking it easy on the Briscoes for their debut. They will be facing two of the most fearsome champions ever to wrestle at Washington Hall. Schaff is an enormous pile of muscles, and there isn't any actual proof Schaff has killed anyone in the ring, but there have been rumors. Joining Schaff is the equally terrifying Ethan HD.
This guy isn't someone to mess around with! It is very clear this is going to get down and dirty, and we're going to love it!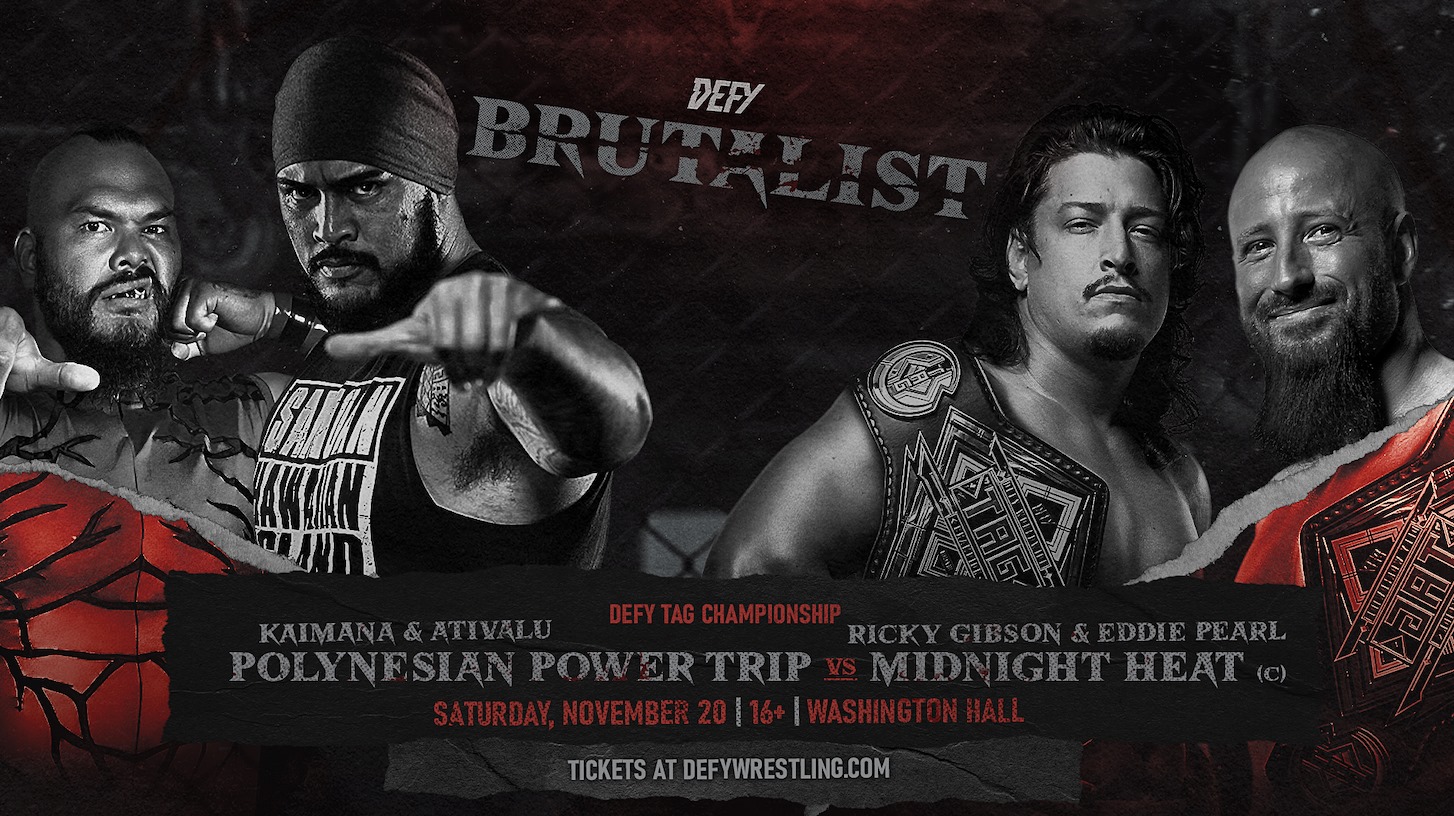 DEFY presents BRUTALIST
Midnight Heat Ricky Gibson & Eddie Pearl vs. Kaimana & Ativalu Polynesian Power Trip
Ricky Gibson and Eddie Pearl have definitely maintained a steady hold on those championship belts. Some people didn't think their reign as Tag Champions would last long; pandemic aside, these two have proven they will do whatever it takes to remain the DEFY Tag Champions. It seems unlikely that Saturday night is going to be any different.
Facing Midnight Heat will be Kaimana, and Ativalua, a.k.a. Polynesian Power Trip, will be returning. We've seen these two before, and they left a strong impression. No doubt these two flying in from Hawaii are going to give Ricky and Eddie a run for their money.
In fact, there is a very good chance they will be walking out of Washington Hall champions, as long as they don't underestimate Midnight Heat!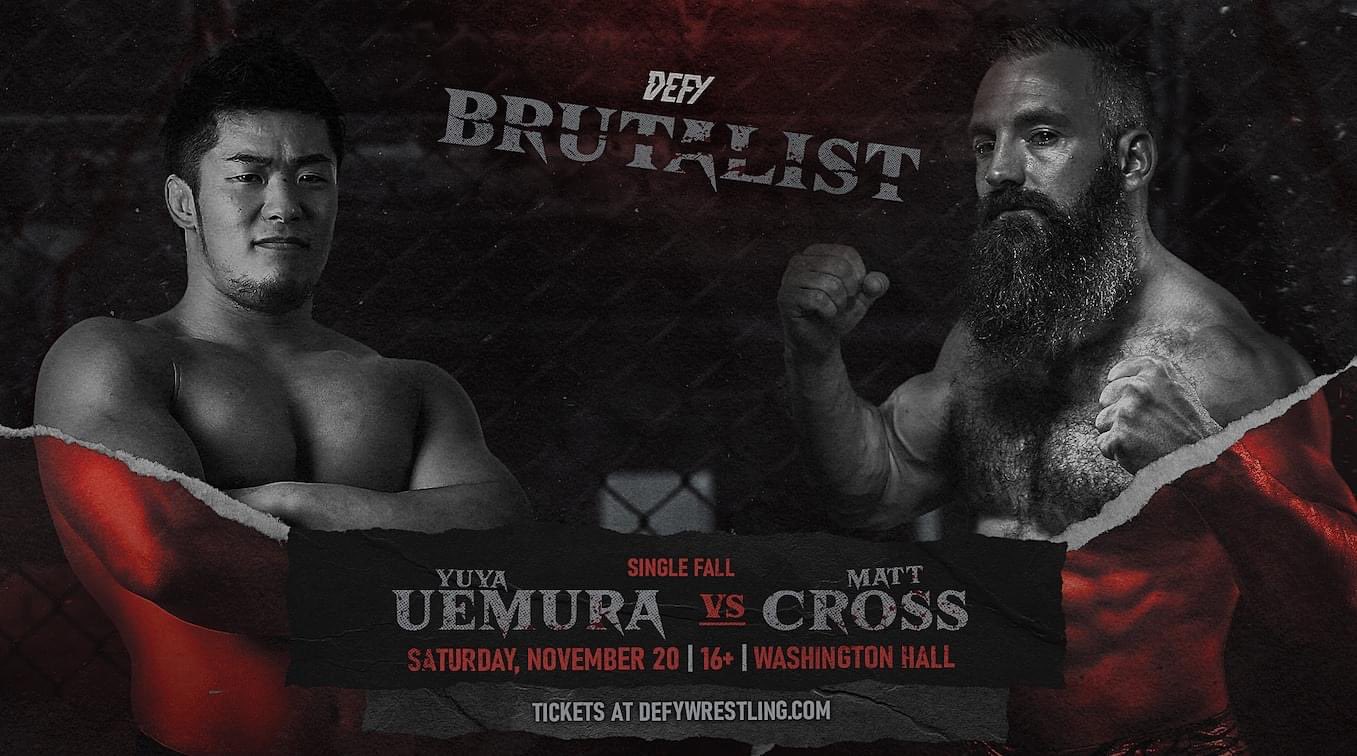 DEFY presents BRUTALIST
Yuya Uemura vs. Matt Cross
Those of you who are fans of NJPW are no strangers to Yuya Uemura! This incredible talent, and based on some of the announcements we've seen come out of DEFY lately, we may get a chance to see more talent from NJPW soon. If you aren't familiar with Yuya, you are in for a treat, and it's likely he will make you a fan!
Facing our visitor from Japan is no stranger to DEFY. He made his DEFY debut at the very first match at the first DEFY show with Invictus Khash. Matt Cross is one of the MVPs of the DEFY roster from the very beginning. It will be a pleasure to see him return and in what will likely be one of the mostly highly anticipated matches of the evening.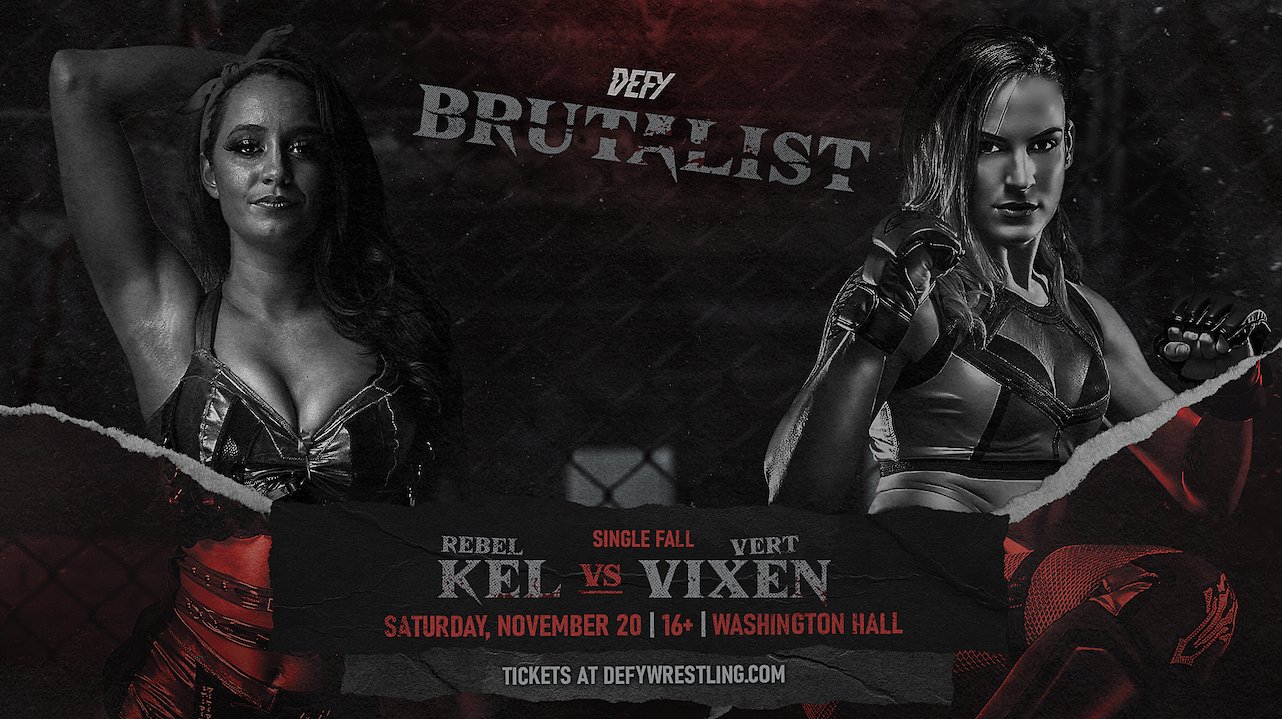 DEFY presents BRUTALIST
Rebel Kel vs. Vert Vixen
Rebel Kel is blowing up in the business right now. Any show worth your time has Rebel on the card. Rebel is an incredible talent, and we haven't even seen her at the top of her game yet. When you have someone this talented in the ring, you've got to match them with someone who can hold their own, and DEFY managed to pull this off.
Vert Vixen is no stranger in this business, and anyone who's been paying attention has noted lately she's been doing some dark matches for AEW. Watching Rebel and Vert Vixen face-off is going to be something to behold.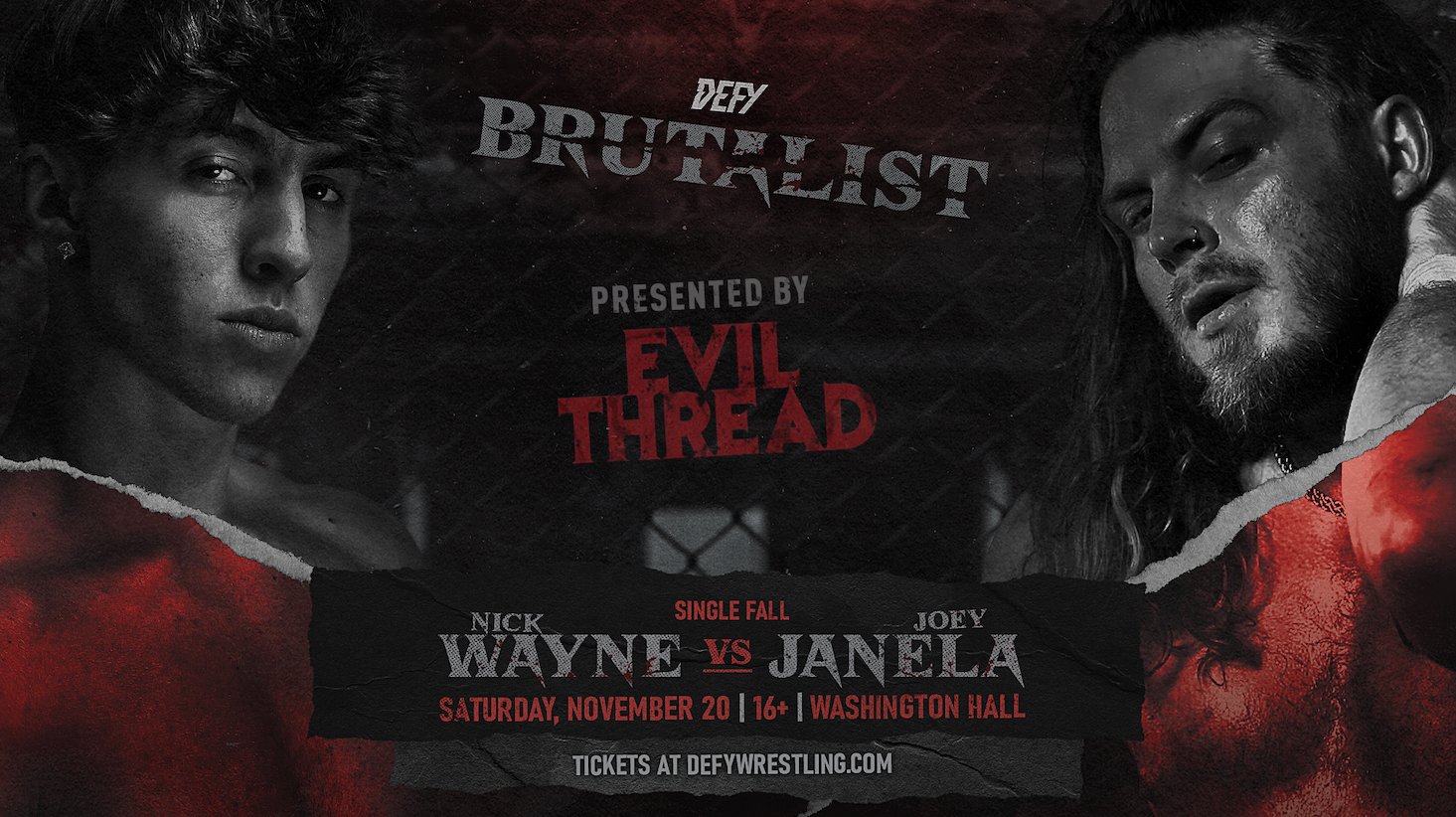 Nick Wayne vs. Joey Janela
DEFY's favorite son, Nick Wayne, will be making another appearance. Every time this young man gets into the ring, he has a way of captivating the audience and showing us that wrestling is in his blood. Without fail, he proves his worth against the most established talent in the industry.
At Brutalist, he is going to enter the ring with a Washington Hall favorite, Joey Janela! On loan from AEW, Janela isn't going to take it easy on Nick, and if he does, our wrestling prodigy will make him pay. This is going to be a must-see match, and it would not be surprising if it doesn't end up being one of the highlights of the evening, which is impressive considering the lineup on this card.
Brutalist is a 16 and older show. As of this writing, it is a sold-out event, but things can change, so keep an eye on social media. There will be merch tables, a pop-up from Destiny Comics, and food available for purchase from Lunchbox Laboratory. Alcohol can be purchased by attendees over the age of 21. Bell time is 8:00 p.m. No one at Washington Hall is going to go home disappointed on November 20th!
*****
Stay tuned to the Pro Wrestling Post for this and additional stories from the wrestling world. Readers can rely on Pro Wrestling Post to be their daily source for all things inside the squared circle. As a result, readers can expect daily news, history, and so much more. Please visit DEFY Wrestling's official website here for news and information on the promotion and upcoming events.