DEFY MARAUDERS
October 29th, 2021
Seattle Washington
What a month! After wrapping up an incredible show at Washington Hall at the end of September, DEFY they didn't take a break. They went south to DEFY's second home, Portland, Oregon, on October 9th for DANGEROUS and then proceeded to make their city of angles debut, Hellbent, on October 14th! To say the folks behind DEFY have had a wild month might be an understatement.
Capping off what has been one of the most ambitious schedules in the promotion's history, we have the show that brings them home to Washington Hall, DEFY MARAUDERS! They certainly didn't dial it in on this card. Despite being down our DEFY family from Canada, they put together one of the most exciting cards we've seen in a long time. Let's do a rundown on what we know so far!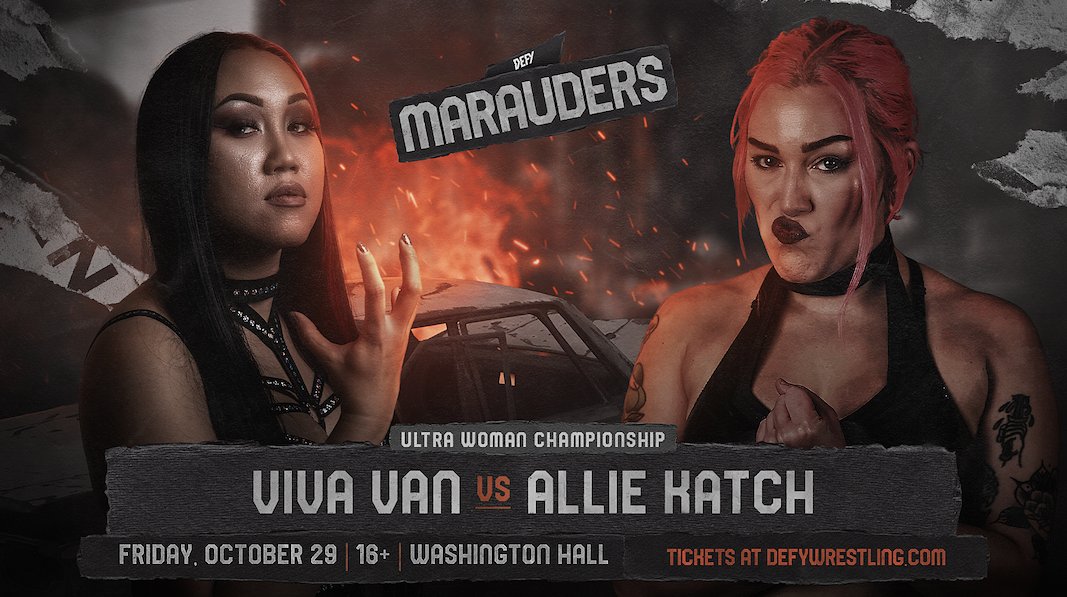 DEFY MARAUDERS
Viva Van vs. Allie Katch
If you aren't familiar with these two talents, prepare yourself for an incredible match. Viva Van is the reigning PCW Women's Champion, and she didn't earn this title by playing it safe. There is something sinister that lives in her, and when she enters the ring, she opens the door and lets that part of herself out to play.
Making a challenge for the PCW Women's Championship is a worthy opponent. Allie Katch has been making waves over at GCW, and it looks like she's aiming to add a rather fantastic belt to her collection. This is going to visceral, and don't expect either of these athletes to take it easy on one another.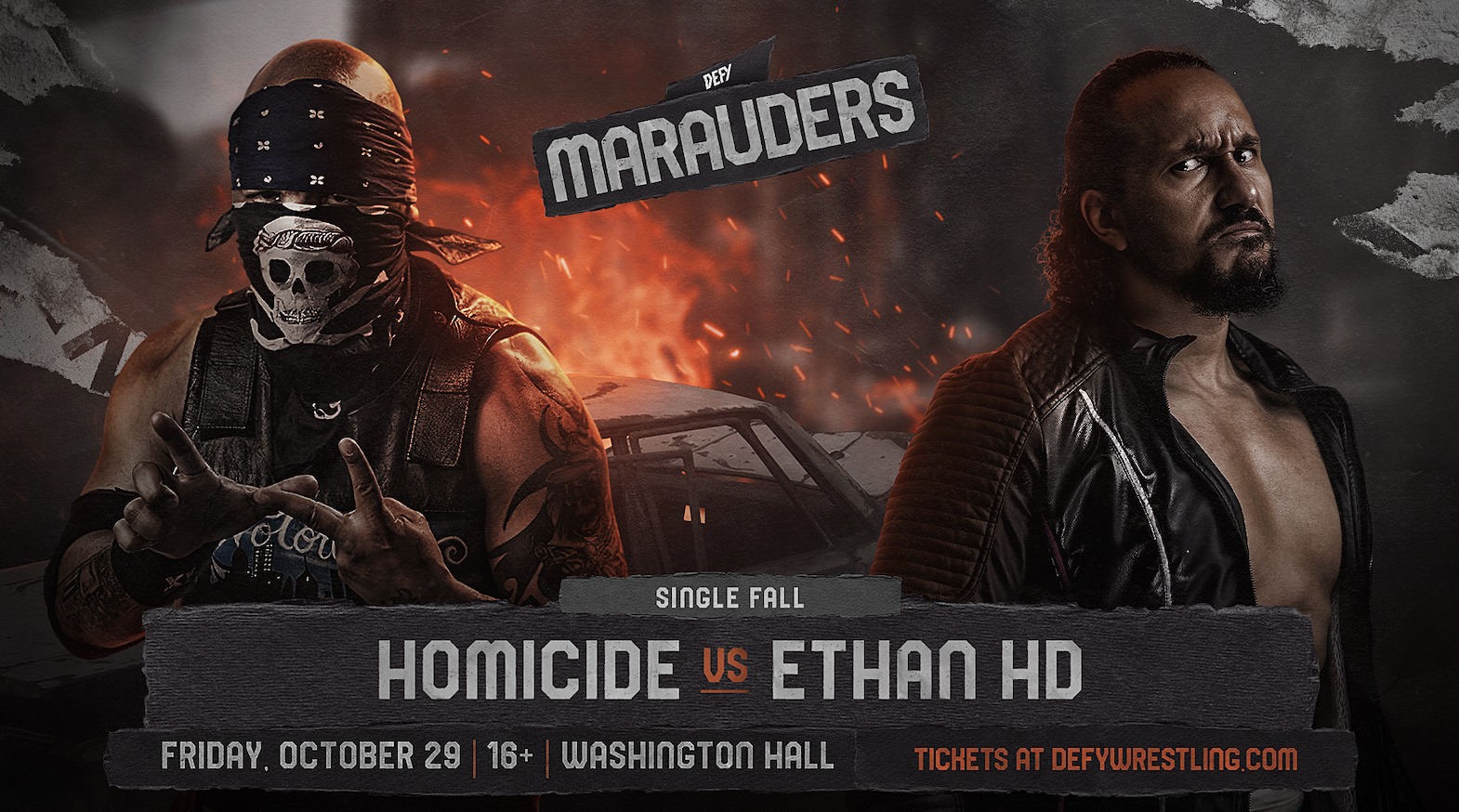 DEFY MARAUDERS
Homicide vs. Ethan HD
Homicide is going to be at Washington Hall. Let's say that again! HOMICIDE is going to be at Washington Hall! This nearly thirty-year veteran of the professional wrestling world is a luminary. He's worked everything from Ring of Honor, Impact, and most recently, AEW. If you haven't seen him perform live, this will be a great opportunity for you to see some great talent at work.
Facing our fly-in hero is one of the best talents working in the Pacific Northwest today. Ethan HD has been one of the consistent powerhouses in the House of DEFY. Some say this house is Shane Strickland's house, and some have chanted other names in response to "Who's house?" If you really think about it, this is Ethan's House!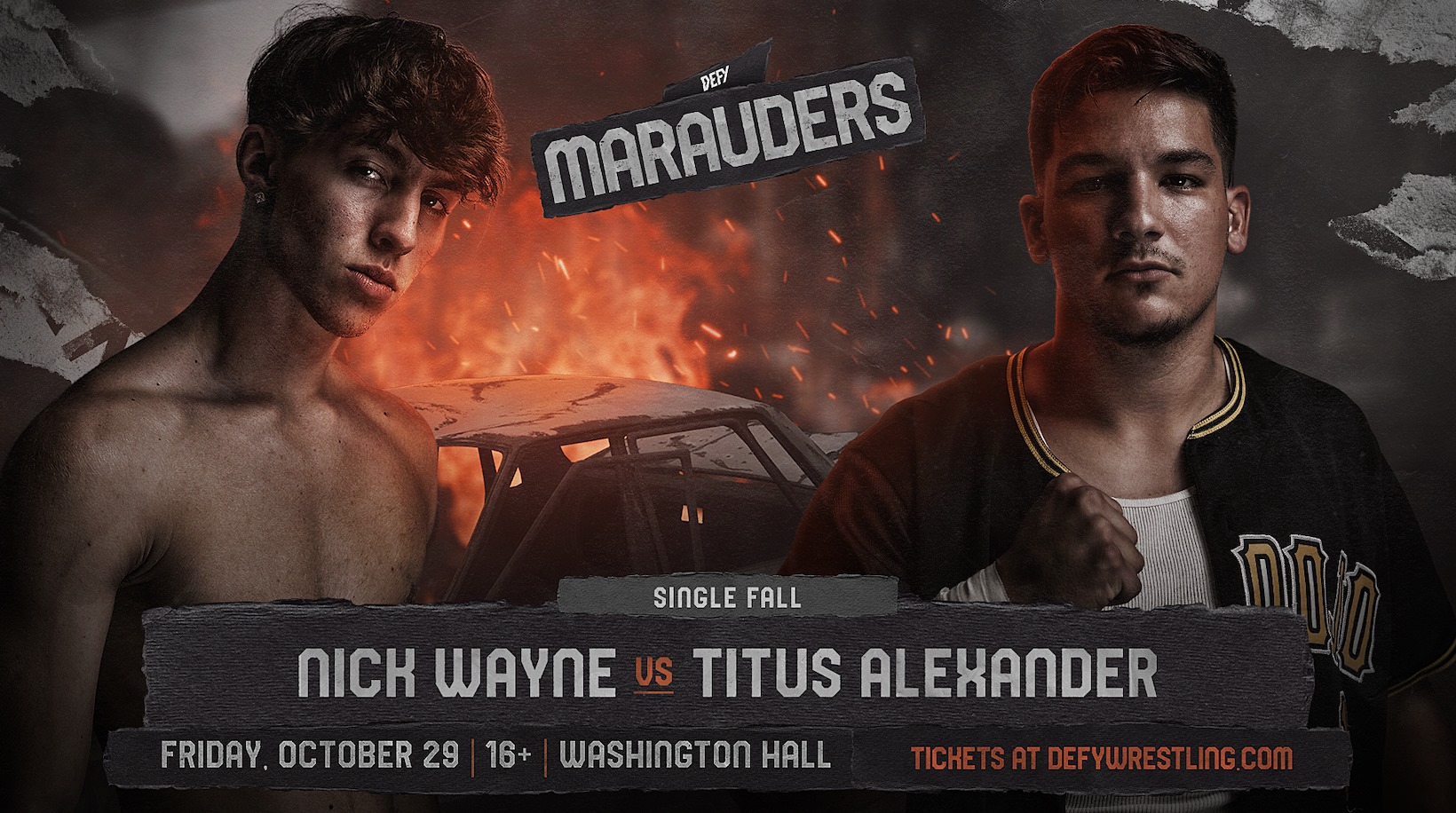 DEFY MARAUDERS
Nick Wayne vs. Titus Alexander
On Friday night, we get to see two of DEFY's biggest rising stars get into the ring and face off against one another. Nick Wayne, son of Wrestling Legend Buddy Wayne, is building a name for himself in the business that would make his father proud. Every time he gets into the ring, we are seeing a developing talent who is likely to be a talent just as legendary as his father.
Last month Titus Alexander got into the ring with Christopher Daniels and pushed him to the limit! It was a highlight match from a card full of exquisite matches. Like his opponent in this match, Titus Alexander is a rising star, and he will show us why his name is on the lips of promotors across the west coast.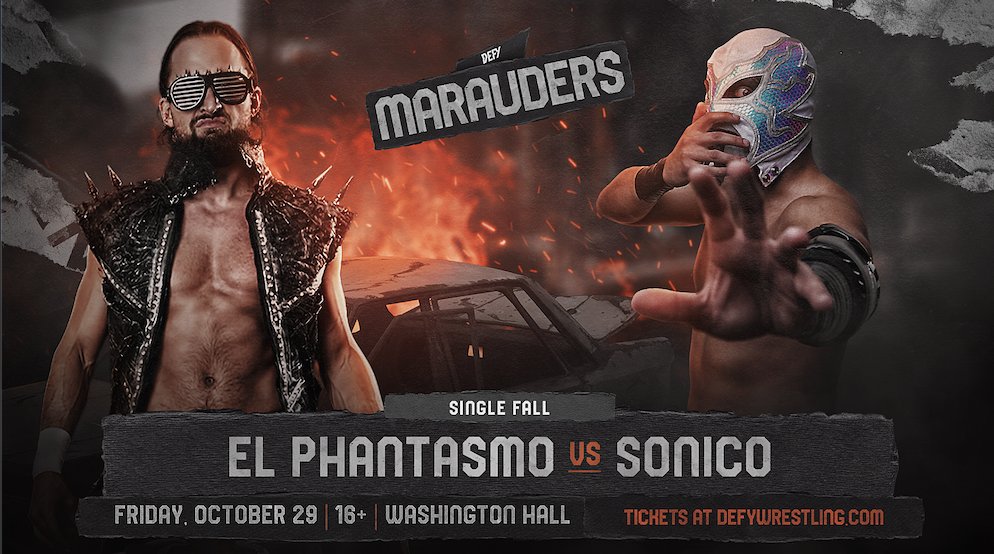 DEFY MARAUDERS
El Phantasmo vs. Sonico
El Phantasmo has made his appearance at Washington Hall before when he faced off against Artemis Spencer. It would seem he's taking time off from making NJPW appearances and show up here once again. Not only does he deign to make another appearance, but he has decided to take on another one of DEFY's favorites, Sonico.
The Lucha Ghoul is no stranger to dispatching his challengers, and Friday night, he gets to face one of his more formidable opponents. This is going to be a great match, and it will be a nice thing to see Sonico back in the ring at DEFY.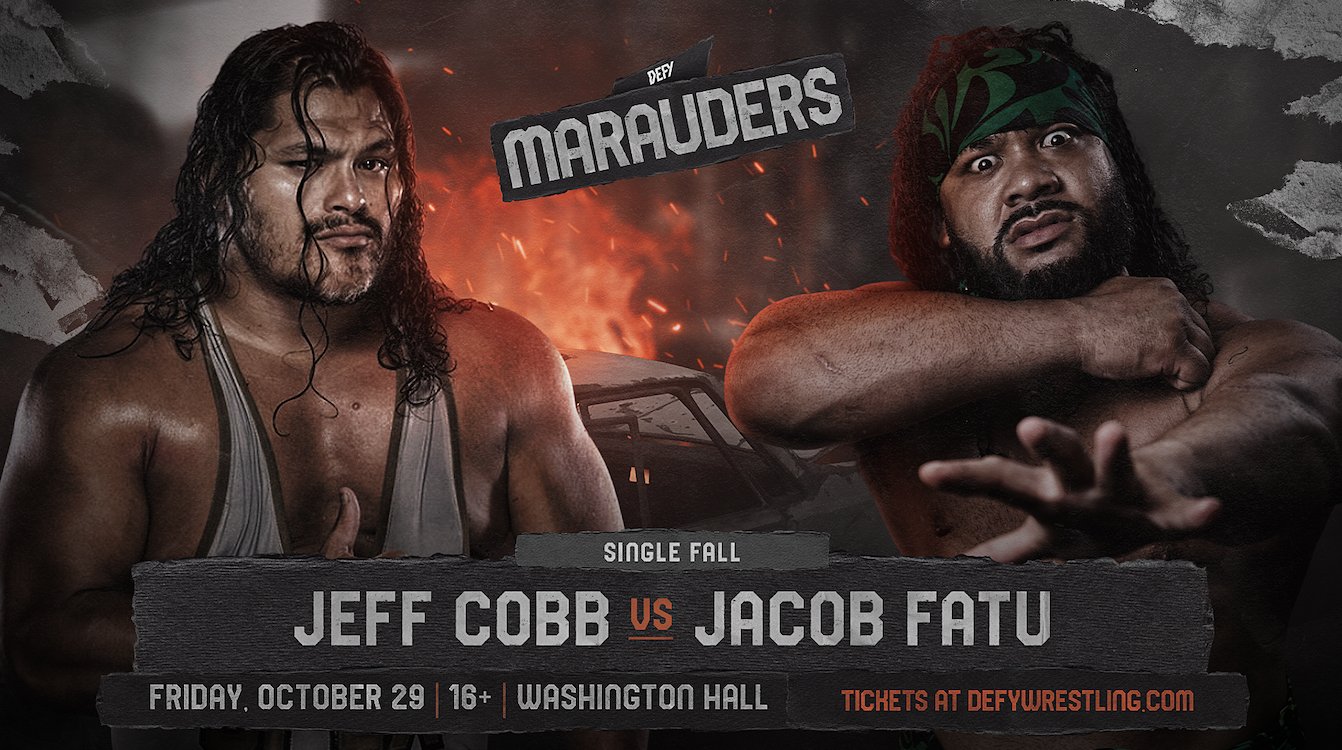 DEFY MARAUDERS
Jeff Cobb vs. Jacob Fatu
That film "Clash of the Titans" might have been a prelude to this match. These two men are no doubt pictured in the dictionary under the definition of Heavy Hitter! If there is a person in the DEFYance who don't know who these two competitors are, they are in for an excellent introduction.
Jeff Cobb is no stranger to Washington Hall, and Jacob Fatu was once the holder of DEFY's tag team championship. These two beloved competitors are two of the hardest-working wrestlers on the scene. When they step into the ring, they don't show any restraint, and on Friday night, they are going to tear the house down… It seems unlikely Washington Hall will still be standing after this match.
If you can get yourself to Washington Hall on Friday night, October 29th, 2021, you won't regret the effort. While there are five matches announced, each DEFY card typically has seven to eight matches on their card. They love to surprise us with a match or two at each show, so brace yourself because anything could happen!
The show starts at 8:00 p.m. This is a 16 and older event. Alcohol and Food is provided by long-time DEFY collaborators Lunch Box Laboratory! Defy shows are not just a wrestling event; they are friends and family.
*****
Stay tuned to the Pro Wrestling Post for this and additional stories from the wrestling world. Readers can rely on Pro Wrestling Post to be their daily source for all things inside the squared circle. As a result, readers can expect daily news, history, and so much more. Please visit DEFY Wrestling's official website here for news and information on the promotion and upcoming events.