What a night! This is perhaps one of the most impressive cards assembled in DEFY history and the show lived up to the anticipation and buzz it created with DEFY Brutalist. Tonight, reminded us all why we all love this murder dance we call Professional Wrestling! So, let's get right down to it!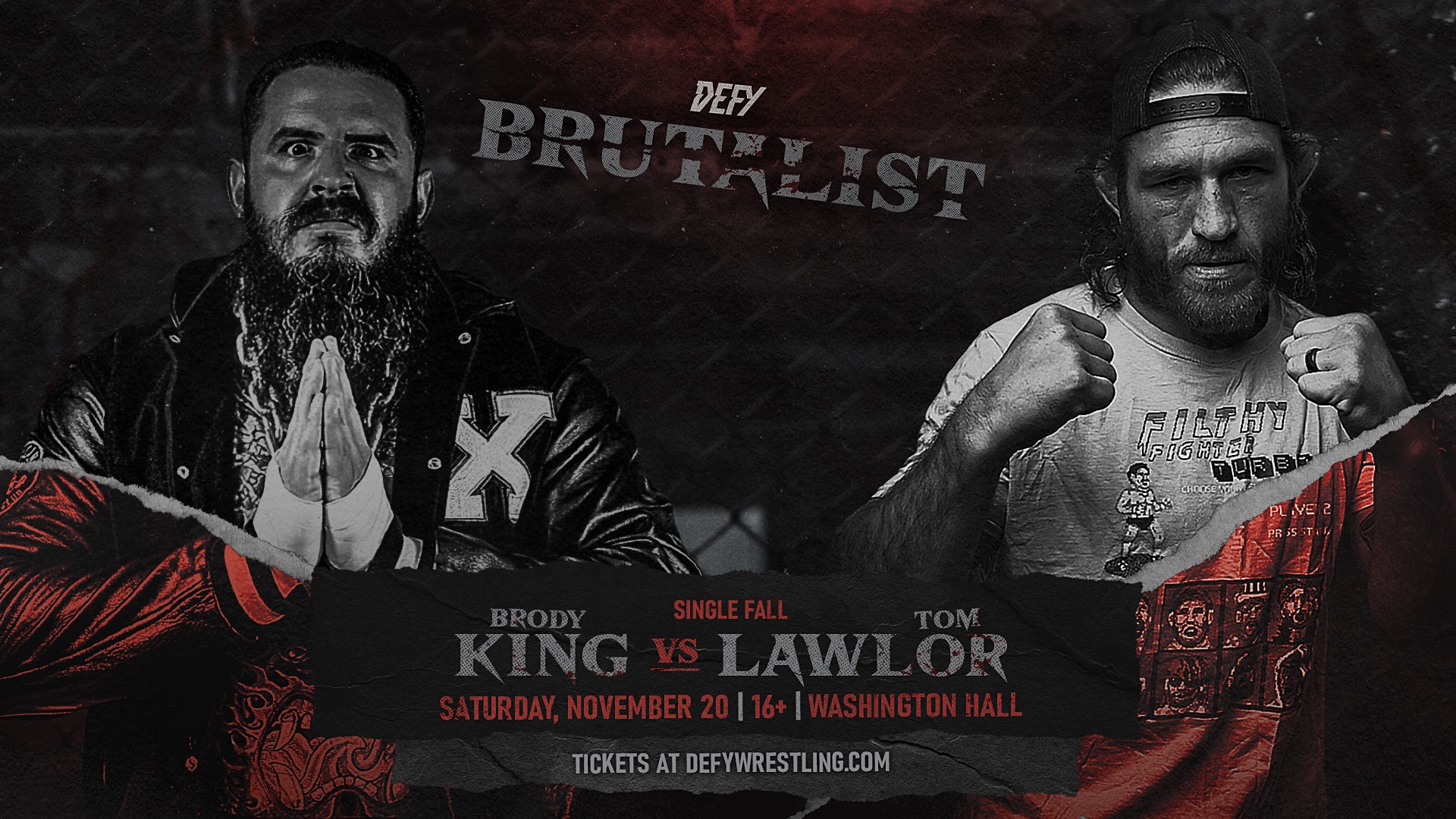 DEFY Brutalist
Tom Lawlor vs Brody King
This crowd was beyond thrilled to have Brody King back at Washington Hall. While Tom Lawler also received a warm welcome, there was no doubt who the DEFY crowd was behind. It was Brody King all the way.
This match was not disappointing. Neither one of these athletes took it easy on one another and the entire building rattled. It was so brutal the ring made some sounds that didn't sound good. There is a good chance DEFY will have to do some repairs to their ring.
In one spot both Lawler and Brody climbed to the top rope and came down like nothing seen at a DEFY event before. There was a collective wince as these two incredible wrestlers slammed into the ring. This was a magnificent match that could only be described as the embodiment of the shows title!
In the end Brody King won, but Tom Lawler didn't hand him that victory easily. Brody also gave a warning; he's coming for the DEFY Championship Title! Randy Myers has got his work cut out for him!
DEFY Brutalist
Lio Rush vs. Titus Alexander
When the man of the hour came out, the crowd created a seismic event in Washington Hall. Even though it had been five years since he had been here, he remembered his time five years ago with great fondness. With such a profound welcome it seemed briefly that perhaps this crowd was going to turn on DEFY roster favorite Titus Alexander. There was no love lost for our Titus, and as it turned out it wasn't the only match of the night when the audiences favor was split between our local talent and a well-known fly in.
These two demonstrated to Washington Hall, just how talented they are. Lio, recently released from his WWE contract, was in fine form. His skill has really refined over the last few years and his performance is difficult to fault. Holding his own with this wrestling luminary, Titus Alexander deserved every chant form the crowd of "Future Franchise." There was no relent in either of these competitors and it was anyone's match. Ultimately in the end Lio Rush got the win! This was so close, it would be wonderful to see a rematch between these two, something Titus Alexander would likely welcome.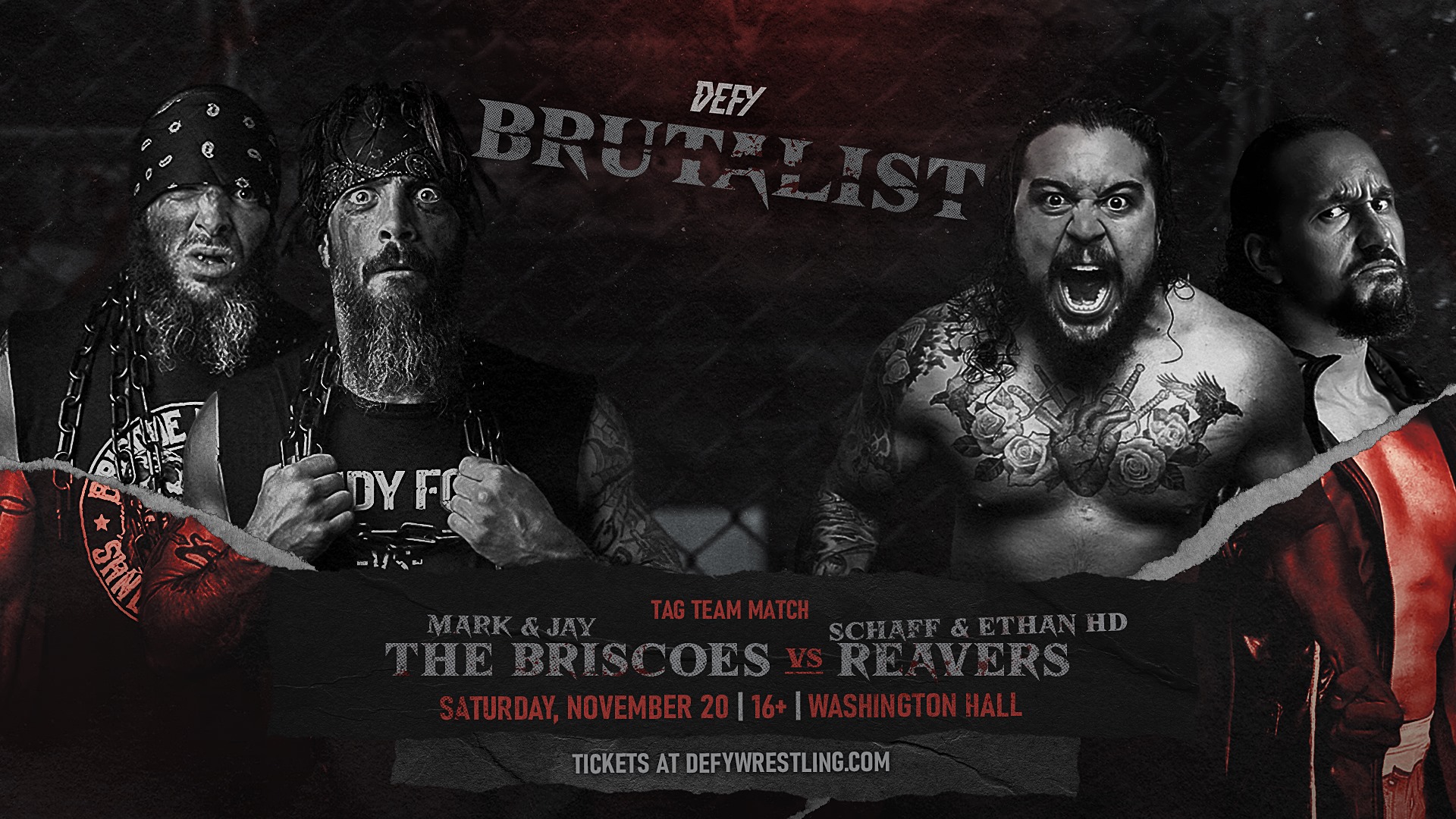 DEFY Brutalist
Briscoes Mark & Jay vs. Reavers Schaff & Ethan HD
This was one of the most anticipated matches of the night and the crowd demonstrated this very fact when these two teams came out to the ring. With no disqualifications, this match quickly turned into utter mayhem within moments.
The Briscoes fought dirty, but they perhaps didn't know that Schaff and ETHAN HD weren't exactly paragons of virtue themselves! Many chairs died in this unholy match. Blood was spilled and the essence of human decency violated to its core! So, you can tell this was a particularly fabulous match!
The degree of brutality demonstrated between these four men was impressive indeed. In the end it was Mark and Jay Briscoe who took home the big "W" in this match, however, Schaff and ETHAN HD made them pay dearly for this one.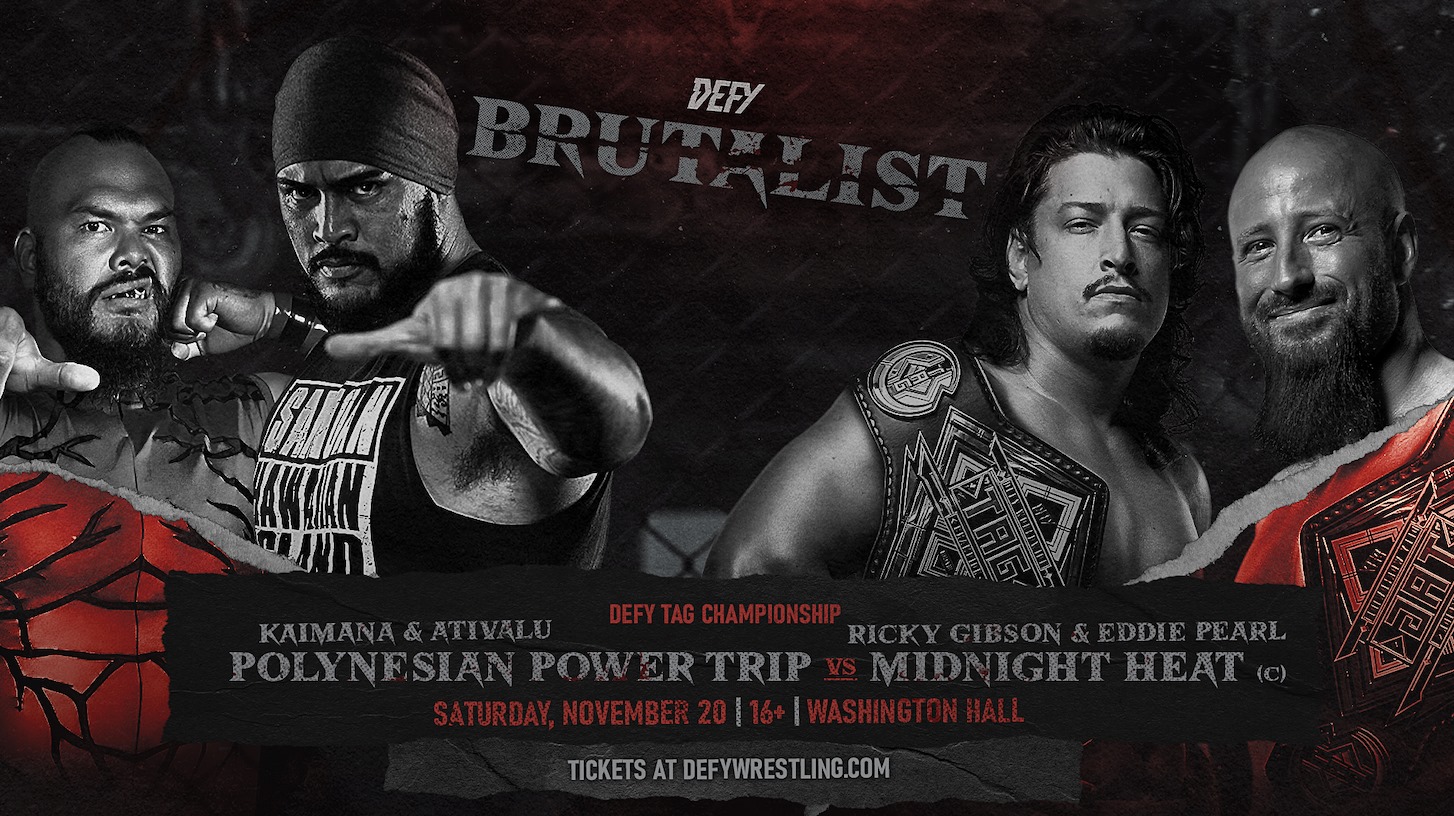 DEFY Brutalist
Midnight Heat Ricky Gibson & Eddie Pearl vs. Kaimana & Ativalu Polynesian Power Trip
Ativula came in hard and quickly put Midnight Heat on the defense. Those of you who are not acquainted with Ativalu may not know that he is an enormous powerhouse, an avatar of destruction and pain. He laid it on with prejudice! Kaimana tagged in and continued what his partner started.
The Polynesian Power Trip had Midnight Heat on the defense for the better part of the match and it was looking like the DEFY Tag Team Championship belts were going to be handed over to our guests from Hawaii. Then Ricky brought out the belts and as one distracted the referee the other attacked with their belts. The match ended with Midnight Heat retaining their championship belts and quickly retreated from the ring before the DEFY crowd broke out in a riot.
DEFY Brutalist
Yuya Uemura vs. Sonico
With Matt Cross out with an injury, the question on everyone's mind is who will be replacing him in this match. The audience was very pleased to see DEFY roster favorite, Sonico come out to fill this vacant spot. When Yuya Uemura came out it was clear the audience loved this amazing talent on loan from NJPW.
These two locked up and gave it their all. With several near falls on both sides, it was difficult to tell who was going to take this match home. It had everyone sitting on the edge of their seats and it quickly became clear they were well matched competitors. The one who would win this match was the one with the greater endurance as it was clear neither athlete was going to relent. In the end, Yuya managed to squeak out a very difficult victory.
Matt Cross
A DEFY regular having been with us from the very first match of the very first show, Matt Cross came out with some unfortunate news. He sadly sustained a back injury earlier in the week and though he reassured us it was not serious it would prevent him from competing later this evening. He was sharing a nice moment with the crowd when two interlopers came out and interrupted Matt's moment.
Midnight Heat, Ricky Gibson and Eddie Pearl, came out and assaulted the optical sensitives of the audience in their lime green gear. It's quite clear the audience is deeply offended by their mere existence, and in these outfits, it is hard to fault the crowd for their response. They then engaged in an endless taradiddle and turned on our beloved Matt Cross. Despite his injury they were about to attack but they were interrupted before their assault could begin. In came our hero's Kaimana and Ativalu to make certain Midnight Heat didn't pick on our injured friend, and thus the Tag Team Title Match began!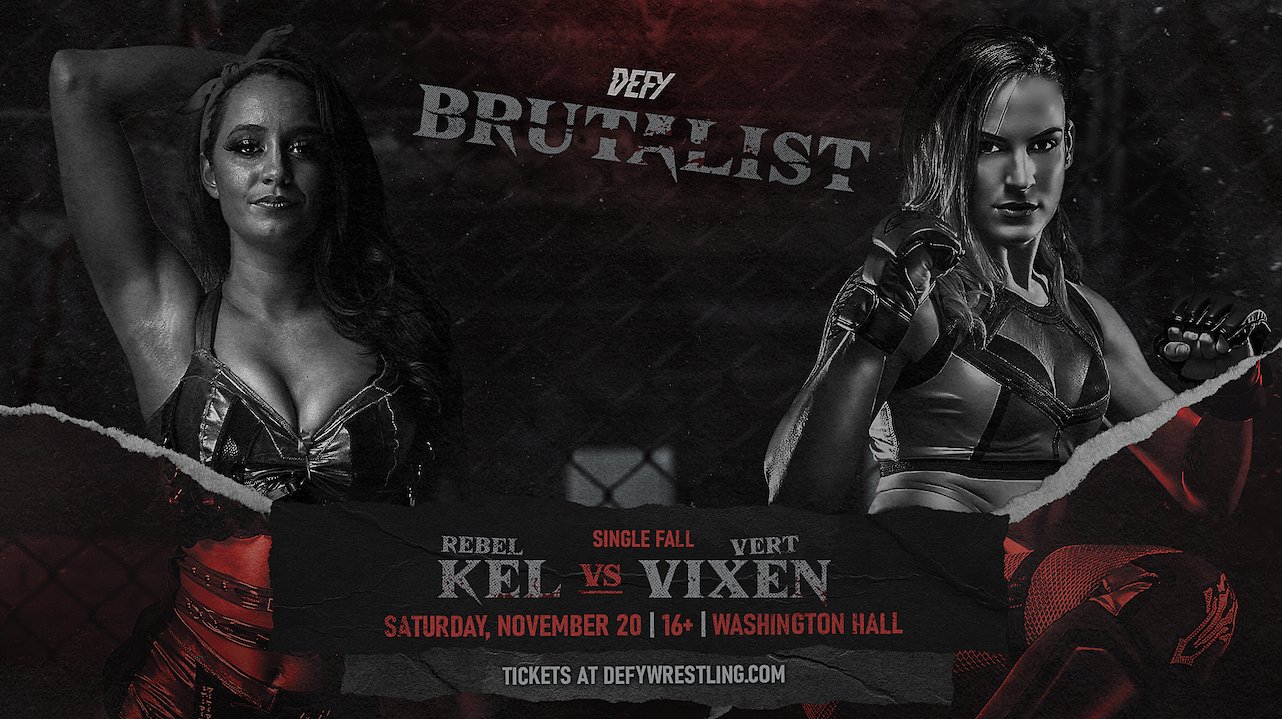 DEFY Brutalist
Rebel Kel vs. Vert Vixen
Vert came out first and received a warm welcome from the crowd for her DEFY debut match. Facing off against our celebrity fly in was DEFY roster member Rebel Kel! With a new look and a new entrance song, she was ready to take on the world, or at least Vert Vixen.
These two wrestlers did not take it easy on one another one bit. It was a vicious battle and there was little love lost between them. For a relatively short match this was filled with vitriol and venom. In the end Rebel Kel decided tonight was the night she was going to play dirty. React how you might to this turn, but it got her the big "W" and let's face it, she was willing to do whatever it takes to win this match!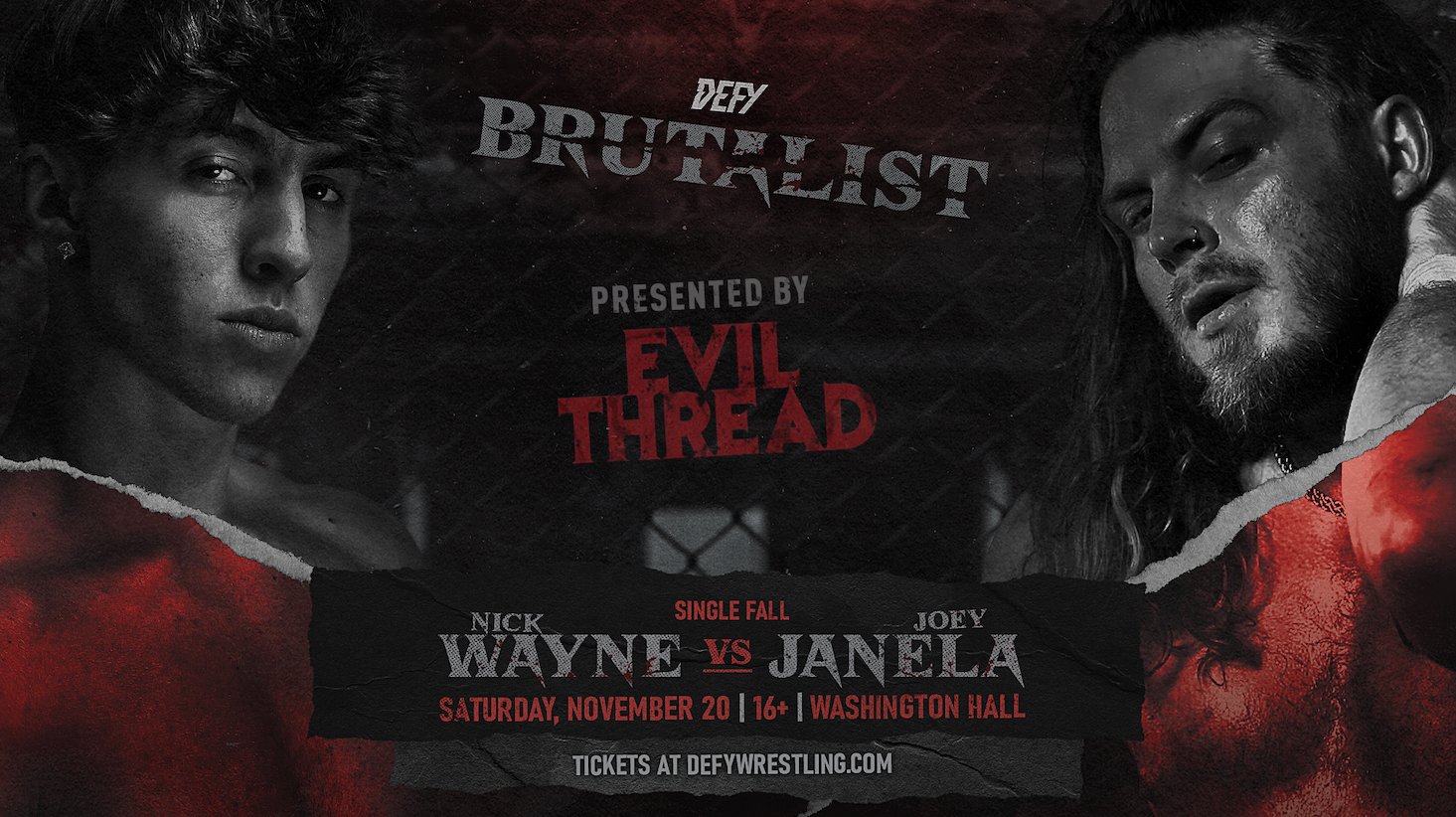 DEFY Brutalist
Nick Wayne vs. Joey Janela
Nick Wayne is beyond over at Washington Hall, but it would be a mistake to think Joey Janela doesn't have a solid fan base here as well. Many were conflicted over who to root for and most ended up cheering for both.
This was without question the match of the night! Considering the other matches on the card, that is a very impressive accomplishment. This as a vicious battle for supremacy. There was blood, technical precision, and incredible nonstop action. There were numerous near falls, the match went into the audience, in the sky, and on the ground.
This was by far one of the hardest-fought battles in which two opponents were so unrelenting and primal that we've seen at DEFY in a long time. They executed every move flawlessly and despite the fatigue and injuries setting in they kept going without the slightest pause. This is the kind of match we would expect from a seasoned wrestler like Joey Janela, but to see sixteen-year-old, son of northwest legend Buddy Wayne, hold his own and keep up with Janela was a sight to behold. But Nick did more than hold his own against Janela, Nick Wayne won one of the most epic battles in DEFY history by submission!
DEFY Brutalist
To say Joey was surprised by his loss, he took the microphone and like a class act paid homage to his opponent, and his opponent's father, promising to watch out for Nick as he advances through his career. A career that has no limits in sight. This was one of the most touching moments in Professional Wrestling right here.
Defy Brutalist was a feast of profoundly excellent wrestling. Though the lives show is over, you can still catch every match on demand. Keep an eye out on social media for when it is released. You won't want to miss this show. To visit their On-Demand service click here. 
The next DEFY show at Washington Hall will be in late December. However, DEFY has one show coming up before they come back to their home base here in Seattle. On December 16, 2021, they will be returning to the city of Angels for DEFY DEFYANT NIGHTS! If you can make it to Los Angeles for this show you won't be disappointed.
To stay up to date on everything DEFY, consider joining the DEFY DEFYANCE Patreon. For frequent updates, exclusive ticket sales and other wildly fantastic content this is the place to go!
*****
Stay tuned to the Pro Wrestling Post for this and additional stories from the wrestling world. Readers can rely on Pro Wrestling Post to be their daily source for all things inside the squared circle. As a result, readers can expect daily news, history, and so much more. Please visit DEFY Wrestling's official website here for news and information on the promotion and upcoming events.