As the endless sea of streaming services continues to churn one ship is flying new flags. DDT Universe, the platform which features the titular DDT Pro Wrestling as well as Tokyo Joshi Pro-Wrestling, Ganbare Pro-Wrestling, Rojo Pro-Wrestling, and NOAH, is rebranding as WRESTLE UNIVERSE, according to a statement by DDT. The rebranding even comes complete with new social media.
In addition, according to the press release by DDT Pro, "There will be no changes to the service itself, pricing, etc.". Members of DDT Fan-club will continue to tap into their benefits.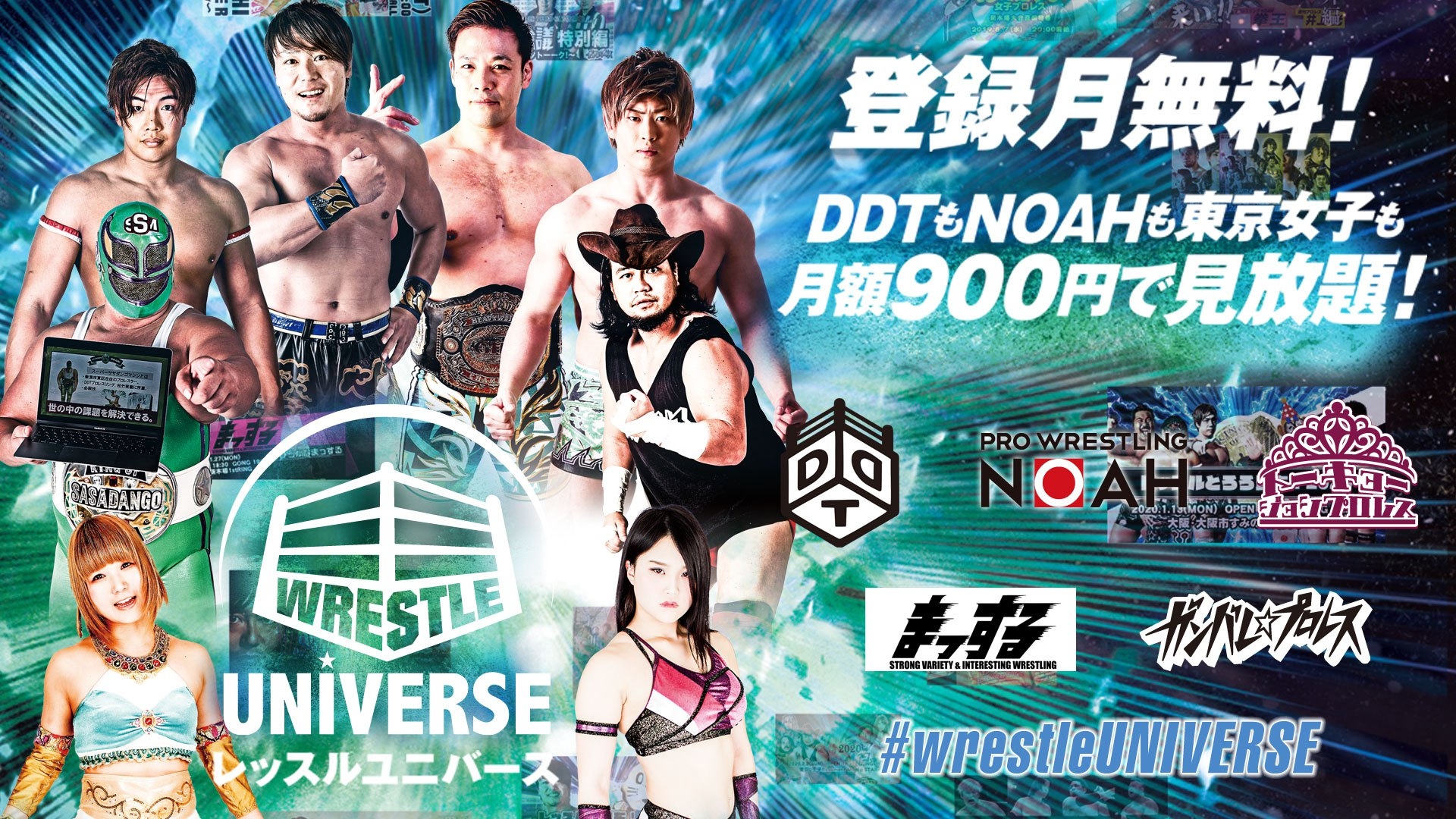 It is exciting to see if more promotions will come under the banner with WRESTLE UNIVERSE. New Japan World and the WWE Network are arguably the biggest wrestling over-the-top streaming services. However, platforms with multiple promotions under their banner are increasingly popular.
DDT Universe Rebrands Wrestling Streaming Platform
The rebranding also shows a shift in perspective in relation to one individual promotion, under the WRESTLE UNIVERSE banner; Tokyo Joshi Pro Wrestling (TJP). The promotion was announced in 2012 with events beginning in 2013. TJP was originally a very small offshoot of DDT Pro Wrestling itself. It originally featuring Idol unit musical performances. TJP quickly evolved into a promotion worthy of a show at the legendary Korakuen Hall in January 2016. It has done so annually ever since. The rebranding of DDT Universe to WRESTLE UNIVERSE solidifies the status of TJP as on the same level as DDT or NOAH.
Finally, with the previously reported Pro-Wrestling NOAH events scheduled for the end of May, this as well along with the DDT TV events. It is safe to say that WRESTLE UNIVERSE will be the home of new Japanese wrestling events, moving forward.
Wrestling fans can enjoy their first month of WRESTLE UNIVERSE free. Each month after the free trial costs only 999 yen/month. For more information, please visit DDT Pro's official website.
Be sure to stay tuned to the Pro Wrestling Post for this and additional stories from the wrestling world. Readers can rely on Pro Wrestling Post to bring them the most important news from around the globe. We provide readers with daily news, history and so much more. Please visit DDT Pro's official website for more information as well here.