Danny Hodge. Many will have fond and proud recollections of the United States between 1955 to 1970. Maybe not our demographic, but just pick the brains of older relatives to find out more. While far from perfect and plagued with many of the woes that linger to this very day, America marched triumphantly out of the second world war and overtook Great Britain as the world's economic power.
________________________
Jobs were aplenty; lifetime employment was almost a given. There were no cost-cutting nor austerity measures. People flocked to the suburbs in big v-8 engined gas-guzzling cars. Fill it up with hi-test Mister was heard at gas stations throughout the country.
No one sneered at you for eating eggs daily, being out in the sun until dusk, and even riding with the Marlboro Man. You would be able to drink fresh, wholesome milk delivered to your door in glass bottles.
The only concern back then was the spread of Communism and its potential effect on American freedom. That era also brought about the creation of the athlete as a larger than life hero. Being featured on a magazine cover was the equivalent of having three million followers on social media. Imagine the fun Kaleb with a K could have had to put Tenille Dashwood on the cover of Sport.
Danny Hodge
As the song lyric from the tune Beach Baby, heroes were the
"suntanned crew cut All American male."
Ask older relatives about their recollections of Mickey Mantle and Paul Hornung. Danny Hodge was pro wrestling's preeminent poster boy. Let's travel back a few decades and discover more about Danny Hodge.
Those of us who watch Dynamite will note that Jake Hager is introduced as hailing from Perry, Oklahoma, the wrestling capital of the world. The town in question was put on the map, if you will, through being the birthplace of Danny Hodge.
There is nothing like small-town hospitality, and Danny Hodge went out of his way to make one and all feel like they were family members. Like the Cab Calloway song,
"Everybody Ate When They Came To His House."
Hodge passed over the holidays, and accolades poured in from those who knew him and knew of his body of work and humble sincerity. These points were nicely stressed in an article that appeared in the Charleston South Carolina Post Courier on the 2nd of January.
More than a congenial host and model townsperson, Hodge possessed elite ring skills. He easily transitioned from amateur wrestling to the pros and put the light heavyweight division on the map. Don t take it from me though, here's the man under the black hat chiming in on Hodge's place in wrestling history.
"Danny was the best wrestler, amateur, and pro, I've ever been around," Hall of Fame broadcaster Jim Ross said of his boyhood hero, riding partner, and mentor."
His sentiments were echoed by none other than Jake Hager, another prominent figure on the AEW scene.
"Danny Hodge is the Godfather of the wrestling capital of the world," tweeted current AEW star and former WWE champion Jake Hager, who grew up only two blocks from Hodge in the small town of Perry, Okla. "He was the toughest guy in every room. Period. He was also the hardest worker … but what I admire most was his character. Kind and sincere."
Hodge was a model of stability in an ever-changing world. He was married for close to seventy years and lived in the same Perry house for half a century.
Hodge loved the life he lived. There was never a stranger at the Hodge home.
"All the kids come and go. When friends come in to see my plaques and medals and trophies or bottle-openers … I want them to feel at home. You don't have to kick your shoes off at the front door. It's home."
He also made every mat or ring he performed in feel like HIS home. His College career was utterly sensational. He was undefeated as a Sooner, winning 46 consecutive matches and never being the victim of a takedown. He won three National collegiate championships and competed for his country twice during the Summer Games, Helsinki in 1952 and Melbourne 4 years later. It was in Melbourne that Hodge earned a silver medal in his discipline.
With the Olympic experience in the rearview mirror, Hodge looked to take on new challenges. First was the sweet science, boxing. In 1957 Hodge became a golden gloves champion, which was an obviously satisfying experience. All was well, but then Hodge was lured into trying to wrestle professionally, and there was no looking back.
Many speculate how well financially Hodge could have done in today's world of shoot fighting, MMA, and what Eddie Kingston refers to as the land of entertainers. Hodge would have made Raw Underground look like duck, duck, goose.
With his talent and potential, great steps were taken to ensure Hodge was trained by the very best. This task was handed out to Ed Strangler Lewis and Leroy McGuirk. Their pupil had a marked advantage over other potential proteges. Hodge was born with tho sets of tendons in each hand. That gave him great strength. Even in his eighties, he was able to crush an apple with his bare hands. Yours truly is grateful to be able to bite into one without incident. Hodge would also shred phonebooks with ease and basically turn metal tools into powder and dust.  Hodge, therefore, became a genetic freak decades before Scott Steiner did!
Tailor-Made For His Times
His pro career began in 1959 against Angelo Savoldi, né Mario Faroni. Savoldi began his career in 1937 and was the first American to headline a card in Puerto Rico. The Savoldi-Hodge program went on for years.
Savoldi stayed involved in wrestling for decades after his retirement and ran a promotion known as I.C.W. out of the Northeast, mainly in Massachusetts and New Jersey.  There, lifelong enhancement performer Rusty Brooks developed a grade 6 play caliber Italian accent and portrayed a character straight out of a video game by the name of Supah Dupa Mario. The steps one takes to avoid litigation. The fed featured a heel Tony Atlas and a bad Demolition impersonator duo known as Zip and Zap, the Terminators.
Leaving the Northeast and stepping back to Danny Hodge's early days, in his very first match, Savoldi was stabbed several times by Hodge's father, who had somehow stormed the ring. That proverbial son-to-father chat might have done Savoldi a fair amount of good.
More history was made on July the twentieth, 1960, when Hodge won the lightweight NWA championship off of Angelo Savoldi in Oklahoma City's Stockyard Coliseum. As stated earlier, the NWA'S lightweight belt was perennially Hodge's for years. He traveled the world for years defending it while laying the foundation for the emergence of lightweight talent and amateur style wrestling's continued success as part of the pro ranks.
Not only was he well-decorated, but he was also extremely well-paid. In 1962, he earned ninety percent of Mickey Mantle and Willie Mays' salary, two of the highest-paid athletes in MLB.
A Career Cut Tragically Short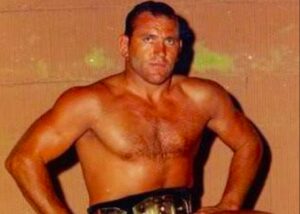 Hodge's amazing run lasted until 1976, when his career was cut short by a grievous injury sustained in a car wreck. In fact, Hodge broke his neck and most likely survived by holding his head still with his mighty double-tendoned hands.
Hodge was always happy to play the role of the locker room leader. This was especially true with new talent to a territory that might have entered with a lackadaisical attitude and an unwillingness to sell. Out came Hodge's strong style, and the issue was rectified swiftly and decisively.
This aspect of his game was summed up thusly in the Charleston Post article we referred to earlier.
"Dan Hodge and his easygoing demeanor was in stark contrast to the fierce competitor he was on the mat and in the ring for so many years. He was universally considered to be the toughest man in the sport. He was the Mid-South territory's "policeman" who would accept challenges from naysayers and make them believers. If an athlete came in thinking it would be an easy path to becoming a "rassler," he'd have to get his baptism by fire from the feared Hodge."

"I went into wrestling, and I was the officer. If you challenged any of the matches, I'd be the first one you'd see. To get through me, you'd have to squeal."
No one had it easy facing Hodge, that at any level. As one of his amateur foes aptly put it:
"For the first two periods, I thought I was going to die. In the third, I was afraid I wouldn't'."
One is hard-pressed to find a legitimate amateur or professional hall of fame that Hodge is not a member of. Nobody can deny his lasting impact on the light heavyweight division nor his place in American sports history. On April 6th, 1957, Hodge became the first-ever amateur wrestler to grace the cover of Sports Illustrated. The trophy awarded to the NCAA's top college wrestler is named in his honor.
While Danny Hodge left us during the Christmas break, his life and legacy will not be soon forgotten. He embodied the American dream triumphing over a Tom Joad-like horrific childhood.
He humbly described his life thusly:
"God's made it good for me."
Hodge himself, through his talent and dedication, gave Providence a helping hand, a two tendons, one at that.