In 1994, Antonio Inoki had an idea for a wrestling show. It was to be the supercard to end all supercards. The finest wrestlers from both Japan and the USA would square off in front of the largest audience ever assembled for a wrestling show. Muhammad Ali would be the guest of honor, and the main event would feature Japan's national hero Antonio Inoki facing off against the American titan Hulk Hogan. But most interestingly, the show would take place in Pyongyang, North Korea, with the goal of opening peace talks with their Asian neighbors.
Noble though Inoki's intentions were, he could not have anticipated the machinations of Kim Jong-il. The paranoid leader of North Korea would twist a world first festival of peace into a nationalistic spectacle, driving the outsiders to their breaking point and sinking Inoki's political career. On this day, we look back at the Pyongyang International Sports and Culture Festival for Peace, otherwise known as Collision in Korea. How did this happen?
Inoki, The Politician – Collision in Korea
In 1989, Antonio Inoki decided to step away from the squared circle to become a politician. Inspired by his late father, Sajiro Inoki, Antonio formed the Sports and Peace Party. The party's foundational principal was that adversarial nations could open up to diplomacy through sports. In the 1989 Upper House election, the Sports and Peace Party ran 10 candidates, with only Inoki winning a seat.
On August 2nd, 1990, Iraq invaded the neighbouring state of Kuwait. Expecting retaliation from the international community, Iraqi president Saddam Hussein ordered the detainment of all foreign nationals. With over 100 Japanese citizens held hostage by Iraq, Inoki had an opportunity to prove the viability of his political philosophy.
Between September and December of 1990, Inoki visited Iraq three times to negotiate the release of the Japanese hostages. During his November trip, he organized the "Peace Festival" at Baghdad's Al-Shaab International Stadium. The festival included matches by Japanese professional wrestlers, traditional taiko drummers, a rock concert, soccer, basketball, karate, and judo exhibitions.
At first, Inoki's colleagues and the hostages' families doubted his capabilities. Many of his fellow legislators urged that he "Stop grandstanding and take his seat on the Diet." On December 4th, Inoki and company waited for their return flight to Japan feeling defeated.  However, Iraqi officials approached Inoki before he could leave, insisting he stay behind to continue negotiations.
Inoki, the hostages, and their families met with Uday Hussein, the Iraqi minister for sport. Uday informed them that all remaining Japanese hostages would be freed and apologized for holding them for so long. The following day, Saddam Hussein announced the release of all 5,300 remaining foreign nationals. Antonio Inoki returned to Japan as both a sporting hero and a political hero.
Inoki, In Trouble
The successful negotiation with Iraq was a tremendous boost for the rookie MP's career, securing his seat in the 1992 election. It was also a boost for his fledgling party, as the Sports and Peace Party secured a second seat in that election. Through the early 90s, he would continue his efforts to promote "sports diplomacy." He also did much to encourage fitness and exercise as a way of realizing peace by maintaining health.
However, as the years went on, a number of allegations came to light, jeopardizing his continued career in politics. Throughout 1994, investigations uncovered that Inoki had taken bribes, embezzled funds, and, most shockingly, maintained a relationship with the notorious Yakuza. Alleged involvement with organized crime is enough to sink any politician, and Inoki was no different. He needed something to get the spotlight off his scandals, and recreating his success in Iraq was just the ticket.
An unexpected opportunity arose on July 8th, 1994, when leader of the DPRK, Kim Il-sung passed away. This was a shock to North Koreans, who view Kim Il-sung not only as the founder of the nation, but as the man who liberated them from Japanese oppressors and defeated the American imperialists. His successor had quite the legacy to live up to, and that successor was Kim Jong-il.
All eyes were on the new leader of the DPRK, who needed to prove his power to not only his people, but to the whole world. Naturally, this meant he needed to stage a spectacle. As for what kind of spectacle, that would come to him via correspondence with Antonio Inoki. The owner of New Japan Pro Wrestling, Inoki had the idea that an international supercard in Pyongyang could ease the tensions between isolationist North Korea and the rest of the world. Meanwhile, Kim Jong-il saw the spectacle of pro wrestling as an opportunity to propagandize, just as is father did.
WCW Signs On
In 1994, Ted Turner promoted Eric Bischoff to Senior Vice President of WCW, effectively putting Bischoff in charge of everything related to WCW. Back in the 1980s, WCW (Then Crockett Promotions) had a strong working relationship with New Japan Pro Wrestling. However, by the mid-90s, this relationship had fallen into disrepair, with neither company on speaking terms.
Among Bischoff's first actions upon entering his new role in WCW was to re-build that bridge. Giving WCW wrestlers exposure in Japan, Bischoff reasoned, would help establish the brand there. Meanwhile, featuring NJPW wrestlers on WCW programming would lend an international appeal, which the WWF lacked at the time.
Early in the rebuilt relationship, Antonio Inoki called Eric Bischoff, asking about co-promoting a supercard. Bischoff was immediately interested in the concept, seeing it as an opportunity to make WCW look like a world player. When Inoki informed him that the show would be taking place in North Korea, Bischoff remained interested. Risky though it would be, WCW would make national news by promoting a supercard in the DPRK.
Seeing the potential mainstream attention, Bischoff signed on enthusiastically. However, when he approached his biggest star about wrestling in The Hermit Kingdom, Hulk Hogan declined. The second biggest star in WCW, however, was a known risk-taker and always game for an adventure. And so, the main event of the North Korean show was set: Antonio Inoki vs. Ric Flair.
Coming To North Korea
Wrestlers like Ric Flair, Road Warrior Hawk, and The Steiner Brothers were used to flying in style in first class or on private jets. However, as no commercial airline flies into North Korea, the wrestlers had to take a repurposed military plane sent by the North Korean government. All of the passengers were told that the plane would be bugged, and that they should keep their comments about North Korea respectful.
Upon landing, everyone's passports were confiscated, and everyone was assigned a 'handler.' These North Korean 'handlers' would escort them everywhere they went, usually taking them on pre-scripted tours of national monuments. Among the first places they were taken was the Mansu Hill Grand Monument, where the wrestlers were given bouquets and told to leave them at the foot of the grand statue of Kim Il-sung.
As American and Japanese citizens, the people of North Korea regarded the wrestlers with heavy suspicion. To North Koreans, the Japanese were the tyrannical overlords during World War II, while Americans were the imperialist invaders during the Korean War. As such, they were liable to do any number of horrible things. In the relevant episode of Dark Side of The Ring, Eric Bischoff tells a story about how very real the fear was.
An avid jogger, Bischoff woke up early, put on his training gear, and left the hotel for his morning routine. As he ran through the streets of Pyongyang, the people outside regarded him with genuine horror. The only times they had ever seen a white person running through the streets were during times of war.
The Event – Collision in Korea
On April 28th, 1995, 165,000 people packed into May Day Stadium to take in the spectacle of the Pyongyang International Sports and Culture Festival for Peace. Flair and company were surprised that there were so many fans in this isolationist nation. However, they were soon informed that the lion's share of the audience were threatened with arrest if they did not attend.
They then witnessed the procession of North Korean military personnel and equipment, followed by demonstrations of arts and culture. Among these demonstrations was a sea of schoolchildren holding up placards depicting patriotic images and messages, including the bombing of the USA and Japan. After the theatrics, the pro wrestling began.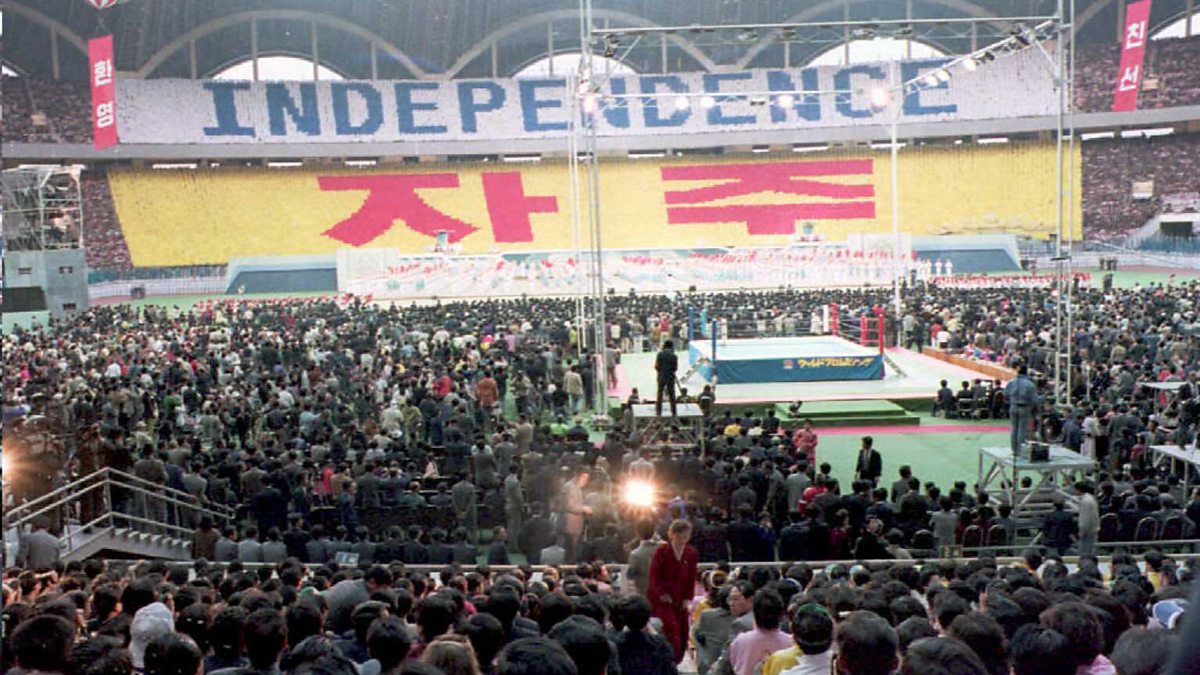 In the first match on the card, Yuji Nagata faced Tokimitsu Ishizawa. Nagata and Ishizawa wrestled a fast-paced, technical match. However, the crowd gave no reaction whatsoever. Indeed, the crowd would sit on their hands for much of the night. Only a handful of matches would get any reaction, and not for the reasons you might expect. Akira Hokuto & Bull Nakano shocked the audience with their getup and behavior. Meanwhile Scott Norton and Shinya Hashimoto left the audience agape at their sheer size.
This crowd expected to see olympic wrestling, not the flamboyant, suspiciously choreographed style of professional wrestling. The only match to garner a genuine pro wrestling reaction was Inoki vs. Flair. While Inoki was a Japanese man, he was a protégé of the late Rikidōzan, a North Korean wrestler who had become something of a national symbol. That night, Antonio Inoki was an honorary North Korean battling for supremacy with a cheating, cowardly American called Ric Flair. When Inoki scored the three-count off his patented enzuigiri kick, the largest pro wrestling audience came unglued.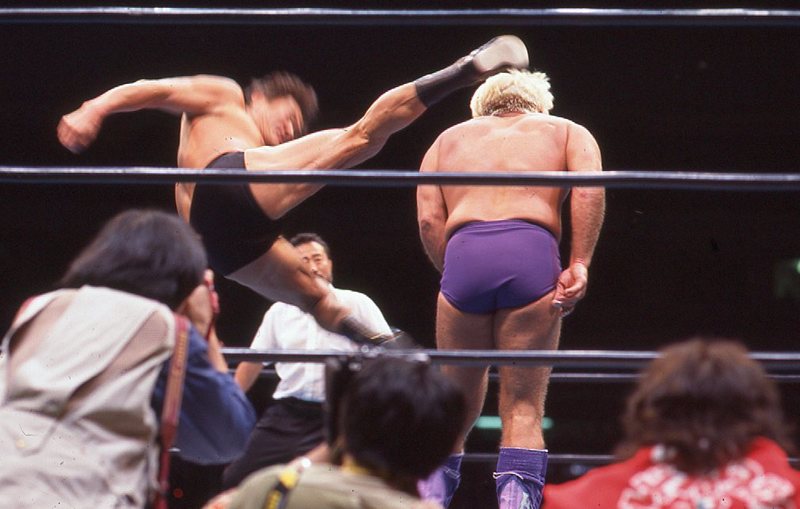 The Aftermath – Collision in Korea
Absolutely everybody was elated to be home following their visit to The Hermit Kingdom. Several wrestlers corroborate that Ric Flair kissed the tarmac upon landing in Japan. Inoki expected Japanese media to have reported his success in promoting a show in North Korea. However, what happened instead was much criticism towards Inoki for obliging the wishes of Kim Jong-il.
His "World Peace Event" had done little to move public opinion on him, and come the 1995  election, The Sports and Peace party would lose their seats. Inoki would step down as leader of the party, and abstained from politics for 18 years.
Eric Bischoff came out slightly better, though still not the way he had hoped. North American media reported on the event, as he expected. However, coverage of the event made it seem like another ham-fisted attempt at proving North Korea's legitimacy. The story made little mention of WCW and Eric Bischoff, focusing instead on reinforcing the idea that North Korea is weird.
In August of that year, WCW would air the second night of the event on PPV as "WCW Collision in Korea" however, the PPV did not garner the buy rate WCW expected, and was quickly forgotten. It remains one of the few WCW ppvs not available through WWE. This was the Collision in Korea.