Doomsday is upon NXT as Karrion Kross makes his in-ring debut with Scarlett in tow. As if that wasn't big enough, both the Men's and Women's NXT Titles are on the line tonight as Charlotte defends against Io Shirai while Adam Cole has his hands full vs The Velveteen Dream. From Full Sail University, this is NXT!
Dominik Dijakovic vs. Johnny Gargano
It's David vs. Goliath to begin this week's broadcast. Johnny Wrestling out to new music that fits his new persona. DD out next and once he's across from Johnny the bell rings and the match begins. Commentary mentions there's a 70-pound difference between the men and it is clearly on display as DD begins throwing Gargano around like a rag doll.
Gargano is able to leapfrog over a rushing Dijakovic and DD subsequently seems to injure his leg. Gargano attempts to take advantage and is finally able to mount some offense until it is cut off by a Lateral Press from DD and a pinfall attempt. 
Mrs. Johnny Wrestling, Candice LeRae, is out to the ring now much to the annoyance of DD. he leans over the ropes to yell at her and Johnny tosses the larger man over the top rope and goes after him with a Suicide Dive!
DD and Gargano back in the ring where Dijakovic goes for a Cyclone Kick, only to aggravate the injury sustained earlier.
LeRae grabs the hands of her husband through the bottom rope to anchor him as DD pulls on Johnny's feet. Dijakovic wins the tug of war and and drives his knee into the back of Gargano, but Gargano reverses into a pinfall attempt with a fistful of tights. Dijakovic gets back up to his feet and goes for Feast Your Eyes, but Gargano wriggles out and kicks out the injured leg of DD and hits a Superkick for a two count.
Both men in the corner and both go to the top. Gargano slides out and tries for a Powerbomb but DD lands on his feet in a show of athleticism that betrays his size, doing further damage to his knee. Johnny exposes the top turnbuckle and drives his opponents head into it with a nice Powerbomb reversal. Gargano hits the One Final Beat DDT and gets the win!
Winner: Johnny Gargano
Imperium Issues A Challenge
A video is shown with Marcel Barthel & Fabian Aichner boasting that they are the best Tag Team in professional wrestling, officially challenging Riddle and Thatcher for the NXT Tag Team Titles.
Interim NXT Cruiserweight Title Tournament Group B Match
Jack Gallagher vs. Akira Tozawa
Gallagher is 0-1 and Tozawa is 1-0 going into this match. Jack is in complete control as soon as the bell rings. Gallagher attempts for an Octopus submission but Tozawa breaks free. Gentleman Jack still running roughshod all over Tozawa until Akira hits a hard German Suplex that sends Gallagher to the corner. Tozawa goes to the top, looking for the Senton, but Gallagher exits the ring. It seems like Jack was going fishing as Tozawa takes the bait by following him out with a Tope, where Gallagher connects with a hard elbow to the head!
Both men on the apron now; Gallagher with clubbing blows and Tozawa with hard chops. Jack lifts up Tozawa but Akira counters by driving the head of The Gentleman into the apron, scientifically proven to be the hardest part of the ring.
Akira throws Jack into the ring, hits the Senton, and gets the victory to go 2-0 in the tournament.
Winner: Akira Tozawa
Tozawa will face El Hijo Del Fantasma in the tournament next. Akira Tozawa admits he's never fought Fantasma, but he's ready.
Chelsea Green vs. Xia Li
The Robert Stone brand being represented by Green here, who comes to the ring with an elaborate costume on. When the bell rings Green uses this wardrobe choice to her advantage by throwing the bottoms in Li's face for a cheap shot.
Li begins to turn things around when Aliyah comes out and grabs the leg of her rival. Xia tried to throw her off, and succeeds in clearing Aliyah from the ring. Unfortunately Green capitalizes on the distraction by hitting the I'm Prettier for the win.
Winner: Chelsea Green
Velveteen Dream Addresses His Match vs Adam Cole
Backstage, Velveteen Dream is getting ready for his Title match and addresses his Main Event opponent for the evening.
"No Cole. It isn't a dream. It's more than that. It's dream…over!" – Velveteen Dream
Karrion Kross vs. Leon Ruff
The much anticipated in-ring debut of Doomsday (Kross and Scarlett) is finally here. Black and white imagery on the LED Screen as Scarlett appears on the ramp. Kross out next and stands in front of Scarlett, the two of them striking an ominous pose. Scarlett sings along to the theme song, the crescendo rising each time she chants "Fall and Pray!"
The bell rings and Ruff is immediately disposed of with two Doomsday Saitos and a Kross Jacket submission for the very quick win
Winner: Karrion Kross
Riddle and Thatcher Respond to Imperium
Riddle and Thatcher are interviewed backstage where they are asked if they have a response to Imperium's challenge
"I think…you knock them out, I'll tap them out" – Timothy Thatcher
NXT Women's Championship

Charlotte Flair (c) vs. Io Shirai
The first of two Title matches tonight is underway as Shirai attempts to de-throne The Queen. Io is showing her quickness in the opening; something that Flair isn't exactly impressed with. Flair unloads with Chops that does her lineage proud.
Shirai turns it around with a Springboard Dropkick from the top rope that levels Charlotte. Charlotte goes to the top rope but Shirai follows her and hits a top rope Frankensteiner. Charlotte kicks out at 2 and then goes to the top herself for a Moonsault that doesn't connect. Shirai hits a 619 that Flair gets her hands up for to partially block. Io Shirai is doing well and taking it to the Champ, who goes outside the ring for a powder. Shirai tries to connect with a Moonsault of her own to the outside but Charlotte pulls out a Kendo Stick and hits Shirai with the foreign object for a DQ finish! 
Winner by DQ: Io Shirai
Rhea Ripley Returns
Flair isn't done with Shirai and wraps her legs around the ring post. Flair takes the Steel Steps in her hands with evil intent until Rhea Ripley comes out for the save, the first time she's been seen since Wrestlemania!
Ripley is able to unload on The Champ for a short time until Flair retreats with her title. Ripley still trash-talking as Flair smiles up the ramp. 
Shirai not happy and begins to scream at Ripley, who tells her she should be thankful for her help.
Interim NXT Cruiserweight Title Tournament Group A Match
Jake Atlas vs. Kushida
Both men are 1-0 entering this match. The high flyers are out the gate right away with lightning-fast action. Very back and forth until Kushida is able to get an Arm Bar submission from seemingly out of nowhere!
Winner: Kushida 
Finn Balor Speaks His Mind
Finn Balor is out to speak to his mystery attacker from a couple of weeks ago. 
"To whoever attacked me. The push you're expecting? It won't be a push. It'll be a squash!" – Finn Balor
Cameron Grimes vs. Denzel Dejournette
This one is over in less than a minute. After Grimes goes for the Cave In and Dejournette lands a series of Suplexes, Grimes connects successfully with a second Cave In for the pinfall.
Winner: Cameron Grimes
Post-match, Grimes runs his mouth about what Balor was out speaking about. Grimes says he wishes someone hadn't beaten him to Balor, because if he would have done it, he would have gone right up to The Prince and slapped the taste out of his mouth.
Unbeknownst to Grimes, Balor is listening and enters the ring, daring Grimes to take a shot. Grimes looks remorseful but is pushed by Balor, which causes him to attack and be thwarted by the Irishman. A Double Stomp and a Slingblade sends Grimes running as Balor stands tall. 
NXT Championship
Adam Cole (c) vs Velveteen Dream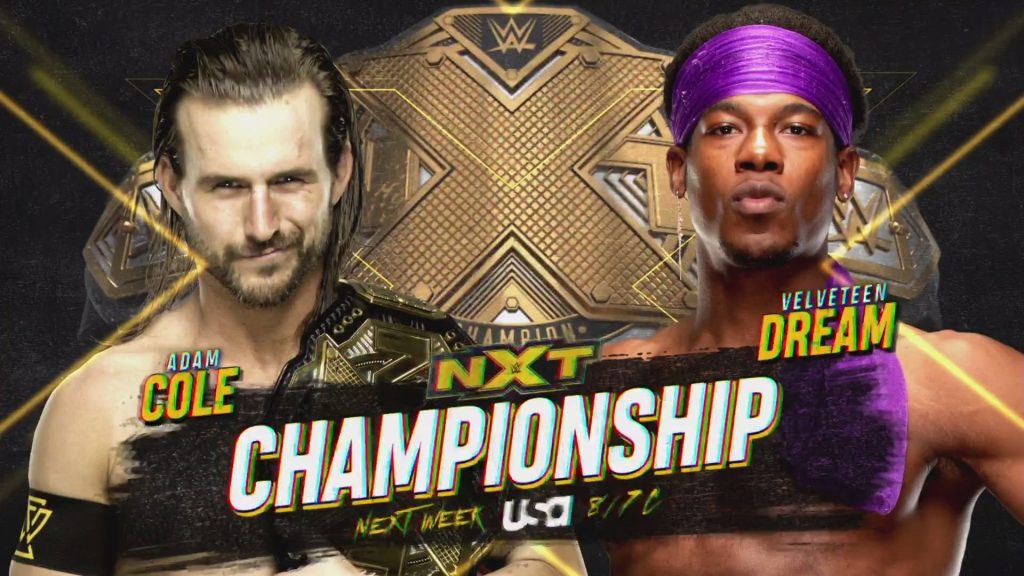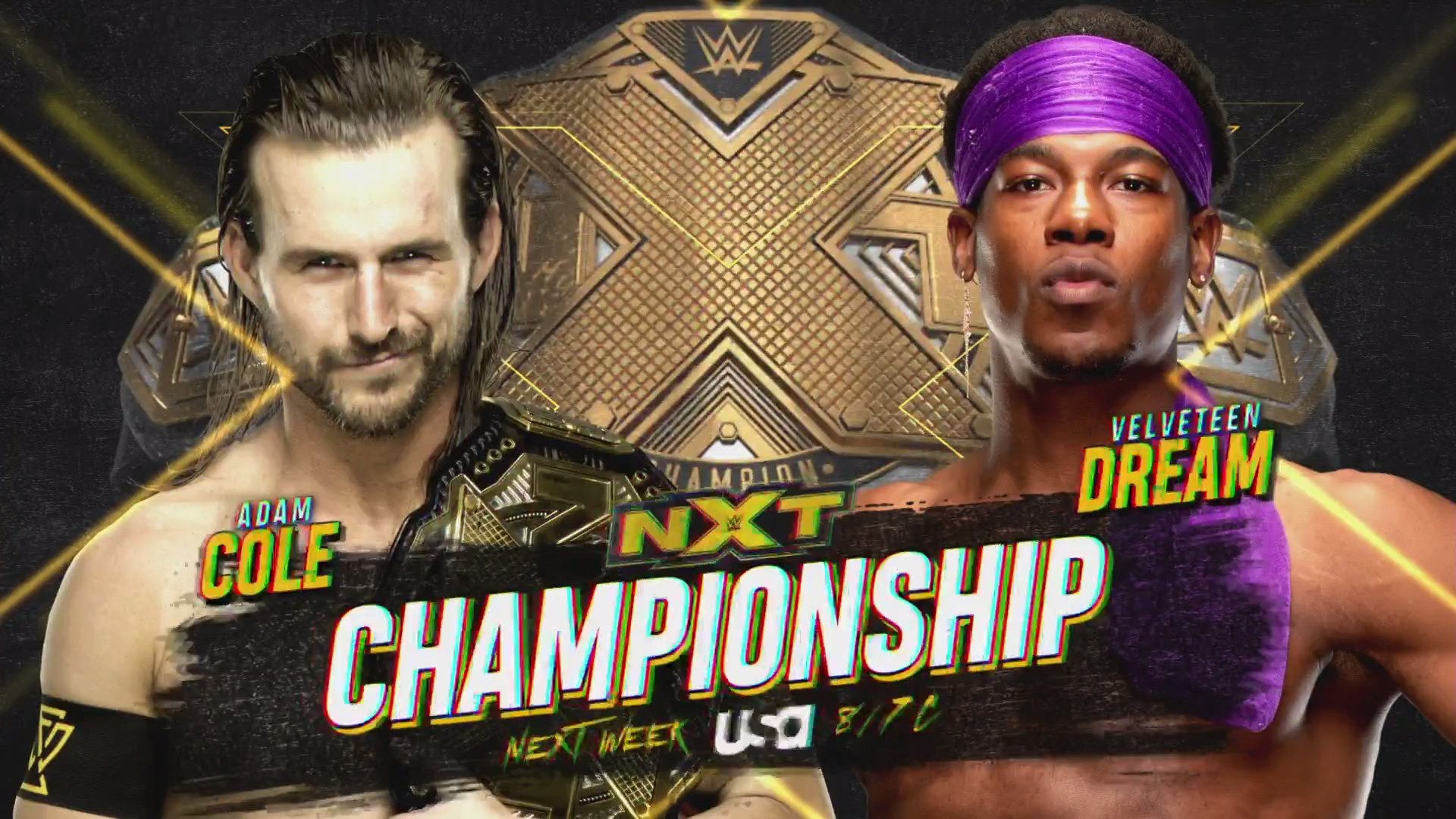 The Main Event of the evening is underway as Velveteen Dream looks to end Cole's 340-day reign.
Shortly after the bell rings the match is taken outside by both men. Dream runs Cole into the steel steps and then rolls him back into the ring. Cole recovers and hits a Superkick onto Dream, then signals for The Last Shot. Dream with a counter of his own by way of a Spinebuster for a two count!
Adam Cole up to the top turnbuckle but is caught vs Dream at the bottom into a reverse STO to a two count.
Dream in control with a number of pin attempts, until he is caught with a Backstabber by Adam Cole. 
Cole gets Dream into a Fireman's Carry that Velveteen fights out of. Vicious strikes between the two men, with each going for the kill with increasingly impactful finishers. All of a sudden Bobby Fish and Roderick Strong rush down the ramp, only to be stopped dead in their tracks when Dexter Lumis emerges from underneath the ring! He beckons The Undisputed Era to make a move, which they do and an all-out brawl is happening outside the ring that inevitably takes out the referee!
Dream goes to the top and hits The Purple Rainmaker vs Cole.
But there's no ref to make the count! Therefore, Dream dives to the outside and takes everyone out, only to re-enter the ring to eat The Last Shot for the win and to retain the Championship.
Winner and STILL NXT Champion: Adam Cole

Adam Cole's hand is raised in victory as NXT goes off the air for this week.