Living Color's Cult of Personality played across the Union Centre In Chicago at All Elite Wrestling's  Rampage event; the reactions were one of the biggest ovations in wrestling history for CM Punk.
It became one of the biggest news stories of this decade and one of the greatest returns to wrestling ever. CM Punk has had a remarkable career. But he cut it short and fell out of love of wrestling for over seven years. As he embarks on an epic return to wrestling, we look at his journey to AEW.
Phil Brooks started wrestling in a backyard federation in 1999 before joining Chicago-based wrestling school Steel Dominion. It was here he trained to be a professional wrestler and met Colt Cabana. Cabana and Punk quickly became best friends. They traveled the independent wrestling scene together until a falling out in 2014. Their friendship also dissolved.
Punk worked for IWA- Mid South early in his career gaining the attention of the wrestling online community. Mainly thanks to his excellent matches against the likes of Cabana, AJ Styles and Chris Hero. Whilst working for IWA, Punk found a home in Ring of Honor.
In Ring of Honor, Punk and Cabana created the tag team Second City Saints. They won the ROH Tag Team Championships together before Punk moved on in a singles run. His feud with Raven over 2003 is well remembered by fans.
Punk had previously worked with Raven in the past. A short stint in the early days of TNA saw Punk be a part of Ravens stable called The Gathering. Punk run in TNA was short and didn't gather much attention.
CM Punk & Samoa Joe
In 2004, CM Punk won the ROH World Championship from Samoa Joe in their best-of-three series.
Punk and Joe both went to a sixty-minute time limit draw in their first two matches, and in the third, with no time limit, Punk was unsuccessful in beating Samoa Joe as Joe retained the ROH world champion at All-Star Extravaganza 2. He spoke with Cultaholic about his trilogy with Samoa Joe
"It was how I felt we were handed the Joe-Punk trilogy. I got Joe drunk and was like, 'We're going to do a 60-minute draw.'
That was simply because there was nowhere else for us to go. Joe had hit a wall when it came to opponents, there was no one else for him to work.
I was literally wrestling Joe because I was the only guy he hadn't beat and if I didn't say, 'We're going 60,' Joe would have just beaten me.
I'm a guy who looks at 'what's a different way to do something?' Instead of him just beating me, it was, 'How do we draw more out of this?
Let's go 60 minutes and we can revisit it as a main event down the road.' We needed main events. Everyone loved the idea, we did it, it sort of worked, and we fell into that, and it was more natural."
As the summer approached in 2005, CM Punk signed a contract with WWE. Punk notoriety within the wrestling had grown. He was the symbol of the alternative of what WWE were offering.
Smaller in size, with tattoos and piercing, he was nothing like you would see on RAW and SmackDown at the time. It was this summer that his popularity peaked, and the original summer of Punk begun.
In a massive surprise, Punk pinned Austin Aries to win the ROH World Championship at Death Before Dishonour III. This match was portrayed as his farewell match in ROH. But to everyone's amazement and surprise, Punk had captured their world championship
With the fans cheering him, Punk used a promo to turn on the crowd and left with the championship. At the next show, he appeared in the ring and informed everyone that he does intend on going to WWE.
Add to that he will take the Ring of Honor World championship with him. A different personality from Punk was exemplified by signing his WWE contract in the ring on the ROH Championship.
This is also the same period that Punk starts to use the Living Colour song 'Cult of Personality'. It has become synonymous with Punk and his character.
With Punk promising to leave with the belt, it was Mick Foley who convinced him that he needed to defend the championship and did so. It was James Gibson who pinned Punk to win the championship.
The original summer of Punk ended when Punk had his last match for ROH in his hometown of Chicago, losing to Colt Cabana in a two out of three falls match. Punk spoke about his original Summer of Punk.
"I field a phone call one day, I took a job, and I told Gabe and he was like, 'What are we going to do?' Well, fortunately, it was going to leak and that's a good thing.
You have to think outside the box a lot of times. Knowing it was going to leak and the way people think, what they didn't realize is I said, 'I'll sign, but I need to work the rest of my dates.'
They used to be good about that, letting people finish dates.
I knew I had X amount of time and I said, 'Let's do this, the people won't know when I'm gone. If I say I'm signed, they'll think this is my last show.
Let's shock them.' It wasn't swerve them just to swerve them. It was swerving them because they literally didn't know what was going to happen.
They'll think they know, but we could keep them on the edge of their seat and book it like it's a television show. End shows with a question mark.
I'm not going to say it was easy coming up with the creative for that, but you work with what you got and that landed in our lap. It felt like the right thing to do and was a lot of fun."
Punk moved to WWE and made his television debut for the company in June 2006 on ECW. He went on a winning streak and found himself at Survivor Series as a member of Team DX.
A month later, he was a participant in the dreadful Extreme Elimination Chamber Match at December to Dismember for the ECW Championship but was unsuccessful in his championship quest. Punk would also be unsuccessful in his first WrestleMania appearance, participating in the Money in the Bank ladder match.
After WrestleMania, Punk set his sights on becoming ECW Champion. With a series of matches against John Morrison at The Great American Bash and SummerSlam, Punk defeated Morrison to become the champion in his last chance on ECW television.
As champion, Punk held the championship until the new year when he would lose to Chavo Guerrero in a No Disqualification match.
WrestleMania 24 saw Punk win the Money in the Bank Ladder match and earn a guaranteed championship match in the future. At the 2008 draft, CM Punk found himself being drafted to RAW, and on his first night on the brand; he cashed in his Money in the Bank contract on Edge to win the WWE World Heavyweight Championship.
Punk picked up wins over JBL and Batista as he retained the championship and headed into Unforgiven where he would defend his championship in a championship scramble.
Punk was never able to defend his championship in the scramble match. Backstage before the match, Legacy, led by Randy Orton, attacked Punk and delivered a punt kick which kept him out of the match.
Chris Jericho became champion as Punk's replacement. Y2J would retain the championship in a steel cage in Punk's match to try and regain the World Heavyweight championship.
CM Punk & the WWE Tag Team Championship
Teaming with Kofi Kingston, Punk surprisingly won the WWE Tag Team Championships defeating Ted DiBiase and Cody Rhodes. Just a month later, they would lose their Championships to The Miz and John Morrison.
Punk shortly afterward won the WWE Intercontinental Championship from William Regal. Winning the Intercontinental Championship would make CM Punk the fastest person to become a triple crown champion within WWE. He later dropped the championship to JBL on RAW.
At WrestleMania 25, Punk became the first person to win back-to-back Money in the Bank Ladder matches and the first two-time winner. Punk, now drafted to SmackDown, cashed in his briefcase once again to win the WWE World Heavyweight Championship, pinning Jeff Hardy at Extreme Rules.
Hardy defeated Punk at Night of Champions to regain the championship but at SummerSlam in a TLC Match, Punk regained the championship once again. Afterwards, Punk was attacked by a returning Undertaker.
With a feud against The Undertaker, this was truly the beginning of CM Punk starting to work with the bigger names of WWE. He retained his championship in a controversial ending at Breaking Point.
Undertaker received a rematch for the World Heavyweight Championship and faced CM Punk in a Hell in a Cell match. Punk lost the championship and failed to regain it a month later at the Bragging Rights pay-per-view.
After losing the championship, Punk begun his Straight Edge Society. CM Punk is famous in the wrestling community for not drinking alcohol, taking prescribed pain medication, or doing drugs. With the Straight Edge Society, he converted members of the public to his ways.
Luke Gallows, Serena Deeb and Joey Mercury would all convert and become members of Punks group. All members had their heads shaved as a symbol of their allegiance, but Punk, believing he was purer, kept his hair.
At WrestleMania XXVI, Punk faced Rey Mysterio but lost. Their feud would culminate at Over the Limit where if Mysterio lost, he would have to join the Straight Edge Society but if he won, CM Punk would have to shave his hair.
The Straight Edge Society
At Over the Limit. Punk lost and had his head shaven. After a brief feud with Big Show, The Straight Edge Society disbanded later in the year. In October, Punk was traded to Raw from SmackDown in an exchange for Edge.
Soon after his debut on Monday nights, Punk suffered a hip injury and was unable to compete. For the next month, he became a member of the Raw announce team before attacking John Cena.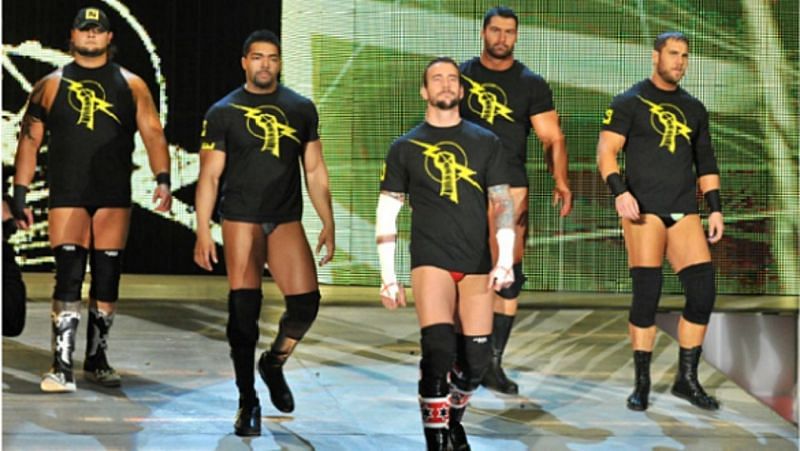 He revealed himself to be the new leader of Nexus. The New Nexus consisted of CM Punk, Michael McGillicutty, Huskey Harris, Mason Ryan, and David Otunga. At the Royal Rumble, Punk and Nexus attacked Randy Orton in his WWE Championship match against The Miz.
Citing the reason for their attack, Punk spoke about how Orton attacked him at Unforgiven years before costing him his World Heavyweight Championship.
They met at WrestleMania XXVII, where Orton picked up the win. Orton would also win the rematch at Extreme Rules a month later in a last-man-standing match. This showed whilst Punk was competing with the very top of the card, he was still unable to breakthrough.
He never won a feud when facing the very best of WWE. This was all about to change in the summer of 2011 as we entered the second Summer of Punk.
CM Punk & The Infamous Pipe Bomb
With Money in the Bank taking place on July 17th, CM Punk became the number one contender for the WWE Championship for the event. Punk would reveal that his contract was due to expire on that very date and he vowed to beat John Cena and leave WWE with their championship.
He took the mic at the end of a RAW episode and delivered what has become known as the 'Pipe Bomb' promo. Punk spoke about the reaction backstage afterwards
"When I was done with that, I remember walking back up the ramp on the fly, thinking, well, I can't go through the curtain because I just did this promo.
If I go through the curtain, kayfabe-wise, I'm fist-fighting somebody. I went side stage, which was just another little tiny thing that made people go, hmm, that was weird. And when I got into the back, there was nobody anywhere."
"Backstage is normally just buzzing with people in the hallways. It was empty, and I remember looking around like, 'geez, what's going on?'
And I walked past the curtain through Gorilla and everybody in the company was jammed into the tunnel, waiting to see me come through Gorilla because they figured the same thing.
They were like, 'oh man, this is gonna get real.' And the first person I see is Chef Robert Irvine because he's there with Gail Kim.
And he just looks like he just got through like a Dorian Yates chest workout, and he's just like, [Punk makes a jacked guy sound] 'That was amazing!' And he's all fired up."
"He's a guy that maybe doesn't necessarily watch a lot of pro wrestling, but it resonated with him. And then I saw Chris Masters, and Chris Masters looks at me and goes, 'Did you just hear what Punk said?'
And I was like, 'Chris, it's me,' and he was like, 'Oh, it is you. You're gonna get fired, dude,' and then I just walked up. It was a weird scene.
I didn't know it was gonna become as big as it did, but I knew just based off those reactions, we had something."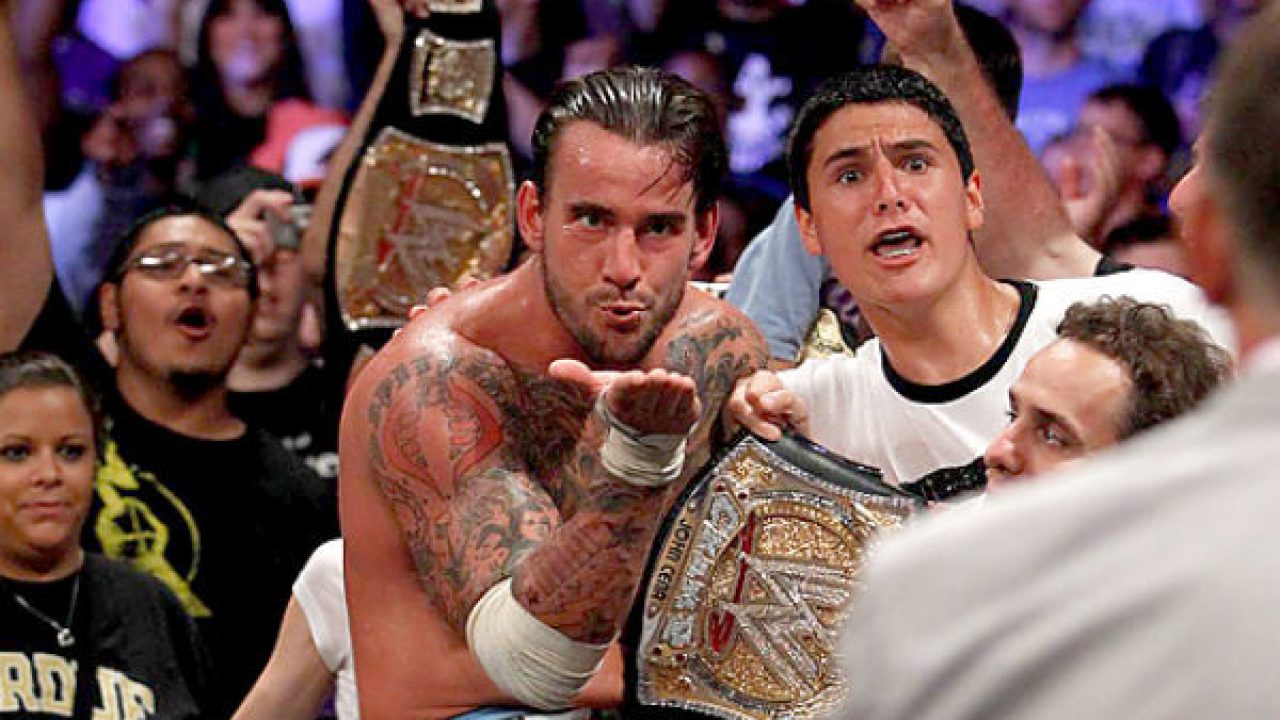 Vince McMahon tried to get Punk to sign a new contract, but at Money in the Bank and as the lead up to the event continued, Punk would deliver promos that blurred the line between reality and the script.
He focuses on McMahon himself, Triple H, and John Laurinaitis. In front of a raucous hometown crowd of Chicago, Punk blew a kiss to McMahon as he left through the crowd with the WWE Championship, pinning John Cena to win the title.
After a few weeks away from RAW, CM Punk returned as John Cena was crowned the new WWE Champion. With both claiming to the be the true champion. Triple H announced that the main event of SummerSlam would see both compete!
A match to determine the undisputed WWE Champion. CM Punk won the match, but Alberto Del Rio cashed in his Money in the Bank contract to win the championship afterwards.
CM Punk and the WWE Championship
Punk regained the WWE Championship at Survivor Series, defeating Alberto Del Rio. This begun a long reign as champion for Punk. He defended the belt over the new year against Dolph Ziggler before Chris Jericho made his return attacking Punk.
Jericho and Punk squared off at WrestleMania XVIII, with Punk retaining. He would also retain the championship in their rematch at Extreme Rules in a Chicago Street Fight.
Punk retained his championship once again against Daniel Bryan at Over the Limit but Bryan ex-girlfriend AJ Lee, started showing affections towards Punk. Punk and AJ Lee became a couple in real life and are happily married to this day.
But in WWE, AJ would serve as a special guest referee in the blow off match between Punk and Bryan at that years Money in the Bank event.
On a special episode of RAW to celebrate their 1000th episode. CM Punk was interrupted by The Rock. The Great One announced that he was challenging the WWE Champion to a match at the following Royal Rumble.
Later in the evening, Punk retained his championship against John Cena but The Rock made his presence felt when The Big Show got involved also. Punk attacked The Rock, leaving him down as CM Punk had turned heel.
The following weeks' CM Punk would explain that he was sick of John Cena and The Rock overshadowing him. Punk retained his championship against The Big Show and Cena at SummerSlam but his feud with Cena was not over.
Punk and John Cena drew at Night of Champions. It was around this time that CM Punk introduced the world to his manager, Paul Heyman.
Heyman accompanied Punk to the ring every match and both were a close unit. With a match set to settle the feud between John Cena and Punk at Hell in a Cell, Cena got injured.
John Cena picked his own replacement, who would be the undefeated Ryback. Inside the cell, Punk handed Ryback his first loss thanks to referee Brad Maddox helping Punk.
CM Punk & The Rock
At Survivor Series, he was booked in another triple-threat match. He overcame the odds once again. This time thanks to the Shield making their debut. As CM Punk headed to the Royal Rumble to face the Rock, he became the longest WWE Champion of the last 25 years.
But his reign was due to come to an end and at Royal Rumble. He lost to The Rock, who became the new champion. Punk reign lasted 434 days and is considered one of the greatest championship runs in WWE history.
Unsuccessful in his rematch at Elimination Chamber, Punk challenged The Undertaker at WrestleMania. Punk promised to break the WrestleMania streak of The Undertaker, even using mind games of the late Paul Barer to try and get The Undertaker disqualified in their match.
CM Punk & The Undertaker
At WrestleMania XXIX, The Undertaker defeated CM Punk. After WrestleMania, Punk told Paul Heyman not to accompany him to the ring anymore. This led to Heyman's other client, Brock Lesnar, to attack Punk. SummerSlam saw Heyman help Brock Lesnar to defeat CM Punk in a no disqualification Match.
Throughout 2013, Punk lost to The Rock, The Undertaker and Brock Lesnar, all part time performers. This didn't sit well with CM Punk, and he discussed it with Colt Cabana on his podcast The Art of Wrestling. 
"He goes 'you vs. Brock, SummerSlam,'" Punk recalled. "And I went, 'great, who's going over?' And he goes, 'well, Brock.' And I went, 'great! Who's going to be at work on Monday?'
And there's just silence on the end of the phone, and he goes 'well, I mean, you.' And I went 'why?' I said 'do I get my rematch at the next PPV?'
He goes, 'uh, no.'…[And] I went 'f*****g h***.' So I've gotta put over The Rock, and he goes away, I've gotta put over 'Taker and he goes away, and now I'm putting over Brock, and he goes away."

After SummerSlam, Punk continued to face Heyman clients Curtis Axel and Ryback. This would end at Hell in a Cell when CM Punk pinned Paul Heyman. Heyman teamed alongside Ryback in a 2 on 1 handicap match. Punk competed in the Royal Rumble, but this would be his last match.
He would walk out of WWE citing injuries and being burned out. It led to a WWE terminating Punk's contract; the same day he was fired happened to be his wedding day to AJ Lee.
Punk claimed unfair dismissal, and both reached an out-of-court settlement. After leaving WWE, Punk tried his hand at UFC and MMA but that didn't work out for the Chicago native, he also landed some acting roles too.
But CM Punk has finally come back to wrestling after seven years away. Punk has said that he fell out of love with wrestling and never thought about coming back until All Elite Wrestling came knocking.
Making his comeback, Punk is picking up wins and enjoying being a professional wrestler once again, wrestling with a smile of his face.