Reports of the death of the BritWres scene have been greatly exaggerated. A new crop of talent is rising to prominence following high profile departures to the US. Standing with the vanguard is a man who has veteran status – Chuck Mambo. I have written a spotlight on the man himself which you can find here; it should help to provide a touch more context. That said, the interview is a great read and I'm confident you will enjoy it.
A versatile performer, he is equally comfortable representing RIPTIDE Wrestling as the beloved babyface or heeling it up as a despicable member of Do Not Resuscitate in PROGRESS. Noted for his ability to connect with the fanbase from either side of the face/heel divide, he is yet to enter his prime. Still a young man, there can only be an improvement on the horizon for the talented Mambo.
Like the majority of wrestlers on the Indy scene, Mambo works for many different companies, but there are more that he would like to tackle. We'll delve into his work at various outfits, as well as the places that he would like to debut for.
The Legend of Mambo
The last time I saw Chuck wrestle live was for PROGRESS. It was the first PROGRESS show that I took my son, and Mambo wrestled the opening match. As he made his way out to face off with LJ Cleary, Mambo walked up to a guy sat next to my lad and threw his hat across the arena! The boy's mind was instantly blown, and another fan-created. Fantastic stuff!
In the leadup, to this interview, Chuck has been an absolute pleasure to converse with and confirms to me his reputation as one of the nicest fellas in wrestling. The interview begins just below.
Chuck discusses growing up and surfing
Gareth: Hi Chuck! Good to chat with you. Let's start with a nice, easy one: at what age did you decide you wanted to become a wrestler?
Chuck: I always wanted to be a wrestler growing up but I made up my mind it was the definite, all my eggs in this basket, the goal when I was 19.
Gareth: That's a big leap to make, so did you have an athletic background prior to wrestling training?
Chuck: Fairly, I guess! I grew up in a really pretty countryside so I was always running! And I did martial arts as a kid, then kicking boxing as a teenager. And climbing and surfing and skating 'n' all, so I guess I was always using my body in a lotta way.
Then in my first year in London, I didn't find a pro wrestling school so I trained free style wrestling for a bit!
Gareth: And this would all have been in Newquay, where you grew up?
Chuck: Yes. I definitely, 100% grew up in Newquay, not Wotton Under Edge, Gloucestershire.
Gareth: Newquay does have a big surfing scene, so were you genuinely a surfer dude? Or is Mambo based on somebody that you knew?
Chuck: I genuinely did love surfing growing up, but I didn't live close enough to the beach to go loads! But a good bit! Then at the Projo [PROGRESS's wrestling school], I asked Jim Smallman for some character advice. He said, "You look like you own a surfboard, maybe go with that." Ironically, since starting to wrestle as a "surfer dude" I had no weekends to go surfing, haha. So these days I try not to brand myself as a surfer dude and just focus on being a cracking wrestler! Well! as best I can!
And yeah, I took the name Chuck from my friend who surfs and is the dudeiest man I ever met!
Real-Life Inspiration
Gareth: So that was your real-life inspiration. But who was your favorite wrestler growing up? What do you feel you took from them to go into your career?
Chuck: Hulkster! And also Mick Foley! I… don't know what I've taken from them going into my career but hopefully, I guess some of the mega excitement of Hulkamania rubbed off! Oh, and Cactus Clotheslines! And, well I guess a love for the really like larger than life cartoonish performances and also the super relatable, human, performances too! That's not really something I've really explored yet, I guess! The more human performances. But maybe in the future!
Gareth: Was it your idea to flood the crowd with beachballs during your entrance at PROGRESS?
Chuck: YEAH! Who doesn't love a beach ball?
Truth be told! I'm loving life because after spending literally HUNDREDS of pounds on beachballs now when I come to new companies sometimes they have already bought them!
Gareth: You traveled to CZW in America very soon after beginning your career. Was that a scary leap? How did you find the style of wrestling in CZW? They're renowned for death matches after all.
Discussing Various Promotions
Chuck Mambo talks: The CZW guys were all super cool! They had me on the dojo wars! and then very briefly on an iPPV. I came out and some dude goes "Who the f is this guy?! he doesn't deserve to be here." Haha. So I actually learned a heck of a lot from that!
I've still never done a death match though! Although… I and Ricky Shane Page went PRETTY far in a no DQ at Attack. But a death match is still on my to-do list, I guess! Nothing but love to the welcoming folks of CZW!
Gareth: You've teamed with William Eaver on and off for the last 6 years in various guises. What is it that makes the two of you click as a team, do you think?
Chuck: Pastor is one of the funniest, weirdest people I've ever met! And also underneath (quite a few layers of ) the madness one of the kindest n nicest! I'm not sure what makes us click really! But I'm glad it does! Always a fun dudento be in the ring or on the road with!
Gareth: Prior to Super Strong Style 16 2018, do you feel that perhaps you weren't taken as seriously in PROGRESS? The match with Zack Sabre Jr showed you can keep up with the best.
Chuck: Yes. Elsewhere in the country, I think people were realizing how much I'd improved as a wrestler beyond a bit of light-hearted fun. But I hadn't really showcased that yet at PROGRESS, or not at any of their bigger shows anyway, it was starting to happen at the Dome shows.
But anyways, at companies like Ripperz and Attack and FCP, I was becoming more than just a likable goof and wrestling the best wrestler in the world in a tournament I had dreamed for years of being in. It was definitely a good way to really make sure people took note! I owe a ton of thanks to Zack for that match! It was a blast!
Heel Turn in PROGRESS
Gareth: Off the back of that, you turned heel in PROGRESS in late 2018, on Jimmy Havoc, and helped form Do Not Resuscitate with Spike Trivet, Present William Eaver, and Drew Parker. Danny Duggan has since supplanted Drew Parker in the group. How do you think the run has gone so far? I think there's a lot of mileage in it, personally.
Chuck Mambo talks: Yes I did! Its been fun! Ya know, getting to make people boo instead of cheer! And it been real cool to team with these guys, and now, I'm looking forward to seeing what will happen with Duggan joining us too so, yeah! Here's to the future! Got a lotta people and things we're still mad at!
Gareth: PROGRESS introduced the Proteus title at September's Ally Pally show, which Paul Robinson won. The belt's gimmick is the holder can create any stipulation they like when they defend it. If you were to dethrone Robbo, what stipulation would you defend it under?
Chuck: 4 on-1 handicap… Or maybe tables!
Gareth: You've already been champion in RIPTIDE of course, as you held the Brighton Championship. Consequently, you headlined a lot of the shows and be featured prominently in marketing, etc. Is this something that does a lot for your career on the BritWres scene, or is it a case of starting from scratch in each company?
Chuck Mambo: I LOVE RIPTIDE!! I think they're one of the best, coolest, companies in the country! And right from the start they've put a heap of faith in me and given me huge opportunities and I've definitely felt people's perception of me change on the back of those opportunities, and I think they've made me a better wrestler too! In fact, if anyone hasn't seen it! I recommend checking out Riptide! It's a lot of my best stuff! And also everyone else on the show is always smashing it!
RIPTIDE Wrestling
Gareth: I'd vouch for that. RIPTIDE produces some stonking shows. In a recent video for RIPTIDE, you said you had a list of six dream opponents. You named Zack Gibson, Zack Sabre Jr, Eddie Dennis, and Rampage Brown. Who are the other two?
Chuck: Wild Boar Mike Hitchman! Who I got to wrestle at Chaos. And Mike Bird! Who I got to wrestle at Attack. Both of them were the absolute business!
I need to put a new 3 together! I know Sami Calihan is definitely on any new list. Hmm who else…I'll have to get back to ya!
AND DRILLA DAN MALONEY!
IMPACT Wrestling
Gareth: Yeah, Dan's great. Changing the subject slightly, how did your appearance for IMPACT! come about? I take it that you hadn't worked with the guys in that match before? How difficult is it to work with unfamiliar opponents? Are there plans for future appearances?
Chuck: Sami invited me out to Ohio to do shows over in the US as part if a partnership with Fight Club Pro and asked the Impact folks if it'd be cool for me to come to hang at a show/wrestle. I'd actually driven Don and Scott back to London after they came to watch Eddie Dennis teach a Sacrifice Pro class in Leighton Buzzard, on account of Scott D'amore trained Eddie! Anyways! They remembered me and gave me a shot! And a zillion thanks to them, and Sami, and everyone in that match! Who were all super cool!
And no, it's one of the joys of wrestling working with new people! And if ever a match felt like home that'd be a scramble match! I dunno what the future holds! But I'd love to be back there!
Other Promotions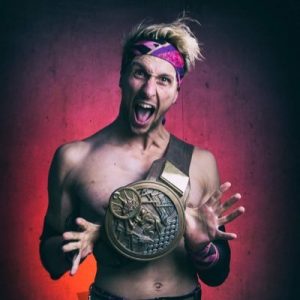 Gareth: IMPACT! aside, are there any promotions that you haven't worked for that you would like to? ICW? OTT? DnR in ICW could be an absolute dynamite.
Chuck Mambo: I'd absolutely LOVE to do OTT! It's on my wall with a box next to it waiting to be ticked! And I'm really hoping to tick it off within the year! Teeks [TK Cooper] and I would love to team together as many places as possible next year too! And I'd love to wrestle on every single FCP show and Rev Pro! And of course, ICW would be sick! I'd really love to get over to White Wolf as well!! And THE CRASH! Oh my days, that'd be fun!
Gareth: I'd like to finish off with a few quickfire questions if that's okay. What's your favorite wrestler's entrance music?
Rapid-Fire Questions
Chuck: Hulk Hogan Real American. Or Devitt's NJPW theme!
Gareth: What's favorite wrestler's gimmick?
Chuck Mambo: Anti Fun Police.
Gareth: Superb choice. What's your favorite gimmick match?
Chuck: TLC.
Gareth: What's your favorite match of yours?
Chuck Mambo talks: Me and Teeks in Brighton! Or Zack Gibson at Strong Style Or Chris Brookes at Brighton! Or every time I've ever wrestled Eddie Dennis. Oh! And I had a BLAST with Cara at Attack not too long ago!
Favorite Match of All-Time?
Gareth: What's your favorite match of all time?
Chuck Mambo: Hmmm, sh…! I don't have like a go-to favorite that I can think of. Triangle ladder match at Wrestlemania X6. The Young Bucks vs Golden Lovers; Cena vs Punk; Punk and Bryan; Rock Hogan; Shay vs Warren at Attack; EDDIE AND LESNAR; Defend Indy Wrestling vs Anti Fun Police and Shay in the Barn; British Strong Style vs The Elite at Fight Club; that PROGRESS 4 vs 4 where will did the balcony dive [Chapter 15]; Taka Michinoku vs Pantera on Raw, so good.
Gareth: Okay…
Chuck: Oh! Actually, probably Young Bucks vs World's Cutest Tag Team from PWG. Also, Elbow vs Arm Bar at IPW. That changed my whole thoughts on wrestling! And Jimmy Havoc vs Prince Devitt at PROGRESS. That's the one where Devitt was Hannibal Lecter! I'm sure I've missed some obvious belters!
Gareth: I think that's enough to be going on with. If you could be any animal, what would it be and why?
Chuck Mambo talks: Hmm…maybe like an Otter? Just floating hand in hand along a river?! Or a mighty gorilla! Being all… a gorilla! Or octopi! They're cool as shit, not sure I'd like to be one though. Hmm, maybe something underwater tho? Like some cool shark or dolphin. No one knows, apparently, where blue whales go for like a few months of the year. Though the water is getting awful f'd up these days.
Hmm… hmmm… panda? No. Beaver? Pig? Man, so many options.
Oh ok, I'll be a bumblebee!
Gareth: Chuck, many many thanks.