On Saturday, December 19th, at Limitless Wrestling's Vacationland Cup the promotion crowned a new champion. As part of a two-round tournament, 'top talent' Christian Casanova bested the field of eight men vying for the championship. In his first-round match up Christian Cassanova defeated CJ Cruz to move onto a final four. The event saw 'Red Death' Daniel Garcia advance past Lee Moriarty, JD Drake Blackwood defeated Kevin Blackwood & Alec Price defeated Ace Romero, making out the final four. However, it was Christian Casanova who wins the Limitless Wrestling Championship.
_____________________
The final match-up was a fast and furious contest amongst all four competitors. Long time indie talent JD Drake was caught off guard by Alex Price. Price snuck up behind him and rolled him up for a count of three. It then left three men in the ring with Price, Garcia, and Casanova all vying to become the champion. Almost immediately after Drake was eliminated, Garcia pounced on Price with an ankle lock early on. However, the weakened arm from earlier in the was a focal point. Casanova was being set up, but Garcia prevented a pinfall attempt. Garcia then brings the fight to Price and locks in a heel lock on Price in the center of the ring. He then turns it into repeated blows to the back of Price's head, leading to a referee stoppage as Price is eliminated.
There were now two, but there could only be one. Gacia is favoring his arm, and those in attendance are showing their support for Casanova and Garcia, who are bringing the fight to one another.  Casanova and Garcia come at each other shot for shot. If they aren't striking each other mid-air, they are taking the fight to one another off the ropes.
Christian Casanova Wins Limitless Wrestling Championship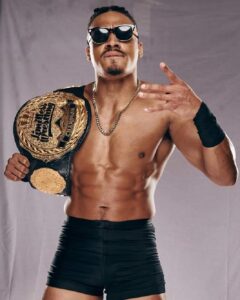 Garcia then locks in a sharpshooter on Casanova and wrenches the top talent's ankle in the process. However, Casanova counters it and goes chop for chop with Garcia. The two men are completely exhausted, and Garcia's arm continues to be the story. Then in what appears to be a Herculean-effort, he pile drives him by lifting Cassanova with one arm. He goes for the pinfall for a one..two..kick out! Casanova then hits s shining wizard on Garcia and a hoisted cutter but only for a count of two as well! The action is non-stop. With both men on their feet, their chops appear to do as much damage to their opponent as they are themselves at this point.
After a momentary break in the action, Casanova hits a top rope leg drop for a one..two..three! The Top Talent Christian Casanova is the new Limitless Wrestling Champion.