This past week during IMPACT Wrestling's Press Pass, Chris Sabin and Ace Austin discussed Bound for Glory. IMPACT has been garnering a lot of buzz and attention throughout the last year. This is due in part to the incredible tag division they have put together. The already stacked division got a little more competition at Slammiversary earlier this year when the Motor City Machine Guns returned and captured the IMPACT World Tag Team Championship from The North. The division also includes the debut of the Good Brothers as well.
With Bound for Glory, the biggest show of the year for IMPACT, coming up on October 24, IMPACT has a potentially incredible match in store. Motor City Machine Guns will defend their titles against The Good Brothers, The North, and the recently formed duo of former X-Division Champion Ace Austin and Madman Fulton.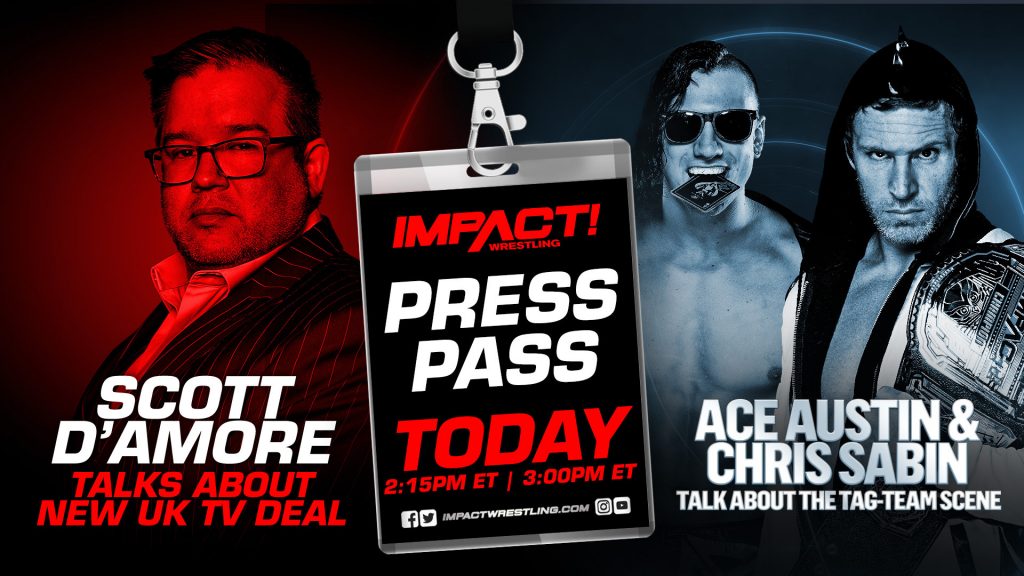 Pro Wrestling Post was fortunate enough to be invited to the third BFG press pass this past week. It featured Vice President Scott D'amore, Chris Sabin of the MCMG, and one of his six challengers in Ace Austin. The differences in attitude between champion and challenger were evident from the beginning. Ace Austin let his well-known arrogance show, proclaiming that he isn't worried about the legendary champion or the other challengers at all, believing that his time is now. Chris Sabin noted how he had a very similar demeanor as Ace earlier in his career, and said that it shows how young Ace is and that he has a lot of experience and wisdom to gain before he can be on the same level as the Machine Guns.
After both competitors spoke their minds for roughly five minutes apiece, the floor was opened up for media questions.
Chris Sabin and Ace Austin Discuss What Lies Ahead At Bound For Glory
You've obviously had a great career so far. You are consistently named one of the best wrestlers under 25. Coming into the match there's been a lot of talk about who's the best team in the company. Between the Machine Guns, The Good Brothers, and The North there are several choices that could make that claim. How much extra motivation does that give you to knock those three teams off and stand at the top of the loaded tag division out of that company?
Ace Austin: Sabin earlier was talking about the other tag teams in the division, you know, waiting patiently in line. I don't wait patiently in line, you know? That's just not something I need to do. There's just no reason for it. I'm clearly one of the best as you said. So a spot at the top is guaranteed mine, always. It has to be.
You've (Sabin) had a great return to IMPACT with winning the tag titles already. Do you have any other specific goals you set out to achieve when returning to IMPACT?

Chris Sabin: Not right now. I'm not trying to get too far ahead of myself right now. I'm perfectly content being the, you know, best tag team in the company, being the tag team champions, and, you know, represent Impact wrestling from a tag team standpoint, And, you know, who knows what the future holds, but it'll always be just to do the best I can possibly do.
****
Be sure to stay tuned to the Pro Wrestling Post for this and additional stories from the wrestling world. Readers can rely on Pro Wrestling Post to be their daily source for all things inside the squared circle. As a result, readers can expect daily news, history, and so much more. Please visit IMPACT Wrestling's official website here for upcoming news and  event additional information on IMPACT's upcoming Bound for Glory event