Central Empire Wrestling Heavyweight Champion JT Energy entered the season one finale of PowerSlam with one thing on his mind. Winning the CEW Tag Team Championships with best friend "Tenacious" Tim Rhodes and becoming a dual champion in CEW. Unfortunately for the "Booty King" that wasn't meant to be. Rory Fox and Jared Thumb had something to say about that. The recently formed team defeated the BEST FRIENDS becoming the new CEW Tag Team Champions.
Fox and Rhodes, who were Tag Team champions together, had a falling out after Rhode's actions during the CEW 11-Year Anniversary show. That night he turned his back on the fans and his new partner. He assisted Energy in winning the CEW Heavyweight Championship from Donnie Peppercricket. Rhodes and Peppercricket, known as the D&T Dynasty, once held the tag titles together, so his actions that night were especially shocking.
Central Empire Wrestling PowerSlam
With the current tag team champions at odds, something needed to be done. The titles were on the line in a match between Rory Fox and Jared Thumb against JT Energy and Tim Rhodes. During the season one finale of CEW PowerSlam, the two teams met and new champions were crowned. Energy and Rhodes dominated the early portion of the contest. Utilizing their underhanded tactics and double team maneuvers to gain the advantage.  They separated Fox from his partner.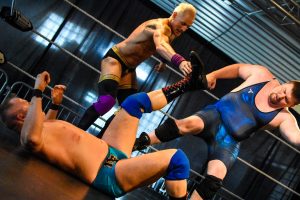 The two continuously cheated behind the oblivious referee's back. Never one to give up, Fox battled back against his former partner and long time rival. Utilizing a dropkick from the middle rope to cut off the momentum of the BEST FRIENDS. 
CEW PowerSlam
Desperate to make a tag, Fox fought off Energy's attempt at bringing him back to their corner with a mule kick. The hot tag brought in a fired-up Jared Thumb and the Black and Brave graduate hit Rhodes and Energy with all he had. First nailing Rhodes with a big splash in the corner before looking to follow up with the same on Energy.
But, the CEW Champion pulled the referee in front of him. With the referee incapacitated the BEST FRIENDS attempted to use the Tag Team Championship as a weapon once again. This time, in the ultimate moment of irony, Rhodes accidentally nailed his partner with the title. A stunned Rhodes looked on as his partner rolled out of the ring, unaware Jared Thumb was poised and ready to strike.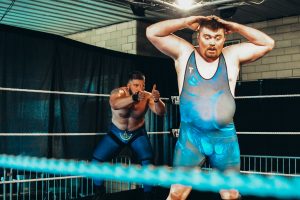 One Stone Cold Stunner and Fox Bomb later and Jared Thumb and Rory Fox were the new Central Empire Wrestling Tag Team Champions. The post-match celebration between Thumb and Fox along with the CEW crew proved just how badly people wanted to see the BEST FRIENDS get what was coming to them. Something that will not sit well with the CEW Heavyweight Champion, the "Booty King" JT Energy.