Wrestling Book Marks/CovidCon has been a longtime collaborative of wrestling authors, publishers, and historians. It chaired by wrestling book author/publisher Kenny Casanova. Kenny's helped put out great books on and with stars. They included the likes of the late Kamala, Vadar, Sabu, Brutus Beefcake, Bugsy McGraw, Danny Davis, and many others. When the COVID-19 Pandemic hit, Kenny and his team, including author John Cosper went to work to help everyone in wrestling affected monetarily. There were no indie shows, no signings or convention/fanfests, and nothing to make money on the weekends. In early May, they had their first pro wrestling Virtual Reality FanFest called CovidCon 1. This was the Cauliflower Alley Club Benefit Cauli-Con Convention review.

Cauliflower Alley Club Presents CAULI-CON Tonight: Diamond Dallas Page, Eric Bischoff & More Doing Panels https://t.co/93d0byZA8f

— FITE (@FiteTV) October 3, 2020
It was a mammoth two-day weekend event with wrestlers coming on every 1/2 hour to be interviewed. They would also take viewer questions, and plug their gimmicks and merch from about 7 am to midnight both days. Greg Oliver, Scott Teal, John Cosper, and other historians and authors and publishers were in attendance. It also included ECW Press' Mike Holmes. Kenny and crew had a second CovidCon about six weeks later. I ran the main event, last segment for an hour plus an interview with my longtime friend Abdullah the Butcher. He even asked me on-air to cowrite his book with him out of the blue. And yes, he not only showed up ready to go but was 10 minutes early!
The Cauliflower Alley Club Cancelled their Reunion This Past April
Wrestling's 55-year-old brotherhood of the business, Cauliflower Alley Club had to finally outright cancel our Las Vegas three-plus day reunion this year because of the Coronavirus dangers. I'd first suggested in Mid-March to our latest President in Brian Blair that we try doing something similar to CovidCon online. Or just outright work with the experienced CovidCon people. Cauliflower Alley Club could perhaps monetize it since Blair said on Busted Open Radio that he was upset we might lose our primary annual fundraiser.
Check out Cauli-Con, tomorrow October 3rd at 6:30 p.m.. special thank you to Jamie Hemmings for writing this story! https://t.co/5Q4LOhApud

— B Brian Blair ?? (@Killerbee1B) October 2, 2020
I said we hopefully gain new members (still only $25/year) plus charge something small to recreate the experience of our usual CAC events. Like our daytime seminars and question and panel discussions, maybe silent and live auctions with donated items, and possibly virtually try to recreate our awards night with presenters and honorees speaking. 
Cauliflower Alley Club ended up last Saturday just as I suggested last March, having COVIDCon become Cauli-Con for one night and fully promoted by Kenny and his CovidCon/Bookmarks volunteers. A four-plus hour series of panels featuring many prior CovidCon guests and legends along with some new ones like AEW's Taz and the reunited Bushwackers, with the latter legends checking in from their native New Zealand. That segment was terrific because they talked about first starting out in North America as the Crazy Kiwis in Montreal's 1973 Grand Prix Vachon promotion.
The "Human Suplex Machine" Taz, is now part of Cauli-Con 2020 TONIGHT free show starts at 6:30pm PPV at 7pm. Also appearing Steve Keirn @AEW @OfficialTAZ @Madusa_rocks @RealDDP @Fgbrisco @BlueMeanieBWO @EBischoff @BushwhackerLuke @LannyPoffo & more guests. pic.twitter.com/hgIIVkZjy8

— CauliflowerAlleyClub (@CACReunion) October 3, 2020
Cauliflower Alley Club Benefit
Stories from the Crazy Kiwi's
Then lots of road stories when they morphed into the NWA Sheepherders. And finally as WWF's Bushwackers. When their talk was winding down, ECW's Blue Meanie and his podcast co-host, hilarious Josh Shernoff, joined the Wackers on-screen & talked about some road history with the two legends who had to be tired with the time difference in NZ. DDP opened CauliCon, but soon Eric Bischoff, guest segment #2, joined his old, old pal DDP. They talked about their friendship first started in the dying AWA. Then it involved how that would later impact DDP's career in WCW. It was when his old pal ran the joint.
Some viewers asked if DDP had to pay for his on-camera outfits in WCW, or if Bischoff and WCW as a whole reimbursed him. "Nope, I had to pay for all my gear," two-time Cauliflower Alley Club honoree Page said. Later on in Cauli-Con, we had "Gator" Steve Keirn and his Florida longtime pal Gerald "Jerry" Brisco, late from WWE. Many were hoping Keirn would talk about the late Road Warrior Animal as the Fabs battled with the Warriors in the AWA plus that Jerry Brisco would finally, fully reveal if he's going to join AEW as brass as speculated. Still, neither subject, unfortunately, came up.
Is is Madusa or Alundra?
Madusa joined them, and while everyone was calling her by her longest work name of Madusa. After she left the AWA for her nearly three years living/working in All Japan Women as she'd told me that name came from "Made In The USA". It did not come from the Greek mythological goddess. Although both would fit. So everyone was calling her Madusa or "Deuce," but Brisco kept calling her by her WWF name of Alundra. He keeps things to the vest and has always been loyal to Vince for those 36+ years. Organizer Kenny Casanova asked him about the urban legend of either or both Briscoe's battling Ernie Ladd in a parking lot after a show in Eddie Graham's Florida in the late '70s.
The Big Show/Paul Wight was the last big CauliCon guest but told WWE asked him not to and instead sell the chair beat-down from the prior RAW Monday by Randy Orton. So Mark Henry, our last CAC Iron Mike top award honoree in 2019, took his place and brought up his idea of IRA's and KEOGH's to possibly help Cauliflower Alley Club monetarily. I'd spoken with Mark earlier that day when I was on Sirius/XM satellite radio's Busted Open show, promoting Cauli-Con and he's lead cohost Fridays and Saturdays. Live on-air; he told their listeners and me that morning that he'd be replacing Big Show.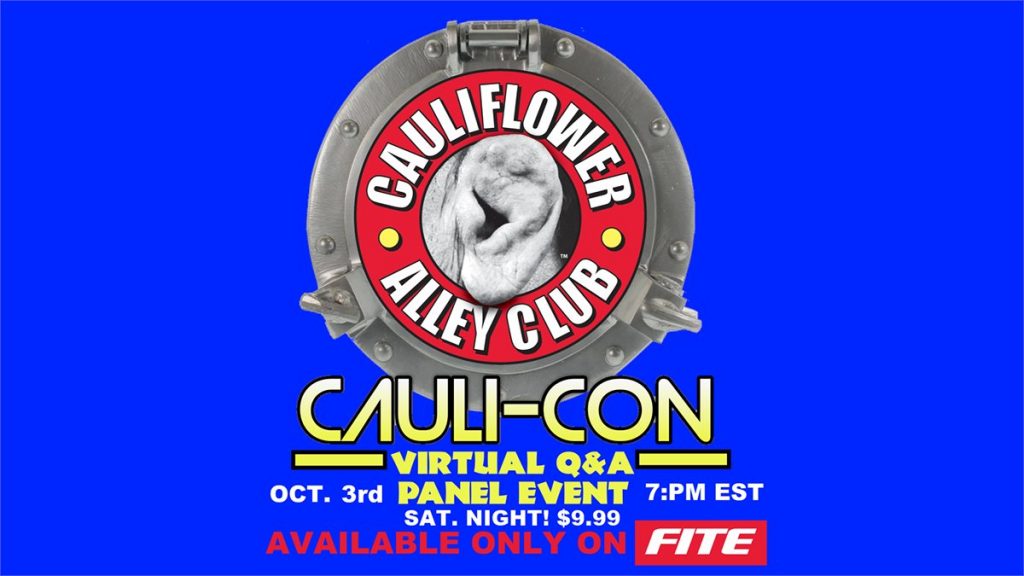 Cauliflower Alley Club Benefit
Please Show Your Support
Go to CauliflowerAlleyClub.org. For one's annual $25 dues, members receive our quarterly newsletter, The Ear (which I've been a regular columnist in). They can attend our usual annual Vegas 3+ day shindig reunion. Next year, Madusa is to be the second-ever female to get our lead Iron Mike Mazurki award. Trish Stratus several years back was the first. Rey Mysterio Jr will also be honored along with legendary NWA/Dallas referee James Beard. Beard is ailing right now. Next year's event looks to be quite the show to attend.