Caprice Coleman retains AML Championship.
The main event of AML Presents Mass Hysteria featured its champion, Caprice Coleman, defending his title against the ACEGAWD Arik Royal.

Coleman would make an early and unscheduled appearance on the card during an undercard match between Brad Attitude and JB Cole. Brad clearly had Cole defeated but pulled his opponent's shoulders off the mat to break the referee's count. He then mounted and started to pummel Cole relentlessly. The referee called for the disqualification bell, but Brad didn't care. Caprice Coleman hit the ring to make the save.

The champ kept Royal off-balance with an array of springboard attacks as he looked to capitalize on his speed and quickness advantage. The ACEGAWD kept the pressure on Coleman and connected with several high-impact moves; however, none were enough to keep the champ's shoulders down for the three count.

After every near-fall, the ACEGAWD's frustration became more and more visible. They battled back and forth, keeping fans on the edge of their seats before the most critical part of the bout.
Caprice Coleman retains AML Championship.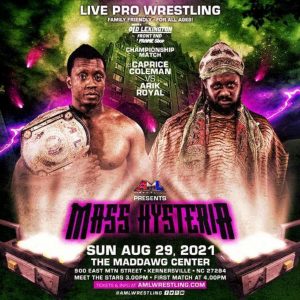 The champ secured a crossface on Royal in the middle of the ring and cinched it in tightly for what seemed like an eternity. The ACEGAWD's pain was visibly etched onto his face as he writhed to loosen the champion's grip. After holding out for as long as he could, Royal finally tapped out to give Caprice Coleman the victory via submission.

Both competitors lay exhausted in the middle of the ring after the bell. After getting his hand raised and celebrating his hard-fought victory, Coleman extended his hand to his fallen challenger. The ACEGAWD, still smarting after being in the crossface for so long, took a few seconds to think about it. Finally, sportsmanship prevailed as he shook hands with the champion. The fans in attendance saluted both performers with a standing ovation to close the show.
*ECW legend CW Anderson was in action as he and his "The Lineage" tag team partner (accompanied by NWA legend George South) Preston Quinn took on the Hughes Brothers. Kerry Morton, son of WWE Hall of Famer Ricky Morton of the Rock & Roll Express, also made his AML debut.