While one duo managed to achieve success in the WWE as the Can-Am Connection in Tom Zenk and Rick Martel, they aren't the duo we address today, the Can-Am Express. Both men came from different territories.
For LaFon, he competed in Montreal, Quebec, Canada, as part of Rene Rougeau's promotion as Dan Kroffat. In fact, throughout the majority of Kroffat's career, he used this name.
It wasn't until he joined the WWE that he adapted the Phil LaFon name. Before that, Kroffat was discovered by the late Davey Boy Smith and Dynamite Kid; he initially trained for Stampede Wrestling. Doug Furnas was a US college football player and a powerlifter after that. He first competed for the Continental Championship Wrestling promotion in the mid-80s., Can-Am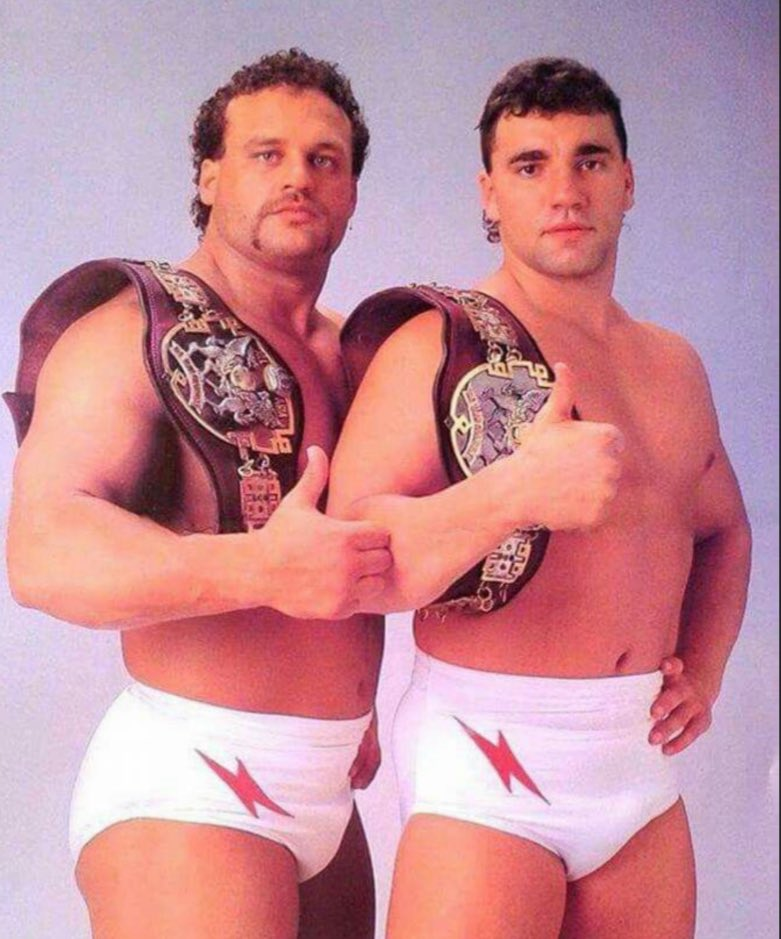 We were always taught just because we're from a small town doesn't mean we can't reach higher goals. In the past, we've always competed with the best. The Russians in Lifting. Alabama in Football and now we're looking to be a part of the very best here in the NWA.
– Doug Furnas to Jim Ross NWA TV
Doug Furnas and Dan Kroffat came together in Japan for All Japan Pro Wrestling. With both men standing under six feet, they went on to prove that height was never an issue. They first teamed together in the Spring of 1989. Furnas and Kroffat faced Toshiaki Kawada and Samson Fuyuki. Their early time together consisted of an ongoing feud with said Fuyuki and Kawada.
They also feuded with several other champions during this time as well. Whether it was Tiger Mask II and Kenta Kobashi or Johnny Smith and The Dynamite Kid, Furnas and Kroffat were always in contention for the titles. Furnas and LaFon were only one of a few teams to capture the All Asia Tag Team Championships on three separate occasions to this point.
Can Am Express rise in the East

Kroffat and Furnas' significance in AJPW was evident during their first run in the promotion. When they defeated Black and Deaton for the titles would become the first-ever four-time All-Asia Tag Team Champions.
This reign also was not in vain. In fact, they held the titles for a remarkable 304 days. At the time, they were listed as the 11th longest-reigning champions. After their reign ended, the duo departed for Mexico shortly after.
Once in Mexico, the duo competed for the Universal Wrestling Association. Kroffat and Furnas defeated the then-tag team champions El Texano and Silver King – 'Los Effectivos' or 'Los Cowboys'. Their rivalry with King and Texano was quite memorable. As their time in Mexico continued on, they would proceed to feud with the Villano IV & V – Los Villanos.
It wouldn't be until the following year when the Can-Am Express would recapture the titles. Their long-standing feud with Los Villanos would end before the Summer of 1993.
As Spring turned to Summer, Kroffat, and Furnas would return 'home'. Japan had been good to the duo, which in turn would be good to the country. Over the course of roughly the next three years, LaFon and Kroffat would return to All Japan Pro Wrestling. This time, however, they achieved singles' success. LaFon would capture the World Junior Heavyweight Championship for a period of time.
Five-Time All-Asia Tag Team Champions
The following month, Furnas and Kroffat would capture the All Asia Tag Team Championships for the fifth time. They defeated the duo of 'The Patriot' Del Wilkes and The Eagle. LaFon was a double champion at this point, holding two titles simultaneously. However, by the late Fall of 93′, Kroffat and Furnas vacated their titles to focus on another championship.
The World Tag Team Championships became the focus of this duo next. During this time, Kroffat continued to hold the World Junior Heavyweight Championship for more than a year.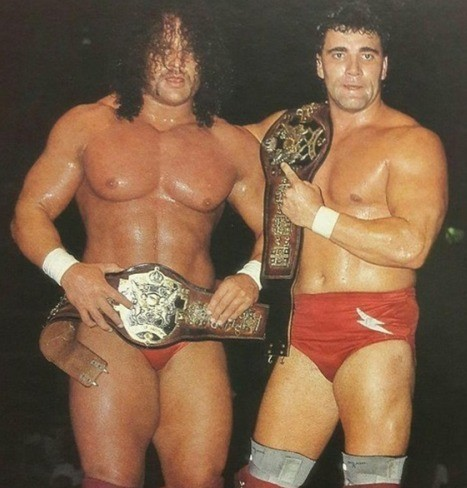 During their time in All Japan Pro Wrestling, Doug Furnas and Dan Kroffat earned several accolades and championships. Along with their title of five-time All Asia Tag Team Champions, they were also winners of the World's Strongest Tag Team Determination League Power Award, winners of the World's Strongest Tag Determination League New Wave Award, and Kroffat was a two-time World Junior Heavyweight Champion.
In the Summer of 1996, Doug Furnas and Dan Kroffat took it to the EXTREME. The duo arrived in ECW and made an immediate impact. After losing his debut match against Rob Van Dam, Furnas proceeded to suplex the Whole F'N Show from one end of the ring to the other. This turned into a tag team rivalry as both Sabu and Dan Kroffat became involved in this feud as well.
The series of matches involving all four men was phenomenal. North American audiences were now witnessing what Japanese and Mexican audiences were aware of for years.
Can-Am Express Come To The WWF
With other opportunities presenting themselves, Kroffat and Furnas joined the WWF/E. They debuted at the Survivor Series in 1996. It was at this time when Dan Kroffat took on the Phil LaFon name. As part of an eight-man tag team match with The Godwinns against The New Rockers and Owen Hart and The British Bulldog. Furnas and LaFon were the last team standing.
At the beginning of the following year, The Can-Am Express began to feud with Hart Foundation members Owen Hart and The British Bulldog for the WWF Tag Team Championships. Once this feud drew to a close, the duo began to feud with Hawk and Animal, The Legion of Doom. It was at this time where LaFon and Furnas turned heel. Unfortunately, a major car accident sidelined the duos' time and feud.
When they did return to action, they had become faces and teamed with The British Bulldog and Jim Neidhart as part of Team Canada at the following year's Survivor Series. It is interesting to note three of the four members of Team Canada were, in fact, not Canadian-born.
Doug was huge in All Japan throughout the Nineties. He had a tremendous run with him and Dan Kroffat…Phil LaFon. He (Vince) didn't get the great performing All Japan tag team of the generation of the American's because he didn't get them…personally…
Well, he (Vince) would try to as he would love the guy (Phil LaFon) and I love Doug so I was trying to help them, but they were wrestlers. They were athletic wrestlers….They were doomed in that era (Attitude Era).
Their time in the WWE was otherwise short-lived, and they would depart the company to rejoin Paul Heyman's ECW promotion. Upon their return to ECW, Furnas, and LaFon were a part of a pro-WWF stable that was recognized as Team Titan. This was a carryover from where they had recently returned from. Furnas and LaFon captured the ECW World Tag Team Championships only to lose them the following day.
The loss ended their time together in ECW. Shortly after losing the titles, LaFon would then proceed to leave ECW. Thus ending the time of the Can-Am Express. Furnas remained with the company a short time later, but he too departed the company the following year.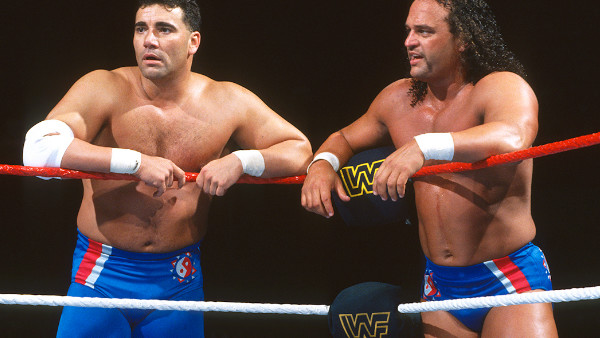 Following their title loss, the team broke up in early 1998 when LaFon left ECW. Furnas continued to wrestle as a singles wrestler throughout 1998 before he, too, eventually left. They never achieved the success they did in Japan.
Whether that was because fans couldn't connect with them or not, their skills in the ring stood alone. They earned championships in two different continents, voted one of the best tag teams in a poll for Pro Wrestling Illustrated, and were part of five-star matches in 1992.
Sadly, Doug Furnas passed away at the age of 52 in 2012. He was twice voted as one of PWI's top 500 wrestlers in the world. Today, Dan Kroffat is still involved in professional wrestling in Western Canada. For all the achievements in Japan, one has to wonder just how well the Can Am Express would have faced in today's wrestling landscape.