Valentine's Day may not have been the best this year, but there's still a chance for you to feel the love. Get to IWTV and take a look as Camp Leapfrog presents Camp LoveFrog, a celebration of adoration, copulation, and devastation!
Camp Leapfrog has enjoyed a jump in popularity over the past few months. The promotion's block at GCW's Fight Forever back in January was memorable for its Cibernetico match. However, there's a lot more to Leapfrog that's coming up on the horizon. There's so much creativity and talent (better known as 'campers') involved with each production that you can't help but feel like you're watching something that's flawlessly enjoyable.
With each show that's recently been produced by Camp Leapfrog, you get a real sense of entertainment. This is very much modern-day pro wrestling, but I challenge you to watch this show and not feel like you're watching something wonderful from your good old childhood days as well. Show lead Sam Leterna does a great job of announcing and presenting the in-ring action professionally while managing to keep things lively with the rest of the crew. This is something I've missed seeing in wrestling lately, the well-rounded host.
'LoveFrog' is exactly how I want the rest of 2021 to go for the campers. This show was fun, the content was lively and genuinely funny, and the action was solid and even mind-blowing at times. The premise behind the show? Something as lovely and simple as a fun Valentine's Day party. Still, Life with Apricots and Pears had the best intentions when she planned this shindig for her fellow campers with the help of her good friend and camper daddy Effy. Things, however, didn't turn out as planned…
Camp Leapfrog Presents 'Camp LoveFrog'

Match 1: Speed Dating Five-Way Scramble (Hot Dog Starkes vs. Dan Champion vs. CC Boost vs. ZERO vs. Lucas 'Twitch' DiSangro)
If this is your introduction to Camp Leapfrog, congratulations! This card is stacked with great matches, but this is the ideal way to start off the show. The premise behind the opening match is easy to follow: the winner gets a date! Five very talented campers took the action all over the place in this one. Keep your eyes on these guys because they're good. Standouts in this one include big Dan Champion, who is freakishly strong and equally brutal. There's also ZERO and Twitch DiSangro, two excellent and vigorous campers. Hot Dog Starkes is one of the best characters on the indie scene today and has skills with more juice than any ballpark frank you've ever tried.
The winner of this one, however, is the one who absolutely shined. CC Boost is a tall drink of water, absolutely mental in the ring, and he will blow your mind here. Just as mind-blowing, though, was the end result of the Speed Dating Scramble. CC Boost ended up with none other than camper Killawatt for a date, but after some prodding from host Sam Leterna it ended up a dandy connection indeed.
Camp Leapfrog Presents 'Camp LoveFrog'
Match 2: Blind Date Blindfold Match (Love, Doug vs. Basic Becca)
In the spirit of Jake Roberts vs. Rick 'the Model' Martel (but with maybe 75% more affection involved), Doug and Becca were masked up and went to battle in this Blind Date Blindfold match. Oh, this was a fun one; we got to see the antics you'd expect from a blindfold match and a lot more as neither Doug nor Becca were prepared to lose any ground to the other. Pride was on the line, after all!
This one went by surprisingly fast, with the pace quickening near the end. Both Becca and Doug were a bit more ring-aware by that point in their blindfolds, and this made for a nice climactic finish. Becca looked to have the win secured in the end, but she ended up pinning Doug on his stomach. This confusion allowed Doug to get the win instead as he reversed her Bextermination finisher into a pin.
At this point in the show, Still, Life was doing her best to try and connect the right people together. However, Effy had some plans of his own that were quite different. The result so far? Plenty of sweet, sweet drama, but absolutely no lovin' going on! This was not Still Life's plan, but the tension continued to mount as the show went on.
Review: Camp Leapfrog Presents 'Camp LoveFrog'
Match 3: Kaia McKenna vs. Ryan Nova
Sometimes there's just zero compatibility between two people. When that happens, you should do what Kaia McKenna does – tell them you'll see them in the ring. Once it was clear that Ryan Nova was not the ideal Valentine's date for Camp Leapfrog's resident good witch, it was time for things to be settled in a match. Ryan Nova was at his smarmy, smug best in this one, too. You can't help but sing the praises of Kaia McKenna as she handled Nova with style despite his efforts to 'put her in her place.' Look for the awesome moment in this match when McKenna summons her goddess energy to rally back and gain the advantage over her opponent, resulting ultimately in Nova getting a well-deserved humbling and the good witch camper getting the win!
Match 4: 'Campers of the Year' Fatal Four Way (Oreo Speedwagon vs. The Goons vs. The Big Bad Booty Daddies vs. CrushCakes)
Talk about your drama; it was all over the place in this tag team fatal four-way! The stakes, however, were pretty high here. The winners would be deemed Camp Leapfrog's Campers of the Year. Quite frankly, each team had its own very deserving qualities for this achievement. CrushCakes, the team of Pancakes and The Crusher, stood out especially here. The Goons (Eel o'Neal and Myles Millennium) caught my attention as well; this team is crazily talented with athleticism! Speaking of talent, the Big Bad Booty Daddies may have shocked us all here with how well they performed in this match. Ron Voyage is that guy who busts out the moves you don't expect. However, it's always the popular ones who seem to have something going on just under the surface.
Camp Leapfrog Presents 'Camp LoveFrog'
Oreo Speedwagon has gained so much momentum over the past year, and to attain the accomplishment of Campers of the Year would be the creamy filling in their cookie. This has to explain the much more savage edge that Joshua Wavra brought to this match. It's also this harder version of the team that led them to victory in the end. Wavra may be much more irascible than usual, and his partner Xavier Faraday has decided to roll with it as it seems to work for the team. Not a bad decision because Oreo Speedwagon came through as Campers of the Year.
Match 5: Erica Leigh (w/The Boar) vs. Killian McMurphy (w/Big Dust)
The Dating Game that Still Life had planned for the party didn't quite pan out as great as it could have. In fact, we ended up with a wrestling match instead of a romantic match. Erica Leigh, fed up with her potential suitors, got physical in a bad way with Killian McMurphy. Keep in mind that Killian and Big Dust (two of the potential lucky guys in the Dating Game) are dirty, dirty people. Make no mistake about it! Erica Leigh, however, is not one to back down once she's worked up. In fact, she arrived with The Boar as strong backup for this match. Together that's a solid pairing, but it wasn't enough to keep Killian and Big Dust from shenanigans and interference.
'Camp LoveFrog'
Once The Boar made the assist of getting rid of The Goons at ringside, Erica was left to take on Killian with Big Dust at ringside. She handled her own despite Big Dust's efforts to help Killian out, but The Goons didn't stay away long. They came back to involve themselves in the match just as Erica Leigh was about to put Killian away for the three-count, and the result was a disqualification in Erica's favor and one more payback visit for The Goons from The Boar.
Match 6: Abby Jane and ABBS vs. A Very Good Professional Wrestler
I'd love to say that this would have been a fun match, but Sidney Bakabella had to come along and ruin things. Bakabella has proclaimed himself as the manager of A Very Good Professional Wrestler, and he deemed the team of Abby Jane and ABBS as unworthy of his client. In fact, he outright insulted them both (as Bakabella will do)! However, even though we did not get a match because of Sidney's ridiculous and ridiculously high standards, it was lovely to see the camper love shown towards Abby and ABBS in the end. At least things ended on a happy note here with both ABBS and Abby doing a victorious in-ring celebration. What did they win? The love and adoration of Camp Leapfrog, that's what!
Camp Leapfrog Presents 'Camp LoveFrog'
Match 7: Pop Flyers vs. The Runway
Prior to this excellent tag match, we found out (thanks to the help of cousins Boomer Hatfield and Molly McCoy) that Still Life's meticulous Valentine's planning had been foiled by none other than her party planning partner Effy. That's right; still, Life's celebration of love was corrupted from within, all for the draw of drama!
Effy had help in spreading the mischief, however. Enter The Runway, Tyler Klein and Calvin Couture. Between the three of them, no love was lost between anyone at Camp Lovefrog. The Runway wasn't about to let Boomer and Molly get away with telling on them, however. This tag match was a direct challenge to the efforts of the Pop Flyers, and they accepted most heartily. Be sure to watch this one, as the Pop Flyers are one of my favorite tag teams on the indie scene today. They do amazing work here against Klein and Couture, a team that's fashionably substantial as well. Solid win from the Pop Flyers with one comeuppance achieved. Now for the main event!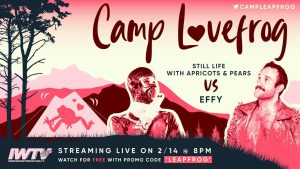 'Camp LoveFrog'
Main Event: EFFY vs. Still Life with Apricots and Pears (Super Libre rules)

Do NOT mess with a lady on Valentine's Day! This, one of the biggest matches Still Life has had to date, was one for the money. We would not see the happy and loving Effy that we imagined at the beginning of the show. Nope, this was hardcore Daddy, bitches!
The plunder came out in abundance for this super libre match. Canvases, steel chairs, doors – this got wild! I've yet to see Still Life be put through her paces like this, but damn I'm impressed. You've got to watch this one to see a brutal masterpiece shaping out on the mat; Effy and Still Life amazed me. Very satisfying win for Still Life after a LOT of painful spots, for these two, went to war. In the end, however, it was all worth it to see Still Life earn Effy's respect after a savage battle.
From beginning to end, Camp LoveFrog was an absolute blast! There's something for everyone with this show – a little song and dance, a lot of laughs, plenty of camp, and a ton of action. The best part is how clear it is that this production was a true labor of love. Camp Leapfrog raised from the ashes of the tumultuous summer of 2020 and has carved out a good name for itself thus far. Here's to many more shows like this one; be sure to watch it all on IWTV.live!