C*4 presents Season of the Witch! It is coming to Ottawa's Preston Event Centre on Friday, October 21st. The promotion's "Halloween Bash," is headlined by a first-time-ever encounter between Stu Grayson and Akira, as well as two title bouts. All eyes are on many of the young talents, with several fresh-off of Dark and Dark: Elevation appearances during AEW's Toronto events last week.
In an unusual situation, the original main event of Stu Grayson taking on former Dark Order stablemate Alan Angels was nearly lost completely. Angels was forced to cancel, leading to Akira stepping in. Then, this past week Grayson was pulled before being re-inserted to the relief of many. If we know C*4, it's only a matter of time before we see the originally scheduled match too.
C*4 Presents Season of the Witch
Isaiah Broner Makes His Debut
In a last-minute announcement, C*4 revealed Isaiah Broner will make his debut at Season of the Witch. An opponent has not been named as of publication, with the promotion simply saying, "He's made it clear he's ready for a fight. Will anybody answer the challenge?"
C*4 Presents Season of the Witch
Kobe Durst vs. Buxx Belmar
During the lead-up to Friday's event, C*4 posted several vignettes teasing a returning name. That man turned out to be Buxx Belmar, a Canadian independent mainstay for nearly 20 years. Belmar's last C*4 match was in 2019, tagging with Le Tabarnak de Team to defeat Darby Allin and The Butcher And The Blade. Across the ring from him, is C*4 mainstay Kobe Durst. These two former C*4 Champions are going to tear each other apart.
C*4 Presents Season of the Witch
Silver Shamrock Scramble
Taylor Rising vs. Dyln McKay vs. Krystal Moon vs. James Stone vs. Kristara vs. TJ Crawford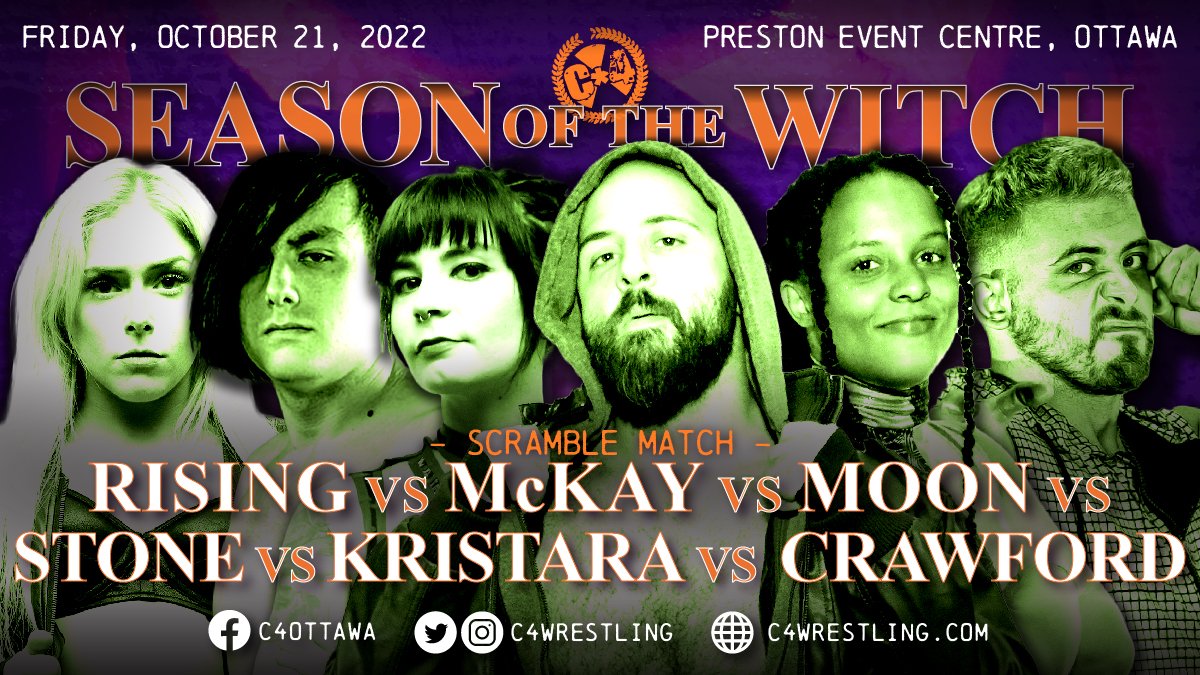 The "Silver Shamrock Scramble," much like many of C*4's scramble matches, promises to be a showcase for newcomers and established stars alike. These multi-person matchups are consistent highlights of the night and offer new faces a chance to shine.
One man in the way of those fresh faces, is "Scrapper," James Stone, who is coming off a big win at Silver Bullet, and has promised to bring his "insurance policy," Vanessa Kraven. Taylor Rising is looking for her first win of Season 15, after a pre-season victory at Double Impact. United States standout Dyln McKay is making his Canadian debut, and will be one of those newcomers to look out for.
"I'm on a whole other level. Bring it. plus I got VK on my side. @VanessaMtKraven," – Scrapper James Stone (@HmcScrapper) via Twitter.
Krystal Moon, who has gone head-to-head with Alexia Nicole on several occasions, is looking for a shot to prove herself further. After spending much of last year sidelined with an injury, is looking to capitalize on his return. Rounding out the field is Kristara, another relatively new face to the promotion who participated in Double Impact's tag team tournament.
C*4 Presents Season of the Witch
Four-Way Tag
Shayne Hawke/Macrae Martin vs. For The Glory vs. Pretty Ricky/Sexxxy Eddy vs. Locked N Loaded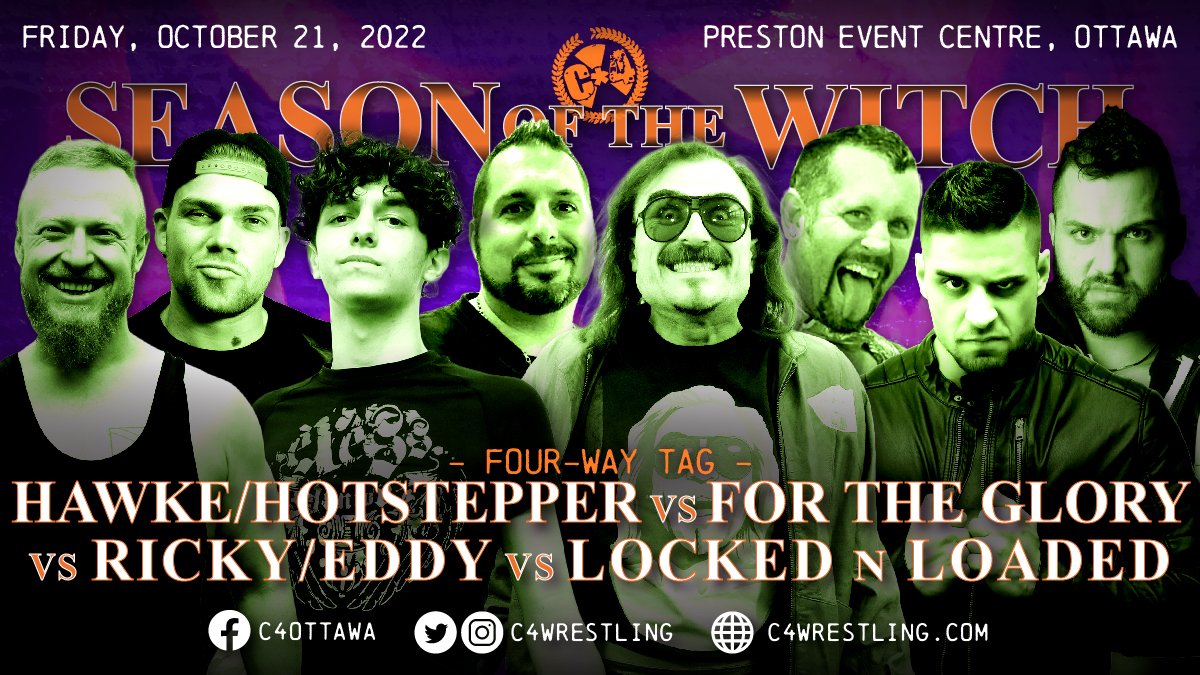 In another multi-person bout, four of C*4's most promising duos will collide. One has to think that the winner of this matchup could be next in line for a title opportunity, depending on how things play out later in the night.
After success, last season against James Stone and his allies, Shayne Hawke and "Hotstepper" Macrae Martin join forces once again. Father and son duo of For the Glory (Exess and Exess Jr) are back again as well. Sexxxy Eddy and Pretty Ricky join forces, following luck as partners in trios action with Puf. Locked n' Loaded, (Mark Wheeler & Jessie V) have had tremendous outings so far in C*4; they look to take the next step in C*4's tag team division.
C*4 Presents Season of the Witch
Fight or Flight vs. Alexia Nicole & Cecil Nyx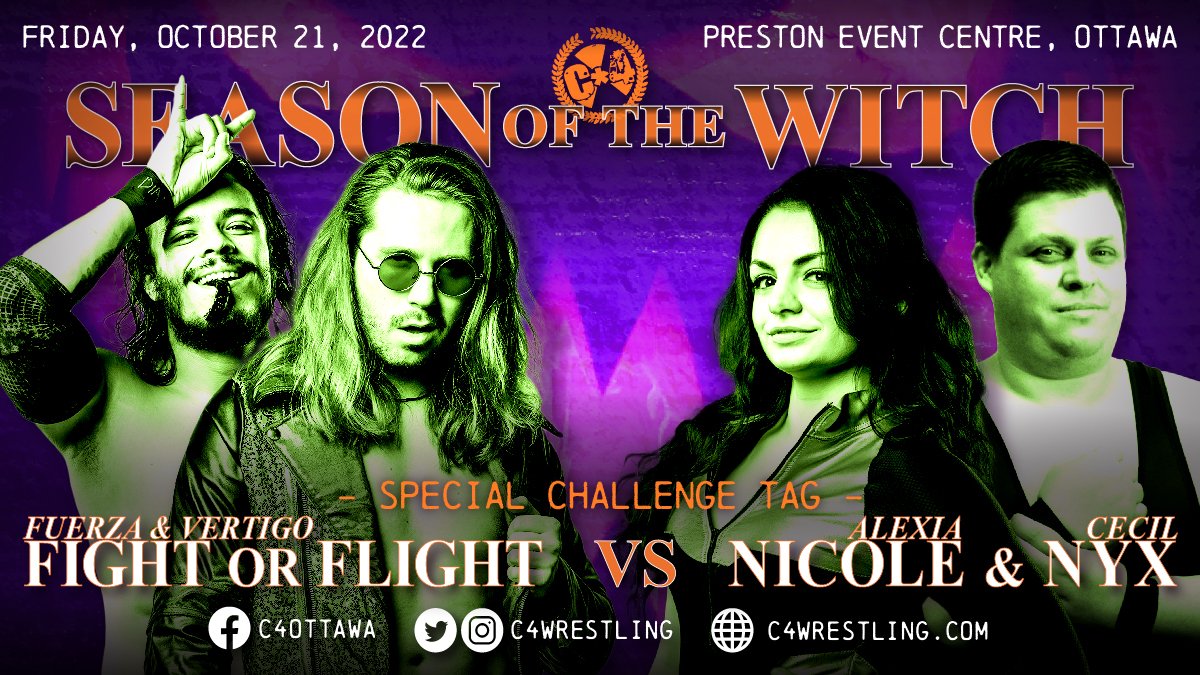 In what's an absolute must-win for Fight or Flight's Vaughn Vertigo and Gabriel Fuerza, they take on the makeshift team of Alexia Nicole and Cecil Nyx. If FoF don't come out with the victory, they will not be permitted to team for the remainder of the season. Both teams quickly took to social media to make things personal.
"Can't wait to break up a tag team," – Alexia Nicole (@ItsAlexiaNicole) via Twitter.
"Me and @ItsAlexiaNicole are going to be friends for one night because of our mutual hatred for these two," – Cecil Nyx (@CecilNyx) via Twitter.
"WHAT!? For 8 years we've stuck together like PB & J. It's personal now ALEXIA. If you throw one V Cecil," – Vaughn Vertigo (@VaughnVertigo) via Twitter.
"Ugh. Women just can't stand to see you happy with someone else can they?!" – Gabriel Fuerza (@FuerzaLives) via Twitter.
C*4 Presents Season of the Witch
Junior Benito vs. Alec Price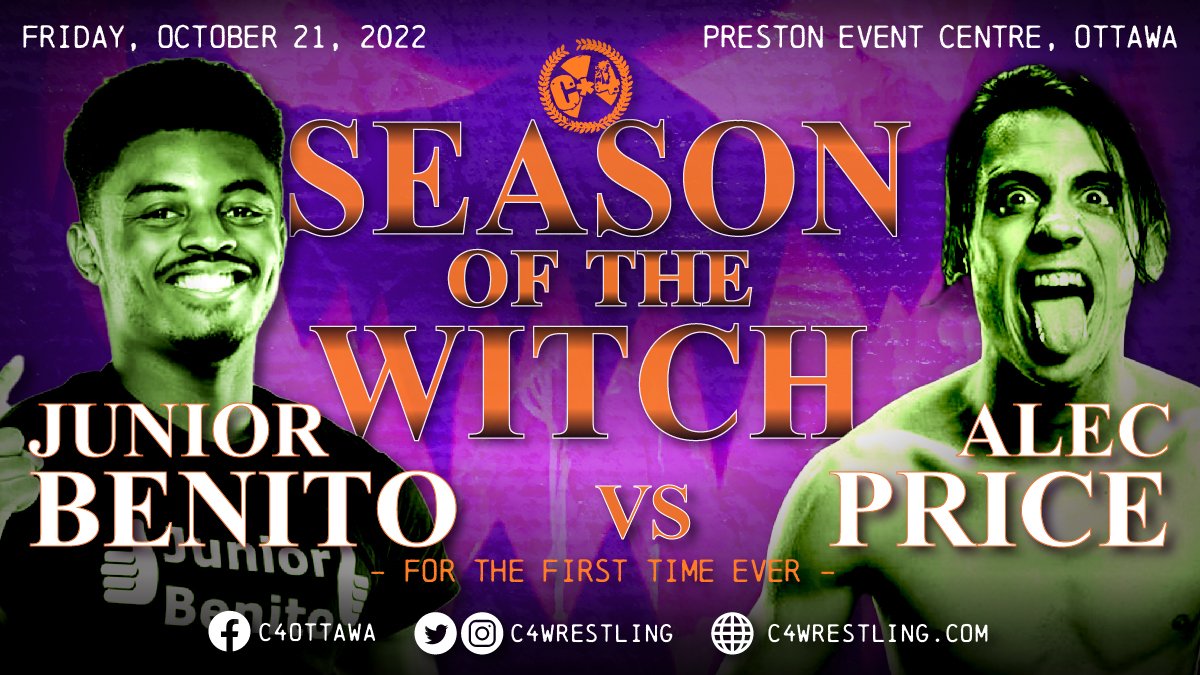 Two of independent wrestling's hottest up-and-comers, Junior Benito and Alec Price, will clash for the first time. Benito is looking to follow up on a massive win over Davey Richards at Silver Bullet, and quite the opposite of what happened to him at the hands of Jade Cargill at AEW Rampage (We had to). Price is looking for his first win of the year in C*4, after coming up short against Evil Uno at Double Impact and Marcus Mathers in a four-way at Friday The 13th.
C*4 Presents Season of the Witch
C*4 Tag Team Championship Three-Way
MSP vs. V.I.F. vs. T.D.T.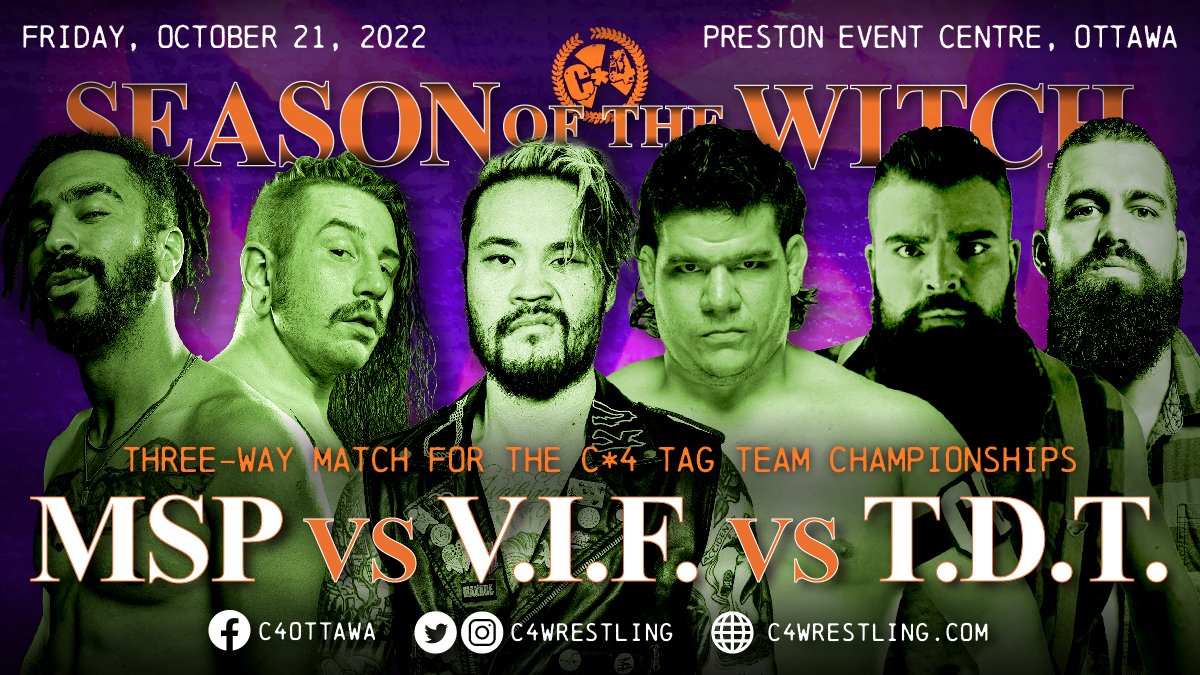 In the first of two scheduled championship matches, Violence is Forever (Kevin Ku & Dominic Garrini) put the C*4 Tag Team Championships on the line against MSP (Aiden Aggro & Dangerkid)  and Le Tabarnak de Team (Mathieu St. Jacques & Thomas Dubois). This will undoubtedly be a closely-contest match, with the champions facing no easy task in the T.A.G. 2 Tournament winners MSP and former champions T.D.T.
C*4 Presents Season of the Witch
C*4 Underground Championship Four-Way
Marcus Mathers vs. Mance Warner vs. Joshua Bishop vs. Lufisto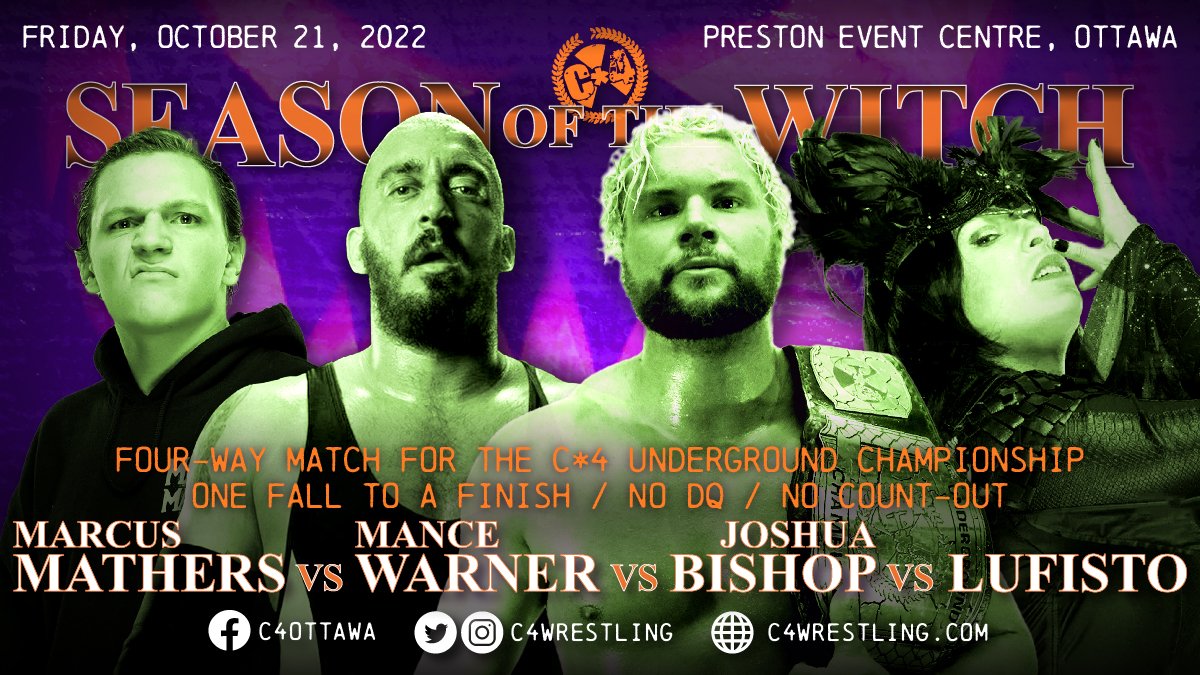 New C*4 Underground Champion Joshua Bishop will defend against three more-than-worthy opponents in a debuting MLW star, a young up-and-comer, and a C*4 icon.
First up is a debuting Mance Warner, a MLW mainstay who recently even challenged Jon Moxley for the AEW World Championship. There's then Marcus Mathers, a young prodigy looking for his first shot at a C*4 title, who already holds a victory over Bishop in a four-way match. Rounding out the field is LuFisto, a fan favorite and C*4 regular.
C*4 Presents Season of the Witch
Stu Grayson vs. Akira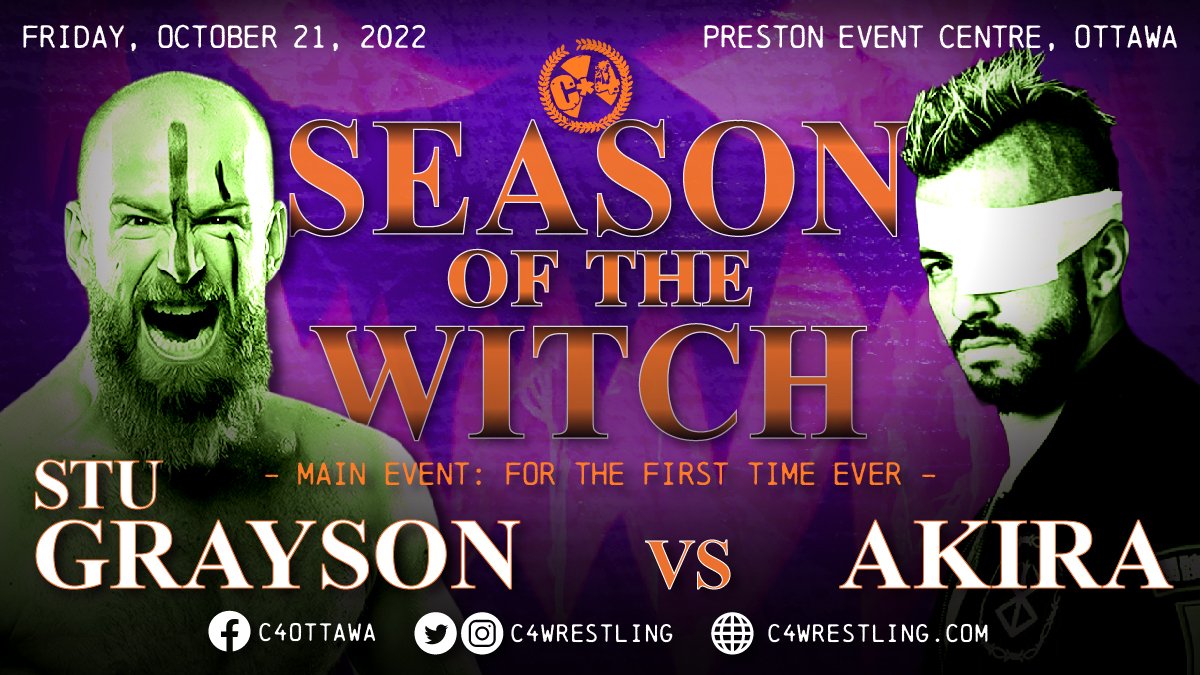 In a massive first-time-ever matchup, Stu Grayson will go to battle with Akira. Since departing AEW, Grayson has been tearing it up in every C*4 appearance, going to battle with the likes of Tony Deppen, Eddie Kingston, and Alex Zayne. His opponent, "The Death Samurai," Akira, is one of the most dangerous men on the independents today, last appearing at C*4's Fighting Back 11 in a losing effort. This bout will undoubtedly be closely contested and very physical. Who will come out on top?
*****
Stay tuned to Pro Wrestling Post for this and additional stories from the wrestling world. Readers can rely on Pro Wrestling Post as their daily source for everything inside the squared circle. As a result, readers can expect daily news, history, and much more. Also, please visit Capital City Championship Combat's official website here for news and information on the promotion and upcoming events and IWTV's official website to watch C*4 and other independent wrestling promotions.