(Capital City Championship Combat) C*4 presents Fighting Back 11. C*4 returns to Ottawa's Preston Event Centre, for their most important annual event: Fighting Back 11. This year's event will be headlined by a major All Elite Wrestling star's return and the annual Fighting Back Invitational Rumble.
All proceeds from the August 19 event will be donated to the Canadian Cancer Society in memory of Phrank Morin. Over the past 11 years, the promotion has raised over $450,000 in memory of Morin, a friend and member of the local wrestling scene who passed away from cancer in 2011.
C*4 Presents Fighting Back 11
Fighting Back Invitational
20-ish Person Over-The-Top Rumble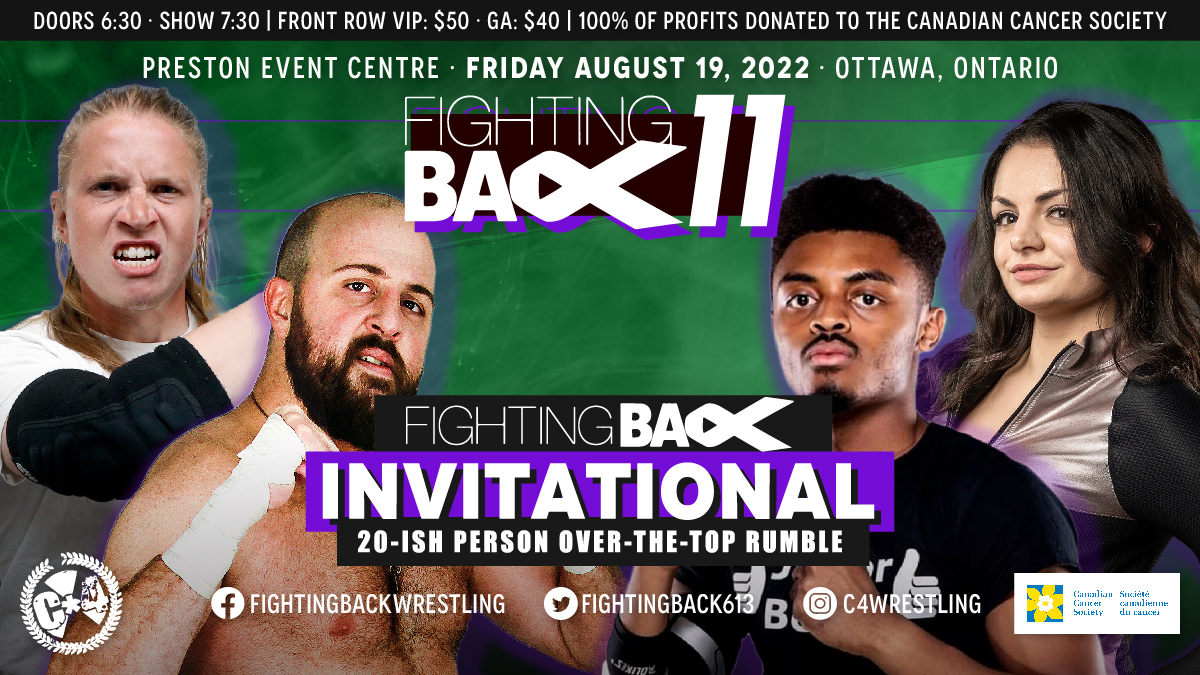 The Fighting Back Invitational has become an annual Fighting Back tradition, with the over-the-top rumble debuting in 2018 and 2019. This year, the "20-ish" person Rumble will crown the 2022 Fighting Back Champion.
The following talent have been announced for the Rumble: "Diamond Tiger" Kobe Durst, "Scrapper" James Stone, Junior Benito, Alexia Nicole, Beef Wellington, "Animal" Bob Anger, Mark Wheeler, Austin Luke, Jessie V, Thomas Leduc, Dexter Doom, "MVP" Michael Von Payton, Myung Jae Lee, Jeff Cannonball, Judas Cassidy, "Professor H" Shayne Hawke, Sway, Raja Ali, Vaughn Vertigo, Alexander Kable, Macrae Martin, Gabriel Fuerza, Taylor Rising, and the Green Phantom.
C*4 Presents: Fighting Back 11
Marcus Mathers vs. Akira vs. Yoya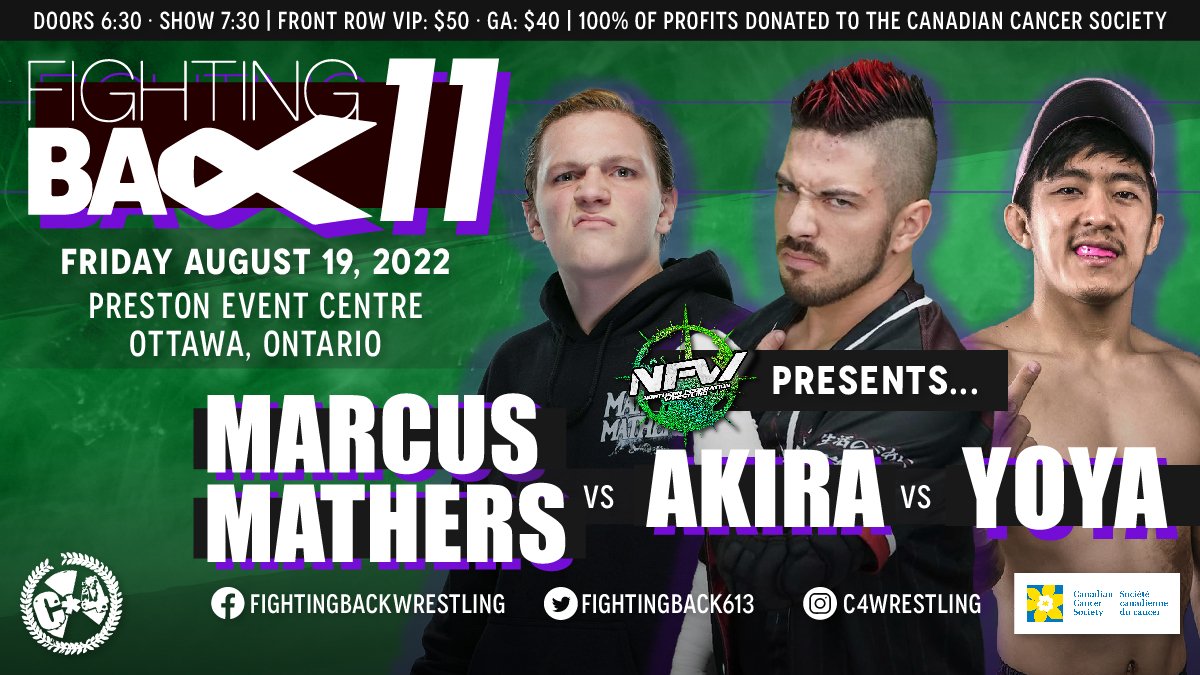 In a three-way match presented by New Jersey's Northern Federation of Wrestling, Marcus Mathers will take on two talents making their Ottawa debuts in Akira and Yoya. Mathers is a fairly new face to the C*4 audience himself, having debuted this year at March's Fantastic Voyage event when he came up short against Daniel Makabe.
Mathers earned his first C*4 win at his second and latest appearance at May's Friday The 13th in a four-way match that also featured Alec Price, Cecil Nyx, and Joshua Bishop. Will Akira or Yoya make a bold statement in their Ottawa debut, or is this the beginning of a Mathers hot streak?
C*4 Presents: Fighting Back 11
Undisputed King of Crazy Championship Four-Way
Addy Starr vs. Dan Barry vs. Terra Calaway (c) vs. Cecil Nyx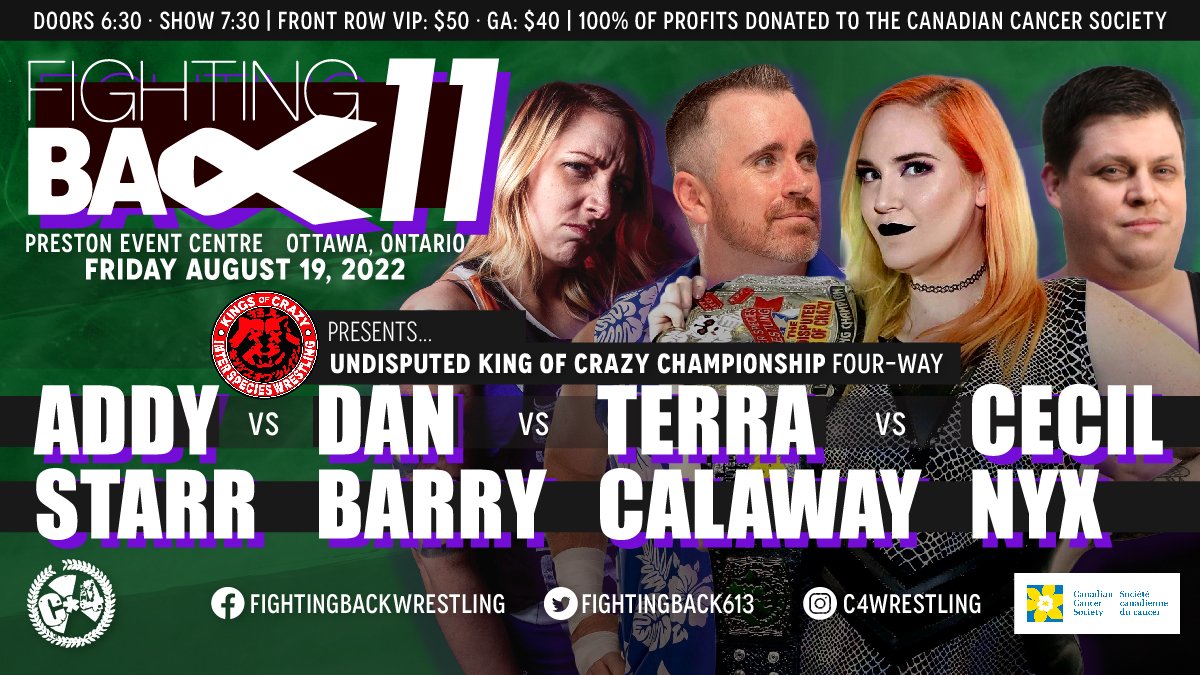 In a huge four-way match, Terra Calaway will defend Inter-Species Wrestling's Undisputed King of Crazy Championship against Addy Starr, Dan Barry, and Cecil Nyx. C*4 is well-known for their crazy multi-person matches, and this one surely won't disappoint.
C*4 Presents Fighting Back 11
T.D.T. & ??? vs. Puf, Ricky & ???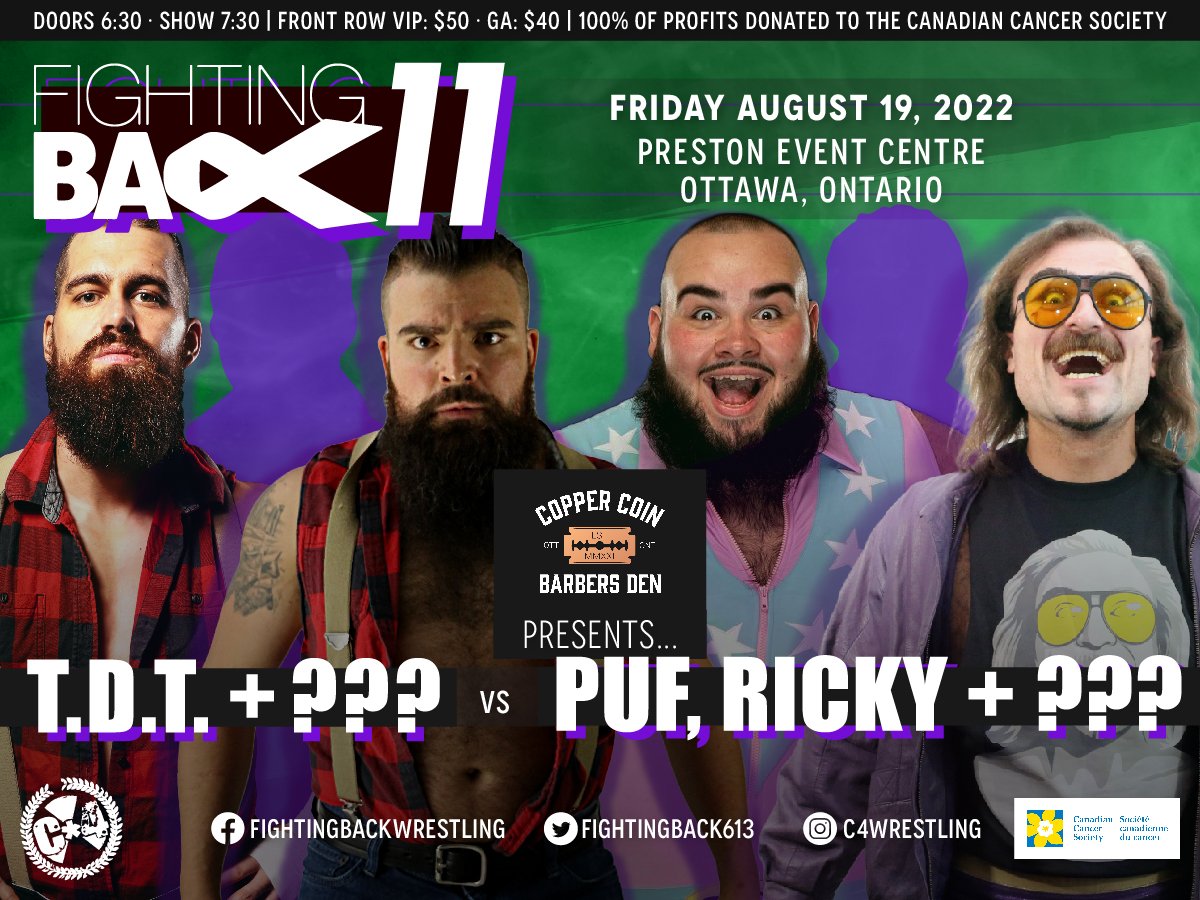 In a wild three-on-three match, Le Tabarnak de Team take on Puf and Pretty Ricky Wildy. Both teams will be joined by mystery partners. Even without the surprise element, T.D.T., as well as Puf and Wildy, are established C*4 fan favorites.
Puf and Wildy certainly have momentum on their side, getting the win over T.D.T. in a three-way tag at June's City On Fire; the match also featured The Tiger And The Wolf. Who could show up and join each of these two mainstays in C*4's tag team division?
C*4 Presents Fighting Back 11
LuFisto vs. Janai Kai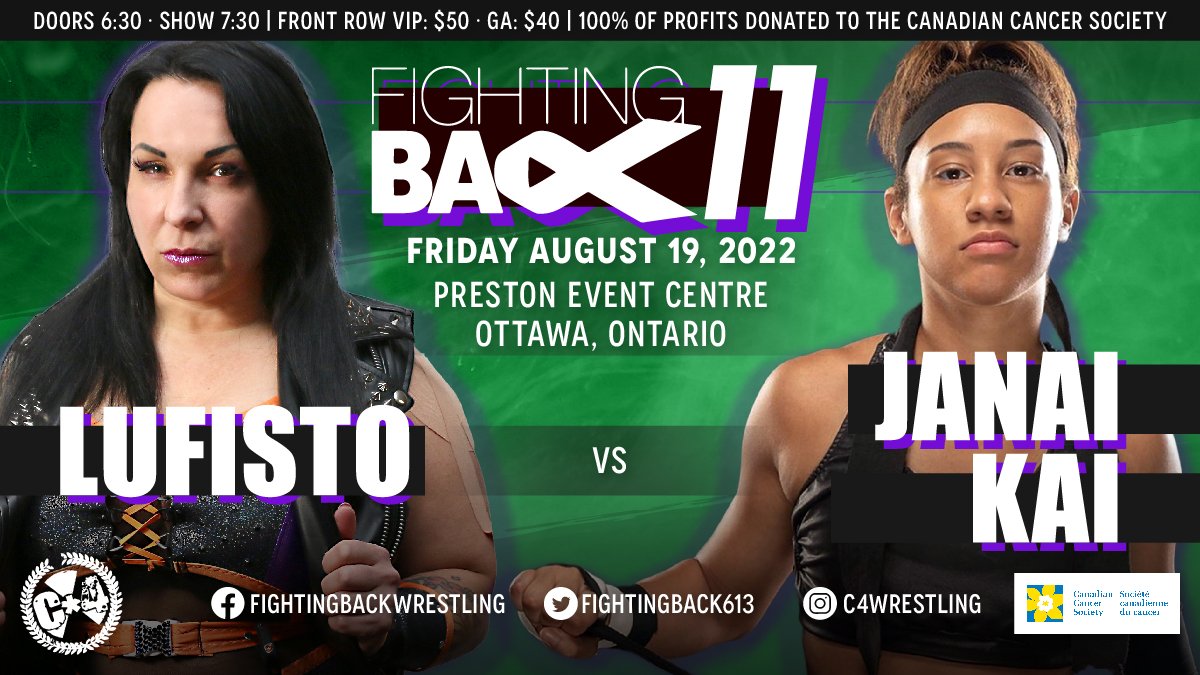 In a first-time-ever meeting, two fan favorites in, LuFisto and Janai Kai will clash. A C*4 mainstay for much of the promotion's lifetime, LuFisto is coming into the match after coming up short in her last four outings, including dropping the C*4 Tag Team Championships alongside Mathieu St. Jacques at Fantastic Voyage. Her last win actually came at last year's Fighting Back Invitational Gauntlet.
Kai made her C*4 debut with a win over Alexia Nicole and Ava Everett at April's Time and Tide. Most recently, Kai came up short in an eight-person tag-team match at May's Friday The 13th. Fighting Back will give Kai a real opportunity to prove herself against one of C*4's most established names.
C*4 Presents Fighting Back 11
Evil Uno vs. Kevin Ku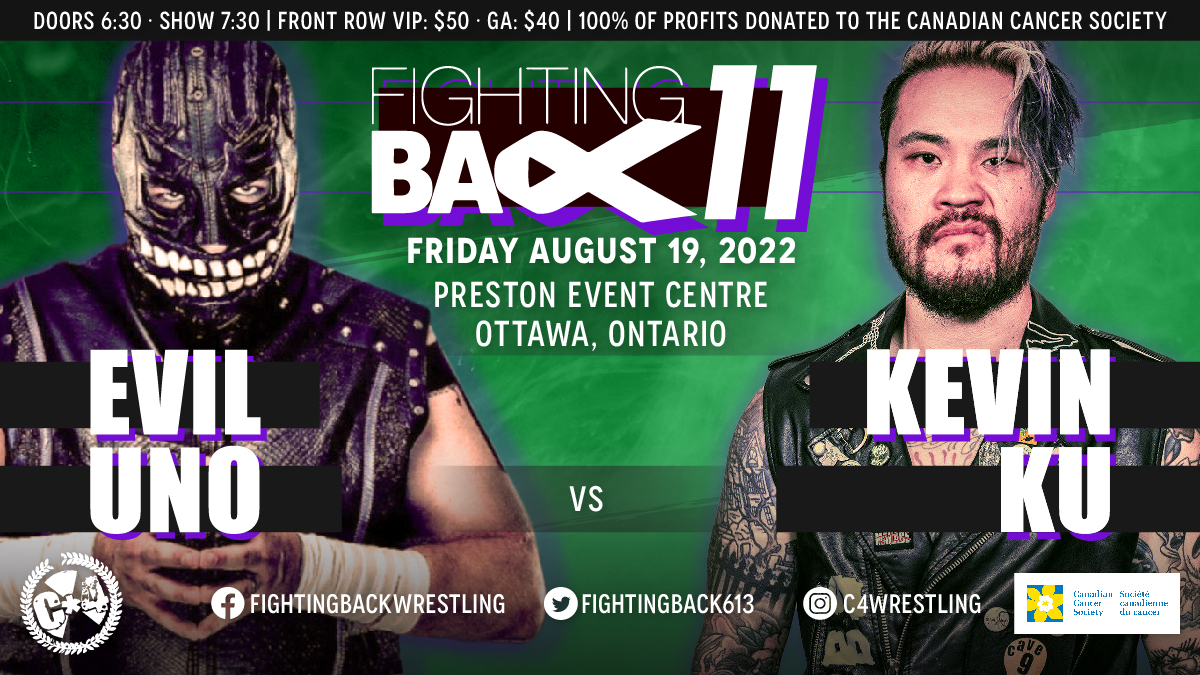 In yet another mouth-watering first-time-ever matchup, a man who has given his heart and soul to the Fighting Back events – Evil Uno, will take on one-half of C*4 Tag Team Champions Violence Is Forever – Kevin Ku.
Uno has wrestled well over 100 matches for C*4, most recently defeating Cecil Nyx in a surprise appearance at Time and Tide in April. But, on a night so important to him, The Dark Order member might be unstoppable.
However, Ku is not one to back down from a fight. He has had one of the most impressive showings this season, from winning the C*4 Tag Team Championships to a hard-hitting bout with Biff Busick.
C*4 Presents Fighting Back 11
Eddie Kingston vs. Stu Grayson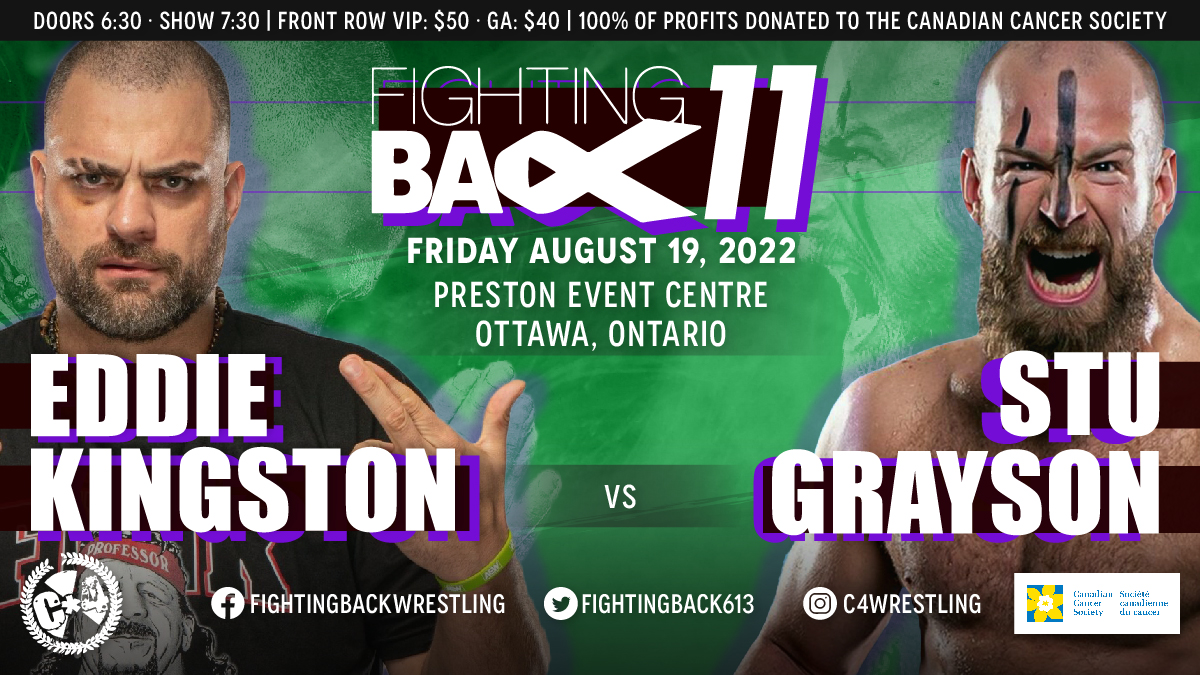 Fighting Back 11's headliner will feature the return of AEW star the "Mad King" Eddie Kingston when he takes on "Born and Bread for Combat" Stu Grayson.
Kingston has competed for C*4 on three occasions in 2011 and 2012. He didn't win any of those bouts, but this isn't the same "Mad King" as ten years ago. This Kingston has gone to war with the likes of Jon Moxley, Bryan Danielson, CM Punk, and Chris Jericho on the biggest of AEW stages.
Grayson is coming off a big win at June's City On Fire, defeating Alex Zayne in a phenomenal first-time-ever matchup, considered by many in attendance to the be the match of the night. His other 2022 C*4 win came over Benjamin Tull and Joshua Bishop at Fantastic Voyage. Who will come out on top in what promises to be a very hard-hitting and closely contested match?
*****
Stay tuned to Pro Wrestling Post for this and additional stories from the wrestling world. Readers can rely on Pro Wrestling Post as their daily source for everything inside the squared circle. As a result, readers can expect daily news, history, and much more. Also, please visit Capital City Championship Combat's official website here for news and information on the promotion and upcoming events and IWTV's official website to watch C*4 and other independent wrestling promotions.