C*4 Presents Fantastic Voyage. Capital City Championship Combat returns to Ottawa on Friday, March 25, 2022, with Fantastic Voyage, their first event of 2022. The promotion will return to their home at St. Anthony's Hall in Little Italy, coming off the heels of Better Watch Out on December 12, 2021. C*4 Wrestling presents: Fantastic Voyage.
The C*4 Championship and C*4 Underground Championship are not advertised to be defended, as champion "Speedball" Mike Bailey continues to tear it up in Impact Wrestling and across the U.S. independent scene. He'll be occupied in Enfield, CT taking on Alec Prince for Blitzkrieg! Pro that evening.
Despite this, Fantastic Voyage promises to deliver with two championship matches and multiple potential C*4 match of the year contenders.
"We promise this is going to be, top to bottom, one of the best events we have ever presented," said C*4 through a Facebook post. "Without a doubt, this show features some of the biggest matches we have ever signed, and several matches we promise will capture the attention of indie fans around the world."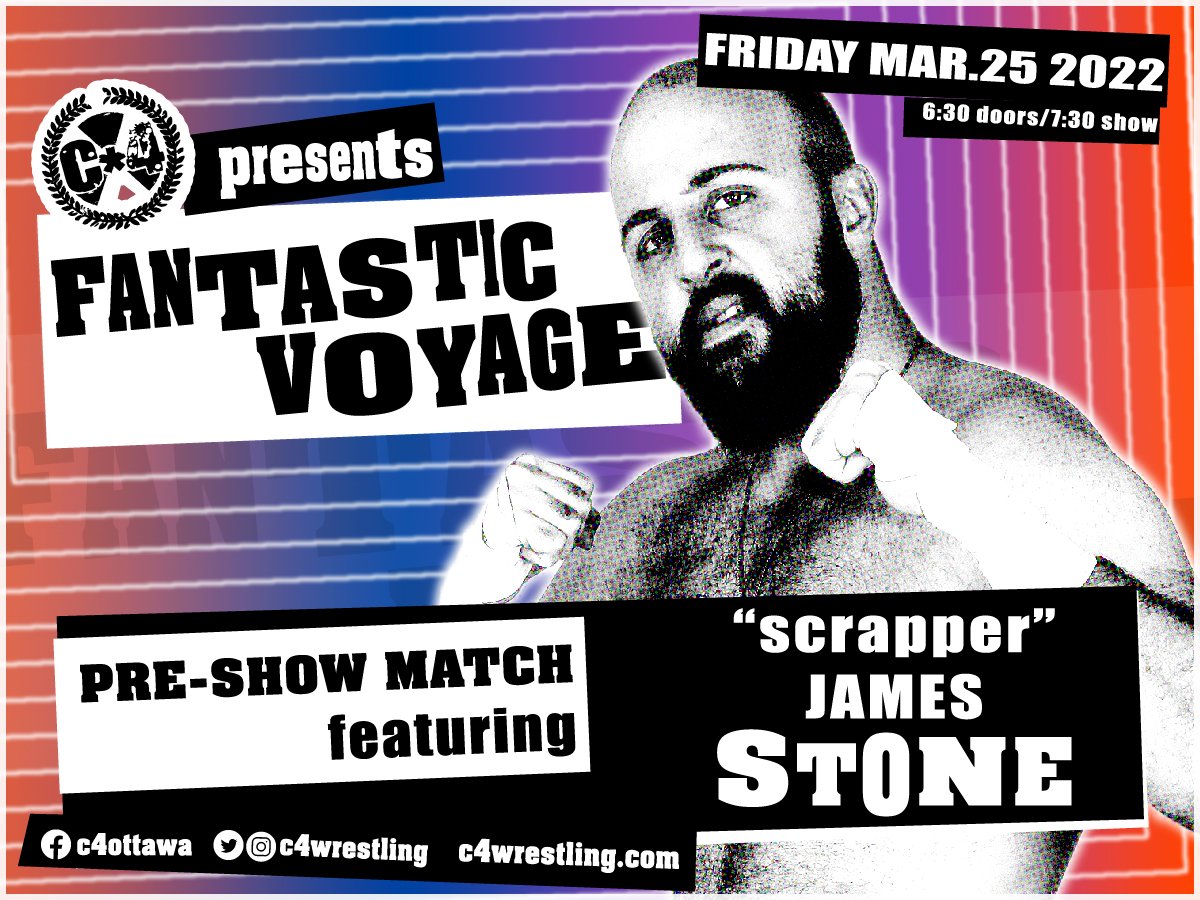 C*4 Presents Fantastic Voyage
Pre-Show Match
"Scrapper" James Stone vs. ???
Stone is coming off of a rough and winless 2021 in C*4, losing in the Fighting Back Invitational Gauntlet in September, falling short in a four-way won by Myung-Jae Lee in November, and losing to "Hotstepper" Macrae Martin in December.
Following his most recent loss, a frustrated Stone slapped Martin. The two seemingly made amends in a recently released video on C*4's social media outlets, that is, before Stone learned he'll be wrestling on the pre-show against an unknown opponent.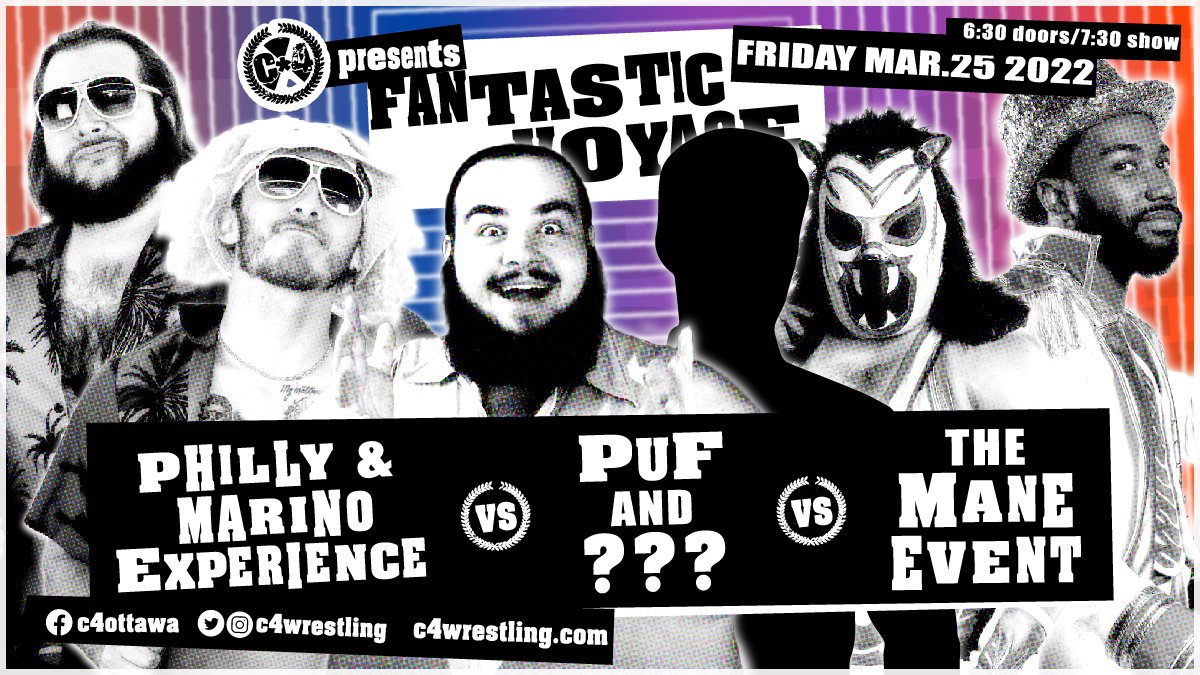 C*4 Presents Fantastic Voyage
Three-Way Tag Team Match
Philly & Marino Experience (Marino Tenaglia & Philly Collins) vs. Puf and ??? vs. The Mane Event
Puf's originally scheduled partner, Sexxxy Eddy, was forced to pull out of the event due to a fractured ankle and a spiral fracture of the fibula bone, which will require surgery. Philly & Marino Experience's last match in C*4, also a three-way tag came at November's Never Say Never Again, when they were defeated by Fight Or Flight (Gabriel Fuerza & Vaughn Vertigo) in a match also involving The TRUE Main Event (Mr. Crummels & Sonny Defarge). This will be the C*4 debut of The Mane Event, who have competed on AEW Dark and Dark: Elevation, GCW, HOG, and Beyond Wrestling.
Daniel Makabe vs. Marcus Mathers
Both Mathers and Makabe will make their C*4 debuts at Fantastic Voyage. Mathers is a young northeast U.S. standout, whereas Makabe is a veteran of the west coast.
C*4 Presents Fantastic Voyage
Six-Man Scramble
"The Curse" Cecil Nyx vs. "Hotstepper" Macrae Martin vs. "El Diablo" Gabriel Fuerza vs. "Diamond Tiger" Kobe Durst vs. "Wild Child" Jody Threat vs. Tarik
These multi-man scrambles never fail to disappoint in C*4, and with the mix of talent, this matchup will certainly be no different. Nyx and Martin are Both coming off victories at Better Watch Out, Nyx having defeated Space Monkey and Martin the aforementioned James Stone, whom he has asked to be in his corner at Fantastic Voyage.
Durst fell short in Better Watch Out's main event in a unified title match against Mike Bailey. Threat also fell to Veda Scott at the December event. Fuerza competed twice for C*4, both in losing efforts alongside Fight Or Flight tag team partner Vaughn Vertigo. TARIK last competed for C*4 in November 2017, losing to Sonny Kiss.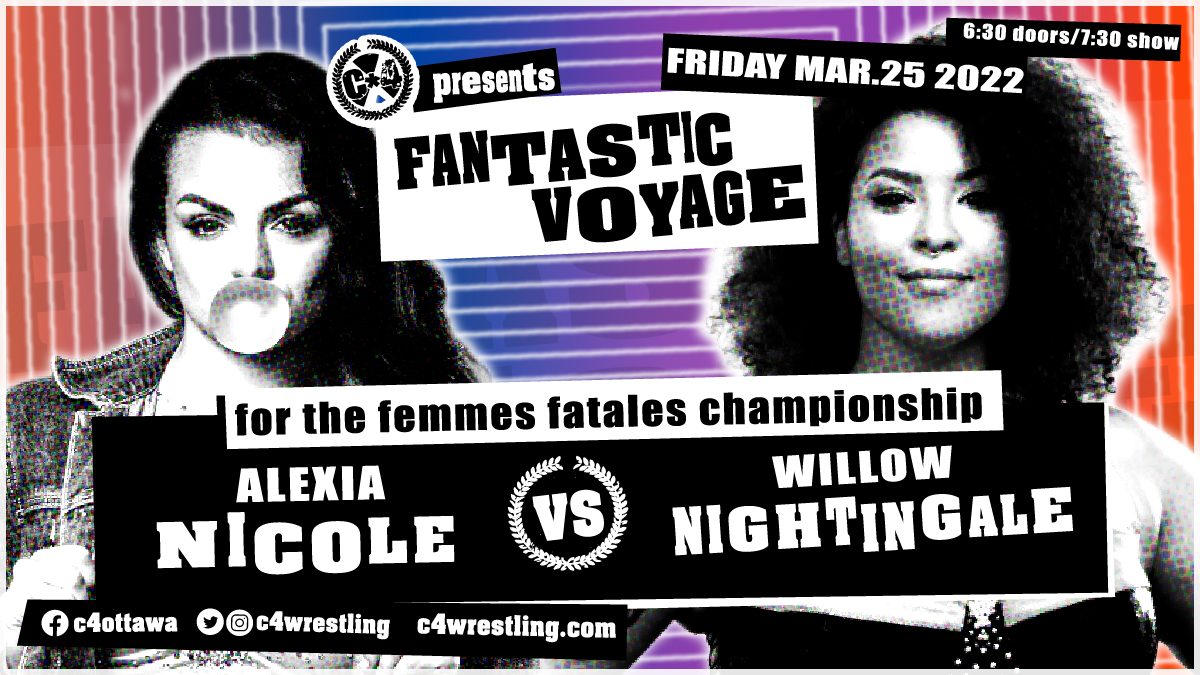 C*4 Presents Fantastic Voyage
Femmes Fatales Championship
Alexia Nicole (c) vs. Willow Nightingale
Nicole has held the Femmes Fatales Championship since February 2020, since competing for the likes of Destiny World Wrestling, Superkick'D, and Backyard Pro, among other promotions. Her last C*4 appearance was November's Never Say Never Again, where she teamed with Puf and Sexxxy Eddy to defeat The Voros Twins and Veda Scott.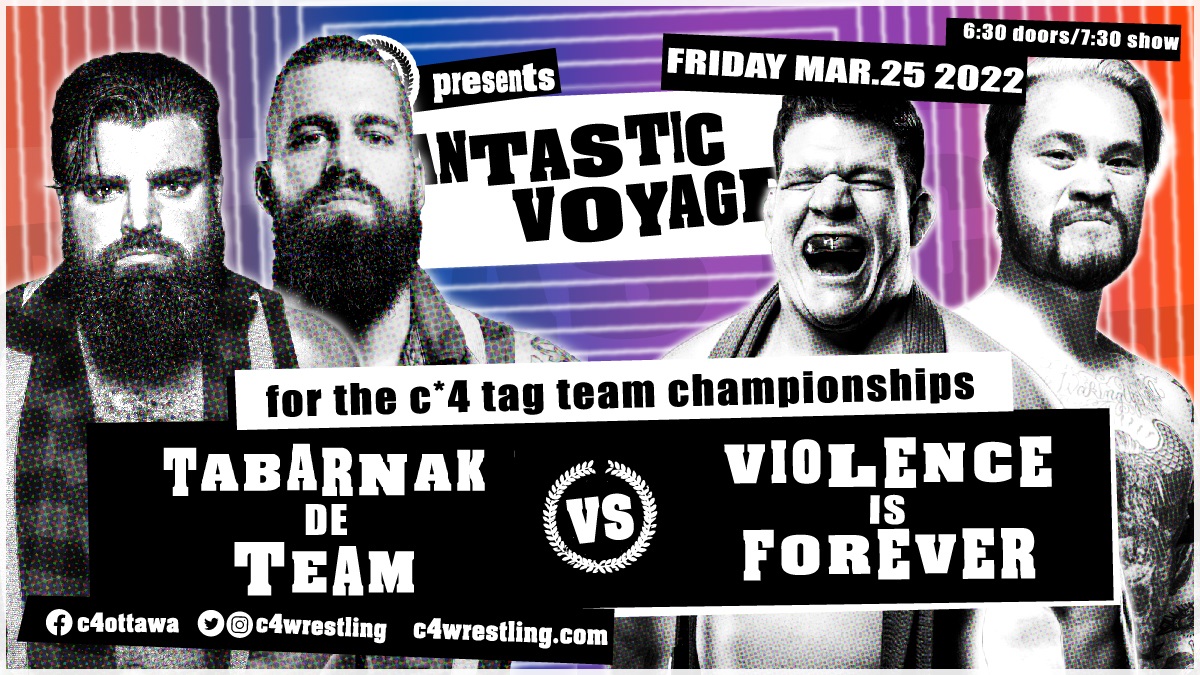 C*4 Presents Fantastic Voyage
C*4 Tag Team Championship
Le Tabarnak de Team (Mathieu St-Jacques & Thomas Dubois) (c) vs. Violence Is Forever
Le Tabarnak de Team's first title defence since a 2020 victory over Maine State Posse (Aiden Aggro & DangerKid) comes against Violence Is Forever. St-Jacques has primarily been competing in singles matches for C*4, having defeated Junior Benito and Kobe Durst but falling to Kevin Ku in his last three appearances.
Violence Is Forever have not competed in the C*4 tag team division since a 2020 loss to Daniel Garcia and Kevin Blackwood but recently competed in NWA's Crocket Cup and on AEW Dark: Elevation.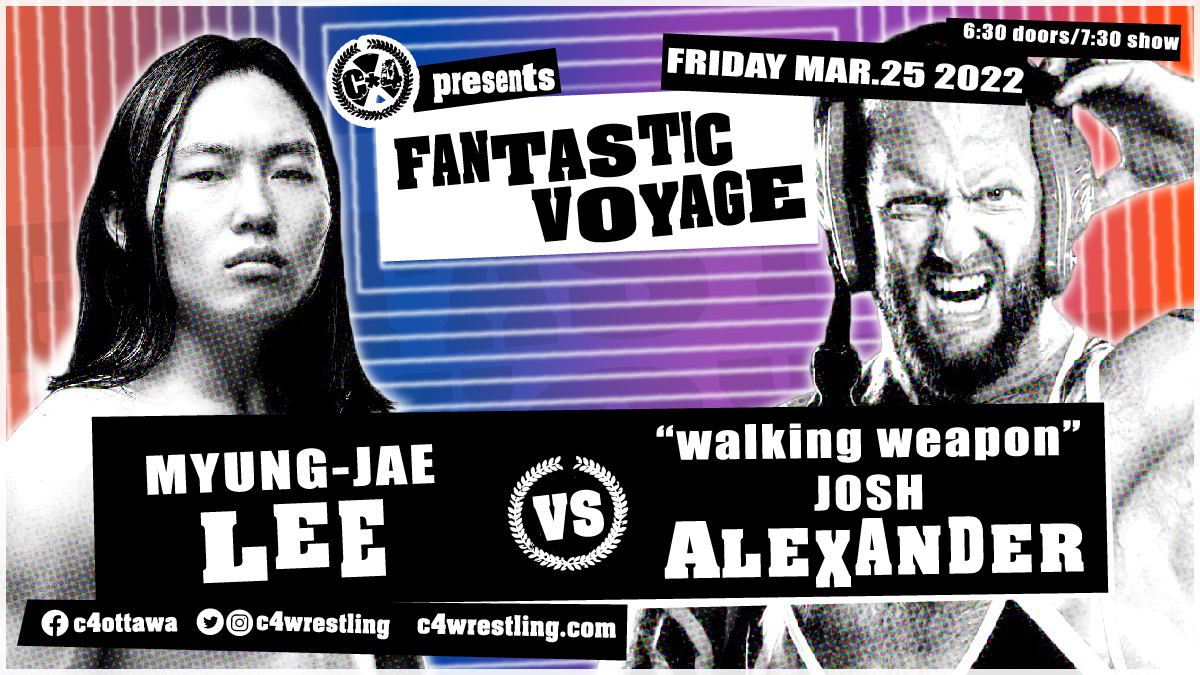 C*4 Presents Fantastic Voyage
Myung-Jae Lee vs. "Walking Weapon" Josh Alexander
Lee made this matchup personal, releasing a Twitter promo on March 21. Alexander will undoubtedly be the biggest challenge of the younger Lee's career. Lee was trained by AEW's "Red Death" Daniel Garcia, the man who happened to defeat Alexander for the C*4 Championship in Alexander's last C*4 match.
Since that night, Alexander has gone on to become a top star in Impact Wrestling, winning the Impact World Championship from Christian Cage at Bound For Glory 2021 before Moose would rip it away via a Call Your Shot Gauntlet cash-in.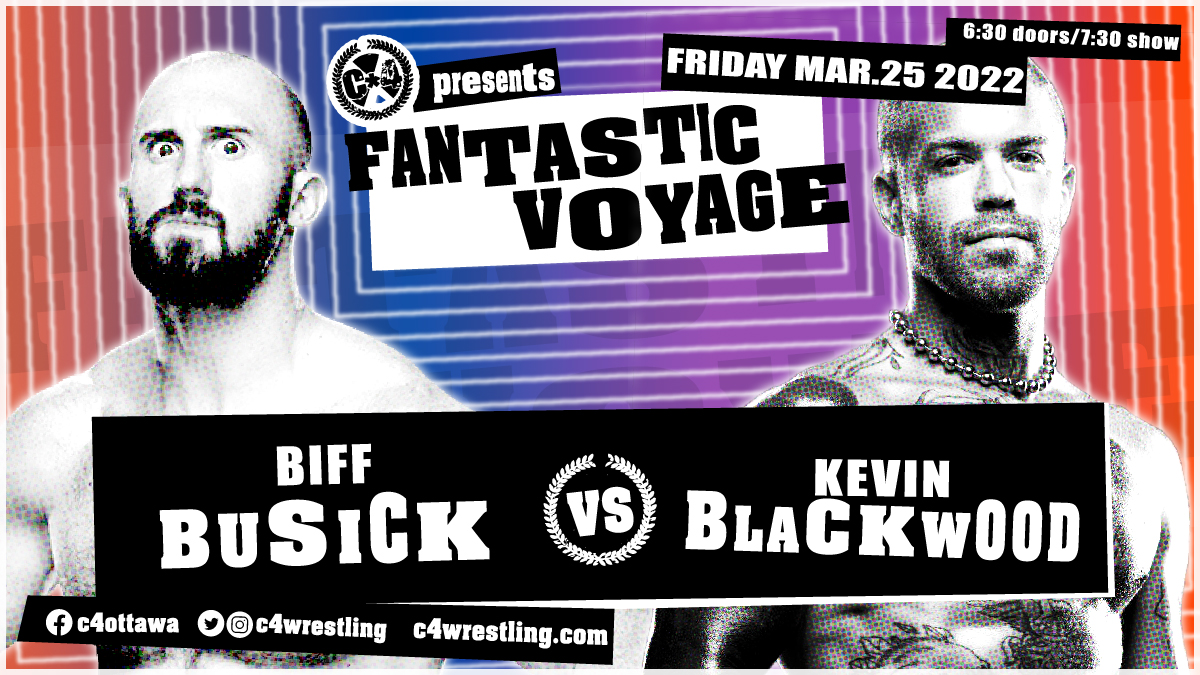 C*4 Presents Fantastic Voyage
Biff Busick vs. Kevin Blackwood
Biff Busick will make his C*4 return for the first time since 2015 against Kevin Blackwood. Bussick, formerly known as Oney Lorcan in WWE, has taken the independent scene by storm since his November 2021 release. He will have no easy task against Blackwood, who recently competed in PWG's 2022 Battle Of Los Angeles, last appeared in C*4 at Never Say Never Again when he lost his C*4 Underground Championship to Mike Bailey. If there's one match that could steal the entire evening, it's likely Busick versus Blackwood.