Capital City Championship Combat returns to Ottawa's Preston Event Centre on Friday, June 24, for their season finale event as C*4 presents City on Fire. The promotion couldn't have chosen a more fitting name, as they have set the city ablaze this season with some of the best independent wrestling matches of the past year.
The returning C*4 Champion Speedball Mike Bailey will defend in a highly anticipated rematch, and a slew of returning stars and newcomers alike round out a card that could very well be C*4's best to date.
C*4 Presents City on Fire
The Tiger & The Wolf vs. Le Tabarnak De Team vs. Puf & Pretty Ricky
– Three-Way Tag Team Match
Three mainstays of C*4's Tag Team Division will clash in this three-way dance. At May's Friday The 13
th
event, T.D.T. overcame Puf and Ricky and Locked And Loaded in a match just as unpredictable as this one. That night, The Tiger & The Wolf came up short against C*4 Tag Team Champions Violence Is Forever.
All three teams will be eager to end this season with a win and perhaps be next in line for a championship opportunity. T.D.T. may be the odds-on fan favorite with momentum on their side, but The Tiger & The Wolf will add an unpredictable element to the match, and Puf & Ricky can't be counted out.
C*4 Presents City on Fire
Cecil Nyx vs. Joseline Navarro
Joseline Navarro will make her C*4 debut in a singles match against "The Curse" Cecil Nyx. This season hasn't been the best of showings for Nyx, who's one and only win came over Space Monkey at December's Better Watch Out. Will Navarro make a splash in her first C*4 outing, or will Nyx finally overcome his own curse?
Alexia Nicole vs. Krystal Moon
Alexia Nicole will go one-on-one with Krystal Moon. At last month's Friday The 13
th
event, Moon teamed with Fight Or Flight and Taylor Rising to defeat Nicole, Janai Kai, and MSP. The two had their fair share of encounters during the match, with Moon getting the better of Nicole thanks to an aid from her partners. This time if Moon wants to get the win, she'll have to do it on her own.
C*4 Presents City on Fire
Joshua Bishop vs. Myung-Jae Lee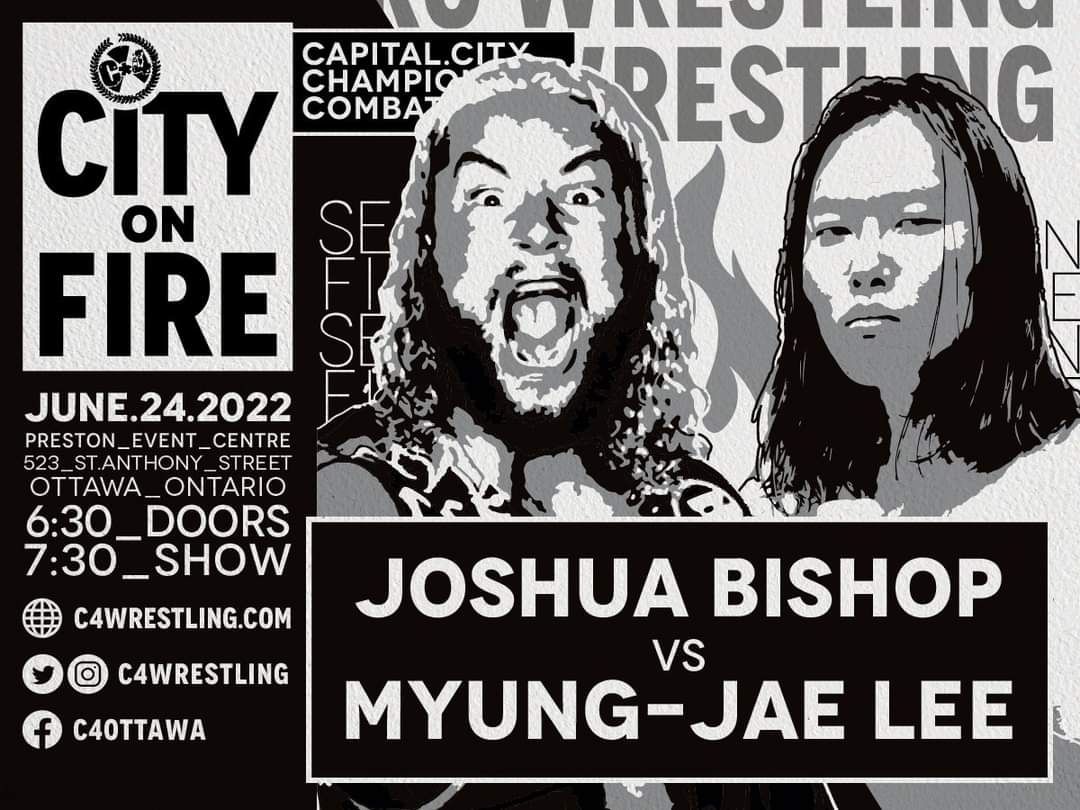 Since debuting last fall, Lee has proven himself to be one of C*4's young and hungry up-and-comers. After falling to Josh Alexander at Fantastic Voyage, he quickly rebounded with wins in two multi-man matches at Time And Tide and Friday The 13
th
. After that, however, he'll have no easy task in front of him in the form of Joshua Bishop.
C*4 Presents City on Fire
"Big Trouble in Little Italy" Six-Man Street Fight
James Stone, Michael Von Payton, & Raja Ali vs. Macrae Martin, PCP Crazy F'N Manny, & Shayne Hawke
The heated season-long rivalry between "Scrapper" James Stone and "Hotstepper" Macrae Martin will come to a head in what promises to be a brutal six-man street fight. Stone's allies come in the form of fellow local veterans Ali and MVP.
The "Hotstepper" is seeking revenge for the 13 chair shots that Stone planted in his back at Fantastic Voyage. Accompanying Stone is two men whom fans of IWS Hardcore are very familiar with: "Professor H" Shayne Hawke and PCP Crazy F'N Manny.
C*4 Presents City on Fire
Stu Grayson vs. Alex Zayne
In a first-time-ever encounter, two of independent wrestling's best will clash when Stu Grayson meets Alex Zayne. The bout will be Grayson's first since departing AEW and his first C*4 match since a surprise appearance at Fantastic Voyage.
Zayne's one C*4 appearance came in 2019, but "The Sauce God" is coming off a 4-5 run in NJPW's Best of the Super Juniors tournament and recently competed at Impact Wrestling's Slammiversary in the Ultimate X. This match could steal the entire show.
C*4 Tag Team Championship Match
Violence is Forever (c) vs. Fight Or Flight
Domonic Garrini and Kevin Ku have been nothing short of dominant since capturing the C*4 Tag Team Championships in March. After running through The Tiger & The Wolf at Friday The 13th, their next challengers have emerged in the former two-time champions: Gabriel Fuerza and Vaughn Vertigo.
"Tomorrow, @FuerzaLives & I become @C4Wrestling Tag Team Champions for the 3rd time.
For eight years, we have grown from teenagers into adults in front of you, challenging the best tag teams in North America."
Alex Shelley vs. Junior Benito
After going to war with the likes of Jeff Cobb, Anthony Greene, and Davey Richards this season, "The Young Bull," Junior Benito faces what might be his biggest challenge yet in the form of Alex Shelley. The independent wrestling legend and one-half of The Motor City Machine Guns requested the very best Ottawa has to offer, and he'll certainly get it in the young and hungry Benito.
C*4 Presents City on Fire
Main Event: Double Title for the C*4 Championship and C*4 Underground Championship
Speedball Mike Bailey (c) vs. Kevin Blackwood
In a highly anticipated rematch, C*4 Champion and C*4 Underground Champion Speedball Mike Bailey will defend against the very man he defeated to unify those titles:
Kevin Blackwood
.
Since his last title defence in December against Kobe Durst, Bailey has gone on an absolute tear across the U.S. independent scene. Speedball was unarguably the MVP of WrestleMania weekend in Dallas, wrestling nine matches in three days. Bailey also recently became the Impact Wrestling X Division Champion at Slammiversary.
Kevin Blackwood, however, has everything to gain and nothing to lose. Since their winner takes all matches at C*4 Never Say Never Again, Bailey once again defeated Blackwood at GCW's One Night Only. Blackwood earned the #1 Contendership status by defeating Biff Busick in a brutal math at Fantastic Voyage.
I've said it before, and I'll say it again; Bailey vs. Blackwood at Never Say Never Again was by far the best independent wrestling match I've ever witnessed live. I have no doubt that their C*4 rematch will top it. This one is absolutely can't miss.