Sometimes in pro wrestling, a performer's charisma and gimmick, combine with their athleticism to create a persona that resonates with fans. Such is the case for current NOW This IS Wrestling Champion, "Buns of Steel" J Fowler.
While his most devastating maneuvers such as the "Buns from Above" and the "Shiney Hiney" use his dangerous derrière to finish off his opponents, Fowler is much more than just a gimmick wrestler. His work ethic inside, and out of the ring has made him a dependable and entertaining performer for any independent promotion lucky enough to have him on their card.
With over a decade under his belt, Fowler's stock has risen on the indie wrestling scene over the past few years. Two high profile matches last year against the "King of Dong Style" Joey Ryan and a NOW This IS Wrestling Championship victory have shined a spotlight on the Iowa native. 
I recently had the chance to talk with Fowler about his career in professional wrestling, how he's handled the Coronavirus pandemic, his plans for the future, and much more.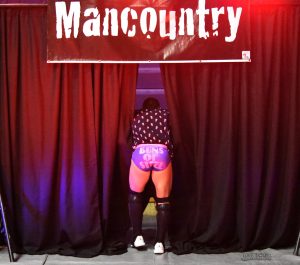 "Buns of Steel" J Fowler
During this Coronavirus pandemic, how have you been staying ready physically for when it's time to return to the ring?
Well, luckily, I am a personal trainer, so the gym I work for, they let some of us top trainers take whatever we needed. So, when they shut us down, I loaded my car up with like 1,200 pounds of equipment, and then I was able to score a rack and bench off Facebook marketplace, so I made a little gym in my garage. 
Have you been able to have any ring time during this hiatus?
That's the one thing I have not done. I've been offered some opportunities to go do like the no fans, internet broadcast-type shows, and I'm just not into that. I have to have that crowd reaction, I have got to have that crowd and feed off their reactions.
I actually just spoke to a buddy and a couple of guys that have a ring here in Des Moines, we had a conversation about maybe getting it set up somewhere and doing some workouts and that would be nice. 
Going back to the beginning of your wrestling career, what inspired you to pursue professional wrestling?
I always loved it as a kid and always dreamed of doing it. I distinctly remember when Eddie Guerrero beat Brock Lesnar for the championship, that was the moment to me where I was like, "I am going to do this."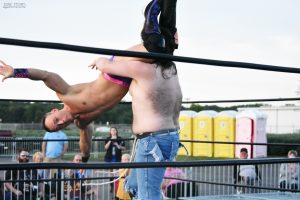 How long have you been wrestling and where did you get your start?
I've been wrestling for 12 years now and started with Austin Bayliss and Central Empire Wrestling. I also did some training with Jaysin Strife at Magnum Pro Wrestling. 
How long were you in training before you officially stepped into the ring?
Oh man, I was training for like a month. I remember about a month in, Bayliss was pretty impressed with me and Brian Gott and was like "I'll let you guys start doing some battle royals" so we did a little Relay For Life show there in Sigourney, Iowa. 
Then the weekend after that, it was 2008, so that's when all the flooding was happening in Iowa, so the week after that, CEW had a show in northern Iowa, and almost the entire card canceled because of the floods. So Brian and I got thrown into our first ever real match there, we were able to make it to help set up the ring and ended up having a match. 
When you first started, you donned a mask and were known as Supafli, what went into the creation of that persona?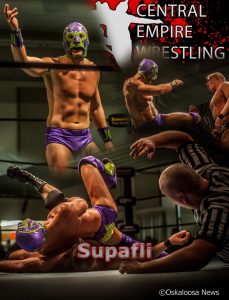 That goes back to working in CEW, we wanted to come up with something to get our feet wet. Something that I wouldn't be tied into long term there, it was just something to help me grow and learn while I was there, so I was like, "I'll put a mask on", it was actually a gimmick I did in the old backyard days. It kind of caught on, and I kept rolling with it for ten years. 
How did the transition into the "Buns of Steel" come about, what brought out that change in your character?
Well, in 2016, I was wrestling against Devin Thomas and hit him with a Whisper in the Wind. Well, he catches my ass with his face and ends up with a gnarly black eye. That's kind of where the Buns of Steel was born. Everybody kind of started joking around about it, and I was like maybe I play around with that. 
For a good couple of years, I was still doing the Supafli thing. But I started incorporating more of the Buns of Steel gimmick.
It was kind of one of those moments. I had been doing this for ten years and hadn't made it where I wanted. I had done some of the things I was hoping to do. So maybe it was time to take the mask off and go full in on the Buns of Steel. 
Did you ever anticipate the "Buns of Steel" J Fowler persona resonating with the fans like it has? 
It definitely caught me off guard. When I was just playing around with the idea, the reactions I was getting really got me thinking. This might actually work. It was either going to catch on, or it wouldn't. As much as it's blown up its still kind of surprises me. 
In 2019 "Buns of Steel" J Fowler had a pair of high profile matches with Joey Ryan, a wrestler who knows a thing or two about a gimmick based on a dangerous body part. Going into that first match at CEW MancountryMania, what was that like stepping into the ring with such a well-known wrestler on the independent wrestling scene?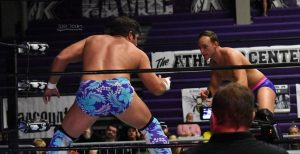 I was incredibly excited to have that match. Getting into the Buns of Steel gimmick I looked at that match with him as something I needed to have. That's a money-making match, a career-making match for me. So I was incredibly excited to have the opportunity to check that off the list. 
It was in Keokuk, Iowa in a high school. Knowing the type of match we needed to have I was concerned about getting run out of the building. But, Joey was a really easy going guy and that's what I picked up from him. How easy he was to work with.
He has his thing and what he wants to get it in. But with me, he was all about collaborating with my stuff. That was a great experience. 
The rematch with Joey Ryan came later in the year at a Journey Pro Wrestling show in Kansas City. Going into the rematch did you feel any added pressure to deliver with it being in such a different environment?
I felt a little bit of pressure. I was nervous about both matches but it was different. Just knowing Journey Pro and the environment and crowd there. I knew it was going to be huge and off the charts.
It was a lot of pressure to succeed in that, knowing everyone was expecting us to have an amazing match. The pressure was there, but I thrive under pressure and I think we delivered one hell of a match. 
Now that you have each won a match, have there been any talks of a rubber match?
We've talked about having that third one, so hopefully, sometime down the road, we can make that happen.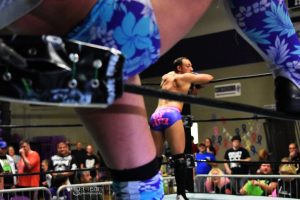 Another big moment for you in 2019 was winning the NOW This IS Wrestling Championship. How long have you been wrestling for them and what did it mean to you winning their top prize?
I started wrestling for them in August of last year so winning the championship meant everything to me. For years now, most of these main places I wrestle at I felt like I was one of the top guys.
There's always a lot of top guys and every place I wrestle, I feel like any company can put their title on me. So for them to finally pull the trigger and put that trust in me? Means so much to me. 
Winning that championship from Devin Thomas was kind of cool. With him being the guy that the "Buns of Steel" really originated with was a cool moment.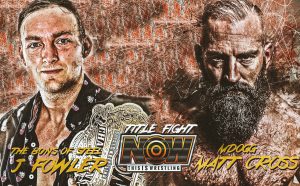 When it comes to your career, what are the most significant things you want to accomplish?
The number one thing I want is to have fun. That's the first thing that comes to mind, having fun, and doing what I love. I want to be remembered for that. Obviously, I want to have a contract somewhere one day. But until then, I want to focus on that main goal of chasing a dream, having fun, and not holding anything back. 
How do you want the rest of 2020 to play out once we get past this pandemic and wrestling shows start up again?
With all this going on, it's hard to set goals right now. I am just hoping we can get back to having some shows. We can pick back up where I left off. I had some big things in the works, some big matches coming up. So hopefully, that keeps going when we do start back up.