If there is one thing professional wrestling has never been short of, it is "bull." Wrestling has contended with Pitbulls, British Bulldogs, Brahma Bulls, and even Bull Buchanan. For every thousand cliches, there's one that stands out from the pack, so to speak. For the moniker of "bull," that figure is Joshi trailblazer and icon, Bull Nakano.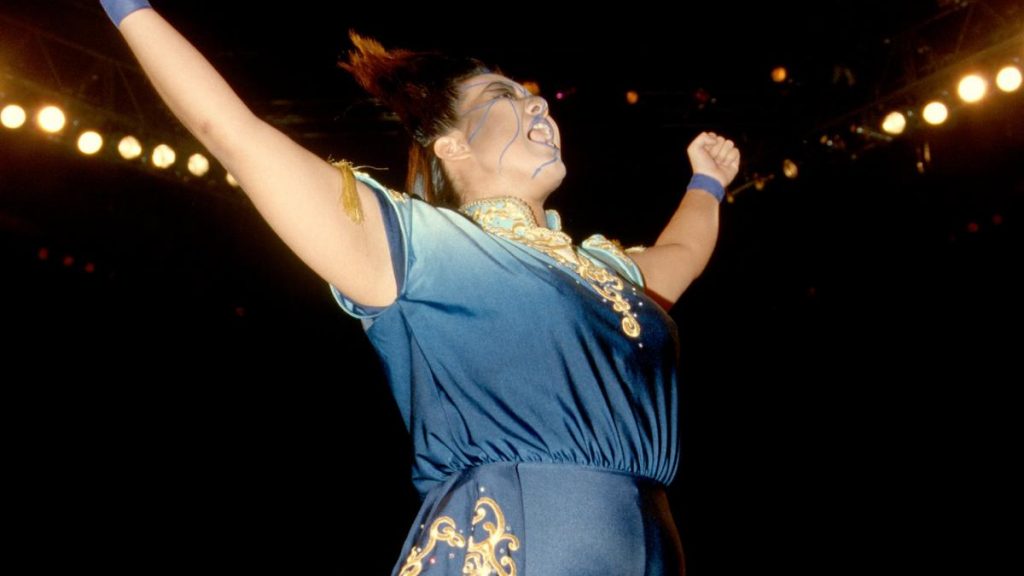 Bull Nakano
Becoming the Bull
Bull Nakano was born Keiko Nakano on January 9th, 1968, in the Kawaguchi prefecture of Japan. Nakano began wrestling for All Japan Women's Pro Wrestling (AJW) at the age of 15, making her debut in 1983. Training in the AJW Dojo under the tutelage of brawling Joshi ace Dump Matsumoto, Nakano would wrestle under her real name at the start.
During this time, Nakano defeated Yumi Ogura for the AJW Junior Championship on September 13th, 1984, and would hold onto the title until January 1985. Nakano soon vacated the title as she aligned herself with Dump Matsumoto's stable of heels, the Villainous Alliance.
Bull would go under her famous moniker in pursuit of the AJW Title, which she won after defeating Yumi Ogura for the vacant championship on July 25th, 1985. Nakano would go on to hold the AJW Championship for 917 days.
Bull Nakano
The Development of A Look
Under Matsumoto, Bull Nakano developed her iconic look; face paint, leather jackets, ripped leggings, and graphic t-shirts. Embodying a punk aesthetic long before alternative looks were to appear for female wrestlers in WWE. Nakano would team with Matsumoto in lieu of making title defenses, often choosing to surround herself with her fellow Villainous Alliance members.
Nakano and Matsumoto would win AJW's first "Tag League the Best" by first defeating Itsuki Yamazaki (who vacated the AJW Title Nakano would win) and Noriyo Tateno in the semi-finals, and Chigusa Nagayo and Lioness Asuka in the finals.
Bulls on Parade
The start of Bull Nakano's stardom at the beginning of the 1980s never ceased as the decade grew on. In 1986, Nakano had a taste of North American audiences by going on a short-lived excursion to the WWF. Nakano and Matsumoto would team up under the name "Devils of Japan" and compete against the team of Velvet McIntyre and Dawn Marie in the Boston Gardens and Madison Square Garden, respectively.
As Matsumoto geared up to end her career, she handed control of the Villainous Alliance to Bull Nakano. By this time, she held the AJW title, WWWA Tag Team Champion, and by 1991, would hold the AJW All-Pacific Championship and be the first WWWA World champion.
At AJW Wrestlemarinepiad 1989, Bull Nakano would win a singles match, a special gauntlet match for the retiring Chigusa Nagayo, and 30 women two-ring battle royal. Putting in well over one hour of performance over three matches was the work rate of Nakano.
Bull Nakano
The Inaugural WWWA World Champion
Though she would lose the mid-tier All Pacific Title to Tag League finalist Noriyo Tateno, Bull Nakano would start the 1990's off by becoming the inaugural WWWA World Champion, defeating Mitsuko Nishiwaki on January 4th, 1990.
Bull Nakano would be an early test in the career of one Manami Toyota and would eventually lock horns with another future star, Aja Kong. Kong would actually provide Nakano with an upset of her own, besting her in a cage match by escaping. Aja Kong would, with her intimidating looks and style, impress Nakano, and Nakano would test her again later that year in a No Referee Cage Death Match at AJW Wrestlemarinepiad 1990 for Nakano's WWWA World Championship.
Bull Nakano vs. Akira Hokuto
The Final Challenge
The last future legend for Nakano to test was Akira Hokuto. Hokuto, a protege of the retired Chigusa Nagayo, was wrestling for less than six years when Nakano put her to the test long before her reign as the "Dangerous Queen." Once again, for Nakano's WWWA World Championship, the match was awarded five stars by the Wrestling Observer Newsletter. If one wrestler was capable of showcasing the talent of the future, it was Bull Nakano.
From 1990 – 1992, Bull Nakano picked up wins against future Joshi icons. Eventually, he traveled to Mexico to become the first CMLL Women's champion, defeating twelve people in a Cibernetico Match, followed by a 2/3 falls match with Lucha Libre icon Lola Gonzalez. Nakano would defend the CMLL World Title in Japan until eventually defending her WWWA belt against Aja Kong in November 1992.
Aja Kong would end Bull Nakano's historic 1,057-day reign with the WWWA World Championship. By March 1993, she would lose her CMLL World Women's Title, and the ace Bull Nakano era was over. After losing her CMLL World Women's Title, Nakano would not challenge for or win a championship. Nakano would compete in tag matches, and some singles matches until May 1994, when a familiar opportunity with higher potential arose.
 Bull Nakano
The Alundra Blayze Rivalry
May 7th, 1994, the WWF, in the midst of the ill-fated New Generation Era, travels to Japan for a series of house shows. WWF Women's Champion Alundra Blayze is defeated in under ten minutes by the singles wrestler known as Bull Nakano. Nakano and Blayze have singles matches all throughout the WWF's tour of the pacific. This is a test run for Nakano's arguably best chance at exposure.
Beginning in August, Nakano begins to work WWF house shows, Sunday Night Slam, and Raw tapings. Blayze and Nakano's feud eventually graces the 1994 WWF Summerslam in a short but hard-hitting affair.
1994 would turn out to be a key year for Nakano's home promotion AJW. That November, in lieu of Wrestlinemarinepiad, AJW and five other wrestling promotions promoted "Big Egg Wrestling Universe," a ten-hour, 23-match event. The co-main event was Alundra Blayze defending her WWF Women's Championship against Bull Nakano in front of over 32,500 fans.
Bull Nakano
Raging

The match culminated in a proud and cherished Bull Nakano successfully defeating Blayze for the belt. Immediately after winning, Nakano shoots to her feet with a smile uncharacteristic of her foreign heel persona in the WWF. Indeed, Japanese fans would have been surprised to see the elated and almost giddy Bull Nakano's antics. At the moment, it feels more like a homecoming on home turf rather than an out and out contest for supremacy. Not a blood feud, but certainly not a walk in the park either.
Bull Nakano would hold the WWF Women's Championship for five months before dropping the belt back to Alundra Blayze. The two would meet again in World Championship Wrestling, but by that moment, the ticket was punched for both women's legacies.
Bull Nakano
Collision in Korea
Twenty-five days after losing her WWF women's championship, Bull Nakano was a part of history once again. She participated in the two-day New Japan Pro Wrestling/World Championship Wrestling co-promoted event "Collision in Korea."
The brainchild of NJPW founder Antonio Inoki, the event is to this day, the best-attended pro-wrestling event in the sport's history, with 150,000 North Korean viewers watching the two-day event in the Pyongyang May Day Stadium. The first day would feature Bull Nakano and Akira Hokuto defeating Manami Toyota and Mariko Yoshida. The second day would feature Akira Hokuto defeating her predecessor Nakano.
Bull Nakano would continue 1995 and 1996, competing in WCW and various Japanese promotions. Her final AJW match occurred on February 2nd, 1996. She would wrestle her final match as an active wrestler at Clash of the Champions 1996.
Nakano would then proceed to lose to the former Alundra Blayze. She would announce her retirement in 1997, featuring once in a gauntlet for fellow Joshi legend Kyoko Inoue in 2012, and again in the gauntlet retirement match for Manami Toyota in 2017.
Bull Nakano
Hats Off

To ponder the intricacies of legacy is a key aspect of this feature—the idea of a trailblazer as one who lights a fire and forges a path. What we know in reality is that trails are not made by one individual. They are an accumulation. Paths, especially ones that are used often, are a communal creation. A shortcut through a hole in a fence, a more scenic route, or even just a path to avoid hazards. Trails and paths are only as useful as they are to others.
No individual put more effort into guiding the ones who would come after them more faithfully than Bull Nakano. Though she retired after having only a thirteen-year career, her impact on the sport cannot be understated. The selflessness of Bull Nakano makes her worthy of her roses. The bull, despite all appearances, is not a monster but another figure in the grand tapestry of life…
…and that is no bull.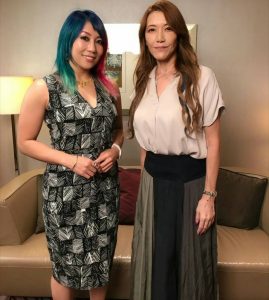 Sources:
The Joshi Pod, Episode 22: Bull Nakano
Cagematch.net, Bull Nakano