At 32 years of age, Jermaine Haley first earned a name for himself on the Australian wrestling scene. This is the journey of Bronson Reed. Over the course of the first eleven years of his career, the man known as Bronson Reed captured several titles along the way. The native of Adelaide, South Australia, Haley wasn't content with only competing in the land down under would also move around Europe and Asia as well.
The key to any competitor's success is growth. With greater opportunities come a greater chance for growth and subsequent success. What isn't typically shared about is his Samoan heritage. However, in order to reach those goals, it comes with support, and nearly fourteen years ago, his support came in the way of his wife.
_______________________
"I was always a big wrestling fan so when we met, I let her know about wrestling. And sometimes as a younger kid wrestling can be a little bit taboo because some people don't really like it, some people do, so it was a tough decision to tell her – 'hey, I'm obsessed with wrestling',"
"But she embraced it and when we got out of high school, I went and started training at my local wrestling school, and she was the reason I was able to get in. I didn't have a lot of money at the time, she gave me the money to do it, and ever since then she's just been supportive.
"Me getting to WWE has obviously been a dream of mine since I was a very little kid, but because myself and my wife Paige have been together for so long, it became her dream as well to see us both get here.
Bronson Reed on the support from his wife to achieve his dream of becoming a wrestler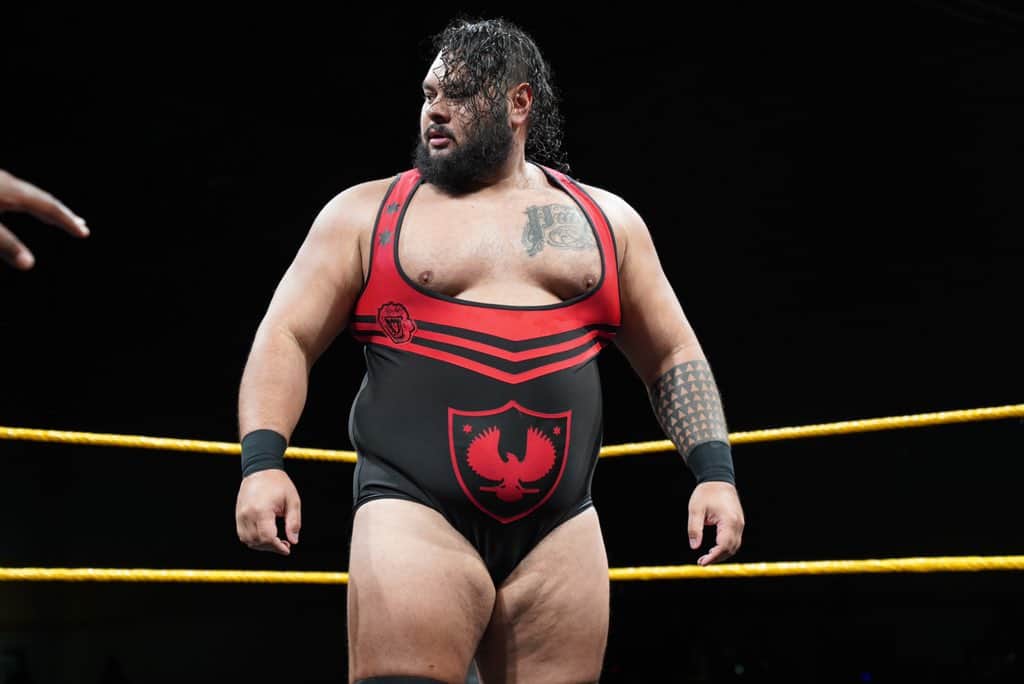 Bronson Reed – The Rise of The Top Dog
Under the name Jonah Rock, Reed competed for the first eleven years of his career in Australia. It was during this time when Reed captured title after title all over the country. Among the heralded titles he captured included the Melbourne City Wrestling World Championship, co-holder of the Intercommonwealth Tag Team Champions. As the WR Australian National Champion, Reed, while competing as Jonah Rock, held the title for an incredible 696 days. Even more remarkable than this, he was champion for over a thousand days during his three title reigns holding this title.
In 2010, Rock would join a faction that involved a collection of talent known as The Mighty Don't Kneel. As part of Explosive Pro Wrestling, Rock would join other rising stars today, such as Mikey Nicholls, Shane Haste & Slex, among others that would be a longstanding faction within the promotion.
Rock would defend the honor that The Mighty Don't Kneel had developed in EPW in Pro Wrestling NOAH. During his time in NOAH, Rock would team with fellow TMDK members Nicholls and Haste to battle No Mercy, including former champion KENTA. Although he first cut his teeth in his native Australia, it was as part of promotions such as NOAH, Westside Xtreme Wrestling, and Pro Wrestling Guerilla in the United States that helped to lay the foundation for the talent that fans came to know today.
By the Winter of 2019, Rock would be part of the newest WWE NXT recruitment class. His arrival follows in the footsteps of past TMDK members Haste and Nicholls. Like them, he also joined NXT after achieving all they could in Australia.
It's hard coming into a company like this because I wrestled in 14 different countries. I really needed these two years to find out who Bronson Reed is. And now I feeling like I'm rolling. I am comfortable as the colossal.
Bronson Reed is a bada** in the ring but then outside of the ring, I'm me. I'm personable, and I'm happy. But I get into the ring, something clicks, and something happens. It's game time.
I am a different athlete. There really is no one like me in NXT. I am an abnormality in NXT. There is a reason COLOSSAL is spelled in all caps. I am going to make 2021 my year. My goal is still to get the North American Championship, and I didn't. That is still at the top of my list.
Reed on display
Bronson Reed – The COLOSSAL Monster Is Set To Destroy
One of the most intriguing things to note about the COLOSSAL Bronson Reed is the signature claw gesture. It was inspired by none other than singing artist Lady Gaga. As he noted, Gaga's request during her concert was to ask her 'little monsters to throw up their claws' to which Reed is quick to show the world.
Part of the growth of any talent is the ability to discover who they are. This is likely part of the adjustment that Reed has had to face. He has not only had to find who he is as a performer but has had to adjust. His adjustment isn't just to a new country but the company as well.
Fans that have only caught glimpses of the COLOSSAL Bronson Reed will know he is as much a student of the ring. He is one as committed to growth even thirteen years after he first stepped into the ring. His size, strength, and presence only scratches the surface as to how bright the (as of this writing) 31-year-old's future is in NXT.
He is well-traveled and, in the process, has been successful during this time. Armed with his tsunami splash from the top rope, the future for Reed is certain to crush the completion. He will not only do this today, but he has also done this during his time before the e.
After departing the WWE's NXT brand, Bronson Reed would once again resume the name JONAH (a return to his days as JONAH Rock). The Top Dog has emerged in several promotions, including IMPACT! and New Japan Pro Wrestling's STRONG show. While his time in the WWE was short-lived, it was eventful. But it only scratched the surface on what he could have achieved.