When All Elite Wrestling was announced, one of the topics discussed was female talent. Between the news that they would receive fair pay to opportunities comparable to the men. It became clear that women's wrestling would be a focus for AEW.
Of course, in order for these goals to be reached, the women's roster would have to be robust. It would need to be complete with legendary names and rising talent alike. When it comes to the latter, one of the talents to keep an eye on is Britt Baker.
Outside of wrestling, Baker is known for is her educational pursuits. She pursued dentistry, but unlike WWE Superstar Isaac Yankem of yesteryear, she has a legitimate education in the field.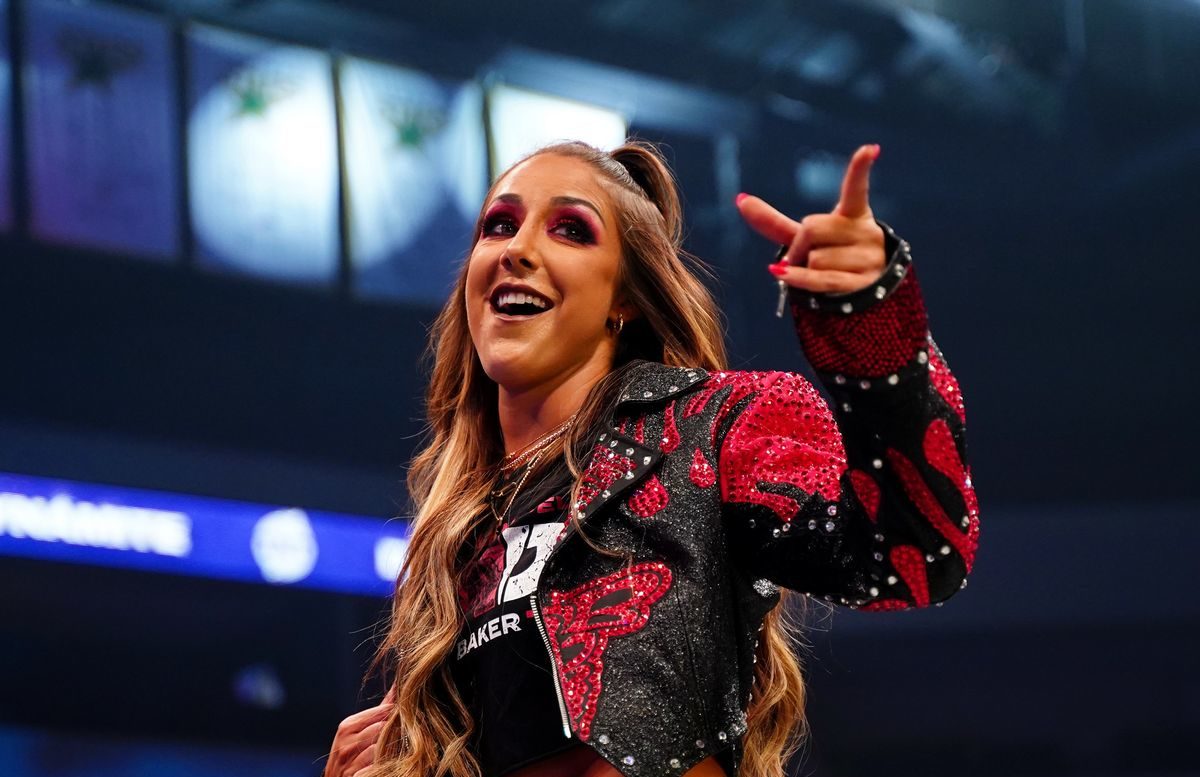 She attended the University of Pittsburgh School of Dental Medicine in 2014 before graduating in 2018. If you're a newer fan and curious about where the moniker "Dr. Britt Baker" comes from, you now have a better understanding.
Baker's professional wrestling career began in 2015. She got her start in International Wrestling Cartel, based out of West Mifflin, Pennsylvania. Her first match took place at Proving Ground 4: The Young Talent Initiative, where she teamed with fellow Pennsylvania native Andrew Palace against Dylan Bostic and Ray Lyn.
Baker and Palace would be victorious in this near 11-minute encounter. From there, Baker would continue to work with other female talents, including Lyn, Marti Belle, and Angel Dust.
Britt Baker
If you've been keeping up with Monday Night RAW for the last few years, perhaps you saw Baker on TV without even realizing it. On July 25, 2016, edition of WWE's flagship show, Baker worked with Nia Jax in what was essentially a squash match. Despite solid energy from the independent star, Baker was no match for her larger foe, who dispatched her in one minute and 20 seconds.
Baker worked with WWE a few times down in Florida, too. In last year's Mae Young Classic, she competed in a pre-show match, defeating Tesha Price via submission. She was also featured in NXT, being defeated by Shayna Baszler when Baker was declared unable to continue due to Baszler's brutal offense. It was later revealed that she suffered a legitimate dislocated shoulder in the match in question. Fortunately, the injury wasn't serious and was only out of action for a few weeks.
Shifting gears back toward independent wrestling, Britt Baker turned her focus to RISE Wrestling in November of 2016. At RISE 1: Ignite, she took part in the Phoenix of RISE Title tournament to determine the first-ever champion. The tournament featured a litany of other wrestlers, including fellow IWC talent Angel Dust, MJ Jenkins, and Nicole Matthews.
After winning a qualifying battle royal and defeating Matthews in the first round, she would eventually lose in the final four-way match. This would not be Baker's final showcase in RISE, though.
Through The Independents
Though Britt Baker would continue to work in other independents, including Monster Factory Pro Wrestling and Absolute Intense Wrestling, Baker would remain a fixture in IWC. She would taste championship gold for the first time at 2016's Winner Takes All event, where she took part in a four-way elimination match that featured Belle, April Sera, and Sonya Strong.
Baker closed out the year strong, standing tall as the first-ever IWC Women's Champion. Though she would lose the title to LuFisto at the following year's Threat Level Midnight event in July, she would regain it the following October at Unbreakable in a three-way match, defeating LuFisto and Lyn.
Baker's work in Ring of Honor is particularly interesting, too. She performed in a couple of matches with the promotion in 2017, working with the likes of Sumie Sakai and Deonna Purrazzo. However, these were dark matches. Therefore, they weren't exposed to as large of an audience as they could have been. It was in 2018 when Baker became more seriously involved in ROH.
At Glory by Honor, in October, she teamed with Sakai to defeat Jenny Rose and Stella Grey. In November, at Survival of the Fittest, she was defeated by Madison Rayne in a number one contender's match for the Women of Honor Championship. In January of 2019, at the Road to G1 Supercard – Tag 2 event, she challenged Kelly Klein for the Women of Honor Championship but was unsuccessful.
Signing with AEW
One could argue that Baker's eventual signing with AEW was telegraphed by her involvement in All In, on September 1, 2018. It would go on to become the first wrestling event, not associated with WWE or WCW, in the United States to sell 10,000 tickets since 1993. At All In, Baker challenged Rayne, Chelsea Green, and Tessa Blanchard in a four-corner survival match.
Despite a solid showing by Baker at "The Biggest Independent Wrestling Show Ever," Blanchard would claim the victory at almost 13 minutes. Though Baker's aforementioned WWE match provided a TV platform, All In did more to increase her name value within the wrestling world.
Fast forward to today, and Baker is signed with AEW as a promising part of the promotion's developing women's division. Baker was introduced by Brandi Rhodes, AEW's chief brand officer. This took place during the rally in Jacksonville, Florida. This was monumental for two reasons. First, she was the first non-Elite signing that was announced. Second, it was revealed that she officially signed with AEW on the same day she received her degree in dentistry.
As if these landmark moments weren't enough. Britt Baker is scheduled for AEW's upcoming event on May 25th, Double or Nothing. It's on this night that she will compete in a three-way match, taking on Nyla Rose and Kylie Ray. Rose and Ray were announced as signees during this past February's rally in Las Vegas, Nevada.
"You need to pursue everything you have a true passion for," Baker told the crowd at the AEW rally. "Because today marks one of the most memorable days of your life." It's safe to say that Baker has a passion for pro wrestling, and it's this passion that led her to AEW. Britt Baker's work ethic is undeniable, from the hours spent studying at university to the numerous bumps taken across various promotions. Due to these reasons and others, she will be one to keep an eye on as AEW advances toward Double or Nothing and beyond.