With 2019 drawing to a close I've decided to think outside the box a little. This is a special piece from myself. Here I will give to you five UK wrestlers to look out for in 2020. Some you may know, some you may not. But I can guaran-damn-tee you, that by the end of next year, you'll know each and every one of these names! Without further ado, I give to you #BreakOut: Top 5 UK 2020
---
#BreakOut: Top 5 UK 2020
Dan Moloney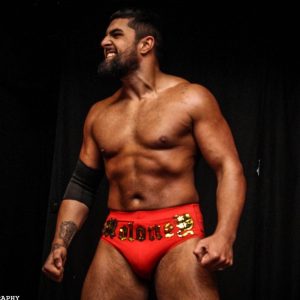 Dan Moloney is a name that many hardcore BritWres fans may know. Working for promotions such as Rev Pro, ATTACK (he's one-half of their tag team champions), and Fight Club Pro (where he is the promotion's main champion), Dan has benefitted from this apparent "lull" in the UK wrestling scene. Claiming championships and making his name, and only 22 years old too.
After being let go from NXT UK earlier this year, Dan has blazed a trail across all of BritWres. Picking up championships as I said above, to honing his craft even more on the indies.
Moloney is a true hybrid athlete. A combination of power and speed, he can mix it up with anyone worldwide, let alone UK based. Due to his hard-hitting strong style ways, Dan picked up the nickname "Drilla". One part for his demeanor in the ring, and one part of his amazing finisher. A Gory Special that is transitioned into a piledriver. It really has to be seen to be believed.
#BreakOut: Top 5 UK 2020
Scotty Davis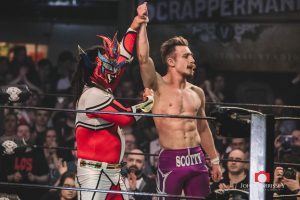 Dan Moloney is 22. You think that's young, meet Scotty Davis. He's 19. He's faced off against David Starr, Jordan Devlin, and JUSHIN THUNDER LIGER!! To be paired against talents and legends like that, you must be special. And Scotty is, believe me.
The Supreme Suplex Machine is loved by his home OTT crowd. He has a great look, he's got an interesting and different moveset…and he's 19 DAMMIT! By the time he reaches his wrestling prime (usually around 29-32), he will be fricking amazing! He could be the face of OTT and others for years to come at this rate.
https://www.youtube.com/watch?v=a4ZpMUTrQVs
Established stars such as Will Ospreay, Jordan Devlin and even Jushin Liger have all endorsed Davis as the future of the business. High praise indeed. And on the back of that praise, Scotty has won gold all over the country. Most recently in PROGRESS Wrestling. He won the Natural Progression Series which gave him a title shot at any PROGRESS title. What does he do? He teams up with Jordan Devlin, his mentor, to capture the PROGRESS Tag Team Championships. You can add selfless to that list too.
Go out of your way to watch some Davis matches. It won't be long before he gets snapped up by WWE/AEW/NJPW.
Kyle Fletcher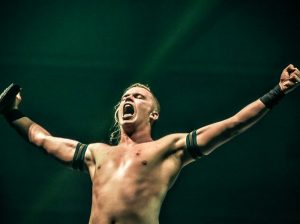 You may know Kyle as one half of Aussie Open, alongside Mark Davies. A few months back at the Battle Of Los Angeles PWG event, Davies suffered a rather nasty knee injury. A ruptured MCL and a torn ACL put paid to the tag team. Unperturbed, Kyle went out on his own as a singles talent and has shone brightly.
Standout matches with Ospreay, Tyler Bate, Sekimoto and Meiko Satomura has made that spotlight on him shine even brighter. He has taken on the "British Strong Style" mantra to his core. He can hit hard, he looks at home on the top rope, and once again…he's young!
When Ring Of Honor toured the UK a few months back, Kyle was featured prominently and has now popped up on the major companies radar. Personally, I think he's a perfect fit for NJPW. He would make waves in that Junior Heavyweight division.
But whatever company signs The Aussie Arrow, just know that he will be around for a very long time. He, Robbie Eagles and Mark Davis could show youngsters back in Australia that they too could be world leaders, just like them.
Millie McKenzie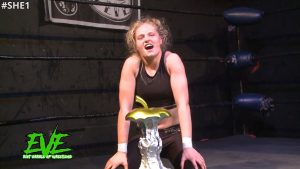 Those that know me and follow me on the socials know I've been sounding the horn about Millie for the longest time. Nearly four years in the business and her following has grown from cult to worldwide. She's gone from BritWres to strong style in Japan, taking Sendai Girls by storm. In her time there this year, she has won the Sendai Girls Junior Championship and the Tag Team Championship with Charli Evans. Not bad for a 19-year old huh?!
You can also add to her list of achievements, a 400+ day reign as Kamikaze Pro Tag Team Champion as part of The Anti Fun Police (now there's a profile I can't wait to write about!). And don't forget that she has wrestled for WWE via NXT UK last year. She has so much experience for someone so young. Her wrestling style is similar to Zack Sabre Jr, which is never a bad thing. Just another reason why she has settled so well in Japan and Sendai in particular.
The world really is her oyster. Maybe she can blaze a trail for British females the way Zack did? Who knows, but I'm gonna enjoy watching!
#BreakOut: Top 5 UK 2020
More Than Hype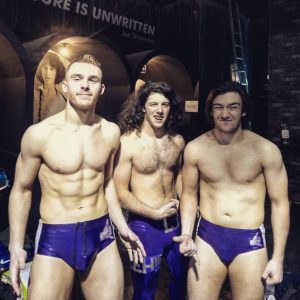 Three for the price of one here folks! And yes I've gone back to OTT again. But if you saw these guys, you'd understand why. LJ Cleary, Darren Kearney, and Nathan Martin are exactly what they say they are. More Than Hype. These three men (along with Scotty Davis above) are the future of Irish wrestling. These three have been having tag and six-man tags across Europe this past year, tearing down the house. All very quietly mind.
Nathan Martin is the powerhouse of the group. Slightly psychotic, always over the top. Cleary has kissed the Blarney stone a few times as he has charisma out of every pore. While Kearney will turn the ladies' heads while turning the limbs of his opponents.
With British Strong Style reducing their indie schedule, there's a gap in the market for a marketable three-man crew. Already with appearances with PROGRESS Wrestling, ICW, and Fight Club Pro, More Than Hype's reach is extending.
And with MTH putting on great match after great match this year, you can bet your bottom dollar they'll be raising their stock in 2020. Putting OTT on the map even more, and any promotion their booked on.
---
I'm gonna wrap this up by once again saying that in my personal opinion, these five talents (eight if you want to be picky) will be big – or bigger – names next year. Mark my words and feel free to harass me this time next year if I'm wrong!
I'd like to thank each and every one of you that has supported Pro Wrestling Post and all of it's pieces this year. You think this year was full of great wrestling content from us?…. You wait until 2020!
Have a great New Year my peeps! I'll see you all in 2020!