We are three days removed from Sacrifice, and boy howdy has the landscape changed in IMPACT Wrestling. Ace Austin put on a workhorse clinic in capturing the X-Division Championship from TJP. FinJuice captured the IMPACT World Tag Team Championships in a NJPW dream match against The Good Brothers. Rich Swann and moose made the most of their historic match, unifying the IMPACT and TNA World Championships. But as we take in the fallout from Sacrifice, we must also look ahead to Rebellion. Rich Swann can celebrate his continuing reign as IMPACT Unified World Champion, but will he be ready to defend that title against Kenny Omega on April 24th? Here's more you can expect on this week's IMPACT Wrestling. This is the Brace For IMPACT preview for 3/16/21.
__________________________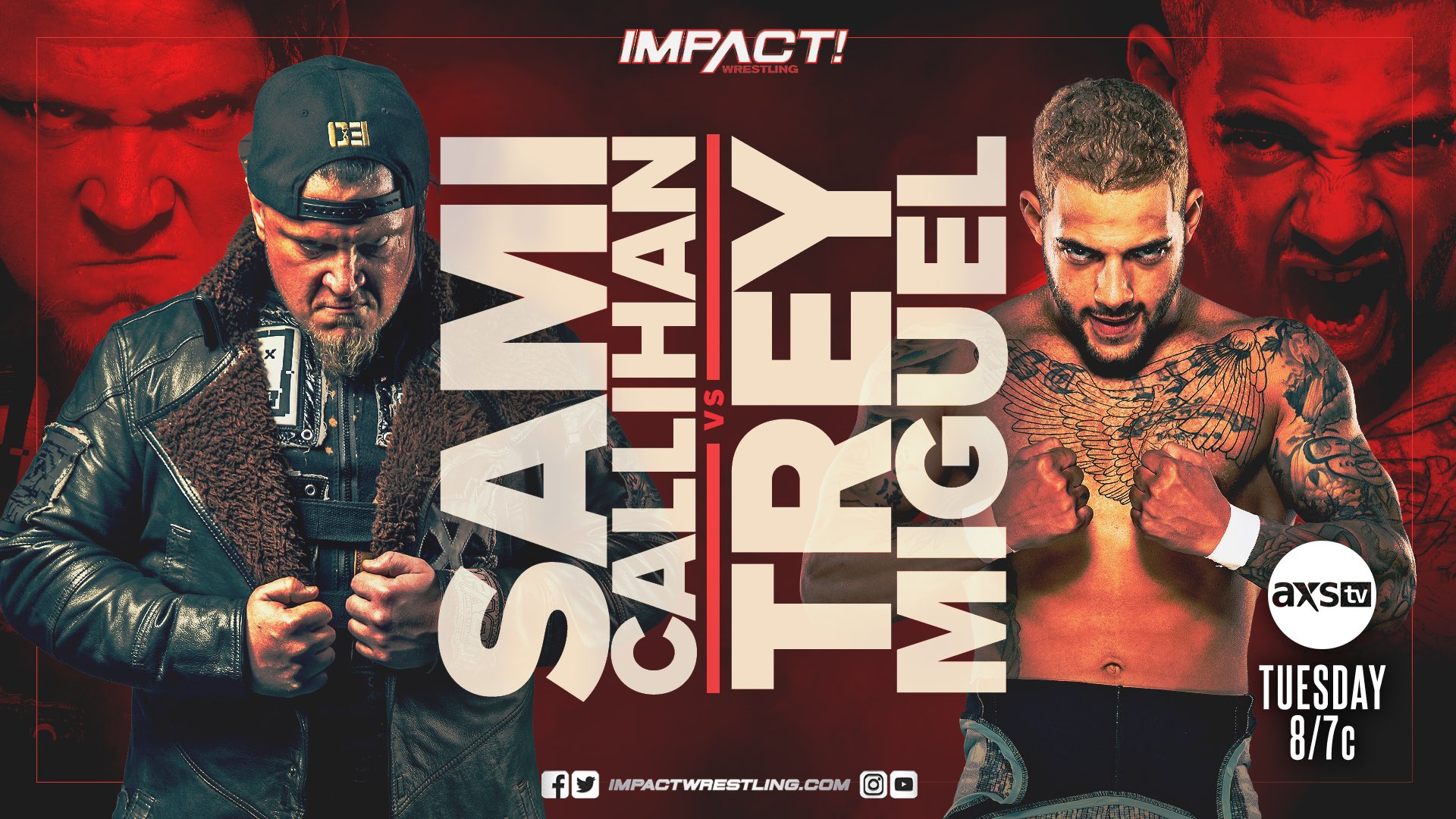 Sami Callihan vs. Trey Miguel

Shortly after Trey Miguel returned to IMPACT Wrestling, Sami Callihan started picking a fight. On February 9th, Callihan appeared via a pre-taped promo in which he called Miguel, a coward. Callihan said Trey Miguel left IMPACT Wrestling because the big matches weren't going his way. He advised Miguel to quit while he's ahead because things aren't going to get any better. On February 16th, Callihan congratulated Miguel on his win but warned that dark days are ahead. The following week, Miguel's team lost a 6-man tag team match, and Callihan asked him if he was going to quit over it. On March 2nd, Callihan invaded Trey Miguel's wrestling gym, assaulting trainers and students. Last week, Sami had Trey face one of his own students. After the match, Callihan laid out the student with a piledriver. On Tuesday night, Trey Miguel has a chance to strike back at Sami Callihan.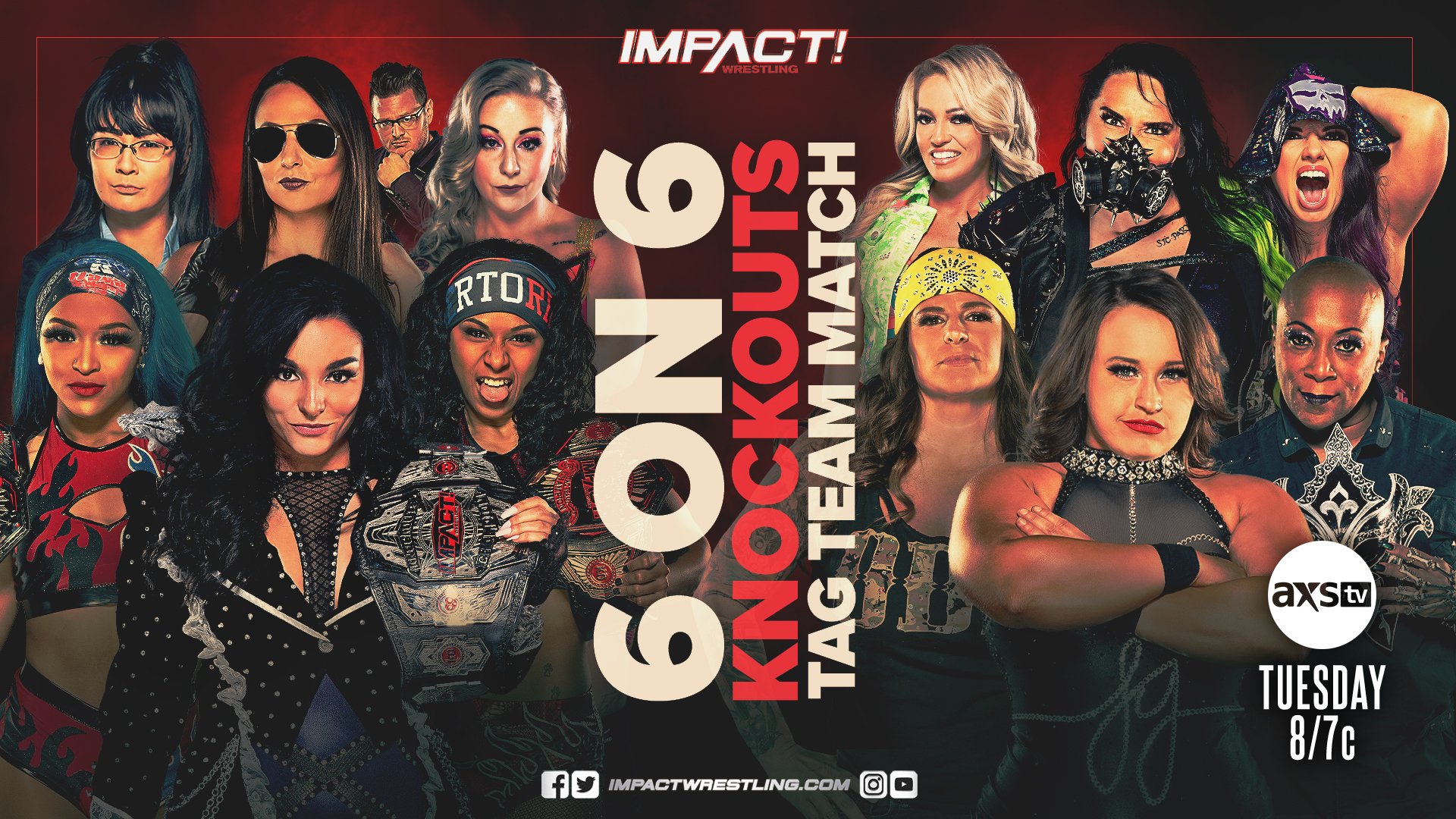 Brace For IMPACT for 3/16/21
6-on-6 Knockouts Tag Team Action
The Knockouts Division explodes on Tuesday night as the entire women's division (minus Rosemary) goes to war! Last week, Knockouts Champion Deonna Purrazzo made an impromptu partnership with Knockouts Tag Team Champions Fire 'n' Flava. The Knockouts Tag Team Champions join Purrazzo's Proteges Kimber Lee and Susan. On Tuesday night, Tenille Dashwood joins them for 6-on-6 action. On the other side, Jordynne Grace, Jazz, and ODB have tapped Havok & Neveah and Alisha Edwards to join them. Purrazzo's team looks like the odds-on favorite, as they've racked up the most wins over the past few weeks.
However, Jordynne Grace's team has a significant strength advantage with Jazz, ODB, Havok, Neveah, and Grace herself. However, a team is only as strong as their weakest link, and that weak link might be Alisha Edwards. While her wrestling is good, her track record with teammates isn't very good. Will this give Purrazzo's team all they need to win on Tuesday night?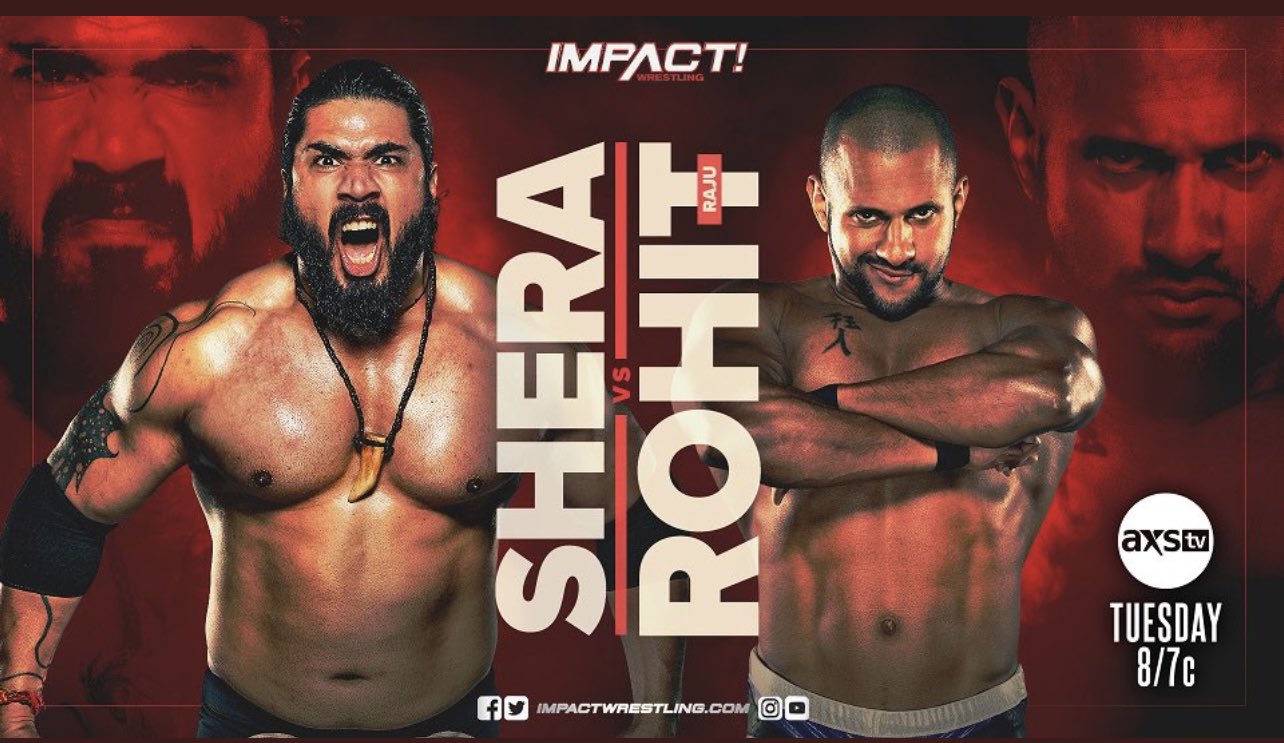 Mahabali Shera vs. Rohit Raju
Last week, on IMPACT Wrestling, The Desi Hit Squad reunited one last time to take on Chris Sabin and James Storm. After the match, Rohit Raju pestered Mahabali Shera about their loss. Raju claimed he had the match won until Shera got involved. Raju further elaborated that he brought Shera back from India to watch his back. the massive Mahabali Shera did not take well to this comment, hoisting Raju by his neck and shoving him against the wall. "I don't owe you anything," Shera told Raju as he walked offset. Tuesday night, The Desi Hit Squad explode! While Mahabali Shera holds the size and strength advantage, Rohit Raju is a wiley character. If anyone can find a way to pull out a win over a larger opponent, it's Raju. Join us Tuesday night when Mahabali Shera takes on Rohit Raju for the first time ever!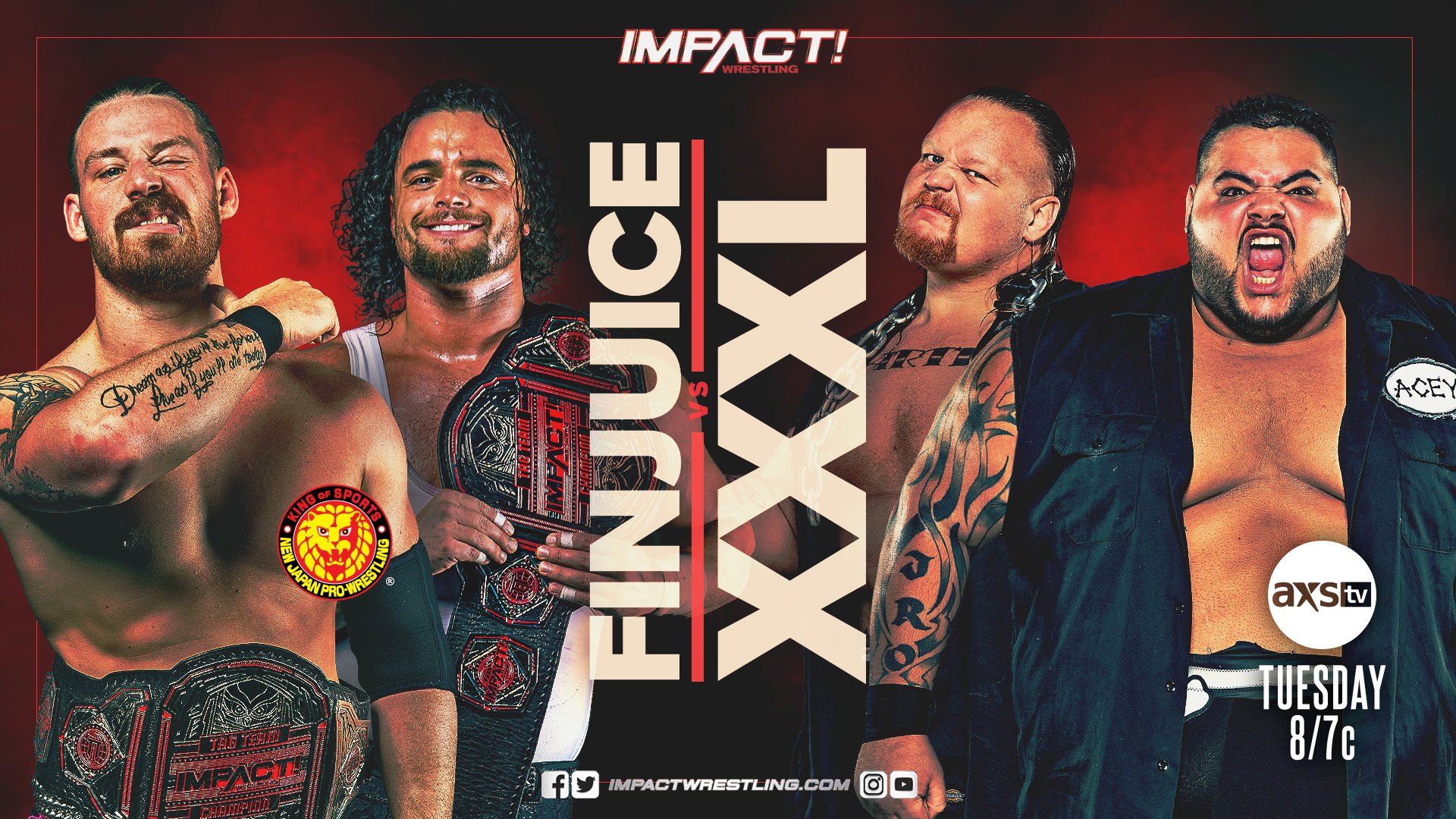 Brace For IMPACT for 3/16/21
FinJuice vs. XXXL
Fresh off their championship victory over The Good Brothers at Sacrifice, FinJuice will take on XXXL. The last time these two met was on March 2nd when FinJuice and The Good Brothers took on XXXL and Reno SCUM. However, FinJuice pinned Reno SCUM to win that match, and XXXL want to settle the score. David Finlay and Juice Robinson are no strangers to toppling larger opponents; however, I doubt NJPW features a tag team as large as Acey Romero and Larry D. XXXL have been in the championship hunt since XXXL returned in December, and if they defeat FinJuice tonight, we might be seeing some fun size tag team champions sooner rather than later.
What Else To Expect
Rhino addresses his choice to align with Eric Young and Violent By Design.
Jake Something in action
Kenny Omega congratulates Rich Swann.

*****

Be sure to stay tuned to the Pro Wrestling Post for this and additional stories from the wrestling world. Readers can rely on Pro Wrestling Post to be their daily source for all things inside the squared circle. As a result, readers can expect daily news, history, and so much more. Please visit IMPACT Wrestling's official website here for news and information on the promotion and upcoming events.