We are a mere two weeks away from IMPACT Wrestling's No Surrender, live on IMPACT Plus on February 13th. So far, we know that AEW's Private Party will challenge The Good Brothers for the IMPACT Tag Team Championship. And last week, we saw Rich Swann offer Tommy Dreamer a shot at the IMPACT World Championship. But what of the Knockouts Championship, the Knockouts Tag Team Championship, or the X Division Championship? We'll find out a little more about what to expect next Saturday night on this Tuesday's episode of IMPACT Wrestling! Hold on as we Brace for IMPACT for 2/02/21.
______________________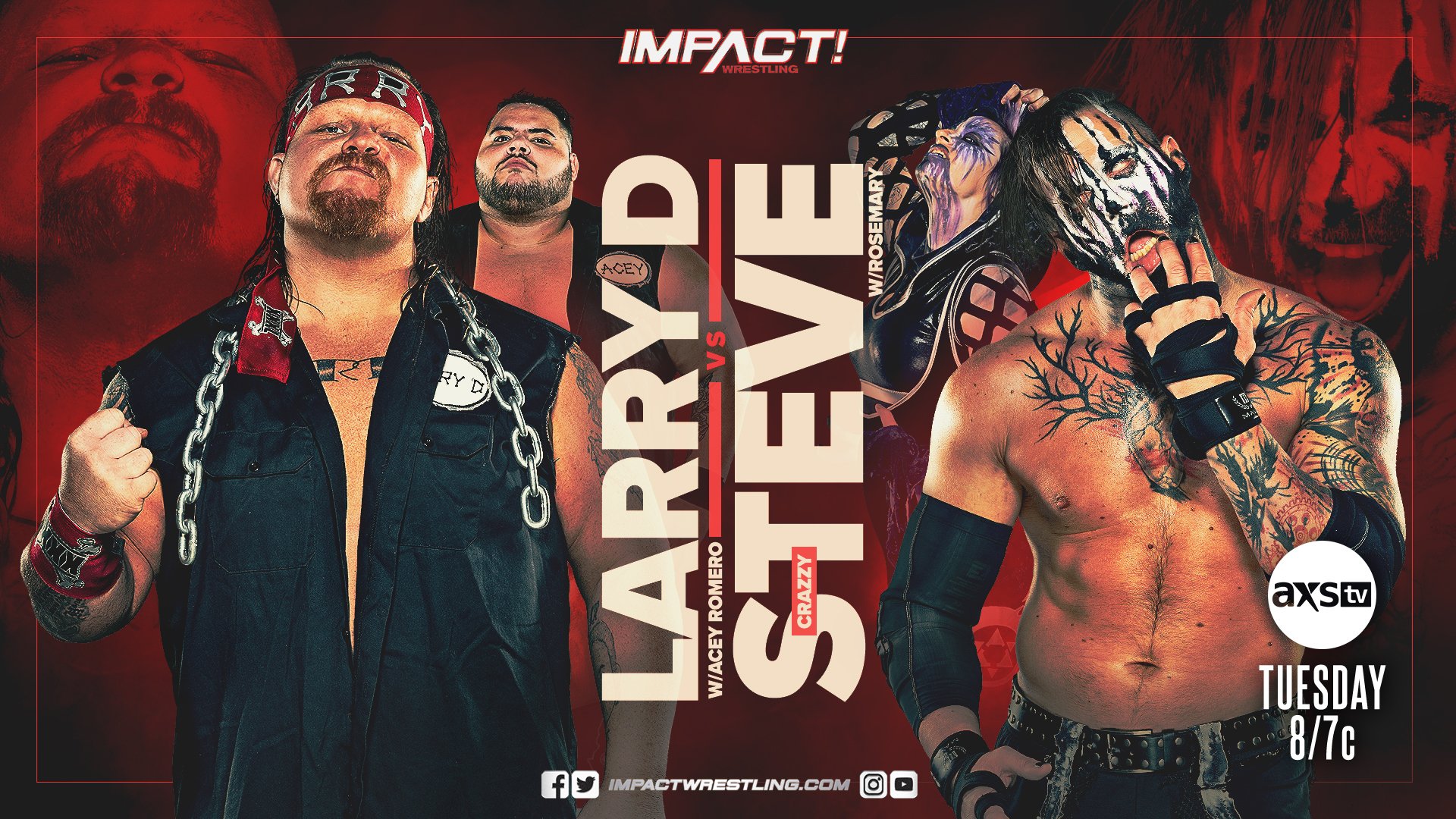 Brace for IMPACT for 2/02/21
Larry D (w/Acey Romero) vs. Crazzy Steve (w/Rosemary)

In November of last year, Detective Tommy Dreamer discovered Larry D as the assailant who shot John E Bravo. At Final Resolution, Dreamer defeated Larry D under old school rules, sending him to prison for attempted murder. On January 19th, John E Bravo returned along with Acey Romero to clear Larry D's name. That fateful night in Nashville, the real gunman was…Taya Valkyrie. Wera Loca didn't approve of Bravo and Rosemary's wedding, and shot him to prevent it going through. With Taya Valkyrie in prison, and Rosemary unwilling to step in the ring, it's up to her tag team partner Crazzy Steve to defend her honour. It's a David vs Goliath match this Tuesday night as Crazzy Steve faces off against the much larger Larry D.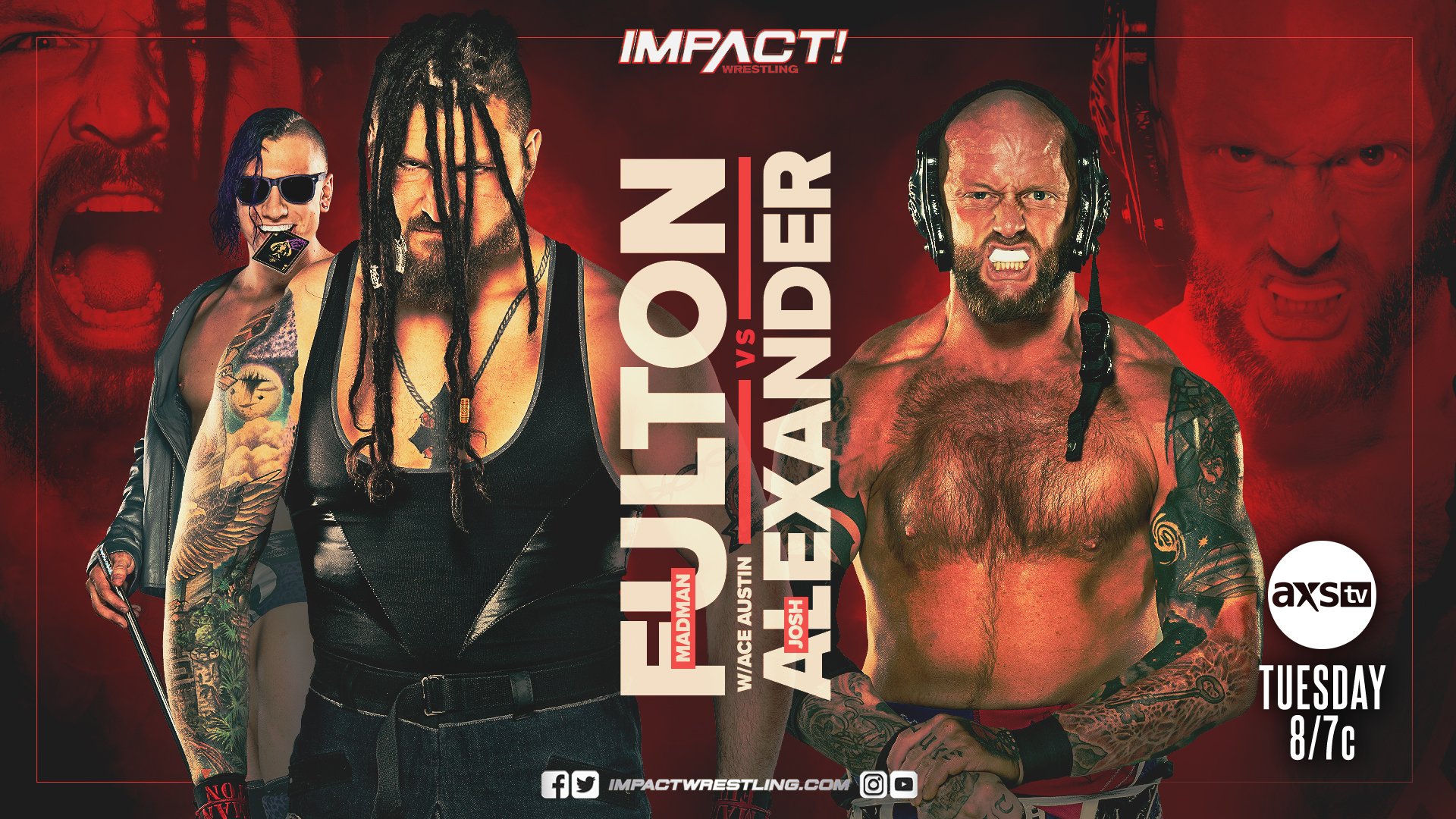 Madman Fulton w/Ace Austin vs. Josh Alexander

Last week on IMPACT Wrestling, former Tag Team Champion Josh Alexander formed an alliance with the debuting Matt Cardona against Ace Austin and Madman Fulton. The unlikely duo seemed to have good chemistry against Austin and Fulton, capturing the victory off of Cardona's leg lariat. The feud continues this week as "Walking Weapon" Josh Alexander faces off with Madman Fulton in singles action. This marks Alexander's first singles match since the demise of The North at Final Resolution. How will The Walking Weapon's aggressive tactics fare against the towering Madman Fulton? Will Ace Austin be the X factor in this match or will we see Matt Cardona come in to even the odds?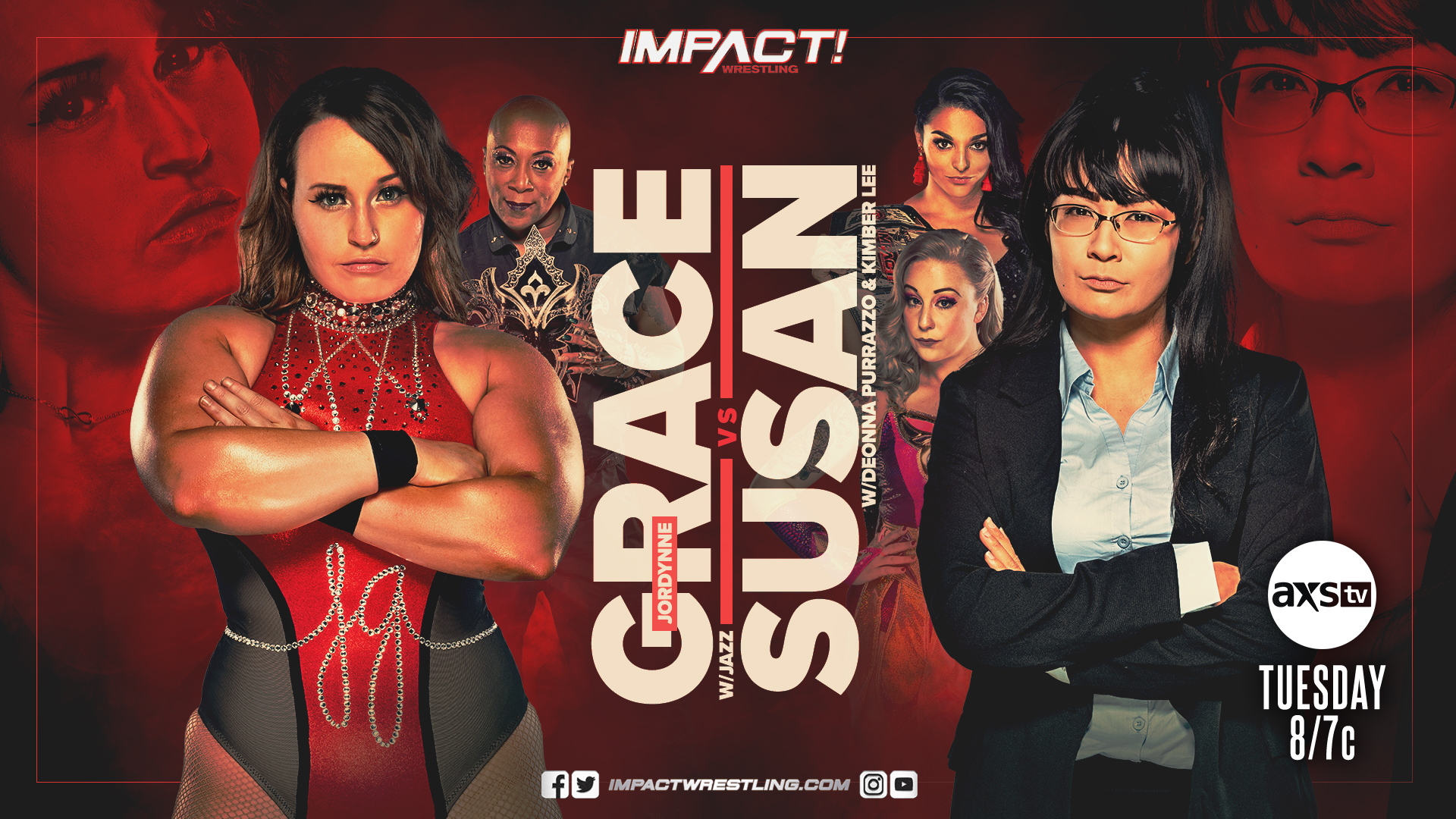 Jordynne Grace (w/Jazz) vs. Susan (w/Kimber Lee & Deonna Purrazzo)
After their elimination from the Knockouts Tag team Tournament, it seems the partnership between Jordynne Grace and Jazz is going strong. On January 19th, Grace and Jazz faced Kimber Lee and Susan (the former Su Yung) in tag team action, but their feud isn't finished yet. In the closing moments of the match, Kimber Lee started a fight with the referee. This caused enough of a distraction for Deonna Purrazzo to strike Jazz with her Knockouts Championship Belt. Then, Susan took advantage of Jazz's dazed state to catch her in a roll-up pin for the 3-count. This week Jordynne Grace will face Susan in singles action to defend her tag team partner's honor.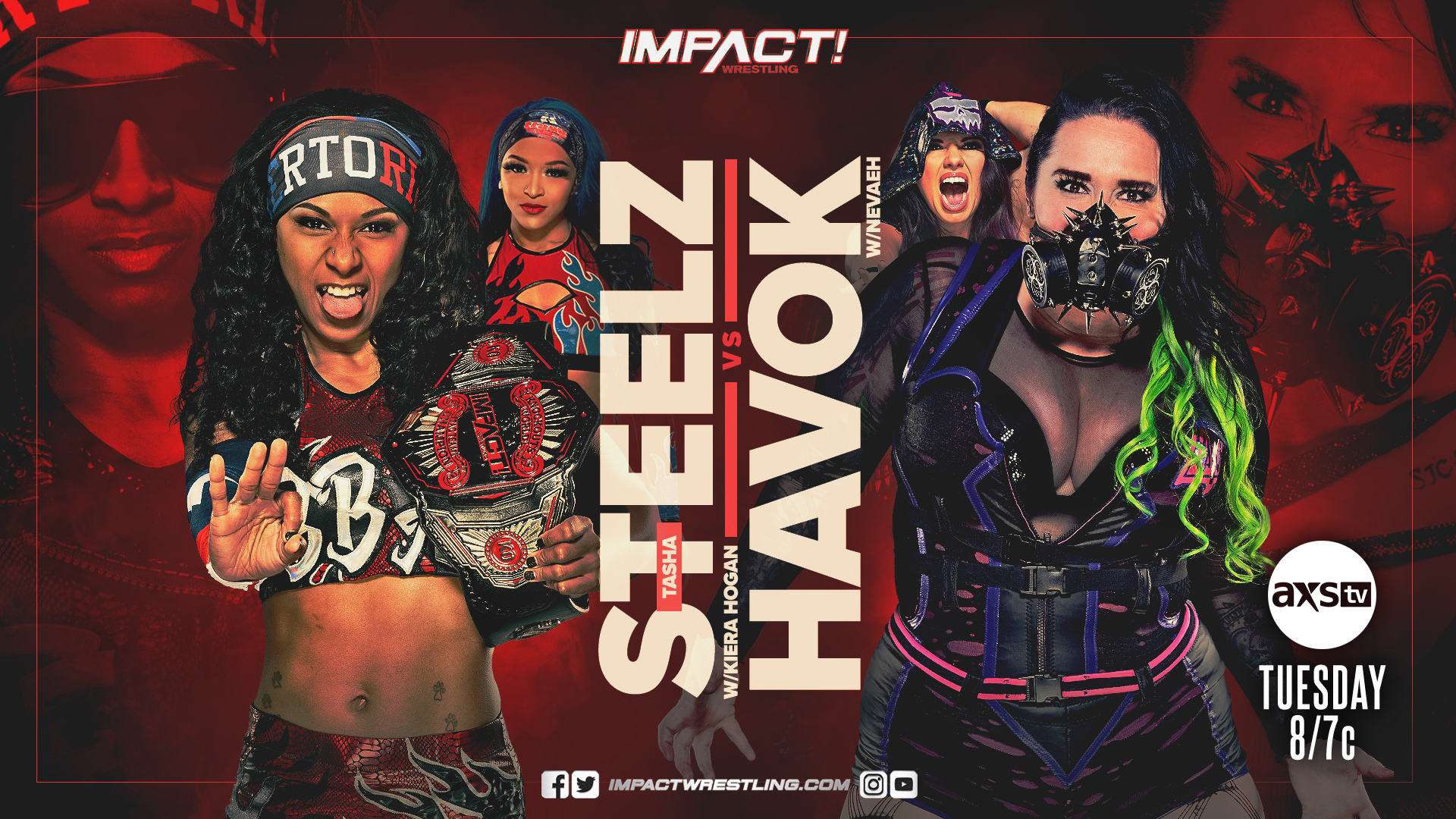 Brace for IMPACT for 2/02/21
Tasha Steelz (w/Kiera Hogan) Vs. Neveah (w/Havok)
Last week on IMPACT Wrestling, Fire n Flava held a ceremony to celebrate their Knockouts Tag Team Championship victory at Hard to Kill. Steelz and Hogan had invited the knockouts division; however, only John E Bravo, Alisha Edwards, and Johnny Swinger showed up. The guests tried to enjoy themselves, but Fire n Flava's abrasive attitude rubbed everybody the wrong way. Later, they noticed somebody in a Stay-Puft Marshmellow Man costume. The Knockouts Tag Team Champions assumed this to be Fallah Bahh in disguise, but unmasked them to discover Neveah! With Neveah providing a distraction, Havok took to the ring, assaulting Steelz and Hogan.  It seems Havok and Neveah are still upset about losing to Fire n Flava for the Knockouts Tag Team Championship. With a championship rematch likely on the way, Tasha Steelz will face off against Neveah in singles action Tuesday night on IMPACT Wrestling.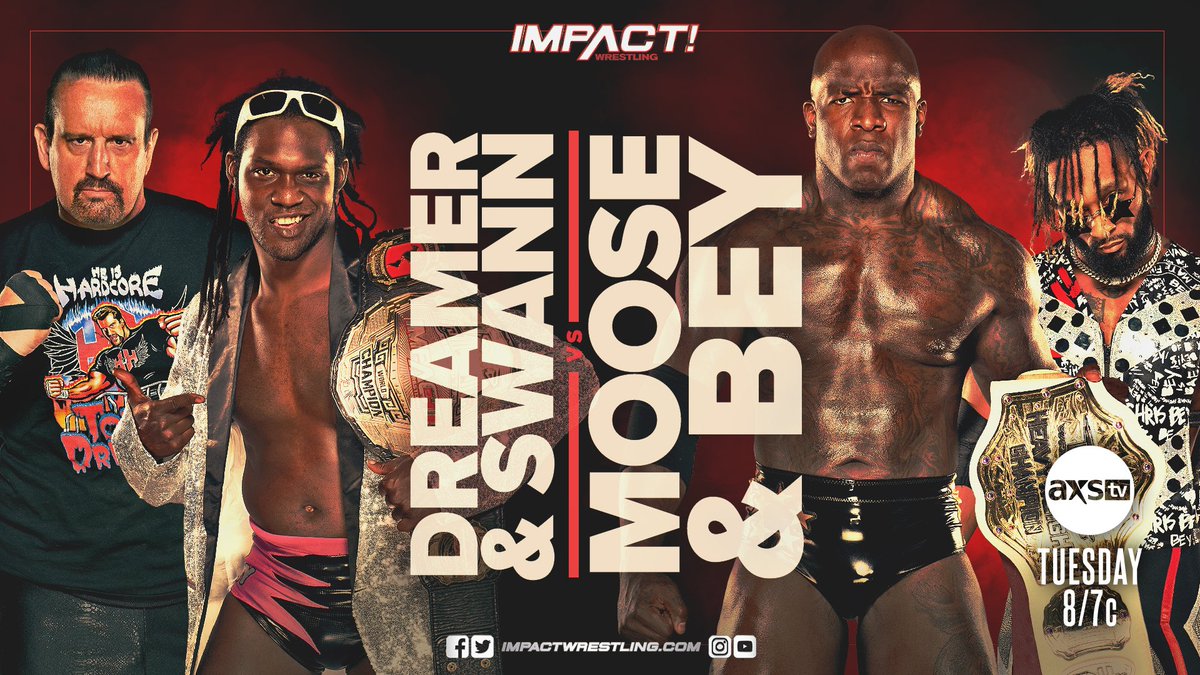 Brace for IMPACT for 2/02/21
Rich Swann & Tommy Dreamer vs. Moose & Chris Bey
Last week, IMPACT World Champion Rich Swann cut a promo about Tommy Dreamer. You see, on February 13th, the date of No Surrender, Tommy Dreamer turns 50. In recognition of all the blood, sweat, and tears Tommy Dreamer has put into the wrestling business, Rich Swann offered him a title match. However, this did not go unnoticed by a number of wrestlers in the back. Sami Callihan, Chris Bey, and Moose all came out with their issues about this championship opportunity. This lead to a gigantic 8-man tag team main event featuring Swann, Dreamer, Willie Mack, and a returning Trey Miguel facing off against Callihan, Moose, Bey, and Ken Shamrock. This week, we'll see a rematch of sorts as Rich Swann teams up with Tommy Dreamer to take on Moose and Chris Bey. 
What Else To Expect
X-Division champion Manik to appear
Trey Miguel vs. Sami Callihan, to properly start their feud after Trey pinned Sami last week

*****

Be sure to stay tuned to the Pro Wrestling Post for this and additional stories from the wrestling world. Readers can rely on Pro Wrestling Post to be their daily source for all things inside the squared circle. As a result, readers can expect daily news, history, and so much more. Please visit IMPACT Wrestling's official website here for news on the promotion and upcoming events.