This week on IMPACT! Wrestling, we reach the final stop on the road to Bound For Glory. What a journey this has been. Rohit Raju weaseled his way to the X-Division Championship, then retained with a roll-up against Trey. Knockouts Champion Deonna Purrazzo has conspired with Kimber Lee to put #1 contender Kylie Rae out of action. The tag team division has been on fire with the likes of The Good Brothers, The North, The Rascals, and Ace Austin & Madman Fulton jockeying for #1 Contendership. IMPACT World Champion Eric Young has been attacking Rich Swann, his challenger at Bound For Glory, in an attempt to put him back on the shelf. And that's just what's been happening in the championship pictures. This Tuesday, it all comes to a head in the final show before Bound For Glory. This is Brace for IMPACT for 10/20/20.
___________________
John E. Bravo & Rosemary's Wedding Rehearsal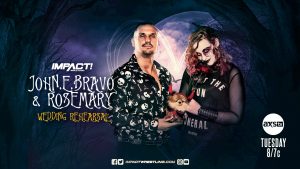 In the climactic finale of the reality TV segment Wrestle House, John E. Bravo proposed to Rosemary, who said yes. Since then, the unlikely couple has been distracted by preparations for their big day. Lately, John E. Bravo has been trying to put this wedding together on a shoestring budget. Meanwhile, Rosemary has been trying to balance her in-ring career with her attempts to resurrect Father James Mitchell to officiate the ceremony. I'm sure we've all been there. Tuesday night, we'll have a preview of what their wedding will be like at Bound For Glory.
Brace for IMPACT for 10/20/20
Hernandez vs Cousin Jake vs Rhino vs Alisha vs Heath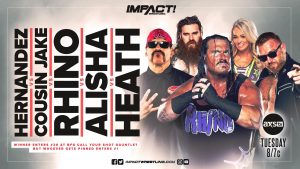 Last week, we learned that 20 competitors will enter the Call Your Shot Gauntlet match on Saturday night. Usually, the gauntlet match at Bound For Glory is for a championship match of the winner's choosing. However, should Rhino or Heath win the match this year, IMPACT! Wrestling will offer Heath a new contract. This week on IMPACT! Wrestling, Hernandez, Cousin Jake, Rhino, Alisha Edwards, and Heath will compete in a 5-way match. The winner will enter the Call Your Shot gauntlet at #20, and the competitor to submit or get pinned will enter at #1.
Brace for IMPACT for 10/20/20
Chris Bey, Rohit Raju & Jordynne Grace vs TJP, Trey Miguel, & Willie Mack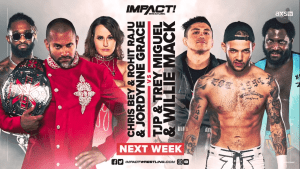 These six wrestlers will compete for the X-Division Championship at Bound for Glory on Saturday night. However, on Tuesday, we will see them in the 6-person tag team action. On one side, Trey Miguel teams with TJP and former X-Division Champion Willie Mack. On paper, this grouping has its bases covered with speed, strength, and technical skill. However, Trey Miguel is used to working with fellow Rascalz Dez & Wentz, and that might be a deciding factor. On the other side, reigning champion Rohit Raju teams with Chris Bey and Jordynne Grace. Raju turned on Bey to capture the X-Division championship on night 1 of Emergence and reneged on his open challenge against Jordynne Grace last week. Surely the bad blood between those three spells disaster. Can they hold it together for the duration of the match, or will Trey, Mack, and TJP come out on top in this X-Division showcase?
Brace for IMPACT for 10/20/20
Sit Down Interview With Eric Young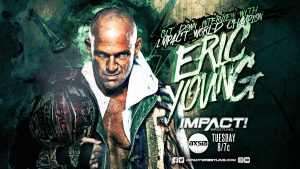 Since winning the IMPACT World Championship on September 1st, Eric Young has been hell-bent on putting all challengers out of action. He made several attacks on Eddie Edwards prior to their rematch at Victory Road. Since then, Rich Swann has returned from his career-threatening knee injury at the hands of Eric Young. On September 15th, IMPACT! Wrestling Executive Scott D'Amore granted Rich Swann a championship match against The World-Class Maniac at Bound for Glory. Eric Young has been ramping up his attacks on Swann lately, going so far as to bash Swann's knee with a kettlebell. This week we get a look inside the mind of the IMPACT World Champion as he sits down for an interview on IMPACT! Wrestling.
Brace for IMPACT for 10/20/20
Eddie Edwards vs. Sami Callihan (w/Ken Shamrock)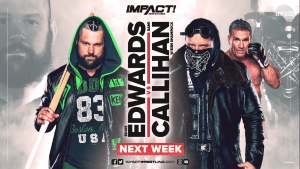 On the September 22nd episode of IMPACT! Wrestling, somebody attacked Eddie Edwards as he left Skyway Studios. The following week we learned that Edwards' assailant was none other than IMPACT! Wrestling hall of fame inductee Ken Shamrock. Taking things further, last week, we learned that Ken Shamrock attacked Edwards on advice from Sami Callihan. This week, Edwards and Callihan reignite their old rivalry before Edwards and Shamrock face off on Saturday night. They last met on the August 4th episode of IMPACT! Wrestling, when Callihan answered Edwards's open challenge for the IMPACT World Championship. Callihan came up short in that match, but he didn't have Ken Shamrock in his corner. Will that play a role in a victory on Tuesday night, or will Edwards put away his old enemy yet again?
Brace for IMPACT for 10/20/20
The North vs. The Good Brothers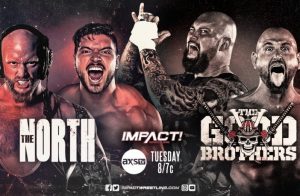 The IMPACT! Wrestling tag team division has been on fire since Slammiversary. Two weeks ago, The North tried to interfere in a non-title match between The Motor City Machine Guns and the team of Ace Austin & Madman Fulton. However, before Josh Alexander and Ethan Page could start any trouble, Doc Gallows and Karl Anderson came out to even the odds. The North and The Good Brothers brawled around the ringside area as Alex Shelley, and Chris Sabin secured the victory. This week, they'll meet in the ring, just 4 days out from the epic 4-way Tag Team Championship match at Bound for Glory.
****
Be sure to stay tuned to the Pro Wrestling Post for this and additional stories from the wrestling world. Readers can rely on Pro Wrestling Post. It is their trusted daily source for all things past and present inside the squared circle from around the globe. As a result, readers can expect daily news, history, and so much more. Please visit IMPACT Wrestling's official website for its content here.