Brace For IMPACT for 12/16/21
(IMPACT Championship Contract Signing)
2021 is truly winding down for IMPACT Wrestling, and to celebrate the year that was, the IMPACT Wrestling locker room will cut loose this Saturday night in Louisville, Kentucky with Throwback Throwdown II. First brought to life in 2019, Throwback Throwdown features the stars of IMPACT Wrestling under the 1980's-inspired gimmicks in some of the finest comedy wrestling out there. But before then, there are some loose ends to tie up before Hard to Kill kicks off 2022.
We have the much-anticipated Mickie James/Deonna Purrazzo rematch and Matt Cardona vs W Morrissey vs Moose for the IMPACT World Championship to look forward to. However, we still don't have challengers for the X-Division Championship, the World Tag Team Champions or the Knockouts Tag Team Titles. Could the challengers step up tomorrow night on AXS TV?
Brace For IMPACT for 12/16/21
Rohit Raju vs Josh Alexander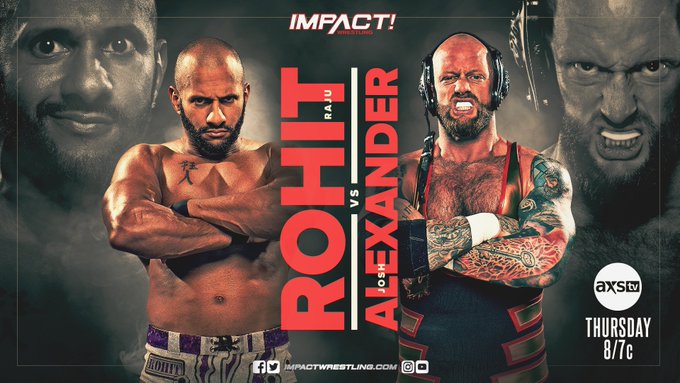 Last week on IMPACT, Rohit Raju took on "Lord of The Manor" Lawrence D after Mr D neglected to invite Rohit to Wrestle House 2. Their match had just gotten started when Josh Alexander hit the ring, sending Raju and Lawrence D packing. The former IMPACT World Champion then demanded a confrontation with JONAH, who attacked Alexander at Turning Point. Instead of the gargantuan Aussie, it was Executive VP Scott D'Amore who answered.
D'Amore told Josh Alexander that JONAH wasn't in the building, but if Alexander really wanted that match, he'll get it at Hard To Kill. Then Josh Alexander delivered a C4 Spike to Raj Singh, which set off Rohit Raju. The Desi Hitman said on Twitter "For him, it's about getting to Jonah. For me, it's about respect. Plain and simple." This Thursday, Rohit Raju defends the honor of the Desi Hit Squad when he faces Josh Alexander one-on-one.
Brace For IMPACT for 12/16/21
John Skyler vs Trey Miguel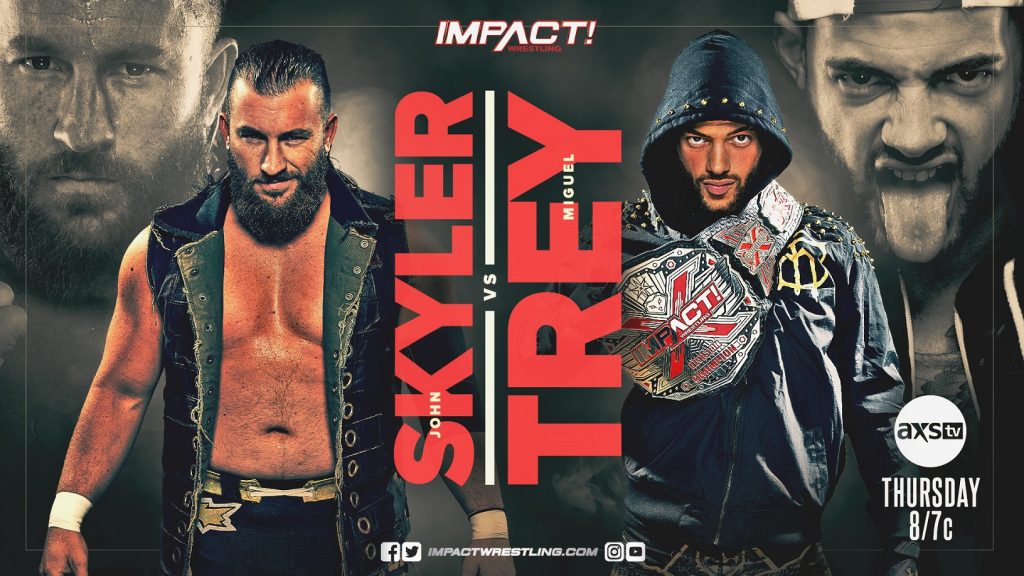 When he captured the vacant X-Division Championship at Bound For Glory, Trey Miguel promised to defend the title against all challengers. His last title defense came at Turning Point, when he defeated Laredo Kid in a triple threat match, also featuring Steve Maclin. This week,
John Skyler
faces the champion in singles action. This match might be the biggest in Skyler's young career as he faces not only a champion but one of the top stars in the company.
And if he win's, he'll be competing for the X-Division title at Hard To Kill. Surely this development must irritate Steve Maclin, who can't get a one-on-one match with the X-Division Champion despite his undefeated streak. Might we see some Maclin Mayhem this Thursday night?
Brace For IMPACT for 12/16/21 
Chris Bey vs Laredo Kid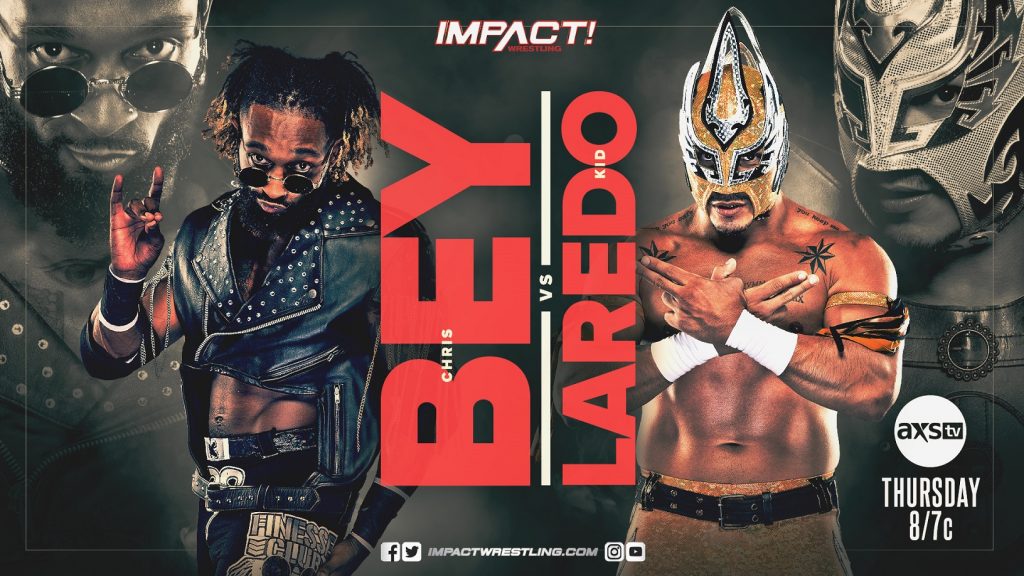 Bullet Club have maintained their brash, aggressive, in-your-face style since joining IMPACT Wrestling. Last week we caught a glimpse of this when we saw
Chris Bey
and Hikuleo assault a security guard at Sam's Town. Bey and Hikuleo had the poor man in their clutches when the up-and-coming Laredo Kid arrived to break up their cruel games. Chris Bey suggested Laredo Kid prove himself in the ring. That time comes this Thursday night when Laredo Kid and Chris Bey face off for the first time ever.
Both men practice a high-energy high flying style, but with very different influences. Laredo Kid's style owes much to Lucha Libre, while Chris Bey owes much to the American/Japanese hybrid style of the mid-2000s. While Laredo Kid is a newcomer to IMPACT Wrestling, he has 14 years of experience over Chris Bey. Will that be the deciding factor this Thursday night or will we see Bullet Club return to their numbers game?
And what will this mean for the X-Division rankings? Find out on an all-new IMPACT Wrestling
Brace For IMPACT for 12/16/21
Tenille Dashwood vs Jessie McKay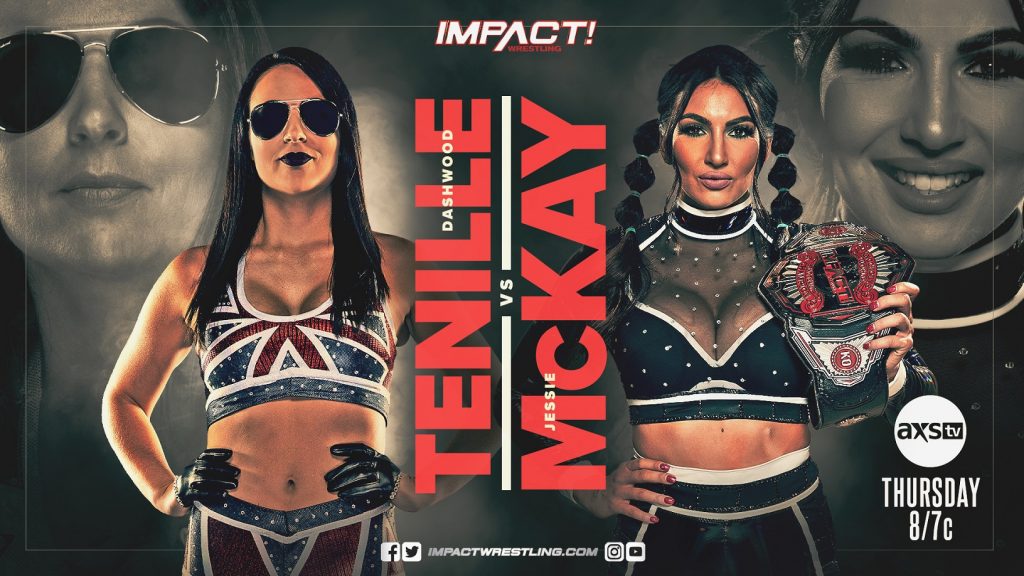 Last week on IMPACT Wrestling we witnessed a gargantuan 8-person tag team match as The Influence joined forces with The IInspiration to take on DECAY. During the match, cracks began to form between The Influence and The IInspiration, with the Knockouts Tag Team Champions refusing to break up a pin on Dashwood. This week Tenille Dashwood is out to get revenge on The IInspiration for costing their team a victory.
Jessica McKay will be intent on making a statement in her first singles match for IMPACT Wrestling. However, should Dashwood score a victory, The Influence could challenge The IInspiration for their Knockouts Tag Team Titles. With stakes that high, we could see Cassie Lee make an appearance to prevent a title defense. Sparks will fly this Thursday night when these two Aussies square off on IMPACT Wrestling.
Doc Gallows & Joe Doering vs Rich Swann & Willie Mack (w/Heath & Rhino)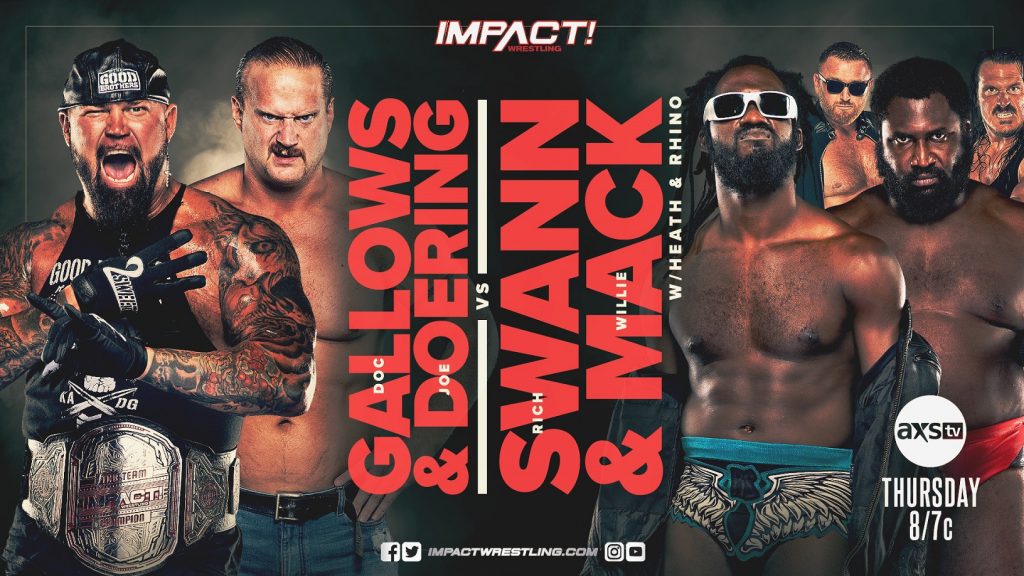 Last week on IMPACT Wrestling, Eric Young of Violent By Design took on his former henchman Rhino in a street fight. As expected, Joe Doering and Deaner made their presence felt in the no DQ match, softening up Rhino for Young to get the pin. That's when Heath, Rich Swann, and Willie Mack hit the ring, evening the odds for the Man-Beast. In spite of their best efforts, Eric Young capitalized on the chaos to secure the win over Rhino.
Following the match, Violent By Design realized that their opponents held a numbers advantage. That just wouldn't do for Eric Young, who then formed an unholy alliance with IMPACT World Tag Team Champions Doc Gallows and Karl Anderson. What sort of carnage might the duo of Joe Doering and Doc Gallows wreak upon the landscape of IMPACT Wrestling? Find out this Thursday night on AXS TV
Brace For IMPACT for 12/16/21
Matt Cardona, W Morrissey, and Moose Make It Official!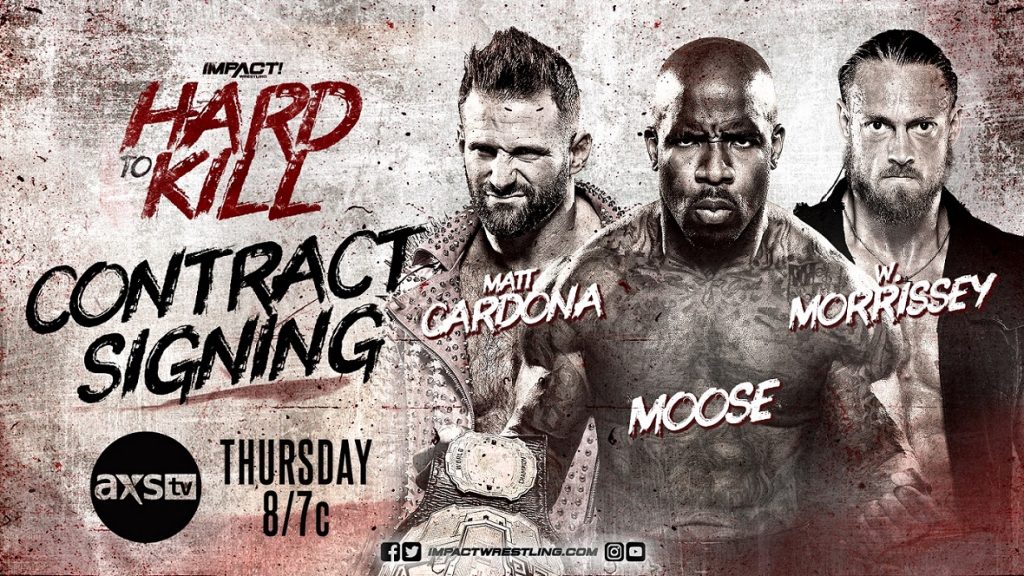 Hard To Kill lurks just around the corner on January 8th, and IMPACT Wrestling intends to start 2022 with a bang. Headlining the pay-per-view event is Matt Cardona vs W Morrissey vs Moose for the IMPACT World Championship. Last week, Morrissey faced Cardona in singles action only to suffer a defeat via disqualification. In the chaos that followed, Matt Cardona cleaned house and stood tall over his opponents with the IMPACT World Championship.
This week, Cardona, Morrissey, and Moose gather to sign the contract for their colossal collision at Hard to Kill. Chaos erupts whenever these three stand in the same ring. Can they coexist for the duration of the contract signing this Thursday night?
*****
Stay tuned to Pro Wrestling Post for this and additional stories from the wrestling world. Readers can rely on Pro Wrestling Post to be their daily source for all things inside the squared circle. As a result, readers can expect daily news, history, and so much more. Please visit IMPACT Wrestling's website here for news and information on the promotion and upcoming events.