Often talent's journey to success is never overnight. In the seventeen-year career of Robert Anthony Fish, his success has come with countless opportunities and the ability to capitalize on them. Before he decided he was going to pursue wrestling as his career, Bobby Fish played football at both the high school and college level. However, it was after graduating with a degree in English, Fish began his career in 2002.
While competing on the weekends, he would also work throughout the week holding various jobs such as working retail and a bartender. Fish was also an occasional high school teacher as well. This would eventually change when an emerging promotion would offer Fish an honorable contract.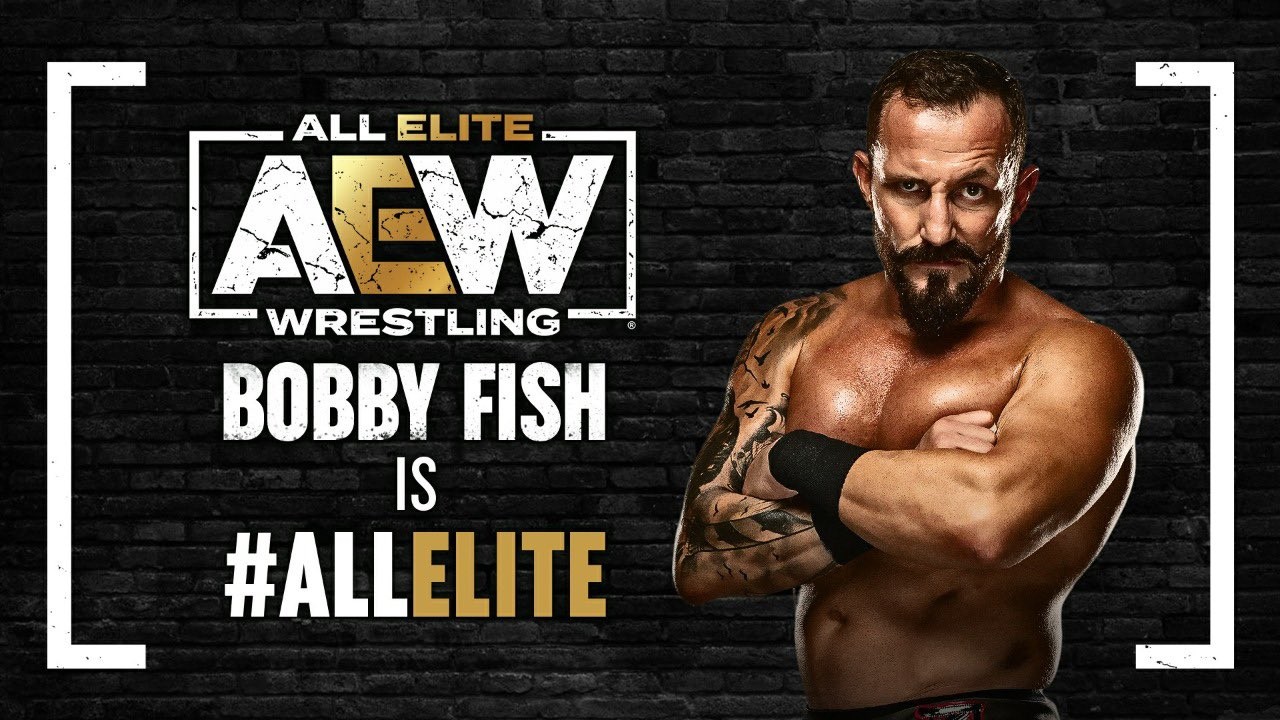 Bobby Fish – The Infamous DRagon Walks Again
In 2002, Fish would join Ring of Honor. Under the tutelage of former ECW talent Tony DeVito and the legendary Harley Race, Fish would take their advice to heart to help him develop as a wrestler. But like many young wrestlers, there is a need to find themselves. Names such as Madden Fisher or Jerk Jackson were one's he initially played with. However, there is no greater way to convey who you are but to be yourself to an elevated degree.
In saying that, it is understandable why he simply would compete as Bobby Fish. He would train for a couple of years before he would eventually make his debut for Ring of Honor in 2004.
Fish's early run with Ring of Honor had him used primarily as an enhancement talent. With such names as Danielson, Samoa Joe, Nigel McGuinness, and CM Punk were all the craze in Ring of Honor at the time; Fish was beginning to build a career underneath him at the same time. But he knew then that there was a certain quality about himself that was often taken for granted by everyone but himself.
I don't think when I started working for Ring of Honor (in 2004), anyone thought this guy is going to wear our world title at some point. They thought they were getting a good hand, and rightfully so. I think in my time with Ring of Honor, and in New Japan for the last three to four years, I've proven that I'm much more than that.
I can carry a company, and I can be the man, but somebody has to pull that trigger. They've been reluctant to pull that trigger. In a way, I am the guy who was never supposed to be here. The world title wasn't supposed to mine. Whether anyone likes it or not, on March 4, that is exactly what's going to transpire.

– Bobby Fish, on knowing his worth 
It would be in Japan where Bobby Fish would further develop as a technical wizard. In 2006, Bobby Fish would begin what would become one of several tours with Pro Wrestling NOAH. During his time there, he would face the likes of Tajiri Ishimori and Atsushi Anoki. Whether it be in singles or tag team action, Bobby Fish was part of various tournaments such as the NTV G Cup Junior Heavyweight League, the Global Tag League, and the GHC Junior Heavyweight Tag Team Tournament.
However, it wasn't until 2012, upon returning to the United States, that Fish would return to the promotion that he first cut his teeth in, Ring of Honor. Upon his return to Ring of Honor, Fish would form a tag team with British Columbia, Canadian native Kyle O'Reilly. Both had an equally moveset that reflected a deep-rooted passion and knowledge of Mixed Martial Arts.
Together with O'Reilly, Fish formed "reDRagon." While the actual team name hasn't been shared, one theory as to why the "DR" is capitalized is because out of respect to Davey Richards, a man that was a former teammate with O'Reilly and someone that helped usher in Fish's return to Ring of Honor. Less than a year after returning to ROH and forming reDRagon with O'Reilly, the duo would capture the Ring of Honor World Tag Team Championships, defeating The Briscoes for the title.
Bobby Fish – World Tag Team Champion
After losing the titles in 2013, Fish and O'Reilly would recapture the titles by defeating The American Wolves, Eddie Edwards, and someone both Fish and O'Reilly were no strangers to…Davey Richards. The duo would hold the titles going into 2014, eventually losing them to The Young Bucks.
Throughout their five years in Ring Of Honor as a tag team, Bobby Fish and Kyle O'Reilly were three-time Ring of Honor Tag Team Champions. However, unlike in the past, when Fish was still looking to build a career for himself in ROH, it would be after O'Reilly and Fish would temporarily disband when he would achieve singles success.
During ROH's Global Wars 2016′, Fish defeated New Japan Pro Wrestling star Tomohiro Ishii and became the new ROH World Television Champion. However, tragedy struck as Fish was scheduled to compete in a four-way battle for the television championship. Fish's mother passed away, leaving him at a crossroads.
Between the death of his mother and conflicting reports on his contract status, Fish had to overcome this tragedy to persevere and succeed.
"Everything all came at the same time. A lot of it is not going away. There are some things that I am continuing to deal with."

– Bobby Fish discusses his journey
In the Spring of 2017, Bobby Fish would leave Ring of Honor. What has made his time in Ring of Honor so notable was his opportunities to compete in other promotions as well. Through Ring of Honor's working relationship with New Japan Pro Wrestling, Bobby Fish and Kyle O'Reilly would compete in the Super Jr Tag Tournament, compete for the IWGP Junior Heavyweight Tag Team championship, and even capture those same titles in a packed Tokyo Dome at Wrestle Kingdom 9. Fish competed in the Best of the Super Juniors 2015 tournament and even challenged for the NEVERWeight Open Championship as well.
Bobby Fish is NXT
After leaving ROH in the Spring of 2017, he would join the WWE's NXT brand. He immediately had a role upon joining the brand. Within a couple of months of appearing in televised taped matches, Bobby Fish would once again align with Kyle O'Reilly at NXT TakeOver Brooklyn III, attacking both the Authors of Pain, who had just won the NXT Tag Team Titles and SAnitY. At the end of the show, when Drew McIntryre had captured the NXT Championship, Fish and O'Reilly would join the debuting Adam Cole in attacking the new champion to end the show. It was on this night that the Undisputed Era was born.
Over the course of Fish's four years in NXT, that it was met with success and further adversity. While he had captured the NXT Tag Team Championship with Kyle O'Reilly and as part of the Undisputed Era on multiple occasions, it was met with injuries to his tricep and knee. He recalls an injury he sustained in the early goings of the Undisputed Era's WarGames match against the Kings of Wrestling (Pat McAffee, Pete Dunne, Oney Lorcan, and Danny Burch).
I had surgery that evening [after TakeOver: WarGames 2020]. I tore my tricep, is what it was called, but it was actually that my tricep was severed. So, I had a big laceration on my elbow in that match, and whatever it was that caused the laceration cut through the skin and cut deep enough that it actually severed part of my tricep tendon from the bone, so people will tear their tricep, but it'll be a tear like it'll be ripped away.
Mine was cut away as if you took a pair of scissors or an X-ACTO knife and chopped it, and that happened maybe ten minutes into the match, so I didn't know the extent of the injury. I just knew, 'Hmm, something doesn't feel right back there.' However, part of it was still attached because I thought, 'Man, did I tear my tricep?' But it hadn't rolled up the way that you would expect a tear to roll up, so I didn't think that was the case.
It wasn't until the match was over and Tara [Halaby], one of our medical staff, was cleaning out my elbow to make sure there was no infection, and she noticed because where she was looking, she should have seen tendon and instead, she saw bone and knew like, 'Okay –' obviously knowing anatomy, a tendon was supposed to be covering the bone she was seeing, and she's like,
'Okay, your tendon is not attached,' so I went into what would amount to emergency surgery, was supposed to be that evening. It ended up being the following morning.

– Bobby Fish sharing his recovery from injury. 
During Fish's absence, the Undisputed Era would disband. It would end the four-year in-ring relationship between Fish, Cole, O'Reilly, and Roderick Strong. It would only be a few matches upon his return when Fish was released from his WWE contract. Thirty days after his release, Fish was a highly sought-after commodity. He would compete for Major League Wrestling. However, it wouldn't be until October 2021 when Fish would sign with All Elite Wrestling as he would challenge Sammy Guevara for the TNT Championship.
Fish's career has seen its highs and lows. However, from personal tragedy to professional setbacks, Bobby Fish has overcome those challenges to be seen as a valued and essential part of any roster. With an amateur kickboxing background behind him and time in All Elite Wrestling ahead of him, the future is as bright for the 45-year-old infamous one as it ever was.