On Saturday, October 3rd, BLP presents Turbo Graps 16 two-show event. While the tournament is the focal point, it is the matchups that will make up this contest. On back to back shows, sixteen independent stars will look to achieve success by winning the entire tournament. What will happen between Tankman and Something for the BLP Championship? Also, how will Ethan Page deal with the newly invigorated Dan the Wrestler? All these questions and more will be answered as Black Label Pro presents Turbo Graps 16 takes place this weekend.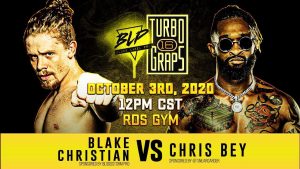 Blake Christian vs Chris Bey
This stellar two-show event has several matches slated on this night. At noon, two of either independent wrestlings or IMPACT Wrestling's most exciting talents square off. Air Blake is ready for lift-off as he faces Dashing Chris Bey. Both men are entrants in the Turbo Graps 16 tournament. While picking a winner between the two is virtually impossible a matchup between the duo is sure to make those in attendance stand up and take notice. It is sure to be a match where no one will be sitting including the talent.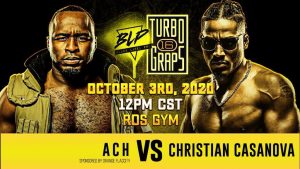 BLP Presents Turbo Graps 16
ACH vs Christian Casanova
Of any match that has captured any fans' interest, this one stands out as the one for this previewer. ACH has returned to the independent wrestling scene and in the process put on stellar match after stellar match. This time he steps into the ring with one of New England's most decorated athletes in Christian Casanova. Casanova was on quite a tear before the Pandemic. He had captured several championships along the way too. This time around he faces someone that is no stranger to championship success. As one-half the EVOLVE Tag Team Champions, ACH has held gold as well.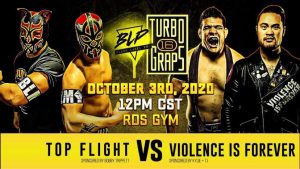 BLP Presents Turbo Graps 16
Top Flight vs Violence is Forever
If any two teams could be any different style, technique, and strategy in a match it would be these two teams. The duo of Ku and Garrini will unquestionably come at Angel Dorado and Air Wolf in this midday matchup. As Violence is Forever face a duo that has had several names during their time together will look to slow down the highly mobile tandem. Garrini and Ku will do what they do best and that's slow down and work on limbs to reduce both Dorado and Wolf's movement. For Wolf and Dorado, these two men will have to ensure that they stick and move throughout the contest.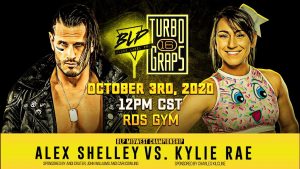 BLP Midwest Championship
Alex Shelley vs Kylie Rae
'You wanted it, you go it'. When these two special talents face one another we are likely to see something special. When the stakes are raised by putting the BLP Midwest Championship on the line as well, it becomes even more interesting. They were never initially slated to face each other but a series of events led to Rae and Shelley going face to face with one another. These two current IMPACT Wrestling stars will look to work the other one over. The hopes are that they walk with more than just bragging rights. Who between them will walk out as the BLP Midwest Champion?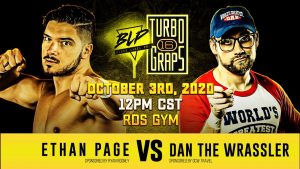 Ethan Page vs Dan the Wrassler
'I own that name!" This has been the claim that Ethan Page has made of the former Dan the Dad. Page has said that he is in possession of the persona of Dan the Dad. It was at the Being Cool event where Page distracted Dan costing him his match. Once the match was over a distraught Dan the Dad proclaimed he had enough of Page and would come after him. This time if Dan the Dad was unable to compete it was 'Dan the Wrassler' that would gladly take his place. How will Page handle the new fire lit under Dan the Wrassler?
BLP Presents Turbo Graps 16
BLP Championship
Jake Something vs. Calvin Tankman
Tankman doesn't have a short memory and this match proves it. After a shocking cash-in by Jake Something for his chance to become the BLP Champion, Tankman is sure set on revenge. Calvin will attempt to get the better of the champion. His moment was suddenly taken from him when Something took advantage of an emotional and momentarily vulnerable Tankman. It was at that moment when Something captured the championship. For Jake, he has already successfully defended the title. But it will be Tankman's first time against Something, proving that revenge is a dish best served cold.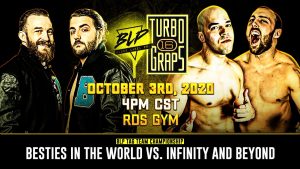 BLP Presents Turbo Graps 16
BLP Tag Team Championships
Besties in the World vs Infinity and Beyond
The BLP Tag Team Championships are on the line and arguably independent wrestling's most decorated tag team will face off against the duo of Colin Delaney and Cheech Hernandez. How will this match play out? If fans of the Besties are aware of the tandem of Fitchett and Vega then they know they will show their ring mastery and silence the tandem of Hernandez and Delaney. Both Delaney and Hernandez have worked together over the past few years but the championship success that Vega and Fitchett have is unquestionably an advantage.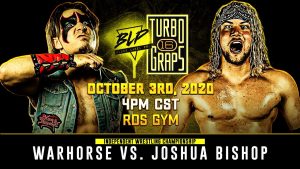 BLP Presents Turbo Graps 16
Independent Wrestling Television Championship
WARHORSE vs Joshua Bishop
The longstanding reign of IWTV's WARHORSE continues. Ohio native Bishop will attempt to show that Ohio is certainly against everything as he brings the fight to WARHORSE. WARHORSE's reign has been almost mythical in how it is developed steam and conversation during this time. While it doesn't have to be the case of the championship making the competitor in this case it is a matter of both. WARHORSE has raised the value of the title but along the way, the value of him as a challenger has also risen. Where does Bishop stand when the dust settles?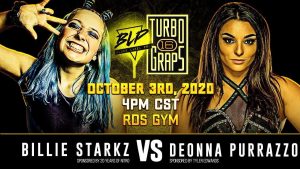 Billie Starkz vs Deonna Purrazzo
If experience is any indication, Bille Starkz best watch out. She steps into the ring with The Virtuosa and current reigning IMPACT Wrestling Knockouts Champion. Deonna Purrazzo is a must-see threat. If intangibles like in-ring experience suggest advantage anything, then she has it in spades in this match. For Starkz though she shouldn't be necessarily counted out either. The Albany, New York native will bring unbridled energy and enthusiasm to the ring against Purrazzo. While a win for Starkz could be seen as an upset it could also prove to be another step in the upward trajectory that she is showing.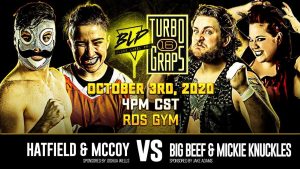 Hatfield & McCoy vs Big Beef and Mickie Knuckles
Two very different tag teams with a very different energy provided. The case of Flip Flop and Fireball will once again come together as Molly McCoy and Boomer Hatfield bring their unique styles and characters to the ring against Big Beef and Knuckles. While Knuckles and Beef aren't necessarily regular tag team partners, this match will lead to a scathing battle against their opponents. This match feels as though it will be a return to prominence for Hatfield and McCoy and a new opportunity for Beef and Knuckles. Which team stands to be the ones to potentially move on and threaten for the BLP Tag Team Championships after Turbo Graps 16?