Black Taurus has risen in this business that we love so much. As well as some of his best moments. Black Taurus was born in Torreon in 1987. He has been trained by different masters like Diabolico, Tony Rodriguez, Araña del Futuro, and Satanico. It's important for all luchadors to have different masters because each master has his own style and other skills.
_____________
At 18 years old, he started his way to the most sacred and especially the most important in his life: Lucha Libre. He made his debut in Durango as Semental in 2006.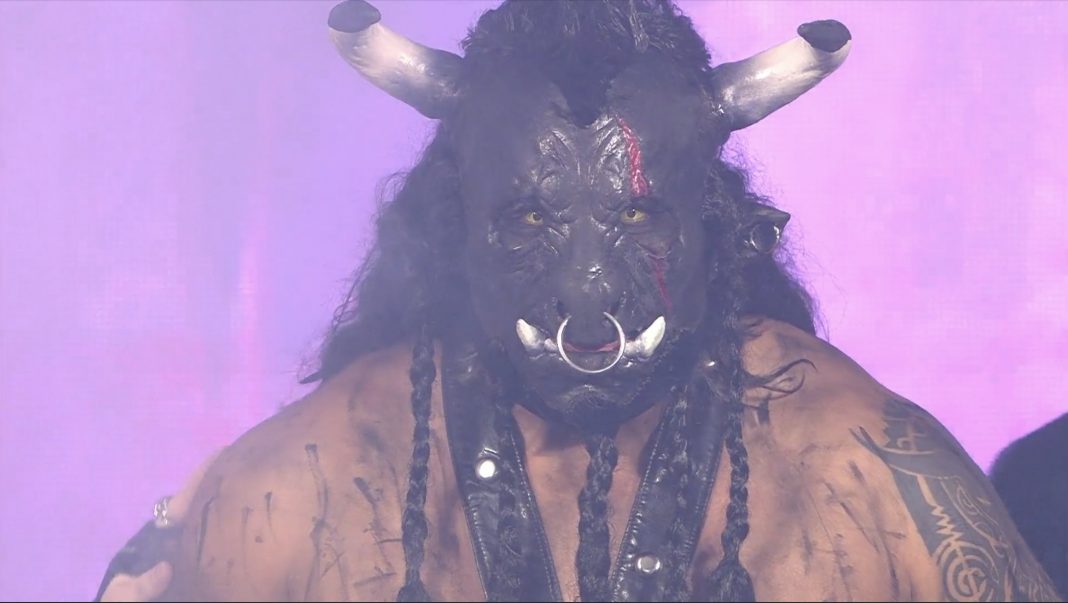 With his abilities, his first opportunity came with CMLL. He worked with this promotion for around 4 years, but he never had great opportunities. Taurus was always booked in the first matches of the events. In 2012 he followed his instincts and joined AAA.
There he was part of the stable called El Consejo, whose members are all ex-luchadors from CMLL. This stable was Silver King, Hijo del Fantasma, Texano Jr, Mortiz, Toscano, Argos, and Mascara año 2000 Jr.
With this stable, Taurus wrestled against other stables like The Psycho Circus, Real Fuerza Area, or other AAA stars. Most of the matches were relevos Australianos or Australian rules. However, in 2012, AAA proposed changing his character and thus was born Machine Rocker, the second character of his career.
Black Taurus
With another image, he would have more challenges. With this character, there was a surge of the stable Los Infiernos Rockers. AAA gave a push to Black Taurus in trios matches. With this concept, they had great feuds with The Psycho Circus and The Mexican Powers. He was a participant in Rey de Reyes 2015, but he didn't win that tournament.
As Machine Rocker, he didn't have a rise in his career, and he failed to accomplish anything of much importance. In 2015 he had another character change. This change would change his career and show all that he wanted to reflect to the crowd. That year he became Taurus.
As Taurus, he won the Copa Antonio Peña, a battle royal to honor to the founder of AAA. He wrestled on the rudo side, and in the next year, he was part of Triplemania XXIV. Taurus participated in the Copa Triplemania, another battle royal, but this time he did not win. He then decided to explore the Mexican indie circuit.
Taurus wanted to show that he was prepared for bigger things. So, he left AAA and would become known as Black Tauro or Black Taurus.
Now on the indie circuit from 2016 to 2017, he was booked for promotions like Lucha Elite, The Crash, AULL, Martinez Entertainment, DTU, and Revolucha. Where his abilities, strength, and dives were shown to them. As well as his drive to reach a place in this business and to demonstrate to himself that he could have and gain whatever he wants.
In this era, he was part of various factions like The Hell Brothers, Los Radicales, and, most importantly, Rebelion Amarilla in The Crash.
His Rivalries
With the last faction, he had incredible matches against the Lucha Brothers, Los Ingobernables, Rey Mysterio, Sammy Guevara, Jack Evans, and others. During the majority of 2017, he was booked in The Crash, where he mixed both strong-style moves with high-flying ones. That time was important to him as he gained his first title. He defeated Penta 0M and won the Perros del Mal Light Heavyweight Championship.
In 2018 he was part of Aro Lucha, which is a promotion to show the Lucha Libre style to the US. He came back to AAA in mid-2018 with Lucha Libre Elite's promotion, and he was part of the team Los Mercenarios. This year was important to him, and he grew a lot.
He was considered to represent Lucha Libre Elite in the AAA's project Lucha Capital. Taurus also got the opportunity to fight for VOZ Ultra Championship against Extreme Tiger or Tigre Uno in IMPACT.
This year, he participated in IMPACT's television show in January. The next month for Martinez Entertainment, a promotion in Forth Worth, Texas, he had a tremendous match against Michael Elgin. He showed that he is prepared to be challenged with his style and his years of work.
With his experience and his growth, he also had an opportunity to work for MLW. He had another opportunity to be known in the US over WrestleMania weekend. He had two matches on at WrestleCon USA vs. The World and Joey Ryan's Penis Party during that time.

Project Gladiators
The challenges continue to come, and he was also part of the project Gladiators. This is a tournament with elements of various promotions in Mexico. In May, he had the second match against Michael Elgin, and we hope they do have a third because they have each won one.
He continues in AAA with the faction Los Mercenarios where he always shows that he is a great luchador. In July, he will have another opportunity to show his power and his abilities; that'll be at PWG SIXTEEN.
He made his debut teaming with Laredo Kid and Puma King against Bandido, Flamita, and Rey Horus. This opportunity he deserves. He has wrestled for years to have a place in the business, and he has earned it. Black Taurus is spectacular; he has a great arsenal of moves.
He constantly shows in every match why it is important for him in this sport that he loves.