On Sunday, September 6th, Black Label Pro Presents Through Being Cool in an empty arena show. As the show emanates from Crown Point, Indiana, several titles are on the line. Who will walk out as the champions? Will new challengers be coming out from this event as well? Most importantly, who will be able to make it through being cool?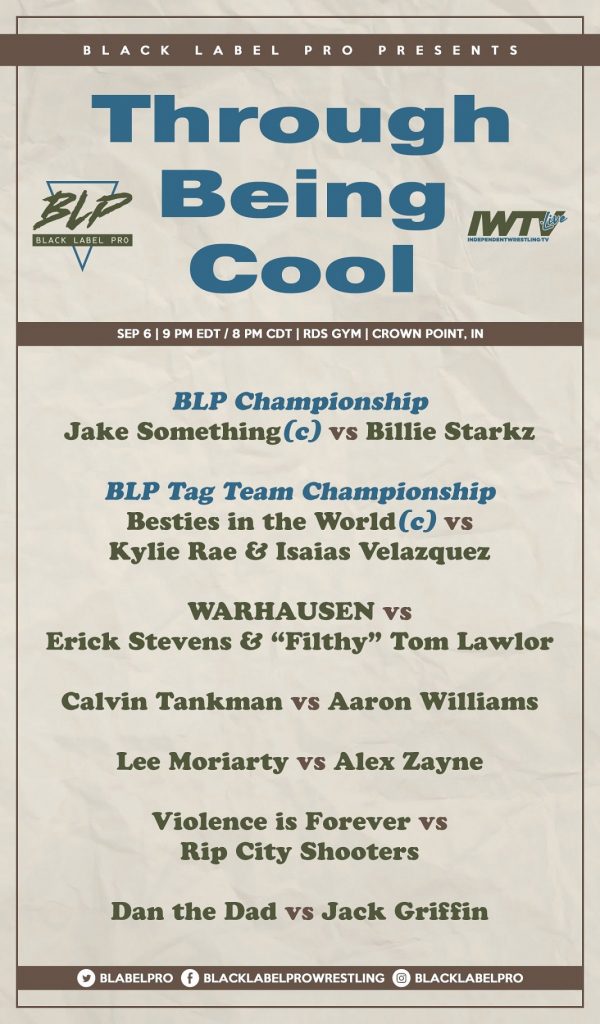 WARHAUSEN vs. Erick Stevens & Filthy Tom Lawlor
With no title on the line, what are the obstacles now for WARHAUSEN? For Danhausen and WARHORSE, fans' collaborative admiration is a start, but they face two MLW stars in Lawlor and Stevens. WARHAUSEN won't just come with tons of energy in this match but bring with them a desire to make a statement on this night. Stevens and Lawlor will bring the fight to WARHAUSEN. The question here is whether or not this match is a precursor for what is to come for all involved. Could the winners of this match lead to a future championship match with the BLP Tag Team Champions?
Calvin Tankman vs Aaron Williams
These two are no strangers to one another as they have previously faced one another for IWA Mid-South. This time around, the former BLP champion comes into this match with something to prove. What exactly does he have in store for Williams? If his sheer size and strength have anything to do with it, fans can anticipate an all-out attack by the indestructible one. As a 15 year veteran, Williams comes into this match likely to move up the Black Label Pro roster ranks. A win here tonight will undoubtedly make a difference in helping his ranking in the promotion. In their two one on one matchups against one another, Williams has been victorious in both of them. Does he make it a trifecta tonight?
BLP Tag Team Championship
Besties in the World (c) vs Kylie Rae & Isaias Velazquez
Much like Something, the new BLP Tag Team Champions will have their titles on the line on this night as well. This time around, Davey Vega and Mat Fitchett put their titles on the line against a BLP favorite in Kylie Rae and Isaias Velazquez. Velazquez and Rae's rivals now walk alongside one another as they challenge for the tag team championships. Will the Definition and Smiling Kylie be able to come together and thwart the systematic teamwork of Vega and Fitchett? As it stands right now, the Besties may have the upper hand going into the match, but does that mean they're walking out as the champions?
Black Label Pro Presents Through Being Cool
Lee Moriarty vs. Alex Zayne
This is the one match this wrestling fan is most looking forward too. If you are a fan of non-stop action, sit back and watch out for these two. The Apex of Combat is Moriarty as he squares off against The Sauce and Taco Bells' favorite son, Alex Zayne. Against one another, the two men are sure to pull out all the stops. This will be the first encounter of either man against one another. When looking at the years in the ring, there is undoubtedly a discrepancy in years of experience for either man. For Moriarty, fans are likely aware that he is a veteran of 4 years. Alex Zayne is a fifteen-year veteran of the squared circle. Both men certainly have a ton of exuberance between them.
Violence is Forever vs. Rip City Shooters
How does newly signed MLW talent Kevin Ku and tag team partner Dominic Garrini celebrate his signing? The answer is to take out the Rip City Shooters. Joshua Bishop and Wes Barkley are a relatively new team as they faced the duo of Garrini and Ku. Both Bishop and Barkley are no strangers to competing in Black Label Pro as singles. This is, however, their first match together competing for Black Label Pro. For Bishop and Barkley, they have achieved championship success during their short time together. Together the duo has captured the Quaker City Wrestling Tag team championship and Ultimate Xtreme Championship Alliance tag team championships. Could Violence is Forever be taking them lightly?
Black Label Pro Presents Through Being
Dan the Dad vs. Jack Griffin
The six-year pro and fanny pack wearing Dan the Dad will bring his diverse skillset to the ring to face Jack Griffin. At 20 years of age, the young Griffin will be giving up experience to Dan. However, will the Burning Spirit Wrestling Factory St. Louis trainee has quite the task ahead of him. As both a wrestler and a promoter, Dan, the Dad has seen both sides of the spectrum when it comes to independent wrestling. On this night, will the same be said as faces the young Griffin? All these questions will become more apparent as they square off at Through Being Cool.
Black Label Pro Presents Through Being Cool
BLP Championship
Jake Something vs. Billie Starkz
Something defends his first BLP Championship for the first time since winning it a few weeks ago. Jake came out, and what appeared to be a congratulatory handshake with Calvin Tankman turned into…something else. Jake attacked the champion and cashed in his championship opportunity walking out the champion. This time around, Something faces the near two year veteran in Billie Starks. The Grindhouse Pro Academy trainee comes into this fight, ready to walk out as the new champion. Will we see a new BLP Champion on this night? If Starkz has anything to say about it, she'll be the new champion.