Billy Red Cloud began his career in the early 1960s after some success in the field of bodybuilding. First, he did so under his given name, Bill Wright. Billy later took on the Billy Red Cloud wrestling persona.
He was most notable for wrestling in 1964. Early on during his transformation, he was also ring-announced as Bobby Red Cloud and Chief Red Cloud. His legit hometown was the White Earth Indian Reservation in the U.S. State of Minnesota.
Billy Red Cloud – A Menacing Look
Bill also worked for a time early on (with his then unique shaved head look) as "Killer Kane." The character was a Flash Gordon comic strip and film serial heel but only in the U.S. state of Arizona. It was mainly in the unique city of Phoenix, Madison Square Garden.
The Killer Kane character later turned into a face. Killer Kane achieved this after a falling out and a series with former heel partner Chuck Karbo. Billy later said he was forced on him by the promoter because of his unintended "menacing" look.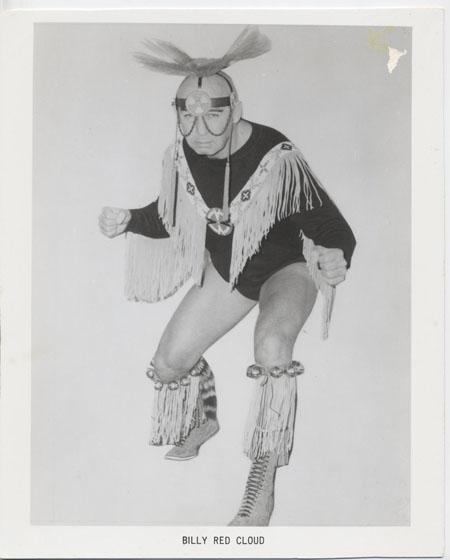 While working as Bill Kane, he developed his longtime finisher of the Piledriver, which was banned in several territories after a few wrestlers landed wrong on their necks. This was also during a time when several promotions had the now laughable rule of an instant disqualification.
If someone threw someone else over the top rope! Billy has been credited as his best trainers and inspirations, Verne Gagne and Maurice Vachon.
There are quite a few of Billy's in the 1970s. He competed in WWA (Dick the Bruiser's promotion and AWA Verne Gagne's promotion, where matches can be found online. They included him in a chain match versus then-great heel Baron Fritz (Jim) Von Raschke and teaming with Bobby Bold Eagle.
They would face heel tag teams such as the Graduates (Angelo Poffo and Frank Dillenger) along with their "San Francisco Mark Manson as well as The French Legionnaires (Rene Goulet and Don Fargo) at Chicago's incredible Amphitheatre. Billy was a super guy, well-liked by the boys wherever he worked.
A Unique Look
Billy had a unique look for a Native-American wrestler (billed from Viner's Grove, Minnesota) with his shaved head and enormous head feathers, and fully authentic outfit that legendary commentators like Sam Menacker (St Louis, Indianapolis, and Chicago) would comment on.
Some of his more important title victories include holding Ed Francis' NWA Hawaii Tag Team Championships with Utica Panther after defeating Hans Schnabel and Shoulders Newman on September 28, 1960.
Plus becoming Nebraska Heavyweight Champion on October 9, 1964, pinning Mad Dog Maurice Vachon~! and also ESA/Maritimes) North American Champion defeating Bobo Brazil on May 19, 1970.
He also became at a house show in Muncie, Indiana, against Dick The Bruiser's WWA World Champion. It was after beating Baron Von Raschke on March 21, 1972, that he achieved this.
Billy was recognized in both Bruiser's WWA headquarters in Indianapolis, Indiana. As well as in Bruiser's great 70's territorial war in Detroit, Michigan, running shows opposite Sheik at Cobo Arena at the less-deserved Detroit Olympia Stadium.
Billy is notable, along with Ed Carpentier, Gagne, and others, for having worked the Minneapolis territory before Verne's original AWA was even formed. He later became an AWA wrestler, primarily as a singles lower-tiered star. The matches with Mad Dog Vachon were the first-ever chain match bouts for Gagne's AWA promotion. Red Cloud and Bobby Bold Eagle (Bob Boyer) also held the WWA World Tag Titles for a short period.
Wrestling At The Chase
While researching results, it was fun to see he wrestled quite a few significant talents for Sam Muchnick's St Louis, Missouri TV show, Wrestling At The Chase (KPLR's permanent small but wonderful wrestling studio ring at the Chase Park Plaza Hotel), like Don Fargo twice in November of 1976.
Plus, others like Moose Morowski and even Bulldog Bob Brown that same year. Billy would feud that year with Brown all over the Kansas City, Kansas promotion of Bob Geigel and Harley Race (of course, in towns like St Joseph and Kansas City but in Missouri! as well as with Judo Al Hayes (before he "became" a Lord) and Easy Ed Wiskowski.
Over in the AWA, Billy Red Cloud defeated an early Iron Sheik (Kozrow) several times in 1976 and 1977. During this time, he also lost to the likes of Blackjack Lanza, Pierre and Gilles Poisson of Montreal, Bobby Duncum, Horst Hoffman, and others.
He also notably feuded with Bobby Heenan, losing some bouts by DQ for his 'fiery temper' plus getting some pinfalls over Bobby and Kim Duk.
Red Cloud told me in 1977 he thought one of his best matches was in a losing effort to Wilbur Snyder at the Chicago Amphitheatre (a hybrid or joint promotional effort between Gagne's AWA and Bruiser's WWA in terms of blending talent on each Amph spectacular I had the fortune of photographing several times.
Billy Red Cloud – Achieving Singles and Tag Team Success
Billy also quickly pinned an early version of Scott "Hog" Irwin in Omaha, Nebraska. He did so on an AWA house show at the Civic Auditorium. Red Cloud was in an interesting Two Ring Tag Team Battle Royal that involved greats like Larry Hennig, Vachon, Lanza, Duncum, and Russ Francis.
He lost to a young "Islander" Afa Anoai (later Afa of the Wild Samoans, who finally and historically returned to WWE TV on their most recent Pay Per View).
In 1973, Billy and Prince Pullins defeated legend Mitsu Arakawa and Crusher Ricky Cortez (WWA). They lost to Rene Goulet, Lars Anderson/Larry Heinimi, Reggie Parks, Geoff Portz, and in a historic match back in on October 20, 1973.
Billy and his idol Wahoo McDaniel lost a 2 out of 3 falls major bout to Larry Hennig and Buddy Wolff. An even bigger bout for the AWA World Tag straps that year in St Paul, Minnesota, saw Billy and Wahoo lose to champs Ray Stevens and Nick Bockwinkel.
Billy also feuded with Ivan Koloff & Superstar Graham. He earned some TV wins over rookie Ric Flair, fresh out of Verne and Billy Robinson's training camp.
Billy Red Cloud, Rest in Peace
Red Cloud had returned to the AWA after a long stint in both Dallas and San Antonio, Texas promotions. He was paired with Jose Lothario in a time-limit draw to Black Gordman and Great Goliath.
Plus, he defeated Iron Mike Paidousis, Buddy Wolfe, and young Koz "Ali" Vaziri. On 9/24/73, Billy teamed with Fritz Von Erich and Man Mountain Mike in Fort Worth, Texas. This match was in a losing effort to Gary Hart, Nicoli Volkoff, and Great Goliath. The promotion later became Fritz Von Erich's WCCW.
Billy wrestled in the IWA and also wrestled on several Grand Prix spectaculars in Montreal in the early 1970s. He was on one of my all-time favorite circuits. It included stars like The Vachon's, of course, Ed Carpentier, & Don Leo Jonathon.
This also included a young Andre as Giant Jean Ferre, the Leducs, Blackjack Mulligan, Tokyo Joe Daigo, and many others. Eventually, Billy was jobbed out on AWA TV, often paired with Sodbuster Kenny Jay and others. He teamed with and also beat TV partners like Buck Zumhoff and Buddy Wolff.
Billy Red Cloud had complained of heart and chest pains for several months. He was succumbing to what doctors diagnosed as "Chronic Leaky Heart Valve" on October 8, 1981.
He wasn't as well known, nor in as many main events, nor as successful as legit Native North American stars. This starts with Wahoo or non-Native Italian American Chief Jay Strongbow (Joe Scarpa).
Red Cloud created a lot of colorful buzzes wherever he appeared. He was advertised as "the world's most popular wrestler" for a time in Bruiser's WWA. Billy Red Cloud is definitely on a long list of stars who had their greatest peaks in 1970s pro wrestling.