Before the Four Horsewomen of WWE, before Charlotte Flair had become an 11-time World Champion, before Bayley had become a grand slam champion, and before Sasha Banks headlined Wrestlemania, there were the Beautiful Fierce Friends, BFF.
A group of superstars consisting of Sasha Banks, Summer Rae, and Charlotte Flair. In late 2013 and into 2014, NXT was the place where performers could learn their skills that they required to succeed in WWE and highlight themselves on a weekly television show on the WWE network.
Summer Rae announced to Sasha Banks on an episode of NXT that she was going to make her relevant like herself on the black and gold brand. At first, Banks wanted nothing to do with Rae but Banks would eventually see what Rae was offering and attack NXT Women's Champion Paige to aligning herself alongside Summer Rae.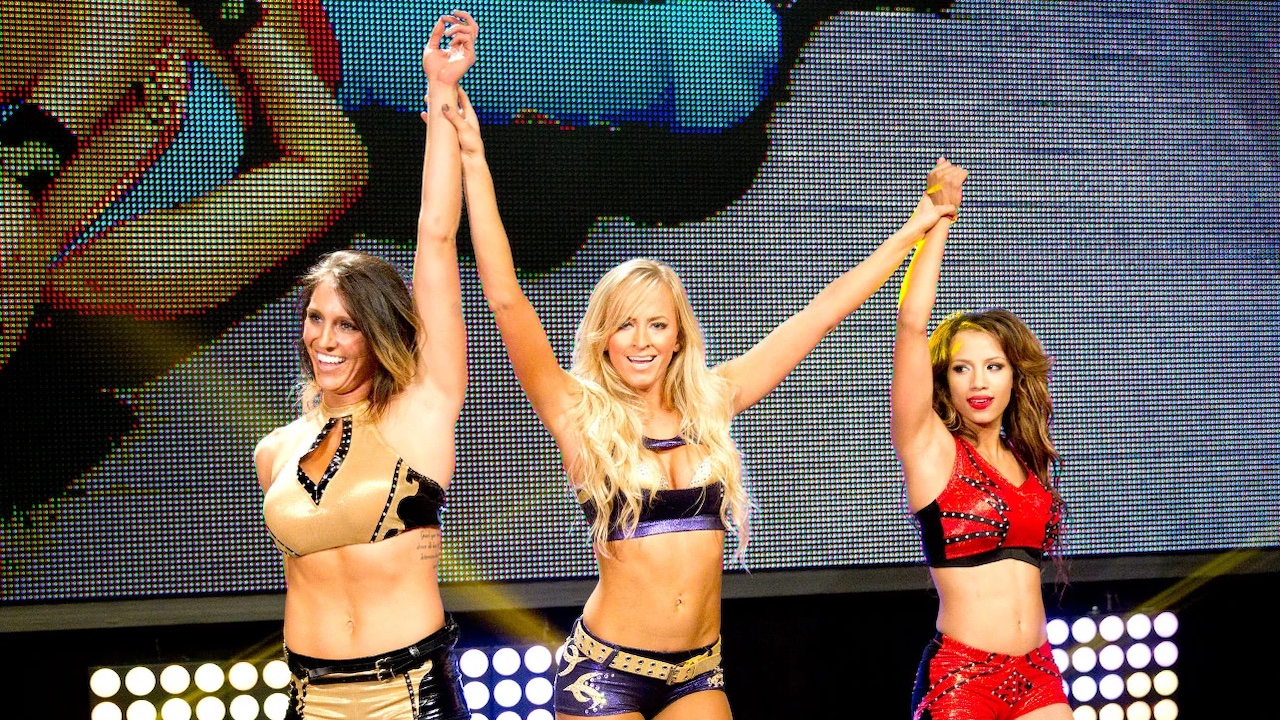 Beautiful Fierce Friends – The Formation
Banks announced a new direction for her character and informed the audience that she was in fact, the Boss of NXT. Summer and Sasha begun to call themselves the Beautiful Fierce Friends, BFF.
The BFFs faced Paige and Emma in a tag team match and continued to pick up wins with Banks pinning Emma a week later thanks to interference from Rae. The BFFs moved on to face the team of Charlotte and Bayley after Rae and Banks offered Bayley the chance to join them, but the crowd favorite rejected the chance.
In a tag team match on November 13th, 2013, Bayley attempted to tag in Charlotte, but Charlotte slapped Bayley across the face and delivered Natural Disaster, allowing Sasha to pick up the win. After the match, Charlotte left with Sasha Banks and Summer Rae, turning heel and joining the BFFs.
Bayley, upset about Charlotte attacking her and aligning herself with Banks and Rae, challenges Charlotte to a match but instead, tag team match is booked. The BFFs mock Bayley for not having any friends to tag with, but Bayley says that she has a surprise for them; she announced that her tag team partner for the match would be Natalya.
Charlotte missed the match as she was nursing an injury. In her absence, Bayley, teaming with Natalya, faced Sasha Banks and Summer Rae. Sasha Banks pinned Bayley after hitting her move, Bankrupt.
'A Measure of Revenge'
On the January 8th episode of NXT, Bayley managed to gain a measure of revenge. With Natalya in her corner, she defeated Summer Rae with the Bayley to Belly. On Charlotte's return, in a backstage interview, Charlotte dismissed Bayley, saying she doesn't care about her and that Bayley is beneath her. Bayley continued to face members of the BFFs, defeating Sasha Banks this time on the January 29th, 2014, episode of NXT.
Emma had become the number one contender for the NXT Women's Championship, but she was attacked after defeating Alicia Fox by the BFFs. Bayley and Natalya ran down to make the save. This led to a match the following week with Alicia Fox, Sasha Banks, and Summer Rae facing Bayley, Natalya, and Emma. The BFFs would walk out of their match, leaving Alicia Fox to take the loss.
After Emma was unsuccessful in her match against Paige for the NXT Championship, Charlotte approached Paige and said that she was coming for the NXT Women's Championship.
Charlotte faced Natalya at NXT Vengeance; with Natalya locking in the sharpshooter, Sasha Banks got involved to cause a disqualification. Around this time, Summer Rae left NXT to focus on her main roster role leaving Charlotte and Sasha Banks as the members of BFFs.
Beautiful Fierce Friends and their sights set on the NXT Women's Championship
With Charlotte's focus on winning the NXT Women's Championship, Sasha took on Bayley and lost twice. As NXT moved into April, Paige was stripped of the NXT Women's Championship because of her WWE Divas Championship victory on RAW the night after Wrestlemania XXX. This set up a tournament for a new champion.
The two favorites for the championship were Charlotte and Emma, The BFFs challenged Emma to a tag team match, and Paige was unveiled as Emma's mystery partner. In a sign of how Charlotte was becoming the new face of NXT Women's division, she pinned Paige after delivering the Natural Selection in their match.
The brackets for the tournament to crown a new champion put Charlotte and Emma together in the first round, along with Sasha Banks facing Bayley. The boss finally defeated Bayley to move into the next round whilst Charlotte showed her superiority as the main woman on the brand, defeating Emma.
A Potential all-BFF NXT Women's Championship Final?
In the semi-finals, Charlotte defeated Alexa Bliss, while in the other semi-final, Sasha Banks took on Natalya and; with the story going in of distension between the BFFs as Sasha begun to realize that she had lost most of her matches since she was teaming with Charlotte.
Charlotte on the other hand, was torn on who she wanted to face in the final. Charlotte would say she wanted her BFF to succeed but, at the same time, didn't want to have to embarrass her to win the NXT Women's Championship. Natalya eventually defeated Banks to progress to the final.
At the very first NXT Takeover, Charlotte, with Ric Flair in her corner, pinned Natalya with Bret Hart in her corner to win the NXT Women's Championship. The next NXT show, in a non-title match, Charlotte faced Bayley in a grudge match that had been building for months.
With a distraction from Sasha Banks and a returning Summer Rae, Charlotte picked up the victory. A reunited BFFs attacked Bayley after the match only for Paige and Emma to return and make the save, setting up a 6-person tag match the following week, which Bayley successfully pinned Charlotte to gain some manner of revenge.
Tension Mounts
Sasha Banks and Charlotte weren't overly keen on Summer Rae's return, and in the tag match, Summer accidentally distracted Charlotte, allowing Bayley to roll her up for the win. With tension rising between the BFFs, Sasha Banks lost to Alexa Bliss after Summer and Charlotte begin arguing on the outside.
Summer Rae took on Becky Lynch on an episode of NXT, Charlotte would try to interfere on behalf of Summer, but Rae would get annoyed, allowing Lynch to pick up the win, causing more and more tension between the BFF stable.
This all came to a head when Summer Rae pinned Bayley to become the new number-one contender for the NXT Women's Championship. Summer tells Banks that they should stay friends, but Banks blows her off.
After Charlotte and Banks defeated Bayley and Lynch, Bayley attacked Sasha, looking for some revenge; her friend though, Charlotte, would walk out, leaving Banks on her own. This would be the end of the BFFs once and for all.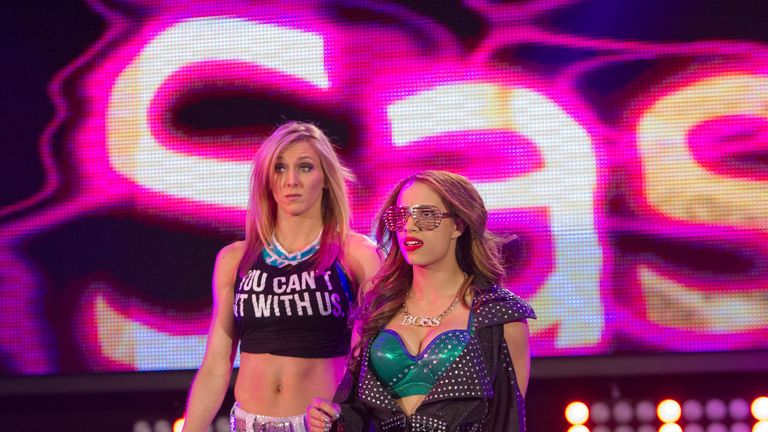 The Breakup and End of the Beautiful Fierce Friends
With Summer Rae the number one contender, all three women discussed the breakup of their friendship with WWE.Com ahead of the big NXT Women's Championship match.
"I was very surprised at their reaction; All I did was make them the Superstars they are today. They should be thanking me. They should have thrown me a 'welcome back' party."
While Summer thought she deserved bigger fanfare upon her return, Charlotte and Sasha Banks saw things quite differently.
"I felt like I was seeing a ghost," Banks said. "Here was Summer, who left with empty promises and unfulfilled obligations to the group, and she expected me to accept her return as if nothing had happened?"
"It was like, 'How dare you?'" Charlotte agreed. "A lot had changed since she'd been gone. Summer leaving allowed Sasha and I to show that we didn't need her,".
"Without Summer, we were forced to trust in ourselves and our instincts," Sasha added.
While Charlotte and The Boss may have found confidence in Summer's absence, Fandango's former dance partner saw it differently.
"Obviously, it's jealousy," Summer scoffed. "I'm off shooting 'Total Divas' and filming a WWE Studios movie. I'm in Hollywood on red carpets, and they're stuck at NXT. If I were them, I'd be envious of me too."
"Summer coming back and the cattiness between the three of us made me realize that I wanted to be on my own," Charlotte said, Banks explained,
"When you have three personalities all fighting for their moment in the spotlight, for their time to shine, a mutual truce will only last so long,"
Charlotte defeated Summer Rae in their NXT Women's Championship match and that was the nail in the coffin for the friendship. But later in the year, it would be the time for the WWE four horsemen to take centre stage.
Becky Lynch attacked Bayley to align herself with Sasha Banks. Bayley, looking for a friend, would reunite with Charlotte after Flair stopped Banks from attacking Bayley. This all led to Sasha Banks finally getting a chance at the NXT Women's Championship, earning the opportunity to face her former BFF, Charlotte. Both spoke to WWE.com about the history and dynamic of a match that was over a year in the making.
"When Sasha and I were teaming up together as the BFFs [Beautiful Fierce Females], all we wanted was one thing: the NXT Women's Title, the moment I won that title is when the dynamics began to change.
In my opinion, Sasha's jealousy is the only answer to why we broke up. We trained together, and we traveled together. Being a part of the BFFs forced the world to notice me. But more than that, it taught me that in life, to get what you want, you need to take what you want." Said Sasha Banks
"Personally, I think Sasha will be a future WWE Hall of Famer, but she will never be better me than me," Charlotte said. "Whether my name was Smith or Flair, I am the most genetically superior athlete of the past, present or future that WWE has ever seen."
Their match at NXT Takeover R-Evolution saw Charlotte defeat Sasha Banks to retain the Women's Championship. The Beautiful Fierce Friendship took over NXT television for over a year and progressed each lady's career and everyone they encountered.
Without the story of the BFFs, the four horsewomen couldn't have changed how women are spotlighted in WWE today. The mix of all four ladies, along with Summer Rae gave a chance for everyone to develop their skills and characters that they were able to take to the main roster and excel.
When we look back at the WWE Women's Revolution, it's here where it all started, and Summer Rae was given the opportunities to advance to the main roster and develop her skills here. Before the WWE revolution, we had the NXT Revolution and the main attraction… The BFFs.