Today's RetroView is a look back at Bash at the Beach 1994, which took place 28 years ago today. This was the very first WCW Bash at the Beach and was also the WCW in-ring debut of Hulk Hogan. So who did he face, you may ask? None other than WCW World Champion Ric Flair. 
Once Hogan jumped ship to WCW, they were quick to sign this match, something WWE chose not to do at WrestleMania 8.
As a result, the show's video package plays up the colossal clash of these two wrestling icons, dubbing it the "Match of the Century."
Tony Schiavone welcomes us to the show, and he is joined by Mean Gene Okerlund and Bobby "The Brain" Heenan. 
Heenan quickly irritates the crowd with a bash prediction that Flair is going to win the championship. Shaquille O'Neal is in attendance, and he receives a loud pop from the audience. In an attempt to capture some WrestleMania nostalgia, it's announced that Mr. T will be in Hogan's corner along with Jimmy Hart. Joining Flair will be Sensuous Sherri.
After Daron Norwood (WHO?) sings the national anthem, we get a video update on how Sting was recently injured. With Flair trapped in the Scorpion Deathlock, Sensuous Sherri intervenes before Hogan comes to save the day. 
The injury is keeping Sting out of competing, so facing Lord Steven Regal for the Television Championship will be Johnny B. Badd. 
WCW Bash at the Beach 1994
WCW Television Championship Match
Lord Steven Regal © vs. Johnny B. Badd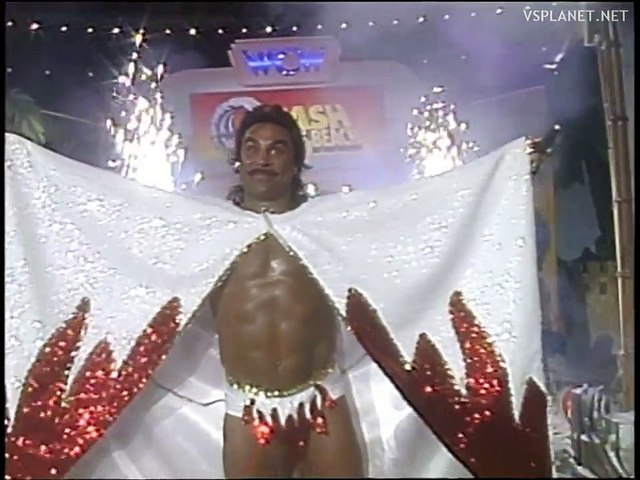 Badd enters first and looks like a million bucks; WWE really dropped the ball with him during the Attitude Era.
Regal is joined by Sir William, ever the pompous heel. 
A "USA, USA, USA" chant erupts through the audience before the bell rings. 
This is a tremendous contrast of styles, with both men showing off their skills in their early exchanges. However, Regal's rough and tumble cerebral approach is routinely countered by Badd's athleticism and speed. 
After a brief escape from the ring, Regal picks up the intensity, which is once again countered by Badd. Some stiff forearms followed by a head butt finally gives Regal a distinct advantage. 
Badd eventually fires up, hitting a flying head, scissors, and cross-body over the top rope onto the outside. After a manager-assisted roll-up by Regal is thwarted into a roll-up pin, Regal reverses it and gets an abrupt roll-up pin for the win. 
Winner – Lord Steven Regal
Before the next match, Mean Gene is in the middle of the ring and introduces Japanese wrestling legend Antonio Inoki. Okerlund presents Inoki with a plaque honoring his contributions to the world of professional wrestling. 
Steven Regal enters the ring and immediately criticizes WCW for not honoring him. Regal hurls insults at Inoki before backing down the second Inoki removes his jacket. Jesse "The Body" Ventura joins Schiavone for the next match. 
WCW Bash at the Beach 1994
Vader w/ Harley Race vs. The Guardian
Vader is such a great monstrous bad guy who enters first with Harley Race by his side. The Guardian, WCW's knock-off version of the Big Boss Man, enters second. Before the match starts, Race gets in the Guardian's face and is quickly dispatched with a right hand. 
The brief distraction gives Vader the opportunity to attack. Vader hits an impressive spinning back kick which the Guardian Angel responds with an impressive slam. Guardian hits a handful of power moves before the match spills ringside. 
Race takes another right hand from the Guardian, and once again, Vader seizes the opportunity. This is a true slugfest as the massive men don't hold back. After Vader hits a pair of Vader bombs, Harley Race is once again beaten up by the Guardian Angel. 
A nightstick thrown in by Harley Race ends up in the Guardian Angel's hands, but before he can even use it, the referee disqualifies him. The ref's decision leaves Schiavone flabbergasted. 
Winner – Vader
The next match gets a video package explaining the history between these two teams. It really dives into the feud between the Rhodes family and the Funk Family. Of course, Dustin Rhodes is a bloody mess throughout the video package. 
WCW Bash at the Beach 1994
Tag Team Match
Terry Funk & Bunkhouse Buck vs. Dustin Rhodes & Arn Anderson
Joining Funk and Buck are Col. Parker and Meng, and the group are met with boos and downward thumbs. Finally, Rhodes and Anderson make their way out, and they look like a good pairing. Ventura adds to the feel of this match, recounting the long history between the Funks and Rhodes.
Adding a personal touch that he and Terry Funk wrestled to a one-hour draw for the NWA Heavyweight Championship in Seattle, Washington, in 1976. While Anderson is calm, cool, and collected, his partner Rhodes is aggressively fired up. 
Rhodes sends both Funk and Buck over the top rope when the ref is distracted. Something that still received a disqualification in those days of WCW. Soon after, Funk and Buck take control. 
A missed dive attempt sends Rhodes flying to the outside, where Funk is quick to pounce on him. After being in peril, Rhodes eventually fights back, and the crowd absolutely erupts. 
The crowd goes even crazier when Arn Anderson is tagged in, but that excitement turns to shock when Anderson nails Rhodes with a DDT. This treacherous act allows Funk and Buck to get the win. 
Winners – Terry Funk & Bunkhouse Buck 
After the match, Anderson, Funk, and Buck assault Rhodes, much to the chagrin of Tony Schiavone. Mean Gene confronts Anderson about his actions. Anderson brushes Okerlund off as the bad guys celebrate on their way to the locker room. Schiavone and Heenan are now joined by Hank Aaron, and he endorses Hulk Hogan in the main event. 
Next up is a backstage interview with the WCW World Champion Ric Flair and Sensual Sherri. Flair praises Arn Anderson for what he did to Dustin Rhodes before claiming that all the big names in attendance are there to see the Nature Boy. 
WCW Bash at the Beach 1994
WCW United States Championship Match
"Stunning" Steve Austin © vs. Ricky "The Dragon" Steamboat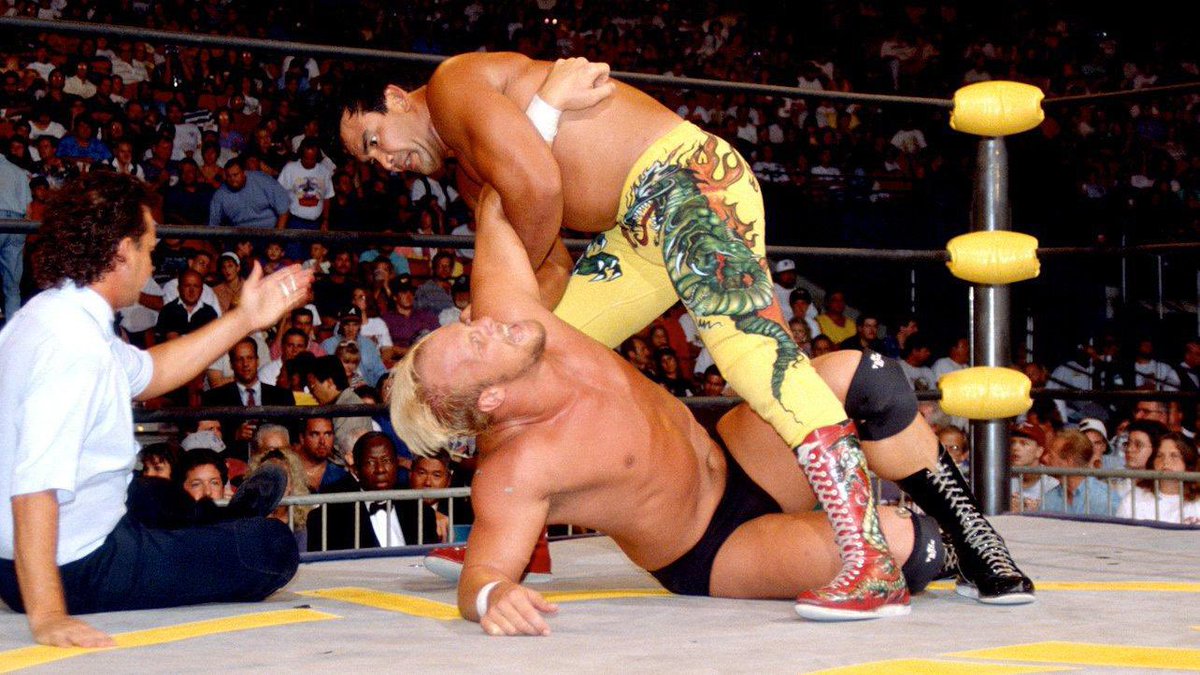 Steamboat enters first to a grand ovation, and Schiavone mentions the history between these two.
Then, Austin comes out full of swagger.
After the bell, Austin goes on the attack and immediately focuses on Steamboat's knee. Austin's black trunks with Dragon Slayer emblazoned on them is a nice touch. However, while Austin's attack focused on Steamboat's knee, the Dragon focused his assault on Austin's arm. 
An attempt at faking a knee injury fails at fooling Steamboat, who attacks Austin in the corner. A well-timed low blow by Austin swings the momentum back in his favor. But it isn't long until Steamboat is once again working on Austin's arm. 
This is a great back-and-forth contest throughout. As the match progresses, every time Austin strikes or knocks Steamboat down, the Dragon rises quickly to his feet, calling for more. Something Schiavone mentions as an attempt to outlast Austin. 
Highlight late in the match is when Steamboat "skins the cat" to re-enter the ring after Austin throws him over the top rope. We get a trio of near-fall roll-ups attempted by Steamboat, each one enticing the fans even more. 
The best segment of the match is when the two reverse a tombstone piledriver attempt three times in a row before Steamboat hits the move. The finish comes when Austin reveres a cross body from Steamboat into a pin and utilizes the ropes to get a cheap victory. 
Austin makes a quick exit, proud as can be with how he picked up the win. But, before the next match, Mean Gene enters Terry Funk and Bunkhouse Buck's locker room and finds the dastardly group celebrating. Funk openly mocks Dustin and his daddy before Col. Parker toasts Arn Anderson for his actions. 
Winner – Stunning Steve Austin
WCW Bash at the Beach 1994
WCW Tag Team Championship Match
Cactus Jack and Kevin Sullivan vs. "Pretty Wonderful" Paul Roma & Paul Orndorff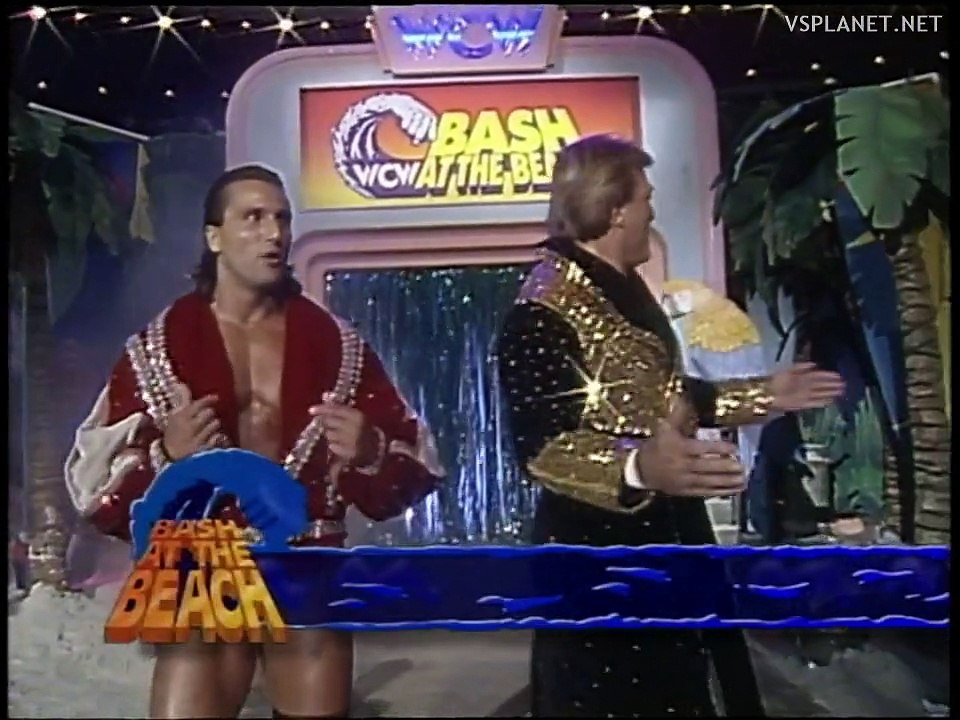 Roma and Orndorff enter first to a chorus of boos.
Then, the rag-tag duo of Jack and Sullivan comes out with chaos in their eyes.
Orndorff and Sullivan start, and Orndorff does a lot of strutting around the ring.
The first move of the match is an arm drag by Orndorff, followed by more posing and strutting. 
After a second arm drag, Sullivan tags in Jack which is quickly followed by Orndorff tagging in Roma. Roma taunts Jack and immediately pays for it when Jack bites the top of his head. The pace picks up when Sullivan tags back in, leading to a moment where all four men are in the ring together. 
Amidst the chaos, the champs Jack and Sullivan send Roma and Orndorff scrambling to the floor. Once Roma and Orndorff finally get the advantage, they begin to wear down Cactus Jack. Sullivan finally gets in and takes it to the challengers, highlighted by slamming both their heads into a turnbuckle simultaneously.
Midway through the match, the wave breaks out in the crowd, something both Schiavone and Heenan acknowledge. We even get an audience-wide shot as it happens. Orndorf nails a phenomenal pile driver giving us a true near fall. 
Sullivan is saved when his brother Dave puts his foot on the rope. The funny moment is when Paul Orndorf does this awkward wiggle walk before dropping an elbow on Sullivan. Schiavone, with a perfect reaction, asked Heenan, "Well, what do you call that?"
After battling for over 20 minutes, Roma and Orndorff become new champs after Roma holds Jack's feet down during Orndorff's pin attempt. 
Winners – "Pretty Wonderful" Paul Roma & Paul Orndorff
Before the main event, Schiavone and Heenan talk up the significance of this main event within pro wrestling. Heenan goes on record saying that if Hogan wins, it is a fluke. 
Schiavone hits us with his go-to line proclaiming, "this the greatest match in the history of our great sport."
WCW Bash at the Beach 1994
WCW World Heavyweight Championship Match
Ric Flair © w/ Sensuous Sherri vs. Hulk Hogan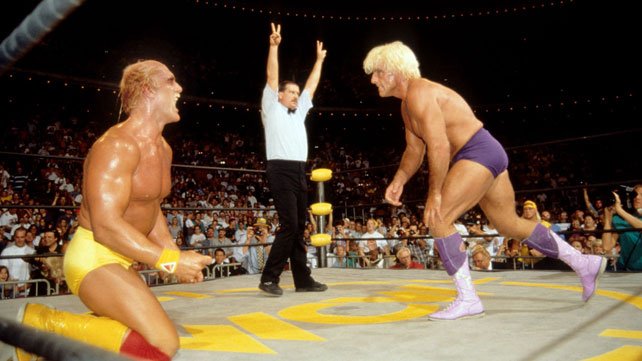 Bruce Buffer welcomes former World Champion Nick Bockwinkel and Shaquille O'Neal. Obviously, Orlando gives Shaq one of the loudest ovations of the night. Flair enters first and always looks like a star; for this, he's donned the purple and silver robe. 
The WCW attempt at recreating Real American for Hogan's entrance music is embarrassing. Hogan with Mr. T and Jimmy Hart come, and the crowd goes bananas. Michael Buffer introduces Hogan first, and the crowd erupts again. 
During Flair's intro, you get a mixture of woos, boos, and cheers. The staredown before any physicality picks up the drama. Hogan wins the first encounter, ending it with a shoulder block. The challenger follows up by tossing Flair down from the corner. 
Flair becomes furious when Hulk Hogan mocks his poses and mannerisms. This lights a fire in Flair, who slowly takes control with various rest holds. These two work so well together. Flair, the perfect cowardly champion willing to bump all over the place, and Hogan, the confident challenger, was proving his physical dominance. 
Sherri and Jimmy Hart get involved outside when the "Mouth of the South thwarts Sherri's attempt to hit Hogan with a chair." We get the classic Hulk up by Hogan after Flair tries to choke him out. This once again sends Flair scurrying to the floor. 
Hogan misses his first leg drop attempt of the match, eliciting some woos from the crowd. Flair's first figure four attempt is turned into a roll-up by Hogan for a near fall. The second and third attempts are stopped by Hogan kicking Flair away. 
A standing vertical suplex is an impressive feat by Flair but is immediately brushed off by Hogan, and he once again fires up. Hogan hits the leg drop, but Sherri pulls the ref out of the ring before he can make the three count. 
Flair finally gets the figure four locked in, and the anticipation of the crowd rises up a notch. We finally get another referee in, and the chaos erupts. Sherri misses a dive onto Hogan from the top turnbuckle before she's taken out by a Hogan clothesline. 
Hogan then locks Flair in the figure four the place absolutely loses it. Flair eventually ends up with brass knucks and levels Hogan with a right hand.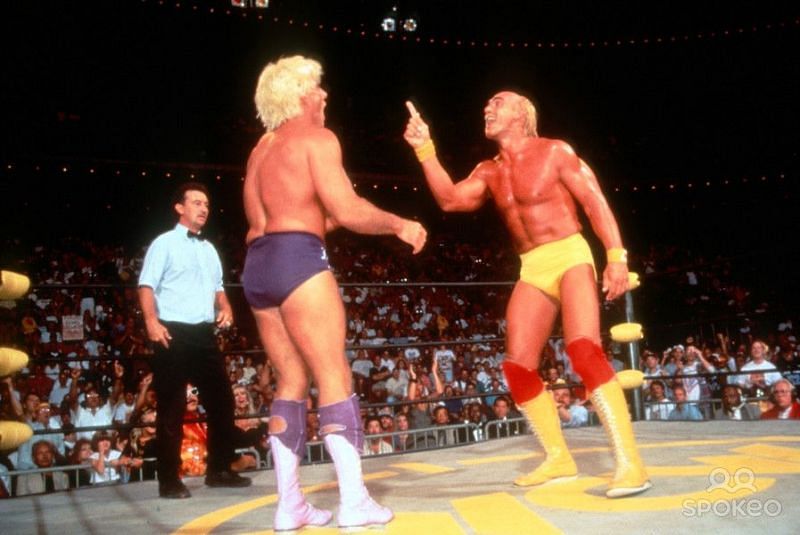 Of course, Hogan kicks out at two and does his final Hulk up before hitting the leg drop a second time for the win.
Heenan begs for this not to happen before losing it when it does. 
Hulk, Mr. T, and Shaq celebrate in the ring together as pyro erupts. 
Winner – Hulk Hogan
Schiavone and Heenan talk about the night before Hogan is eventually interviewed by Okerlund in the back. It's your basic Hulkamania promo.
The show ends with Heenan storming off in anger over Hogan being champion before Schiavone sends us off with "Wrestling is cool again."
---
All in all, this is a pretty damn good show. From start to finish, the crowd is into it, and a deep roster of talent delivers.
Next time I think I'll continue this journey back to WCW 1994 with a viewing of Fall Brawl.
The War Games' main event featuring Dusty Rhodes, Dustin Rhodes, and the Nasty Boys versus The Stud Stable – Terry Funk, Arn Anderson, Bunkhouse Buck, and Col. Robert Parker with Meng.