Cast your minds back to October 2018, what were you doing? Well, if you were in the LA area on the 3rd, then you should've been at the Bootleg Theater watching Bar Wrestling Ain't My First Rodeo Drive. However, if you weren't lucky enough to catch it live or if, for some crazy reason, you've not watched it on demand, then here's a little review of the Bar show and hopefully, it will persuade you to go out and watch the entire show! It was full of Bar favorites, amazing matches, and some of the best wrestlers in the entire business! So, here's my review of Bar Wrestling as the present Ain't My First Rodeo Drive (with yet another amazing name)
Bar Wrestling Present Ain't My First Rodeo Drive
Eli Everfly v Teddy Hart
Starting the show off with Eli Everfly v Teddy Hart was an amazing decision with two well-beloved names in the world of wrestling! From the get-go of this match, it was easy to see the distinct height and size difference between the two with Hart being substantially bigger than Everfly. This advantage was seen right from the start with a brutal powerbomb, tombstone and back cracker to start off the night. However, that wasn't to say Hart is all strength because after some sort of moonsault off the second rope, it was easy to say that Hart is no one trick pony. Yet, it's never good to count out Eli Everfly and after a DDT counter, his energy seemed to be revitalised and he was flying across the ring like there was no tomorrow!
What made this match more equal was the experience of both. Even though Hart obviously has the dynasty and more experience, Eli was called a young veteran by the commentators because of his experience for someone so young so you can't discount Everfly – whatever Hart threw at Eli, there was a counter for it. The match ended with Hart picking up a win with a Canadian Destroyer off the top rope and it was honestly an amazing thing to watch with a mix of strength and agility.
Bar Wrestling Present Ain't My First Rodeo Drive
RockNES Monsters v Violence Unlimited
A match of two Bar tag team favorites but Brody King and Tyler Bateman didn't even let the ring announcer announce them before jumping on the RockNES Monster's and taking the fight out to the floor. It's always a start to look at the differences between both teams and Violence Unlimited had a distinct size and strength advantage over the Monsters and a more brutal edge (shown by Bateman biting one of the Monsters) and both men slamming Yuma's head into the piano before flinging him back into the ring. However, Big Hunky Kev (BHK) came back with some offence off the top rope and really tried to swing momentum back in their favour – which was definitely going to be hard (I mean BHK used Yuma as a battery ram).
As both team's chemistry is second to none, it was the hard-hitting strikes of Bateman and King's strength which really gave them the edge for a lot of the match and poor Yuma got the brunt of it after BHK went missing. After BHK accidentally piledrove Yuma, Violence Unlimited's strength and power got the better of them to help King and Bateman pick up the win. This match was pure strength and brutality with a mix of personalities which always makes a match even better in my opinion. It's always amazing to watch these 4 guys in the ring with their mix of agility and strength and there's a reason why they're such big Bar favorites!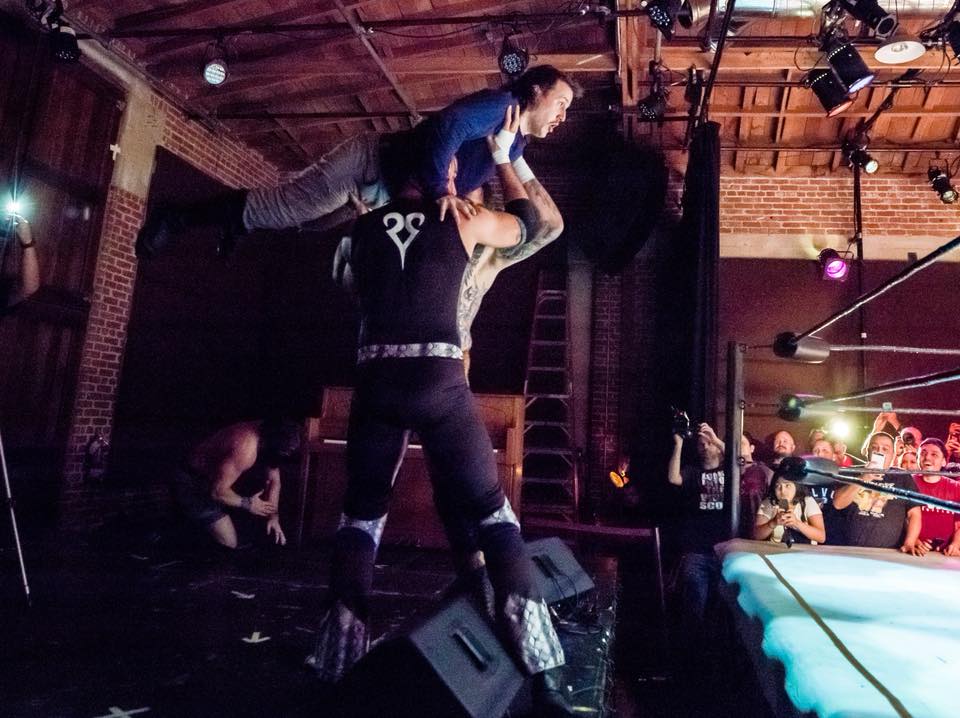 Rocky Romero v Douglas James
This match was very exciting for me to watch because I am a massive Rocky Romero fan and to see him fight in a Bar Wrestling ring was amazing. Obviously, the King or Sneaky Style jumped James at the start but that wasn't going to stop the extremely fast and agile fan favorite James who got back on track and torpedoed to the outside. Both guys are equally matched in terms of size and stature and went full force from the word go with chops and boots on the outside of the ring which led to a cover attempt by James. However, Rocky isn't a veteran for nothing. If James is fast and agile, so is Rocky. If James wants to chop, then you're going to feel those Japanese strong style chops.
Even after a beautiful hurricanrana from James, it's nothing compared to Romero's who may have the best in the business. I had to admit that James was relentless and had a counter for no matter what veteran Romero put him through whether it was a submission or running knee. A favorite part of mine had to be seeing his 'Forever Closelines' which Romero is synonymous for, but James's determination even found a counter for them. The match ended with a running, standing sliced bread to give Romero the win which ended a really great match where Romero showed why he is a veteran but James also showed that he's not to be taken lightly!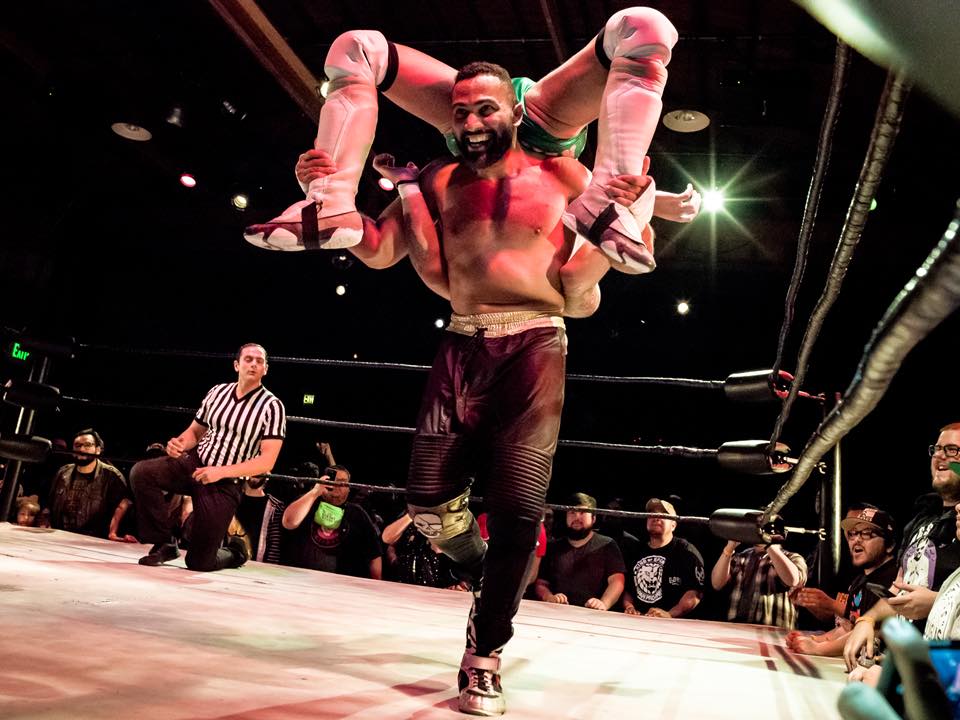 Super Panda, Luchasaurus and PJ Black v PPRay and Joey Ryan
These are two very different but exciting teams and I didn't know how it was going to work but, from the minute Joey Ryan offered his pop to someone and squirted out his baby oil, I knew there was no chance this was going to be anything short of a spectacular. The match started with Joey Ryan asking PJ Black to touch his dick which is standard, but Black refused and with a lockup, the match began. After Black kept avoiding the dick as much as he could, Ray Rosas got tagged in and we got some PPRay against the large specimen that is Luchasaurus who combines strength and agility. It was such a quick pace match with tag after tag and counter after counter, it would be easy to lose track of who was tagged in.
However, once Super Panda got tagged in, he firmly gained the advantage. It's the first time I've seen him in the ring and he showed some great strength and agility from double Hurrianrana's to throwing Luchasaurus onto his opponents. This, combined with Black and Luchasaurus, was a great team that seemed unstoppable for the majority of the match. That wasn't to say that PPRay and Joey Ryan didn't work well because the PPRay chemistry was evident and along with the iron dong Joey Ryan, they made a great team! After Luchasaurus hurt his ankle with Joey's dong and a dick flip to Super Panda, a triple superkick to Super Panda to Joey Ryan and PPRay the win in the best way possible.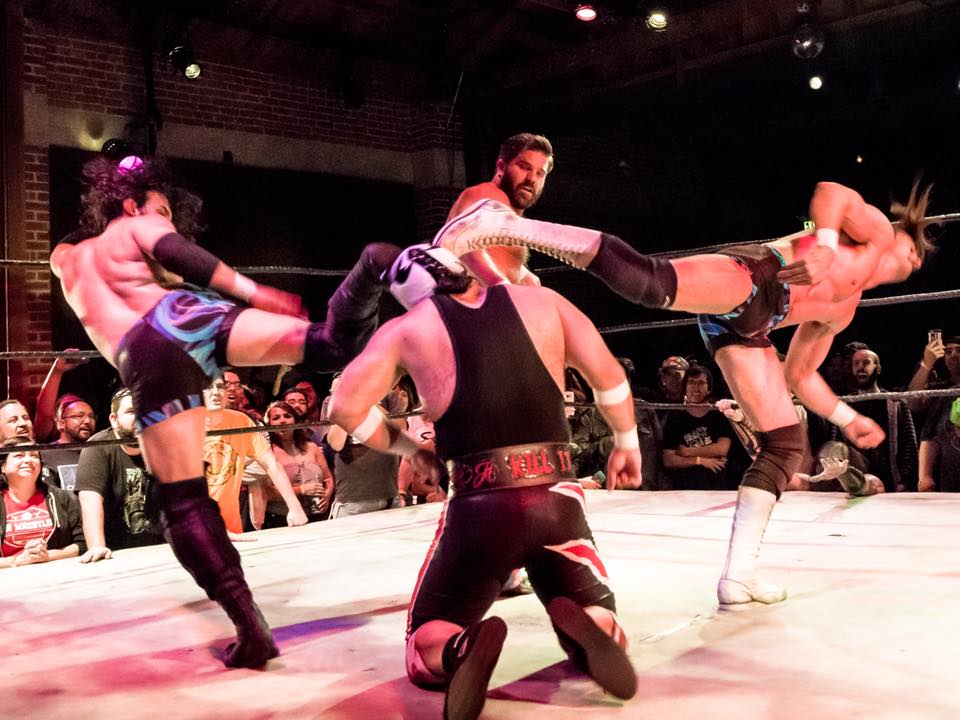 Bar Wrestling Present Ain't My First Rodeo Drive
Delilah Doom v Heather Monroe
These are two women that I consistently love watching and having them both together in a match got me a whole lot of excited because of the clash of personalities but similar high energy and high-risk wrestling style.  Doom started off with her high energy aerobic style but, after some standing switches and wrist locks, it was a great back and forth between Monroe and Doom with both women being able to counter each other's moves. You also can't forget the agility of Monroe with her gymnastic skills that transition flawlessly into moves as well as those coveted hip attacks which are so brutal, especially when done in the corner of the ring near the turnbuckle.
It sometimes seemed as if Monroe's offence only riled Doom up and she threw some moves that got me tired just watching it. It was like a full aerobics workout in the space of a few seconds which got stopped by a 'Bitch Please' spinebuster and an ode to the Rock which Doom countered with a salute to Stone Cold Steve Austin – I lost track of all the tributes towards the end of the match which included Scotty 2 Hotty, Shawn Michaels and Triple H. The whole match was really great with both women showing off their personalities with a great mix of traditional wrestling, strong style, high flying and submissions from both. But, it all ended after Doom hit Monroe with Rest in Peace which was a fitting way to end the match in my opinion.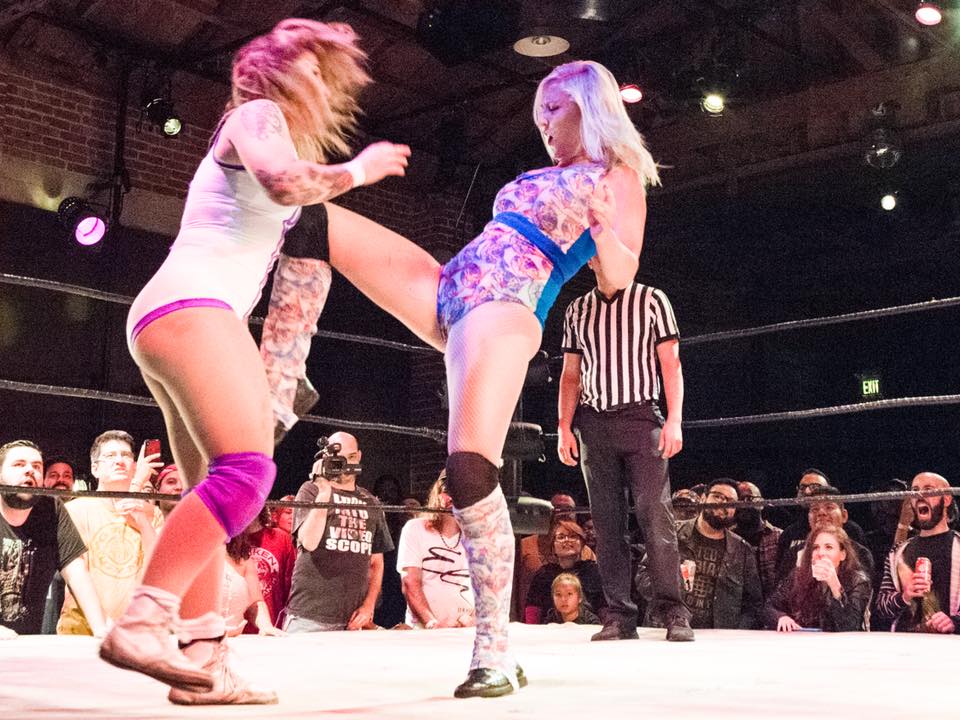 Bar Wrestling Present Ain't My First Rodeo Drive
Wakanda Vice v Eli Drake and Brian Cage
Wakanda Vice and Eli Drake/ Brian Cage are two dynamic teams in their own way but also so different. We've got the athletic Scorpio Sky with the big man Watts teaming with two strong ass men in Drake and Cage – all veterans in the business. After a great-ish song from Drake and a singing response from Sky which led to a duet (which I won't lie anymore wasn't great musically), it all ended with a big punch by Watts to Cage which got the match started.
This match had everything from a flying Scorpio Sky, crucifix bodyslam, running codebreaker and flying Frankensteiner off the top rope. That's the good thing about a match with so many guys who can do so many amazing things, you get a little bit of everything from strength to agility with some great tag team chemistry. The match was nice and short with Scorpio Sky picking up the win over Drake, but it was a good kind of short where it had everything you could've wanted from a match and left you wanting more. Also, it ended with a dance break to NSync so you what else could you want from a match? Nothing, it had everything!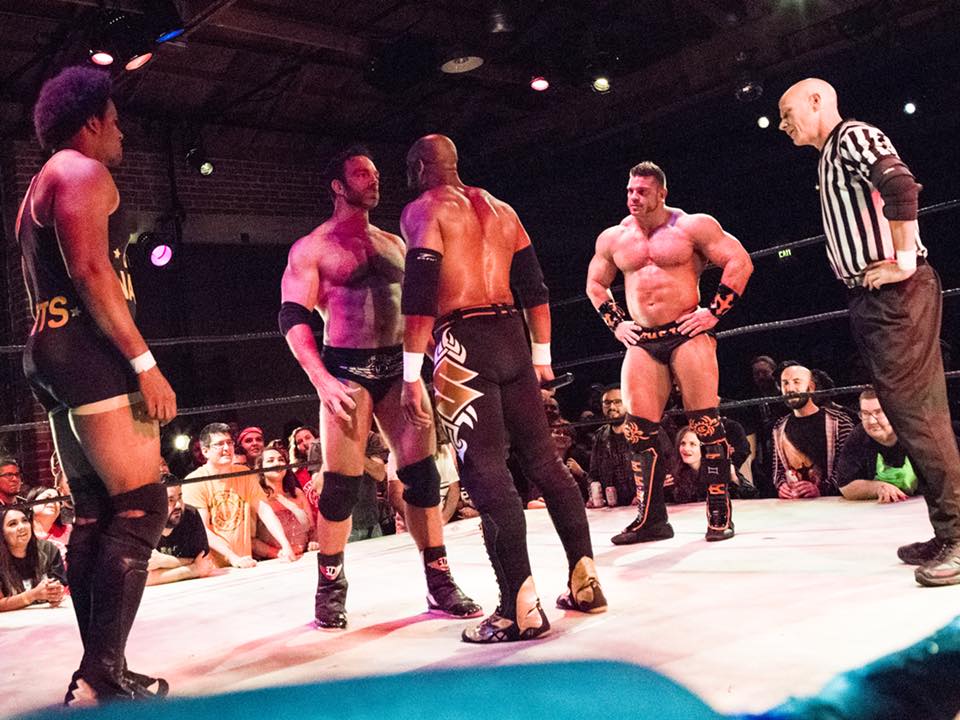 This review is another example of how amazing Bar Wrestling is and how constantly good their events are from start to end! Even though I've reviewed the show, I really recommend you go and watch this show along with all the other Bar shows on https://barwrestling.pivotshare.com/ or places like PowerSlamTV who have all the shows to watch on demand!