A bandit is often shrouded in mystery and leaves those around them wondering what just happened. For masked luchador Bandido, his eleven-year career has seen him build a name for himself in Mexico. His family's origins in wrestling date back three generations.
Both Bandido's great-grandfather (El Hungaro), which translated to 'The Hungarian', and his grandfather (Tony Areliano) competed before him. His cousin Magia Blanca also competes, and it's currently for the CMLL promotion.
Bandido's career began like any other wrestlers that is trying to find themselves. In Bandido's case, it was about identity. He initially competed using the names 'Magnifico II' and "Cielito".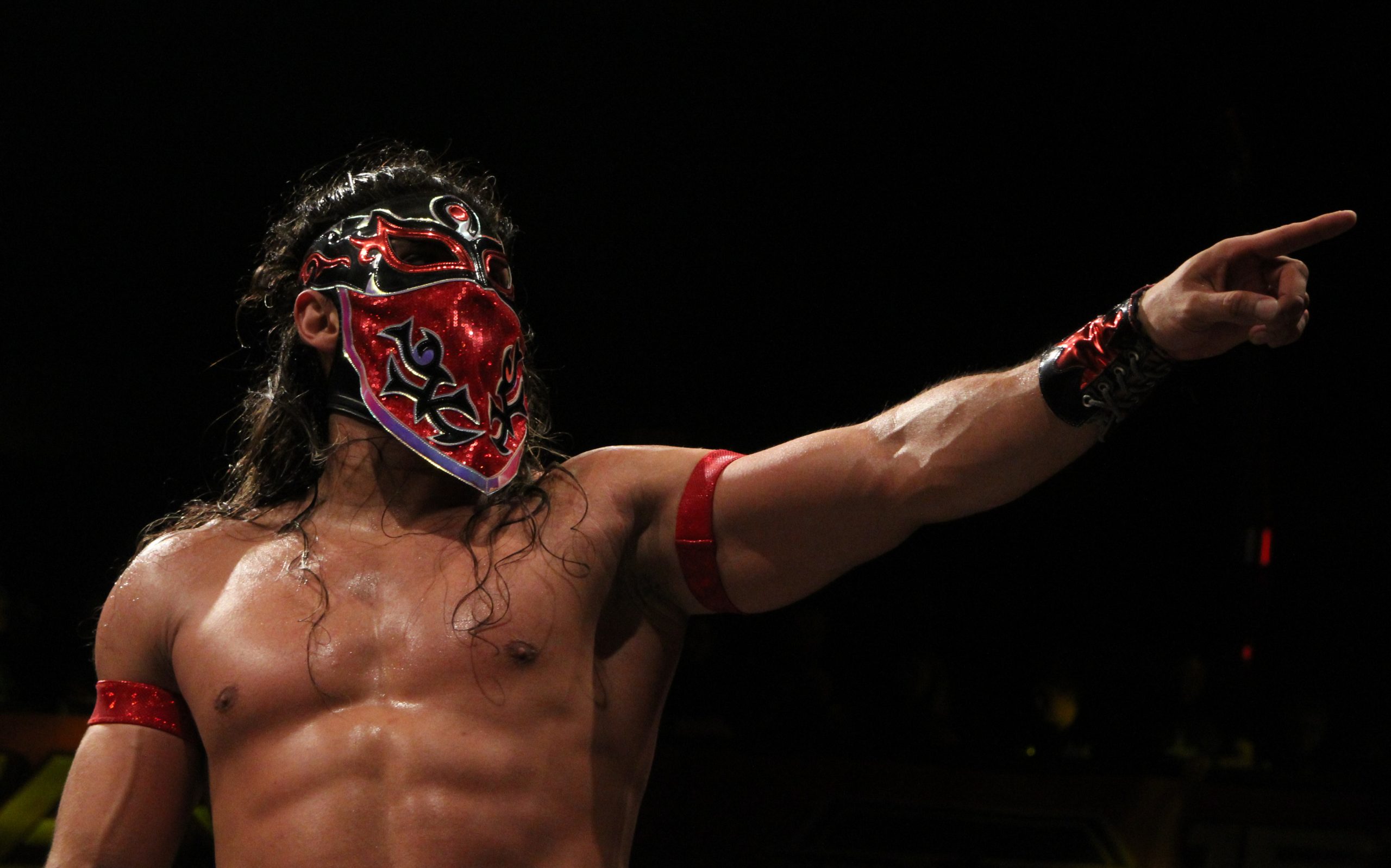 Bandido – The Rise of The Heroic Bandit
But over the last six years, 'Bandido' has emerged as a single character that wears a mask but also a bandana across the lower part of his face that would resemble a thief or bandit. It isn't unlike bandits that were synonymous with the wild west.
Upon his wrestling debut, he would be part of a tag team known as Los Magnificos with his cousin, Magia Blanca, who competed as Magnifico I. But it was also as Magnifico II where Bandido would get a taste of international competition competing in England as well.
But it was also around this time when Bandido would compete under the name 'Cielito' for El Hijo del Santo's Todo x el Todo company. The name 'Cielito' originally came from the Mexican song 'Cielito Lindo', which is documented to be written as far back as 1882 but has more recently been connected to being a Mexican theme song for soccer.
After Los Magnificos split up and, Magnifico, I decided to work under another name it was in fact at this point when Magnifico II would embrace a new look. He first began working at this time under the name El Bandido sporting much like what was mentioned earlier, a character that's look resembled that of a bandit that was a throwback to the old west.
By the late Fall of 2016, El Bandido competed for Lucha Libre Elite and became the first Lucha Libre Elite Welterweight Champion in the promotion's history. Sadly, the promotion would close its doors the following year.
El Bandito's championship success would open doors for him as his continue would move on. He would also capture the WWA World Welterweight Championship around this time as well. Bandido would find success as a tag team alongside Laredo Kid.
But by 2018, Bandido would move out from competing in Mexico and showcased his lucha skills in other promotions. That would, for the most part, be alongside Flamita as part of the MexaBlood tag team. Whether it was in Japan competing for Dragon Gate or the UK with Progress Wrestling, Bandido was getting out of his comfort zone and facing the best wrestlers in the world.
Along with Flamita, Bandido would capture the Progress Wrestling Tag Team Championship by defeating Chris Brookes and AR Fox. The championship win helped to raise Bandido and Flamita's exposure on a greater scale in North America.
Bandido is All In
Their win also opened the doors for their skills to be showcased as part of the largest single independent wrestling show in history. As part of a team with Rey Fenix and the legendary Rey Mysterio, Bandido, the trio teamed up to battle the team of The Young Bucks and Kota Ibushi.
But a time that could have simply put a halt to being showcased on a major stage was almost for not. During the event, Bandido suffered an injury. It was during that time when the encouragement of his teammate Rey Fenix pushed him through.
Ah, dreams come true, amigo, for real [Bandido said about sharing the ring with Rey Mysterio at ALL IN], and I feel like a child with him in the dressing room, and he's like a super legend and a very amazing person, you know?
I hope [to] one day be one percent like him because he's [an] amazing person, amazing wrestler, amazing everything. He helped me because that night, I broke my shoulder.
I broke my shoulder and I did the show with my shoulder broke. So, when the show [ended], he helped me a lot. He got the doctor to check me. He [supports me all the time] with Dominik [Mysterio] and for that reason, all the time and all my life, I'm gonna be grateful [for] them.
I don't know how I did [it], but I remember when I was in the corner with [Rey] Fenix, and Fenix said, 'Hey, if your shoulder is broke, you need to continue, brother. You need to do it. It's your night, let's go bro' and I said, 'Okay! Let's go! I can do this,' but I did bro, I did it. I don't know how, but I did.
– Bandido on Rey Fenix's encouragement and his own ability to push through.

Bandido's wrestling inspiration is as much a part of wrestling's changing landscape as it is its ongoing evolution. While the lone falcon of Frontier Martial Arts was a revolutionary star in Japan, it was Haybusa's influence on Bandido that has helped to shape the wrestler he wanted to be and the wrestler he has become.
He was the first Japanese luchador that I've seen in my life. Also, I remember Stuka is my first teacher in the wrestling business so he [had a] phone, I remember that, and he put the videos with Hayabusa highlights, so when I saw that, oh my God, I wanted to do it, but he was, in that moment, my inspiration and someday, I want to be like him.
With the inspiration of Hayabusa behind him and working alongside lucha legends such as Rey Mysterio Jr, Bandido would continue to parlay that further, having competed in Germany for wXw and their annual 16 Carat Gold tournament.
But it would be his time in Southern California's Pro Wrestling Guerilla as a Battle of Los Angeles winner and their PWG World Championship.
Ring of Honor is Home for Bandido
It wouldn't be until 2018 that Bandido would be a regular part of U.S based Ring of Honor promotion, where he would earn accolade after accolade. He, along with Rey Horus and longtime partner, Flamita, would capture the ROH Six-Man World Tag Team titles, win the Survival of the Fittest, and the Ring of Honor World Championship.
Bandido's skills were recognized by other promotions as well, and rather than moving on to either the WWE or AEW, he remained loyal to competing with ROH until it dissolved. He recounts the opportunity presented to him and how the advice of his mentor helped him stay true to his values and what was best for him.
"I think that one has opportunities and offers that only come once in a lifetime. Fortunately, my trainer, Ultimo Guererro, always taught me something very important, even outside of Lucha Libre, and that is that there are three ways of thinking.
First, you act with your head. Second, you act with your heart. Third, you have a great f*cking time (laughs). I have not acted irrationally because everything I have received has been blessings and facilities".
"At the same time, I haven't thought with my head either, because if that was the case, I would probably be in the biggest company in the world, I won't name names. But I've always made decisions with my heart, choosing to act based on what I feel like.
It will satisfy, congratulate me and generally make me happy and have fun. I think this was a giant step in my career, and I am very excited to sign with Ring of Honor."
At under thirty years of age, Bandido carries an in-ring persona that blends a classic movie character with all the lore tied to lucha libre today. With a future as bright as his, all that stands before him is opportunity and time.