The first leg of my inaugural USA tour is now done and dusted. If you are just joining my blog for the first time, I will quickly recap. I finished training in Canada under former WWE Superstar Lance Storm. Flew out to America but almost wasn't allowed, Worked my first show with a wrestling legend in Demolition Ax, Almost got stabbed by a fan working heel, picked up extra work, and did my first ever triple shot (Three shows in one day).
Naturally, for me details, you can view my previous blog but for now, Let's move on to the final part of my US tour, which ended up being one of the most valuable for a young wrestler. This is AWA WrestleRock.
I fly out to Milwaukee, WI to begin my run with Dale Gagner's version of the American Wrestling Association (AWA) and as promised will you hear that name a lot in the coming weeks. I was picked up at the airport by a guy named Mark Riel. Mark and I still have a friendship that's lasted to this today. Mark took real good care of me when I was in his care and I will never forget that.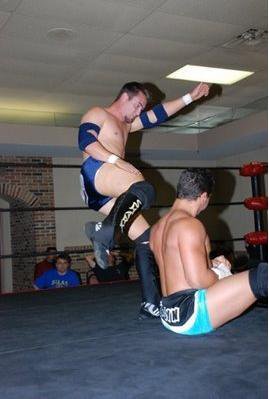 AWA WrestleRock: Milwaukee Here I come
After checking into the hotel, I set my bags down and emailed home to let them know I made it safe when suddenly my room phone rings. I figured that can't be right no one knows me, but I'll pick it up anyway.
It's the promoter Frankie DeFalco checking in to make sure I got in okay but also to let me know I've been requested to visit another room. Now I won't say who it was because I don't want good brother getting at me at one of those conventions in Raleigh. But he is an absolute legend in the business. I anxiously knock on the door and wait. What felt like an eternity later but was probably only a few seconds, the door opens. "Hey, you that Aussie Kid?" "Yes Sir" I replied.
I'm welcomed into the room and then straight up just asked: " You got any gimmicks?" Being a dipshizz greenhorn, I started to relay what my character is. Halfway through explaining I can tell by the look on his face that's not what he meant. "No kid not your gimmick haha… Gimmicks" He then makes some very obvious hand signals and I caught on quick enough. "Ohhh, no sorry sir I've never gotten into that scene." I thought at this point my time was done. But no, he was super cool and we ended up going out to Dennys to talk more about the business.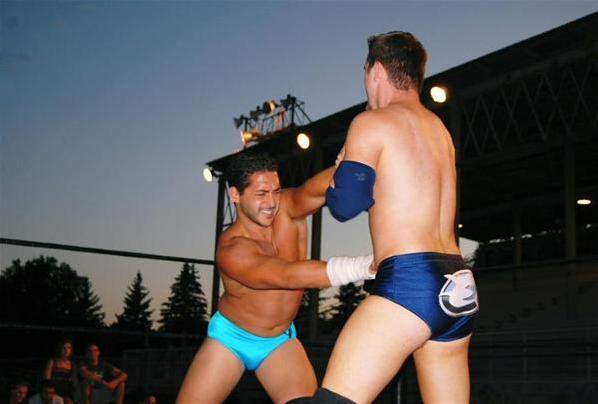 He explained to me that I will learn being in more locker rooms that gimmick literally means anything and everything.
"You come in hit me with the clothesline gimmick" "Grab the gimmick from outside" "We doing a meet and greet gimmick" Anything was! This was the moment the word gimmick took over most of my vocabulary and outsiders had no idea what I was talking about haha.
Sitting down for a couple of hours and just absorbing as much knowledge as I could be an awesome moment. Now it was time to take some of that knowledge and apply it to the ring. I made my debut for Brew City Wrestling taking on Chasyn Rance. We would work a couple of times this tour but this was our first encounter.
It was for the AWA Southern Light Heavyweight Championship. Seconds before I make my entrance Frankie hands me a broom and says use this in a promo when you're out there and talking about these two NFL teams.
Having no knowledge of NFL I referenced the wrong teams and made a joke about how Milkwaluee would get swept under the rug but the Chicago Bears. The fact that none of it made sense but the malice behind the promo actually turned out to be awesome and drew mega heat. Match went really well and we had the fans making a lot of noise.
After the show, we went to the local bar and got to know the crew a little better. The next day we were on the road for a 6-hour drive to head to Minnesota.
Early in the morning, Mark Riel picks us up again with a minibus… It was an eight-seater minibus but considering we had Keith Walker (Big Meng) in the back next to Chasyn and I didn't feel like a bus at all haha. Frankie Defalco, Larry Zbyszko, Matt Longtime were at the front and the bus ride was a typical wrestling bus ride of sharing locker room stories and ribs to help pass the time.
After checking into the hotel, it was time for business. Gagner promised this event was going to be on PPV and hyped it up so much that the added pressure to perform was with me all day. I was told that there would be all press from across the country and that we would all be speaking to our own interviewers.
I was taken to speak to one paper and assumed that everyone else would be doing the same… turns out it was just me. Then I arrive at the venue, which looks like an old motocross course. This was AWA WrestleRock.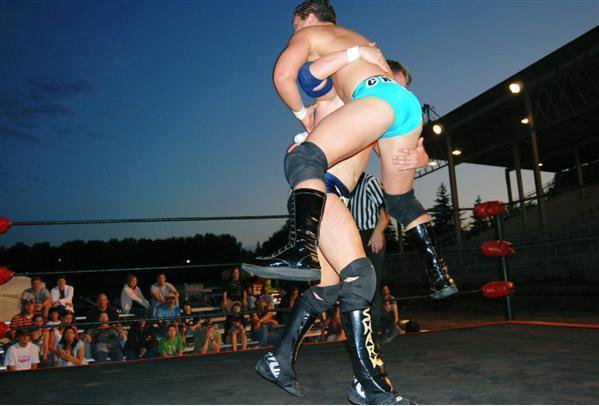 The ring was set up over some dirt and the entranceway in an odd location. Expecting the grandstand to be filled by showtime it was odd-looking out just before my match and just seeing a couple hundred around the ring. No TV cameras so I guess the PPV is off? I asked Dale (Gagner) what happened with the PPV, but his answer was as shady as he was.
AWA WrestleRock:
I had a signed contract for this show with a guarantee.
Chasyn and I had another really solid match. But after my payday was not what was on the contract. In fact, it was close to half. When I approached Dale about it he claimed that the only was only for the PPV but since that got canceled it was null and void. So while hot about the situation Gagne gave me a promoter talk to get me off his back.
Dale gives me the spiel about how he has been around so much talent in the business and watching me perform reminded him of a young Shawn Michaels. Naturally, I was blown away by the compliment, and still being green didn't know I was being worked.
Dale tells me I'm going to be the next big star in his growing company.  That he is going to put the AWA World Jr Championship on me soon. He told me Steve Corino was the World Champion and got work all in Japan because of the belt. Being a huge fan of Corino I wanted to follow in his footsteps and was told that once I'm the champion these things would begin to happen.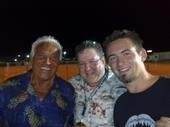 After leaving the office ( a trailer behind the entranceway) I thought it would be a good chance to take advantage of all the talent backstage and pick their brains. I sat with Nick Bockwinkel and picked his brain.
Then listened to stories from Sheik Adnan Al Kaissie about trying to bring wrestling to the middle east. Finally, I heard stories about Sadam and learned more and more from Zbyszko. So it wasn't all negative. I was learning more and more from so many greats and getting better at my craft.  A perfect way to wrap up the first US tour and this blog.
This was the story of my moment at AWA WrestleRock.
Until next time! Stay Safe