Championship gold has once again made its way around the waists of Nikki Cross and Alexa Bliss as they were crowned new WWE Womens Tag Team champions.

In the opening match of Night 1 of Wrestlemania 36 from the WWE Performance Centre in Orlando Florida, Bliss and Cross stood across the ring from the two women who took the titles from the pair in the first place: Kairi Sane and Asuka.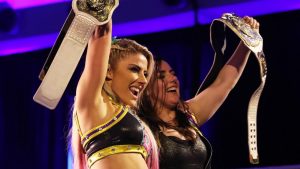 All 4 women had the unenviable task of kicking off a show that was mired in controversy and unanswered questions. Transferred from a setting of 80,000+ fans to an empty arena, no one tuning in to the most bizarre Wrestlemania in history knew exactly how any of the matches would play out.
If the uniqueness of the setting weighed on any of the competitors, it didn't show as the challengers made their way to the ring. The defending champs came out shortly after and the opening match of the 36th edition of Wrestlemania was underway.
Womens Tag Team Champions Crowned at WrestleMania 36
As has been their pattern in recent weeks, Both "The Empress of Tomorrow" Asuka and "The Pirate Princess" Kairi Sane were quick to mock the miniature stature of their opponents using elaborate pantomime and their native Japanese tongue. However, Bliss and Cross weathered the storm and proved themselves a well-oiled machine in tag team action.
In the ending moments of the battle, Cross seemed to have Asuka put away by hitting "The Purge" Swinging Fisherman's Neckbreaker. However, Kairi was able to break the pinfall attempt by hitting an Insane Elbow Drop from the top rope. 
Ultimately, Cross was able to hit another Purge on Kairi Sane. She tagged in Alexa who hit "Twisted Bliss" from the top rope. This secured the victory and the championships for her team!
This was an excellent match and set the tone for the remaining bouts of the evening. There is the old adage in wrestling that if you're not on last you hope to be on first. The reason why was proven in this opening contest. While watching this title fight, the lack of a live audience did little to diminish the excitement. It also affected the importance that a championship match should have. The pressure was on, and both Bliss and Cross along with The Kabuki Warriors delivered. 
With a new tag team at the top of the WWE Women's Division, there is a myriad of fresh matchups. They are now possible across all three brands when things return to normal.
And while it was certainly a unique set of circumstances the titles changed hands under. It does nothing to change the fact that Bliss and Cross are now the first-ever 2x Women's Tag Team Champions.