On the night of October 26th at SPWNZ Presents Halloween Haunting the prestigious SPW New Zealand Heavyweight Championship was brought back home.  Shane Sinclair in a triple threat match emerged victorious over the then-current champion SLEX and fellow SPW competitor Hooligan Marcus Kool.  SLEX known well for his work in Melbourne City Wrestling in Australia managed to capture the SPW New Zealand Heavyweight Championship with assistance from Shooter Shane Sinclair.  SLEX returned to New Zealand for Halloween Haunting where he defended the championship in a hard-fought triple threat match.  In the end, the winner and now two-time SPW New Zealand Heavyweight Champion is Shooter Shane Sinclair.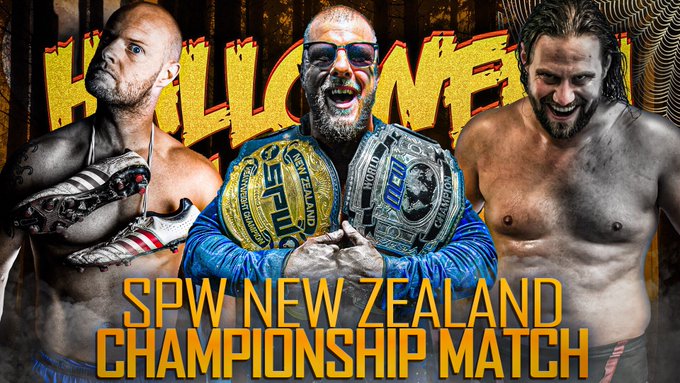 SPW New Zealand Championship Match
Shane Sinclair has had a very up and down year in 2019.  Despite this Shooter Shane Sinclair managed to align himself alongside SPWNZ GM, Professor Palmer.  The alignment did see a real change in focus and attitude from Shane Sinclair and also is what ultimately led him to be included in the triple threat match at Halloween Haunting.  If Shane Sinclair had not got himself involved in the match between SLEX and Hooligan Marcus Kool at the Southern Rumble then Professor Palmer would not have a viable reason for the inclusion of Shoot Shane Sinclair.  This is not a negative towards Shane Sinclair at all, in fact, it shows his intelligence when it comes to getting the job done.
Shane Sinclair saw an opportunity and he did what he had to do to get to the top of the mountain.  Sinclair now with this newfound focus coupled with his all-around in-ring capability makes him a force to be reckoned with.
Shane Sinclair since his first run as SPW New Zealand Champion has grown as an in-ring performer, making him one of the absolute best in New Zealand and the independent scene in general. Sinclair has six years of experience in the ring, but the way he handles himself you would think there was an entire lifetime of experience behind the Shooter.  Shane Sinclair is capable of mixing it up with anyone of any style as he adapts on the fly.  It is a good thing that the Shooter Shane Sinclair is very adaptable because there is no short supply of wrestlers who are eyeing up an opportunity to try and dethrone the Shooter Shane Sinclair of his newly won championship.
#AndNEW
It is almost a given that Hooligan Marcus Kool will be one of the first in line to want to get a one on one with the new champion.  There is a deep-seated rivalry that has been brewing between Shane Sinclair and Hooligan Marcus Kool which is far from over. Hooligan Marcus Kool can do what he wants to try and reclaim the SPW New Zealand Heavyweight Championship, but overcoming Shooter Shane Sinclair will never be an easy task. Shooter Shane Sinclair right now is at the top of his game and ready to conquer the world at the SPWNZ Heavyweight Champion. With the championship in hand, there is no argument that Shane Sinclair is a top-level performer currently holding one of the industries most prestigious championships. Congratulations to Shooter Shane Sinclair on accomplishing the Heavyweight championship win.