On Friday, December 27th Wrestling Revolver presented a case where they are going to start 2020 off with a bang! Three new champions were crowned at Nightmare After X-Mas with one competitor not even originally advertised for the event! The Open Invite Scramble Championship, Revolver Tag Team Championship, and Wrestling Revolver Championship all changed hands.
With details of the participants, of the Open Invite Scramble championship kept close to the chest one would be victorious. As the match began it was clear that Clayton Gainz had his work cut out for him. He would be challenged by Yellow Dog, JT Energy, John Skyler, Air Wolf, and Crash Jaxon. It was a brutal affair that seen one main come out the winner but a mess in the process. A noted member of the Extreme Horsemen, John Skyler captured the Open Invite Scramble Championship. As he has noted he didn't just leave Des Moines, Iowa with the title but with stitches in his head.
Stitches aren't the only thing I'm leaving Des Moines with.

?? Iowa pic.twitter.com/2o7V1L8lHI

— #BIGGrizzled (@TheJohnSkyler) December 28, 2019
When it came to the Revolver Tag Team Championships things didn't necessarily go as advertised, sadly. An injury to Zachary Wentz left on the sidelines and in a video update surprised his fiance Kimber Lee telling her that she would be his replacement in the match.  Wentz's other Rascalz teammate Trey Miguel was already working that evening. The North were in tough facing The Crew, Besties in the World, James, and Matrix as well. With Wentz being replaced how would Lee and Xavier do as a tandem?
The result while not successful new champions prevailed.
The tandem of Rich Swann and Jason Cade became the new Revolver Tag Team Champions. This win may be disappointing for Page and Alexander but for Swann and more importantly Cade it couldn't have been bigger. For those unaware Jason Cade had suffered an injury leaving him on the shelf for some time.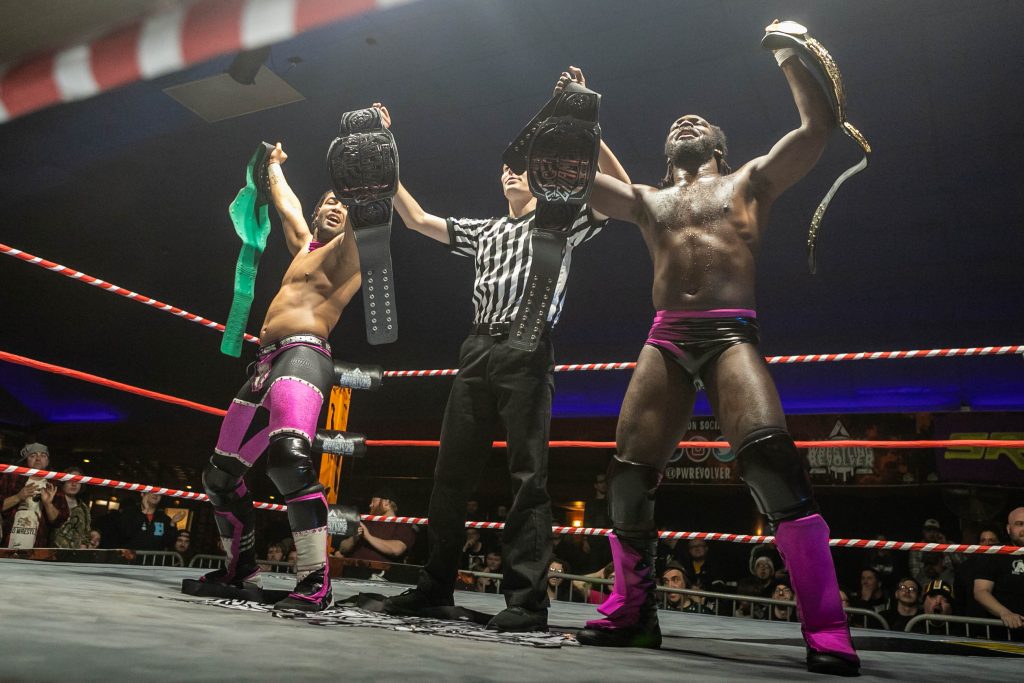 After an attack on Dave Crist, oVe needed a replacement. Much to the shock and surprise of those in attendance, it was a former Wrestling Revolver Champion that answered the call. Matthew Palmer is back in Wrestling Revolver! The former Wrestling Revolver Champion returned and shocked those in attendance at the Val Air Ballroom. The Cage of Horrors match had it all. From spills like Ace Romero being tossed through a table after standing on a separate scaffold to Palmer's shocking appearance, it was a massive matchup. Killer Kross succumb to a beatdown by all of oVe. When the dust settled there was only one standing tall as champion and he is Matthew Palmer. Once again three new champions being crowned at Nightmare After X-Mas.