It was a year full of uncertainty and full of violence, rhetoric, and several other unbelievable events. You try to stay positive about the whole situation and it seems to never give us a break. I know… I know… It's weird that I, Damien, want to have any positive outlook. This was about my time in Alta.
But, if the world is in shambles, my story can't be told. We at Impact Pro Wrestling had not had a live show since February. July 7th, 2020 was the very first time I'd be able to lay the groundwork for my story.
As it grew closer and closer to July 7th, I was eager to make sure that my purpose on this show would be meaningful and have a significant impact. I was tagging with three other wrestlers – Badger Calhoun, Max Chill, Leo Cross – and thought to myself…
"What can I do to stand out?" "What can I do to make sure these guys don't put me into the dirt?"
These guys were tough, and we were facing the Death Dealer and the "Monster of the Midwest" Malice. Talk about heavy-hitting and on that day, it lived up to the name. On my way to Alta, I had all these thoughts in my head.
How will the crowd perceive how I do my work? Why would I want to stoop to the level of such simple-minded fans? Who am I? Why do I do this?
Well, the simple answer is, that I want people to know my story. I, Damien Saint, have come to find that to tell a story, you must grab the attention of those watching and listening to you.
Sometimes that means you must play the game to get your point across. These people in small-town USA have never seen us before and probably don't have a clue what wrestling is or have watched very little.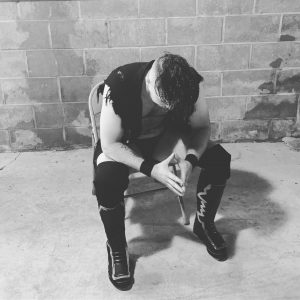 How can I draw them in? How can we play to the belief of a simple "fan" in Alta Iowa?
I went about this in a variety of ways. I didn't engage with the crowd at all. I'm a dark presence in every form of the manner.
Why would I stoop to their level when I know for a fact that I'm at a level that no one can touch me without suffering?
Fans screamed "you suck" or "go back to hell". That exactly what I needed. That heat itself gave me the motivation to want to destroy the opponent across the ring from me.
With it being my first encounter in front of a live crowd I wanted to hit someone hard in the mouth. I remember it being an elimination-style tag match.
Leo was eliminated rather quickly while Max Chill walked out on us. It essentially became a tag match. We put up the best fight we could, but, with these two huge brutes were too much.
Alta
Even though we lost, I'd say Badger and I handled taking on these two veterans as well as we could. I came in with a flying knee that I was sure would put away Malice, but it only made the monster angry.
Death Dealer decided to hit me with a vicious Spear while Malice speared Badger closing out the contest. In the grand scheme of this story, it tells you that I was ready and prepared the entire time.
We can only be in our heads so much until the bomb goes off and you do something special. Remember when I said Max Chill left us? It came back to haunt him. I typically don't hold grudges because I usually take care of my issues upfront whether I come out on top or not.
The best man usually wins and there is a line of respect and honor there. If someone beats me fair and square, I don't typically rush for a rematch. If you cross me then we have issues.
Later that night, Max Chill decided to go ahead and cut an in-ring promo. We decided as a group, we weren't going to let his chump bad mouth the locker room. Then we all headed to the ring.
I faced Max Chill and I ask, "Why did you leave us?"
He proceeded to slap my face. After one solid look to the crowd, I was on the attack. I gave him my vicious pump knee to the face and then simply got out of the ring and walked away. In my first taste of being in front of a live crowd, the end game was to prove a point.
I will take anyone out at all costs, even if it means I must die to make it come to fruition.
Now, as more promotions and shows begin to welcome fans back, the prophecy for the Dark Prince can truly begin to spread.
All in all, it was a trip to be remembered.
The COVID Pandemic played a huge part in not doing fair shows, but this gave me a taste of what is to come this July and beyond. Live crowds are imperative for entertainers. Although I may not like any of you, you're the reason I love to do this and express myself.
I don't have to thank you for being a fan of me, but I do have to thank you for giving me purpose. This was my first taste, first blood of a live crowd. Once we got in the car and left Alta and the fans and the town itself, I knew that I wanted to do this for a living. The prophecy was only beginning for The Dark Prince.