Welcome again to AEW Weekly! The exclusive location for a collection of news and an in-depth review of AEW Dynamite. Give a share, give a follow, and let us know what you think! Now, without further ado, we present AEW Weekly for 9/16/20.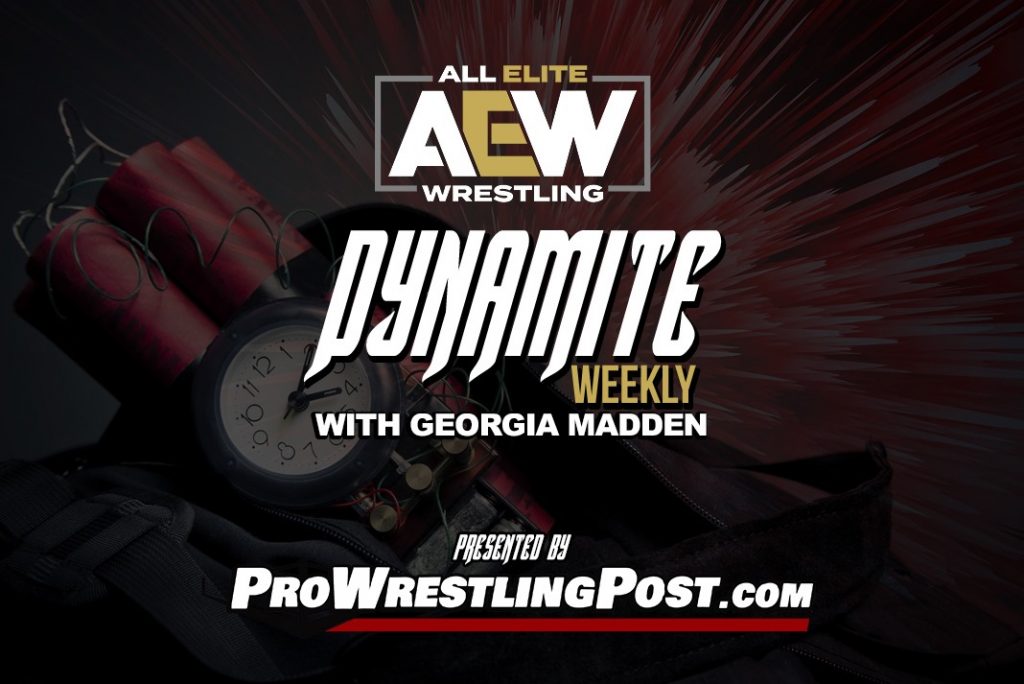 AEW released details on a television deal within India. Tony Schiavone discussed the deal on the AEW Dynamite Post-Show stating, 'India is a huge market and we have been receiving a lot of comments, tweets, and emails from fans.' Schiavone revealed that talks are underway with networks within India.
Will Hobbs signed with the promotion this week, after attacking Brian Cage and Ricky Starks on Dynamite. It was announced he would be joining Jon Moxley's team next week and the company full-time
---
AEW Dynamite Review
Dynamite has continued to feel like itself each week since some fans returned, some may say the promotion is playing with fire but at the moment all seems to be going well with the new norm that is Dynamite.
Jurassic Express vs FTR (w/ Tully Blanchard)   
The match didn't get off to a great start as the Young Bucks came to the ring, superkicked the referee, and then stormed off. This attack came after the Bucks received a fine for their conduct last week, after storming off they threw money at Tony Khan and stared daggers at FTR.
What was the meaning of this attack by the @youngbucks?!

Watch #AEWDynamite NOW on @TNTDrama. pic.twitter.com/EjeKWDyDJA

— All Elite Wrestling (@AEWrestling) September 17, 2020
Back in the ring Jungle Boy and Cash Wheeler had a battle of strengths, Jungle Boy focused on high-flying moves while Cash showed off his traditional tough guy style. After a pretty even and well-fought battle Dax and Luchasaurus tagged in. FTR focused on quick tags to hit Luchasaurus together, however, this didn't go exactly to plan as Luchasaurus quickly turned the tides and isolated Dax.
Don't mess with the dinosaur @luchasaurus #AEWDynamite pic.twitter.com/ge2t7ouCfo

— All Elite Wrestling on TNT (@AEWonTNT) September 17, 2020
FTR realized the only way to win this one would be to isolate and put all their focus on Jungle Boy. They took time hitting Jungle Boy with some brutal hard-hitting moves and several different submission moves. FTR both got some close calls on a nearly unconscious Jungle Boy, doing everything they could to anger his tag partner and stop him from leaving the ring. A huge clothesline gave Jungle Boy his chance to escape the punishment.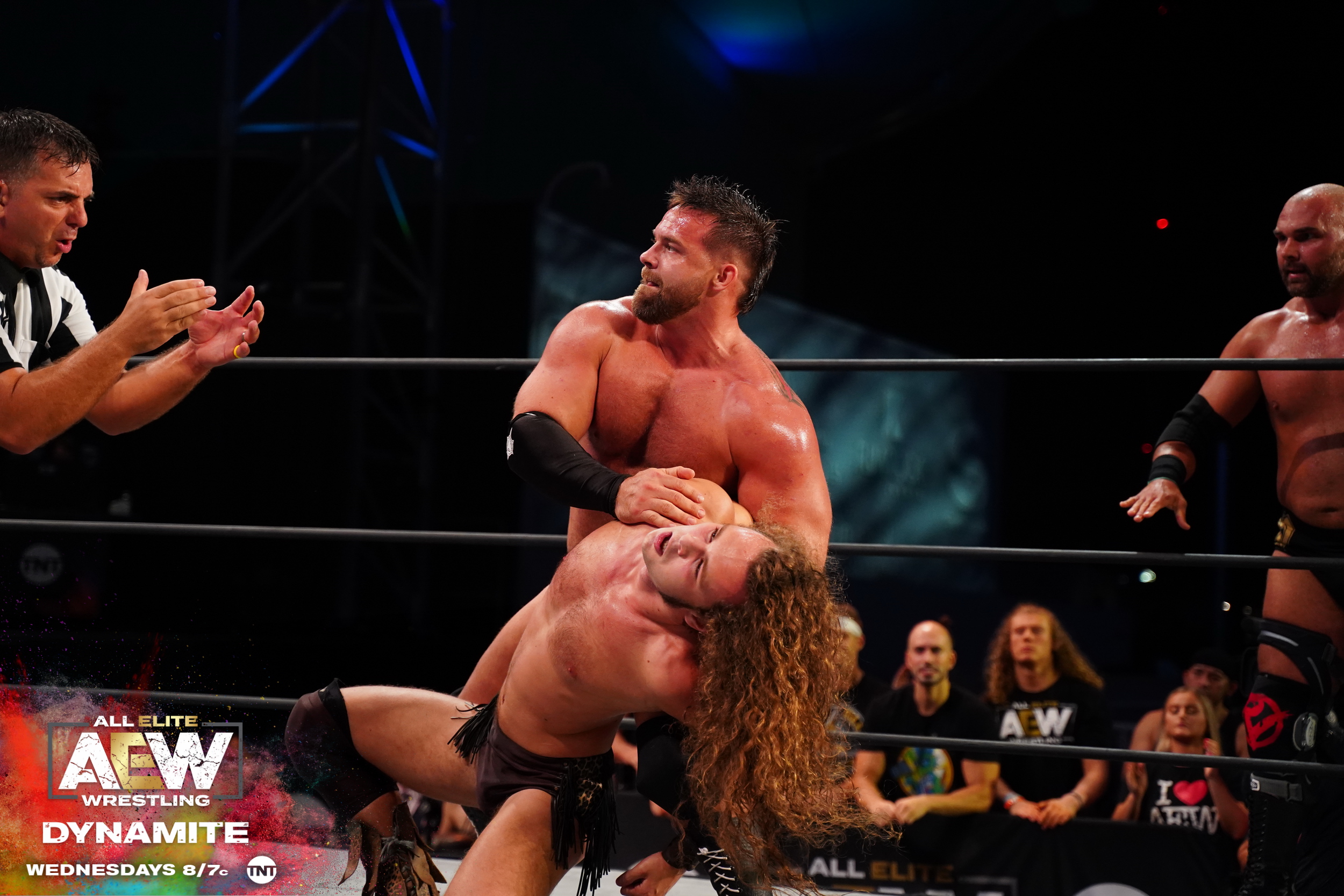 Luchasaurus returned once again to the squared circle and made quick work of dropping both FTR members. That was until Dax and Cash started playing a smarter game, attempting to work together to lift Luchasaurus. This all went to hell once again after one big boot from the dinosaur. Jungle Boy tried to end the match with a number of quick roll-ups but this was quickly shut down by a teamed FTR pin.
Winner: FTR  
AEW Weekly for 9/16/20
Hangman Adam Page Vs Frankie Kazarian 
This match probably went a bit longer than most would expect. It seemed a rather even competition, both men focused on brutal hits and chops, attempting to take advantage of any mistake that was made. Hangman seemed to be struggling until he knocked Kazarian out of the ring, though Hangman took too long and Kazarian was quick to get a few more hits in on the former AEW Tag Team Champ.
Impressive moves here from @FrankieKazarian #AEWDynamite pic.twitter.com/cdUOYI3q8h

— All Elite Wrestling on TNT (@AEWonTNT) September 17, 2020
Hangman's lack of singles wrestling in recent months definitely shined through in this match as Kazarian took complete control, every time Hangman got a shot in it was quickly reversed by the SCU member. Hangman started getting more brutal hitting his opponent with a huge shooting star press. An attempted Buckshot Lariat was blocked but Hangman attempted to hit it once more, this time it landed and Hangman won the match. This match was so much more than anyone expected it to be, it was brutal, both wrestlers wanted to cause damage and worked hard to prove their individual abilities.
Winner: Hangman Adam Page 
.@theAdamPage is a force to be reckoned with #AEWDynamite pic.twitter.com/0SfVG8ZGv4

— All Elite Wrestling on TNT (@AEWonTNT) September 17, 2020
MJF vs Shawn Dean
This week's squash match came from MJF as it took him all of 30 seconds to hit Shawn Dean with a poke in the eye and an armbar to win.
Winner: MJF
AEW Weekly for 9/16/20
Private Party vs Chris Jericho & Jake Hager 
Private Party sought to use their excellent teaming abilities against Jericho and Hager. Jericho and Hager are Inner Circle members but they don't have much experience working together as a team. Private Party hit some impressive moves on the Inner Circle team but it was quickly stopped by Hager use brute force and then Jericho working on the damage Hager caused.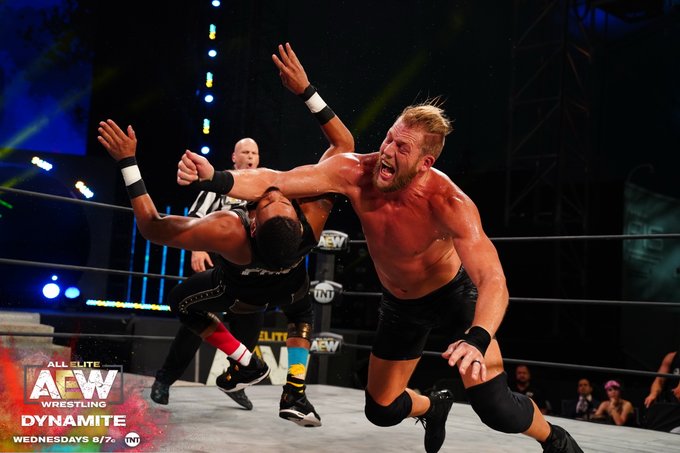 Quen showed some real fight as he attempted to knock Hager down, he started hitting him back and then eventually saw an opportunity to knock him down with a huge dropkick. Kassidy came in to face off against Jericho, it seemed to be going in Private Party's favour until Hager attacked Kassidy from ringside, stopping all momentum.
Love the athleticism from @IsiahKassidy #AEWDynamite pic.twitter.com/wh39qz0uw9

— All Elite Wrestling on TNT (@AEWonTNT) September 17, 2020
The last attack was all it took for Hager to set his sights on Kassidy, Hager used a number of submissions, headlocks and sleepers to try and get Kassidy to pass out. Kassidy was close to a tag but Hager knocked both Private Party members back down and continued his fun. Kassidy escaped the ring and Private Party used their high-flying abilities to hit Jericho with a number of team moves. One Judas Effect was all it took to destroy the high-flying Private Party.
Winner: Chris Jericho & Jake Hager 
NWA Women's World Championship
Thunder Rosa Vs Ivelisse 
Thunder Rosa returned this week to put her NWA Women's World Championship on the line, this time against Ivelisse. Rosa spent the first moments of this match learning from her mistakes, she greatly underestimates Ivelisse and it showed. After realizing her mistake Thunder Rosa was quick to fix it and took control of Ivelisse. Thunder Rosa pulled her opponent from the ring, hitting her right in front of the current AEW Women's World Champion, Shida.
.@thunderrosa22 bringing it to @RealIvelisse #AEWDynamite pic.twitter.com/BtFBFilwNd

— All Elite Wrestling on TNT (@AEWonTNT) September 17, 2020
Ivelisse seemed to have enough and started to fight back locking Thunder Rosa into a sleeper hold. The NWA Women's Champion wasn't going to lose easy though, she broke the hold and started to battle again. Death Valley Driver gave Thunder Rosa a close call but Ivelisse wasn't losing yet, Ivelisse attempted a pin but it was unsuccessful. Thunder Rosa hit her opponent with a Tombstone Piller Driver to retain her NWA title.
Winner: Thunder Rosa 
Parking Lot Brawl
Santana & Ortiz Vs Best Friends 
Santana and Ortiz had just come from a Halloween party as they still had their skeleton make-up on. Best Friends went straight to throwing their opponents into parked cars and Ortiz was placed under the bonnet while Best Friends took their turn to jump onto his body, causing a brutal amount of damage. Santana returned to the match up throwing Trent headfirst into a wooden board. Ortiz attempted to throw a sledgehammer at Chuckie T but missed, sending the sledgehammer into the car window.
Car hoods aren't meant to used that way!
Watch #AEWDynamite NOW on @TNTDrama. pic.twitter.com/WzjNrX5gBs

— All Elite Wrestling (@AEWrestling) September 17, 2020
Chuckie T suplexed Ortiz into the car roof before Santana flew into him, only a two count for the Inner Circle tag team. It's hard to explain just how brutal this match truly was but it seemed at points none of the four men would be coming out quite the same, blood poured from Santana's head while Trent seemed to have damaged his legs at points. This match was the definition of a hardcore career-ending match. Ortiz was next to start bleeding after being thrown into a door he suffered a gash to the arm.
What a powerbomb onto @trentylocks by @Santana_Proud & @Ortiz_Powerful.
Watch #AEWDynamite NOW on @TNTDrama. pic.twitter.com/Gs4yO1NRth

— All Elite Wrestling (@AEWrestling) September 17, 2020
AEW Weekly for 9/16/20
Ortiz hit Trent in the head with some steel. Chuckie T then sought revenge setting up a steel fence on a car bonnet. Ortiz got thrown through the fence, which broke in half due to the weight. Santana and Trent battled at the other side of the parking lot. Blood seemed to be flowing from three of the four men now. Ortiz used a low blow on Trent to turn the tides. Then power bombing Trent onto a car roof. The Inner Circle members stalked their prey before throwing Trent straight through a car window.
A WILD CASSIDY APPEARED!
Watch #AEWDynamite NOW on @TNTDrama. pic.twitter.com/9dFcR21pbr

— All Elite Wrestling (@AEWrestling) September 17, 2020
Santana and Ortiz soon took control. They soon found the metal pipe they wanted to end Trent's career with. Of course, at this moment Orange Cassidy flew from a car boot. Hitting Santana with a huge Orange punch. Trent and Chuckie T each drove the Inner Circle members headfirst through car bonnets and sheets of wood. Dynamite ended with the happy reunion of Sue and her brand new white people carrier.