It is safe to say this week surely will be one not to miss. AEW Rampage for 9/25/21 will be two hours this week, thanks to it being the Grandslam edition. There will be a stacked card with tons of action. Quite a few tag team matches on the card, a trios tag match, an 8 man tag match, a Lights Out match, as well as CM Punk's Rampage in-ring debut. We will also see a match from the women's division.
__________________
One thing is for sure by adding Rampage to the TV lineup; All Elite Wrestling has definitely created a place where they can showcase more of their ever-growing roster. They definitely did fill the night with some great matches, and it will surely continue some feuds that we have seen brewing up for a couple of weeks now. This is definitely a loaded card for Rampage this week. Let's review what this week has in store for us: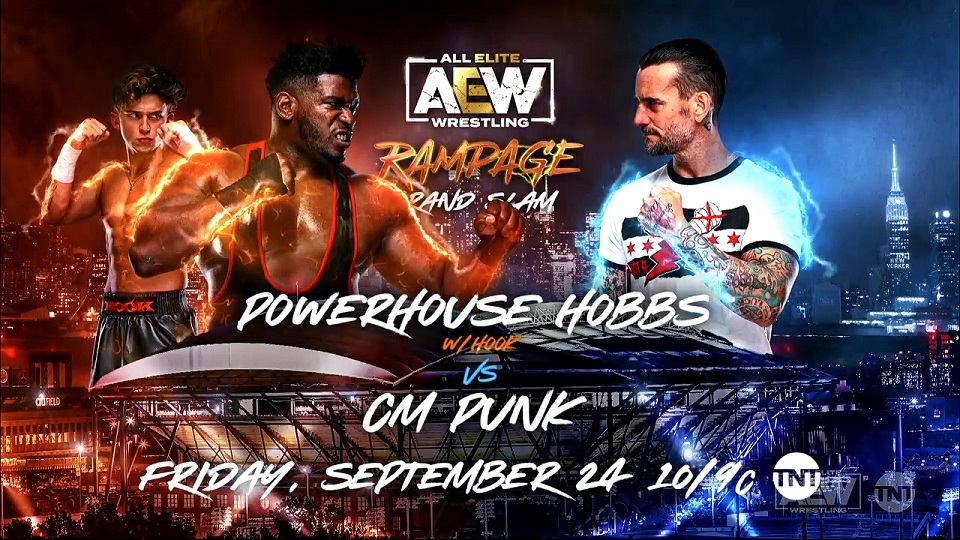 AEW Rampage for 9/25/21
CM Punk vs. Powerhouse Hobbs
In recent weeks we have seen some issues begin to unfold between Team Taz and CM Punk. This week we will see CM Punk take action against Powerhouse Hobbs for assaulting him. This will be Punk's first in-ring appearance on Rampage; in prior weeks, we have seen his return to wrestling and him address the audience; now, we will see him in action. Powerhouse Hobbs will, of course, have Hook in his corner and will undoubtedly be looking to bring the fight to Punk, as we have seen in the past couple of weeks.
We have already seen Punk emerge victorious in his return match, will he do it again and show Powerhouse Hobbs and the rest of Team Taz he is not the one to mess with? Will we see Hobbs win and possibly have some interference from his Team Taz buddies? One thing is for sure it will be a good fight; we have a seasoned veteran going against a young, up-and-comer, we know Hobbs wants to make a name for himself, and this could be the opportunity he needs.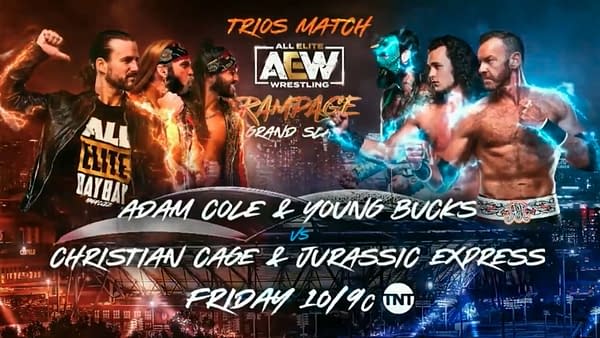 Adam Cole & The Young Bucks vs. Christian Cage & Jurassic Express
This week on Rampage, we will also see a Trios Tag Match between The Elite (recently debuting Adam Cole and his buddies The Young Bucks) going against current Impact World Champion Christian Cage and his friends Jurassic Express. We have seen a few clashes between these two groups recently, and more than likely, this won't be the end. Adam Cole recently showed up in AEW and right away made a statement by joining his friends in The Elite and stirring up some trouble with Cage.
We have seen Jurassic Express come to the aid of Cage and vice versa. There is definitely a lot of talent in this match, we have one of the longest-reigning tag teams in the company, one of the highest-ranking tag teams in the company, and the current reigning Impact World Champion, and Cole in his own right surely has his share of accolades. This will be interesting to watch as it truly could go either way.
AEW Rampage for 9/25/21
Chris Jericho & Jake Hager vs. "All Ego" Ethan Page & Scorpio Sky (Men of The Year)
Next up, we have Chris Jericho and Jake Hager taking on "All Ego" Ethan Page and Scorpio Sky. This is another group we have seen some tension between. We have seen Ethan Page and Scorpio Sky causing a ruckus in AEW in recent weeks, which is partly what led to this match. Both Page and Sky have a good amount of tag team experience under their belts. Since the beginning, Jericho and Hager have been aligned as part of The Inner Circle, so they also have their fair share of chemistry.
We have seen Page and Sky teaming together for quite a bit over the last few months, and now they have Dan Lambert as their manager. Will their chemistry together allow them to have an advantage over Jericho and Hager? They have been in The Inner Circle together for quite some time, but we haven't seen them in a whole lot of tag team action together. It will definitely be interesting to see the outcome of this match.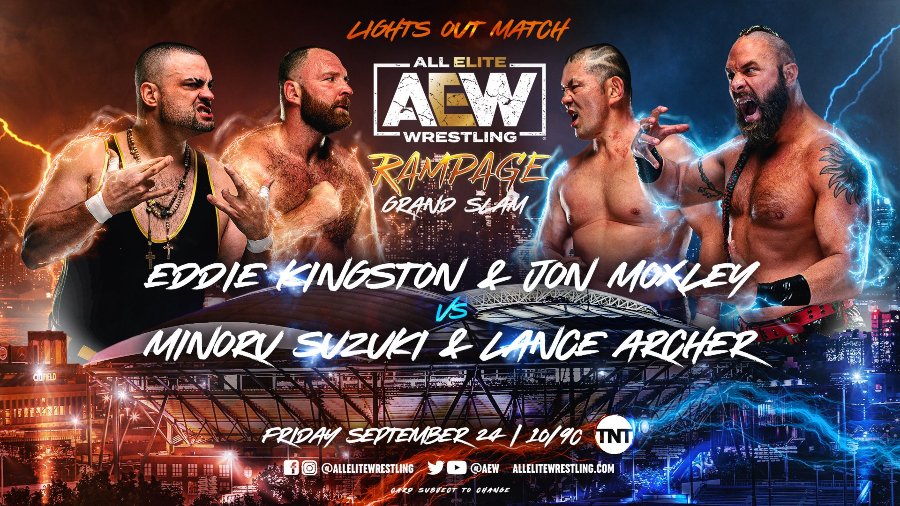 AEW Rampage for 9/25/21
Minoru Suzuki & Lance Archer vs. Jon Moxley & Eddie Kingston –
Lights-Out Match
We will have some cross-over action for this match, thanks to the Forbidden Door that's been opened. Minoru Suzuki from New Japan Wrestling will be teaming with Lance Archer to take on the team of Jon Moxley. We have seen Moxley and Kingston form quite the team over the last few months. There is quite a bit of experience stacked up in this match, as these guys are all veterans that have been in the sport for quite a while.
And this will be the first Lights Out Match on Rampage, so that will be a treat to see. We don't often see Lance Archer in tag action; usually, he is a solo competitor, so it will be interesting to see how he and Suzuki pair up. As mentioned previously, Moxley & Kingston have teamed up before, will that give them the upper hand in this match, or will Suzuki and Archer take the victory?
AEW Rampage for 9/25/21
Lucha Bros & Santana & Ortiz vs. The Hardy Family Office (Private Party & The Butcher & The Blade)
The Hardy Family Office has been giving the Lucha Bros nothing but trouble recently. Last week, we saw them successfully defend their tag team titles against The Hardy Family Office members, The Butcher & The Blade. After that match, we saw Lucha Bros get attacked by the Hardy Family Office, and we saw Santana and Ortiz come to their aid. This week we will see all eight guys square off in the ring. All of these teams have some pretty strong records and impressive streaks. It will be interesting to watch this spill out in the ring officially as to outside or after matches.
The Lucha Bros alone have had a pretty impressive run recently capturing the AEW World Tag Team Titles, will they continue this momentum now with Santana and Ortiz by their side? Private Party has been another team that has definitely been doing very well, will we finally see the Hardy Family Office pull one over on the Lucha Bros?
Penelope Ford vs. Anna Jay 
This match has been the culmination of quite an ongoing feud. We have seen The Bunny backed up by Penelope Ford, feuding with Tay Conti and Anna Jay. So it was only a matter of time before Penelope officially got wrapped into the drama in the form of a match. After weeks of seeing her attack and assault either Tay or Anna, we will finally see her in action against Anna Jay. Currently, Penelope has a great track record with a large number of victories this year.
We haven't seen Anna Jay in action too much this year as she was out for a while, but will she have what it takes to pull off a victory over Penelope Ford. One thing is more than likely, Penelope will probably have The Bunny by her side, and Anna will most likely have Tay by her side to hopefully keep things even. It should be interesting to see how this feud pans out.
What to expect?
Will we see CM Punk emerge victorious in his second match here in AEW?

How will The Hardy Family Office continue to cause havoc among the AEW roster?

Will this week put an end to the Tay Conti / Anna Jay & Bunny / Penelope Ford feud?
Tune in this week to Rampage: Grandslam
*****
Stay tuned to the Pro Wrestling Post for this and additional stories from the wrestling world. Readers can rely on Pro Wrestling Post to be their daily source for all things inside the squared circle. As a result, readers can expect daily news, history, and so much more. Please visit All Elite Wrestling's official website here for news and information on the promotion and upcoming events.