It's that time of the week again where we get ready for the AEW Rampage for 10/29/21 preview on TNT this Friday night. Each week during this one-hour program, we get some great action for a shorter program. Let's take a look at what we have in store for this week. We will see Bryan Danielson take on Eddie Kingston in one on one action. This week there will also be some tag team action as we see The Sydal Brothers Matt and Mike take on Lio Rush and Dante Martin. We have seen this Match in the making.
For the main event, we will see the AEW Women's World Champion Dr. Britt Baker, DMD, with Rebel and Jamie Hayter by her side take on the living dead girl, Abadon, in a Trick Or Treat Match! Definitely an exciting and fitting main event, with Halloween right around the corner. Let's get to the matches for AEW Rampage for 10/29/21.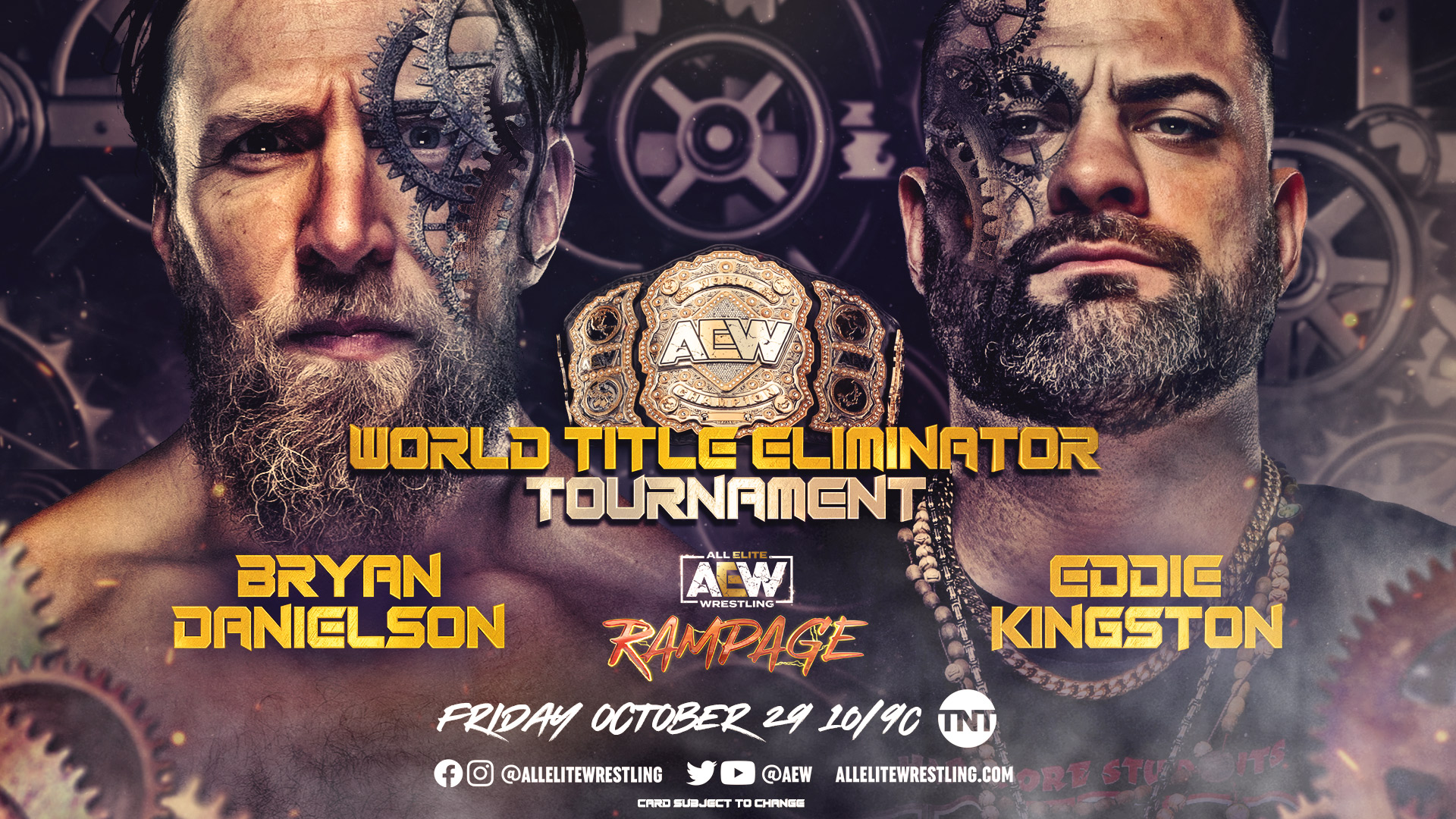 AEW Rampage for 10/29/21
Bryan Danielson vs. Eddie Kingston
This week on Rampage, we will see Bryan Danielson take on Eddie Kingston. So far in AEW, Danielson is doing quite well since his AEW debut, as his record currently stands at 3-1. Kingston also has a pretty impressive streak at this time as he is currently 9-3 in singles contests. Both of the men have been in the business quite a while and are powerhouses in their own rights. We know Kingston goes into his matches looking to brutalize his opponents usually and we know Danielson definitely is known for making his opponents submit.
Either one of these men could take the victory in this contest; it is not easy to predict which way this will go. We have mainly seen Kingston in a lot of tag team matches this past year, but he still knows how to hold his own in singles contests, he definitely has what it takes to defeat Danielson, but will he be able to pull off the win this week?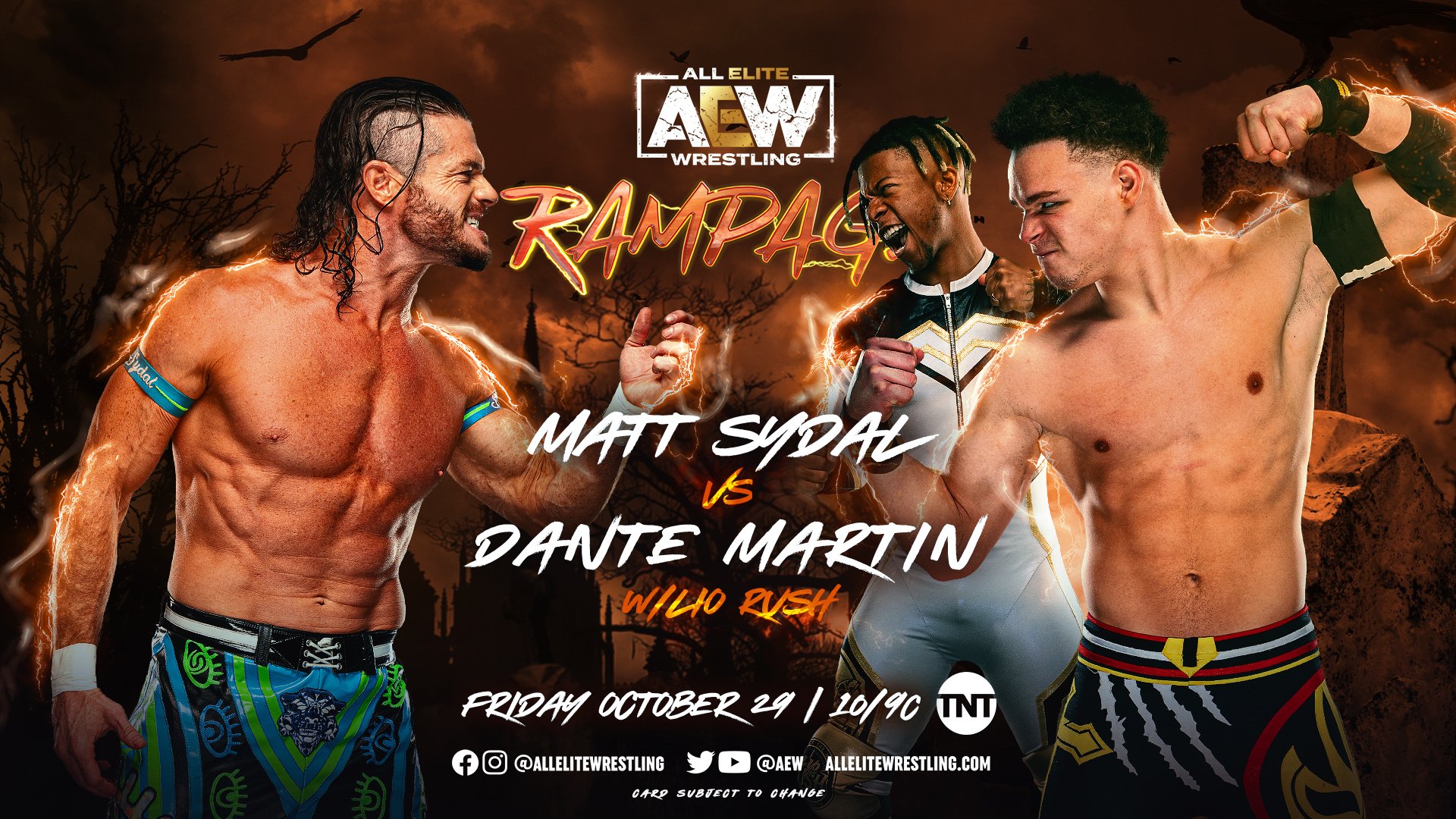 AEW Rampage for 10/29/21
 Dante Martin vs. Matt Sydal
We have seen some tension in past weeks between Dante Martin and Lio Rush with Matt Sydal. This Match comes as no surprise this week, originally supposed to be a tag match between Lio Rush, Dante Martin, and the Sydal Brothers; Mike is injured, so it will now be Martin vs. Matt Sydal. Dante Martin, while still young, has shown that he possesses impressive in-ring abilities. Matt Sydal has been around quite a while and has a lot of experience.
Will Sydal's experience allow him to pick up the victory over Martin? Sydal and Martin both are very quick and high fliers could that work to their advantage. Martin certainly has had some impressive singles matches this year as well as some tag matches while his brother has been out of action and has undoubtedly created a name for himself. It will be interesting to see how this feud pans out between Martin, Rush, and Sydal. Who will come out on top?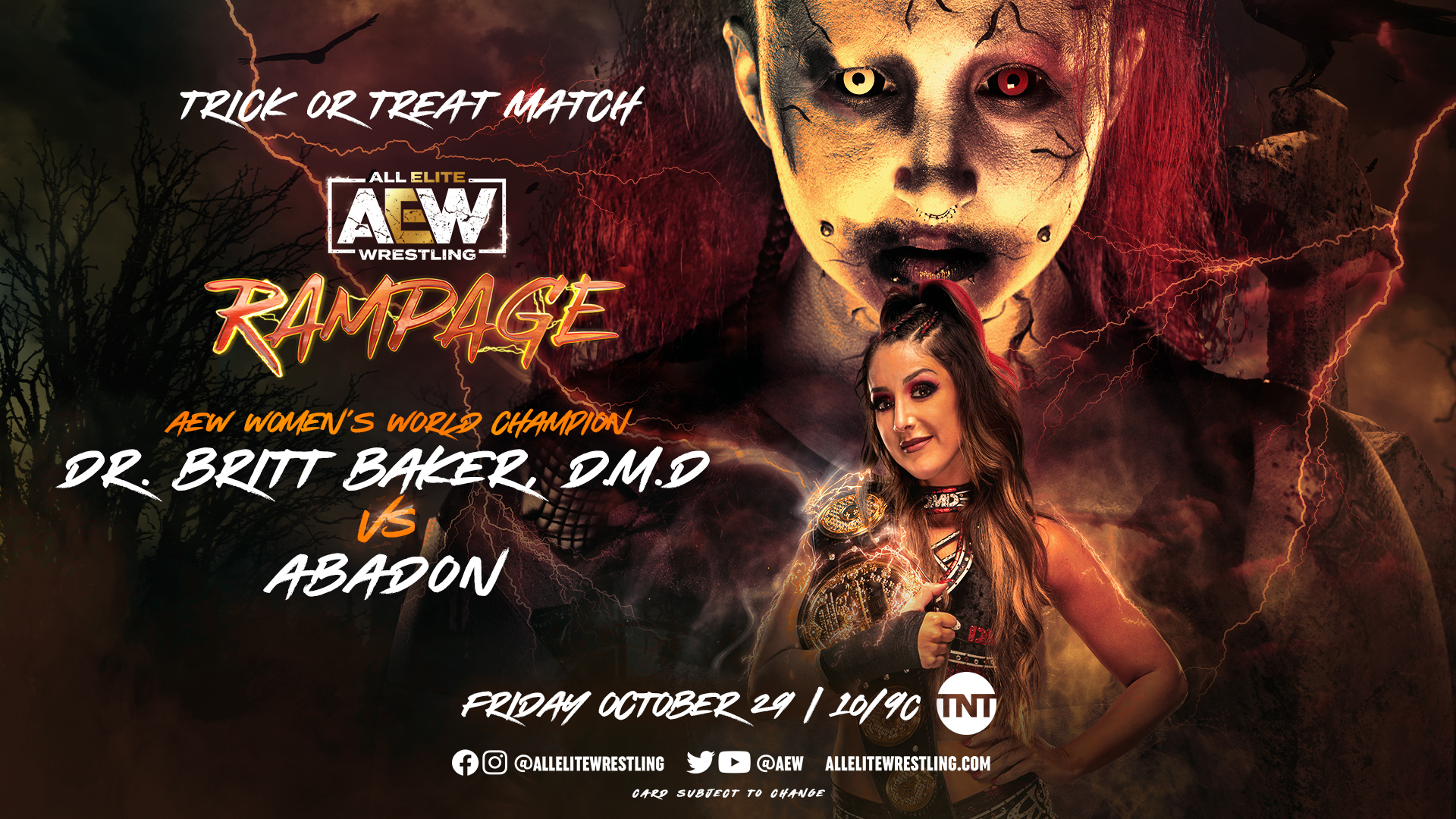 AEW Rampage for 10/29/21
Dr. Britt Baker, DMD w/ Rebel & Jamie Hayter vs. Abandon
The main event this week is AEW Women's World Champion Dr. Britt Baker vs. Abadon. It was announced that this Match would be a Trick or Treat Match; basically, anything goes. Britt has definitely been a fighting champion, and we have not really seen any title opportunities for Abadon, so this should be a good match.
If Abadon were to pull off a victory, that would make her a contender for Britt's title. We already know that Britt's two sidekicks Rebel and Jamie will be accompanying her to the ring, though. Does Abadon even stand a chance? It almost always turns into a three-on-one affair these days when the Doctor has a match. Abandon is a fierce competitor, though; she is definitely tough and quite aggressive. If Britt were to get her in a submission, though, would she be able to withstand it and come out the victor? Who knows what tricks or treats will be pulled out during this Match.
What to expect?
Who will we see win, Kingston or Danielson?
Will Dante Martin rise to the occasion, or will Matt Sydal teach him a lesson?
Will we see a new contender for the AEW Women's World Title in Abadon this week?
*****
Stay tuned to Pro Wrestling Post for this and additional stories from the wrestling world. Readers can rely on Pro Wrestling Post to be their daily source for all things inside the squared circle. As a result, readers can expect daily news, history, and so much more. Please visit All Elite Wrestling's official website here for news and information on the promotion and upcoming events.