In getting ready for this week's edition of AEW Rampage for 10/1/21 we are back to the normal 1 hour block and three-match card. Let's preview what we have in store for this week. We have a Hair vs. Hair Match between Orange Cassidy and Jack Evans, this one should be interesting haha! In other action we do have a match from the Women's Division featuring three top female talents in AEW. We will see Nyla Rose, Thunder Rosa, and Jade Cargill all squaring off in an Anything Goes Match.
________________________
In what will probably be the Main Event of the card we will see Nick Jackson taking on Bryan Danielson this week, we have seen this tension brewing up. Needless to say this should be a pretty awesome week for Rampage with the gimmick match of hair vs. hair and an anything goes match. Let's get a little more in depth with these matches: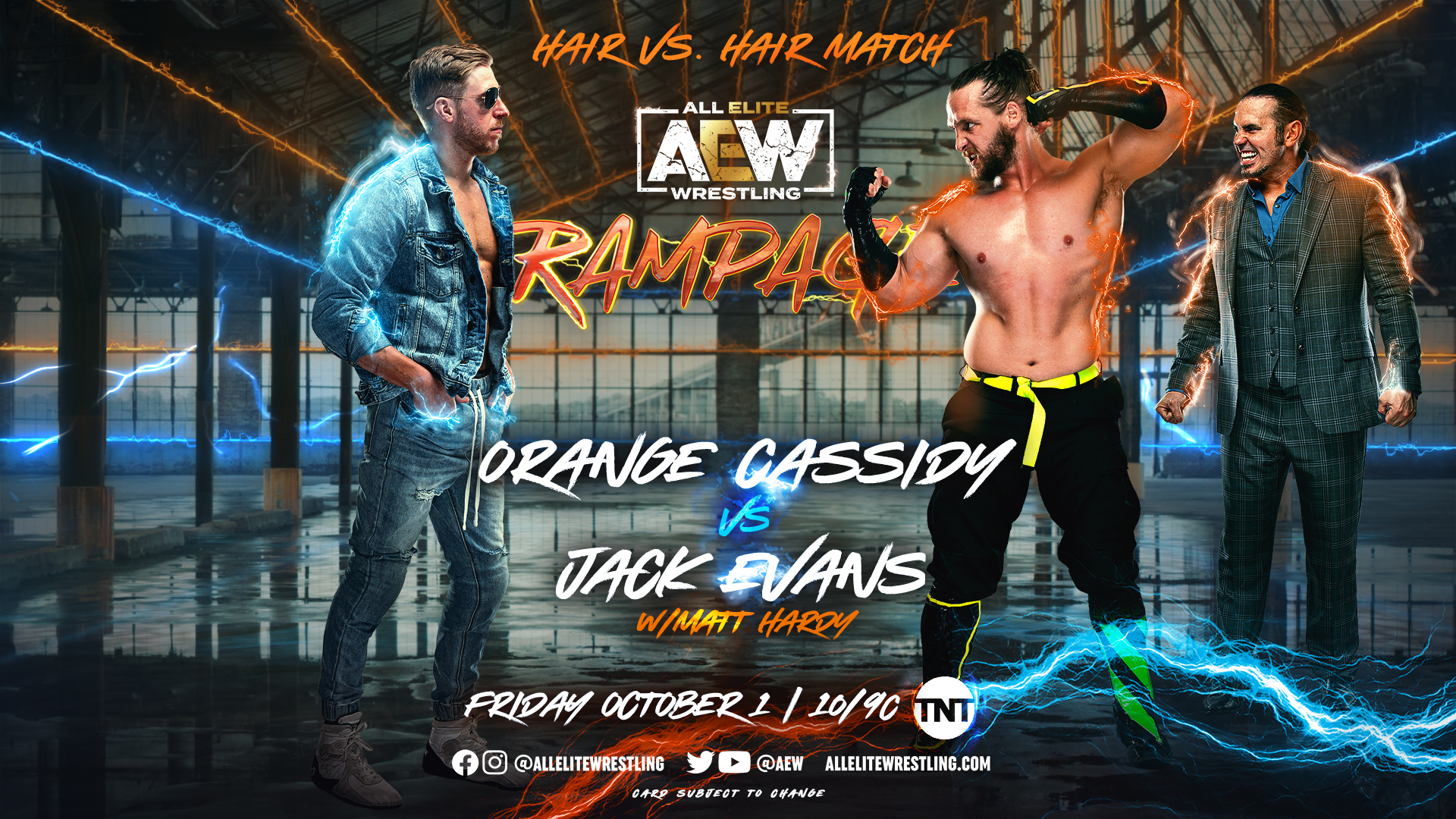 AEW Rampage for 10/1/21
Hair vs. Hair Match –
Orange Cassidy vs. Jack Evans
For quite a few weeks we have seen Orange Cassidy and friends in quite a heated rivalry with the members of the Hardy Family Office – so this match should come as no surprise. The stipulation or gimmick behind it just makes it all the more interesting. Usually in a hair vs. hair match the loser gets their head shaved, who is the unlucky victim going to be. If we were to go solely off records one would say the odds are in favor of "Freshly Squeezed" Orange Cassidy as he has a very strong winning streak and overall record this year.
This does not bode well for Jack Evans. This doesn't necessarily mean that the win is in the bag for Cassidy though as we have seen in past weeks members of the Hardy Family Office get involved; if that were to happen we could see Jack Evans emerge victorious. Who is going to be losing their locks after this bout?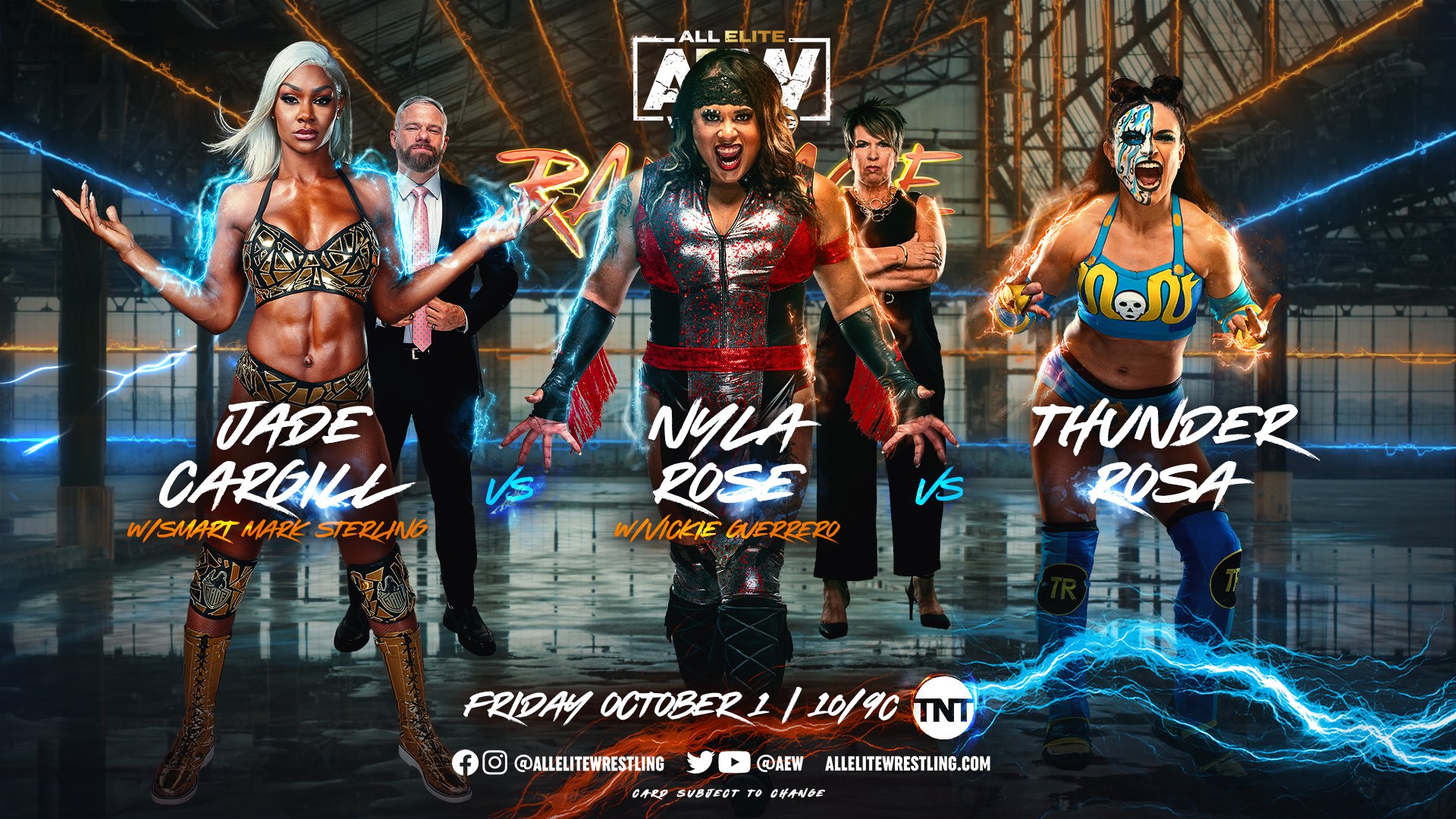 AEW Rampage for 10/1/21
Anything Goes Match –
Nyla Rose vs. Thunder Rosa vs. Jade Cargill
This match is stacked with some tough ladies, no doubt about that. All three of these woman have impressive records currently Thunder Rosa is currently 29-2, Jade Cargill is undefeated with 14-0 and Nyla Rose has a 21-4 record. They have all proven they can hold their own in the ring. Thunder Rosa has definitely shown up time and time again and made a name for herself in the AEW Woman's division. Over time we have seen Nyla take many competitors out with her Beast Bomb will she utilize that against Cargill and Thunder Rosa?
We have also seen Nyla Rosa hold the AEW Woman's Championship a feat that neither of her competitors have accomplished so far; however Thunder Rosa is in her own right a former NWA Women's Champion. Jade Cargill has come into AEW showing that he is a force though, she is not intimidated by any of the women on the roster so far. It should be interesting to see the way these women do battle with no rules, who will emerge victorious?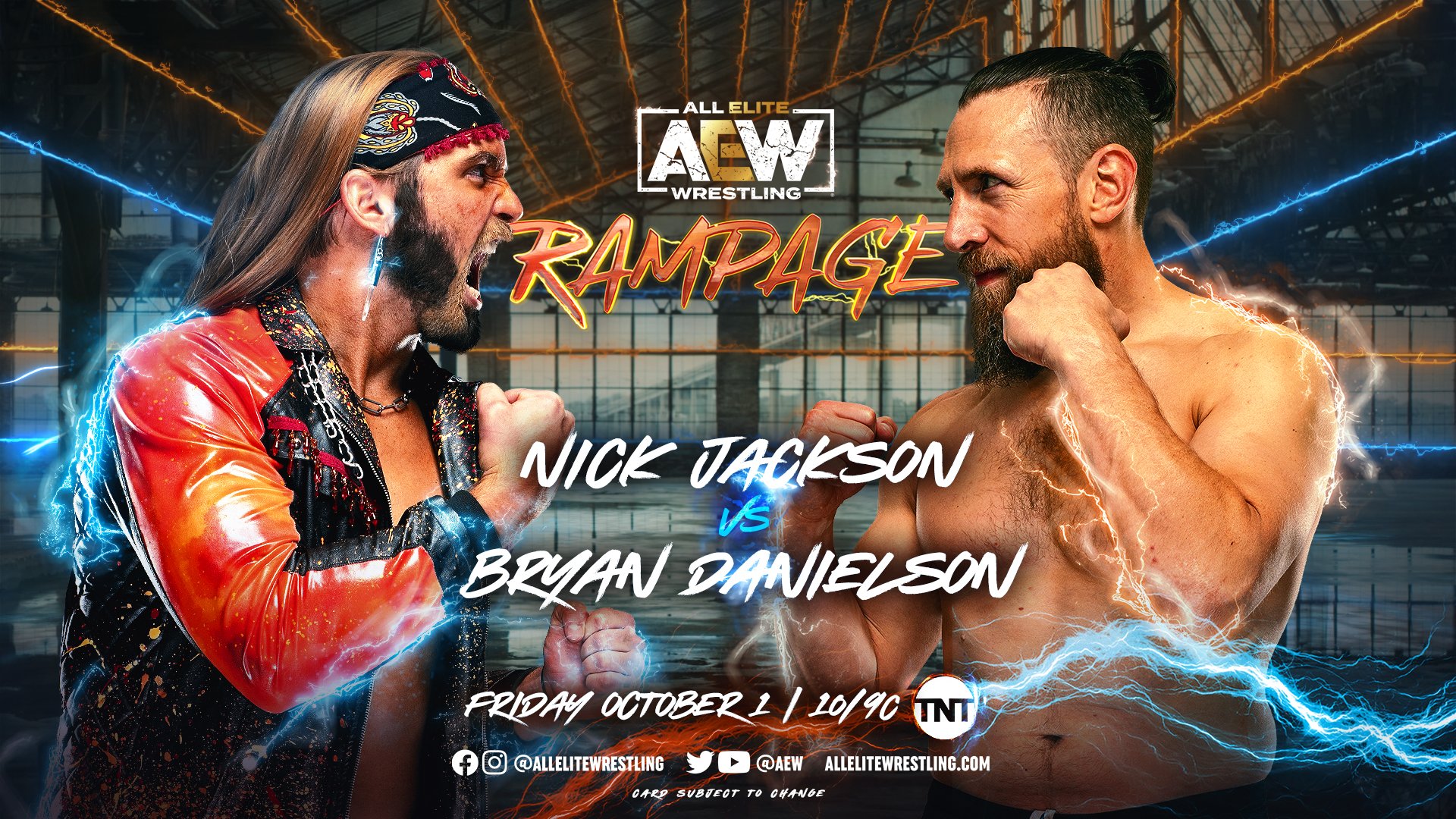 Nick Jackson vs. Bryan Danielson
This match has been the culmination of The Elite feuding with Christian Cage, Jurassic Express and Danielson. We have seen Danielson come to the aid of his friends on a couple occasions where The Elite were bullying or attacking them after or during matches. Both men are very seasoned wrestlers and are capable of pulling off the win. Jackson has been in AEW since the beginning and has created quite a name for himself. Danielson is new to AEW but not new to the business and has certainly shown up in AEW to make an impression.
So far in his only match, he did not score a win. Will this match include the usual interferences of other members of the Elite giving Jackson the upper hand. One thing is for certain Danielson will take on Jackson and the Elite and give it his all.
What to expect?
Will we see a bald Orange Cassidy after this week?

Will the winner of the Women's triple threat match put herself as the next contender for the AEW Women's Championship?

Is this the week Bryan Danielson is ale to pick up his first AEW win this week?
*****
Stay tuned to the Pro Wrestling Post for this and additional stories from the wrestling world. Readers can rely on Pro Wrestling Post to be their daily source for all things inside the squared circle. As a result, readers can expect daily news, history, and so much more. Please visit All Elite Wrestling's official website here for news and information on the promotion and upcoming events.