AEW Grand Slam 2021 happens tonight in Queens, NY! It is time for the biggest AEW Dynamite in history. In front of the biggest crowd in AEW history at Arthur Ashe Stadium, All Elite Wrestling is putting on a pay-per-view caliber card on Wednesday and Friday night this week.
This week's Dynamite has some true dream matches. We will see Sting in rare in-ring action, the Black/Rhodes rematch, an AEW Women's Championship match, and a dream match between Omega-Danielson. AEW has the chance to have a truly special show on Wednesday night. Can it possibly live up to the hype? Let us find out more about this special night in Queens in the latest edition of AEW Ignite. 
MJF vs. Brian Pillman Jr.
This feud has gotten personal really, really fast. MJF was in Pillman's hometown of Cincinnati and said some truly vile things to Pillman's family and about his late, great father. Some fans think MJF crossed a line that night, but MJF has never met a line he isn't willing to cross. Or a person he isn't willing to insult, for that matter. 
This is the biggest match of Brian Pillman Jr.'s career. Pillman has cut some truly heartfelt promos as he defended his family honor against MJF. He will certainly put it all online in front of such a huge crowd. He has nothing to lose at Grand Slam. The wildcard in the match may just be Wardlow. Will he stay loyal to MJF despite the insults? That could be the deciding factor in this personal feud on Wednesday night.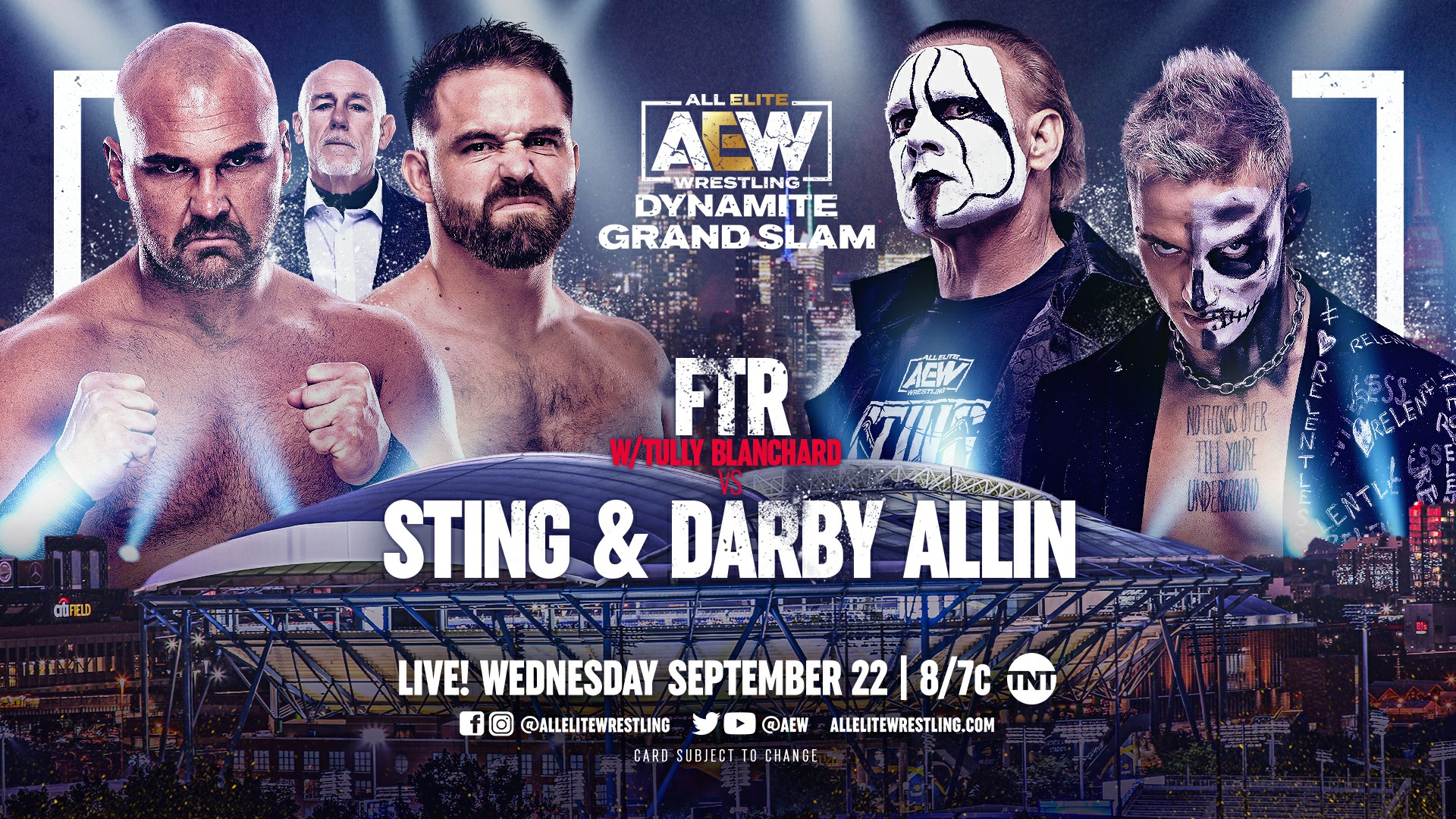 Darby Allin & Sting vs. FTR
Tully Blanchard has set his sights on Sting in recent weeks. The reason is not entirely clear at this point, but he finally gets Sting in the ring on Wednesday night. Sting and Darby Allin are teaming together to face one of the most dangerous tag teams in the world, FTR.
The big unanswered question is will Tully Blanchard and Shawn Spears play a role in the match's outcome? After last week's disrespectful removal of face paint, we know that the Pinnacle is willing to do anything to gain the upper hand in this feud. It will certainly be special to see Sting in a pro wrestling ring yet again. Let us hope we have many more of those moments in the future.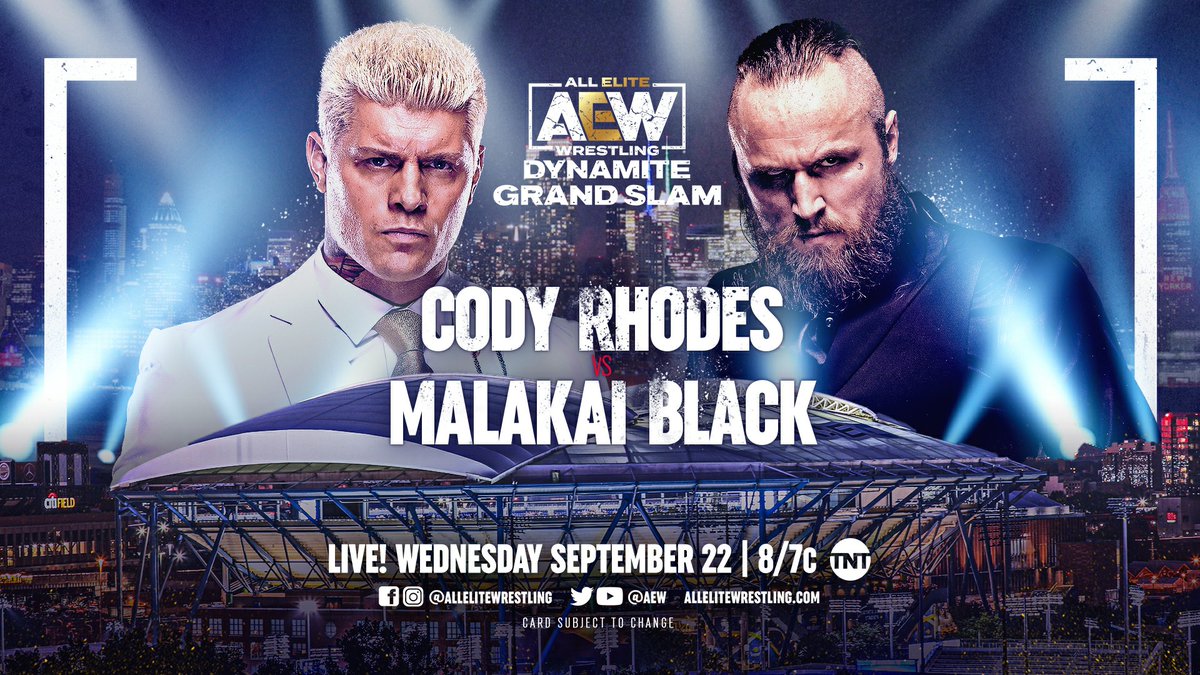 AEW Grand Slam 2021
Cody Rhodes vs. Malaki Black
On August 4th, Malaki Black annihilated Cody Rhodes in a twist squash match. Cody teased a retirement until he was attacked by Black yet again post-match. Since that night in Jacksonville, Black had taken out members of the Nightmare Family one by one. It is now time for Cody to get some revenge.
Black has quickly become an intimidating presence in AEW. His entrance is certainly among the best in pro wrestling. Will he be able to take out Cody Rhodes for good? If Black does, he could become one of the biggest stars in the world. If he doesn't, then Cody Rhodes could finally be back. The stakes are truly huge in this rematch.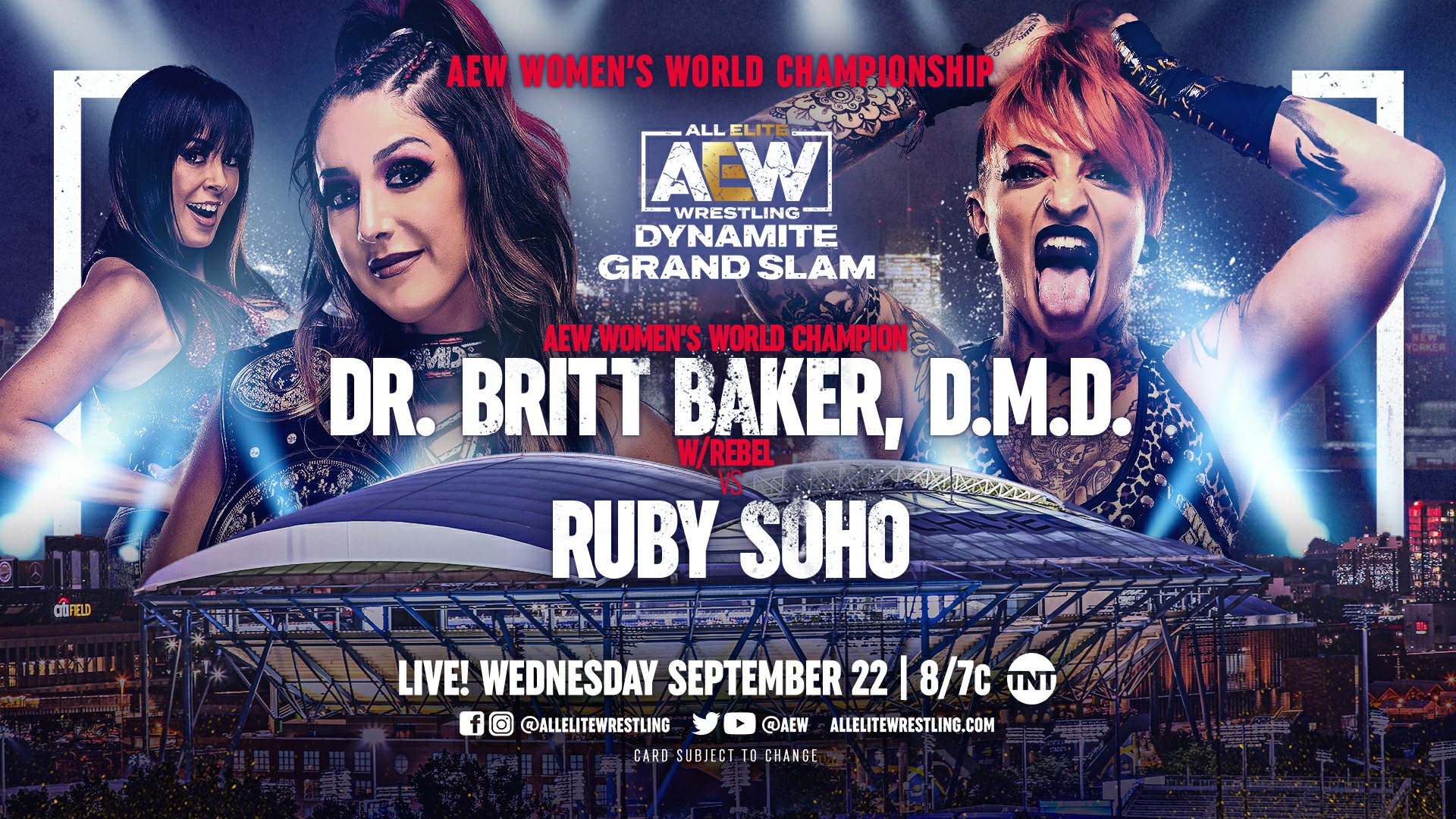 Britt Baker (c) vs. Ruby Soho
(AEW Women's World Championship)
Ruby Soho made her debut to an appreciative Chicago crowd at AEW All Out. She even won the Casino Battle Royale to earn a future AEW Women's World Championship match. The future is now. Ruby gets her shot against Britt Baker at Grand Slam.
The feud certainly jumped up a level on last week's AEW Rampage. Baker and Soho laid out some pretty great lines and threw some very personal insults at each other on Friday night. Soho is looking forward to proving herself on her biggest stage. She didn't always get real chances in WWE; this is her chance to showcase her skills on this massive platform. And maybe she can just take the AEW Women's World Championship as well.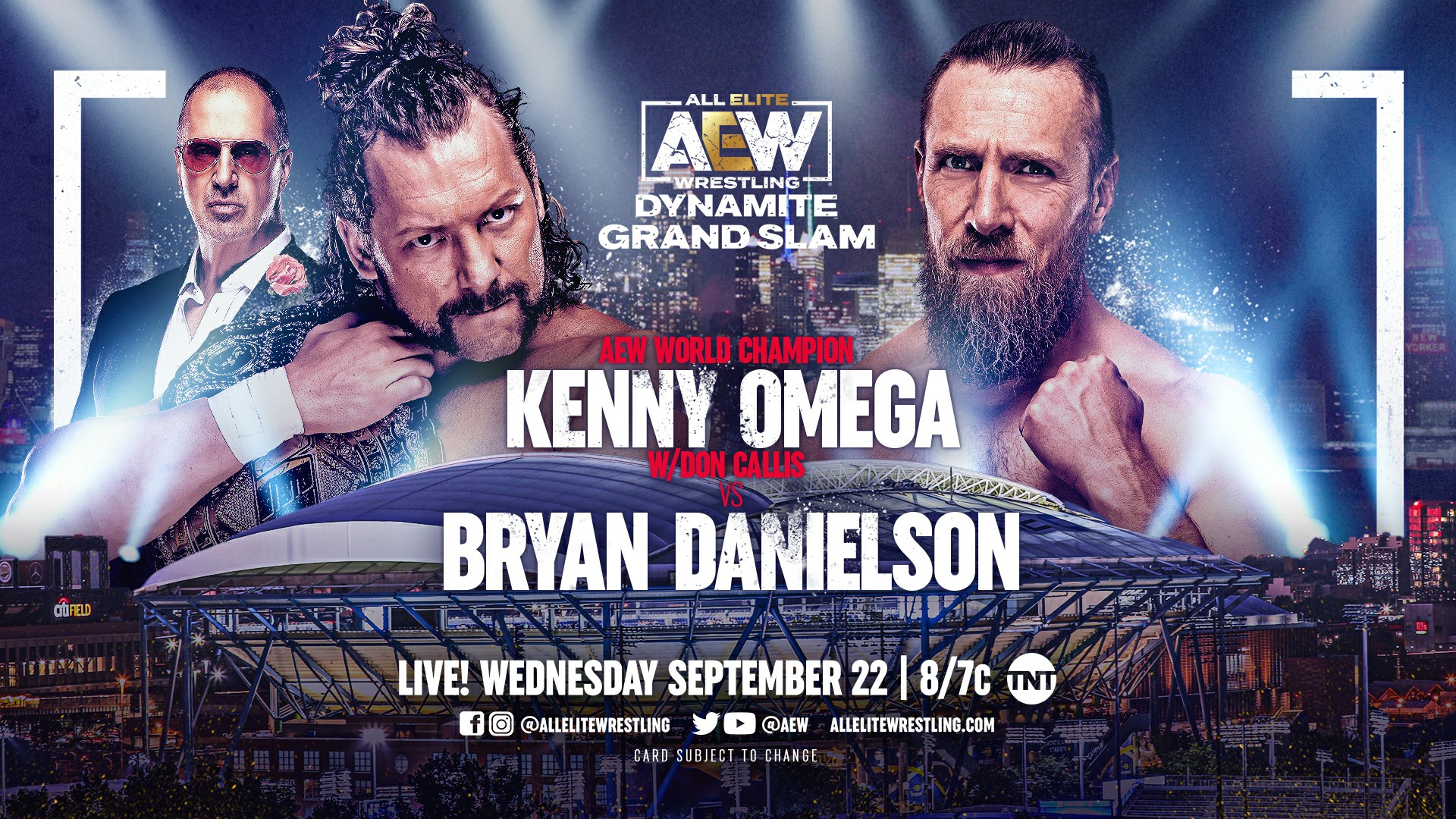 AEW Grand Slam 2021
Kenny Omega vs. Bryan Danielson
How can you not be excited for this dream match?
Bryan Danielson made his eagerly anticipated debut at the end of AEW All Out on September 5th. Danielson wasted no time and went after The Elite that very night. In particular, he set his sights on Kenny Omega, the AEW World Champion.
After a few weeks, Danielson got Omega to agree to a non-title singles match. This will also be Danielson's in-ring debut in All Elite Wrestling. And the fact it is between two of the best wrestlers in the world? We are in for a special main event in front of a massive and rowdy New York crowd.
The storyline possibilities for this match are endless. If Danielson wins, he gets pushed instantly into the title picture. If Omega wins, he shuts down another challenger. And what if another title contender interferes on Wednesday night? Whatever the outcome, here is hoping we get a twenty-minute plus in-ring classic we know these two can put on. It will be special for sure.
What Else To Expect:
What will CM Punk say before his huge match at AEW Rampage?

Will any surprise debuts occur at Arthur Ashe Stadium?

Will the New York crowd be the best in AEW history?
*****
Be sure to stay tuned to the Pro Wrestling Post for this and additional stories from the wrestling world. Readers can rely on Pro Wrestling Post to be their daily source for all things inside the squared circle. As a result, readers can expect daily news, history, and so much more. Please visit All Elite Wrestling's official website here for news and information on the promotion and upcoming events.