Welcome to the Pro Wrestling Post AEW Dynamite Weekly 6/3/20! After an explosive episode of Dynamite last week, tonight's show sees Cody's first TNT title defense. Tony Schiavone will be interviewing AEW's newest tag team FTR. Plus the AEW Tag Team Championships will be on the line. Throw in Jericho vs Cabana, Rose vs Swole, and more!. Let's kick off this review of this week's AEW Dynamite…
---
AEW Tag Team Championships
Kenny Omega & Adam Page vs Kip Sabian and Jimmy Havoc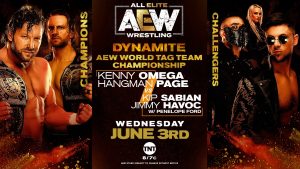 Penelope Ford accompanies Kip Sabian to ringside once more. Omega and Havoc lock up getting the match underway. It doesn't take long for Penelope to distract Kenny allowing Havoc to take control. Havoc and Sabian cut the ring isolating Kenny from his partner, Kenny manages to make the tag.
Page gets in the ring and takes out Havoc and Sabian allowing the champs to get a series of chops in on Havoc. Penelope
is removed
from ringside by the referee after a failed hurricanrana on Page.
Out of nowhere Havoc attacks Page with a wrench before he and Sabian take control. Hangman fights off his opponents and makes the tag to Kenny. Kenny transitions into a garage of moves ending in a backbreaker on Sabian. The champs
retain
hitting the last call on Havoc.
Winners – Kenny Omega and Adam Page
Next up we see the footage of
Tully
berating Spears after the comedy segment at Double or Nothing.
Tully
is shown
giving Spears a glove after telling him the search for a partner is over.
AEW Dynamite Weekly for 6/3/20
Brian Cage vs Sean Dean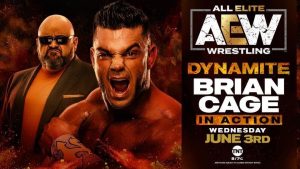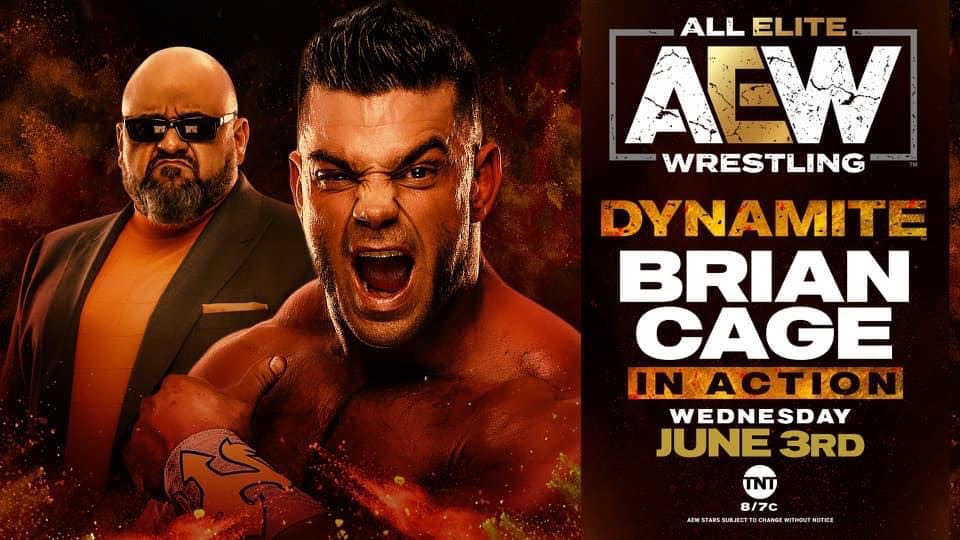 Cage enters the ring and attacks Dean from the first bell hitting a huge suplex. Brian sets Sean up for the Drill Claw and the match is over in a matter of moments.
Winner – Brian Cage
Taz then issues a warning to Moxley. He finishes his promo with the classic "beat him if you can and survive if he lets you". The AEW Heavyweight Champion then makes his way to the ring, taking exception to what Taz has said. Mox is then warned by Taz. Think very
carefully
before entering the ring.
The thought of going to war with Bryan Cage is what makes Moxley happy. Moxley warns Cage it won't be easy to take the title and to think before mentioning his name again.
Lance Archer talks to Alex Marvez. He says that everybody dies and one loss means nothing to him.
We next see Matt Hardy pay a visit to the Private Party. They seem awfully excited to see the Broken One.
AEW Dynamite Weekly for 6/3/20
Chris Jericho vs Colt Cabana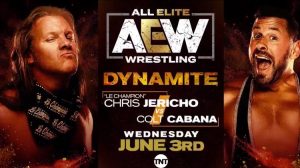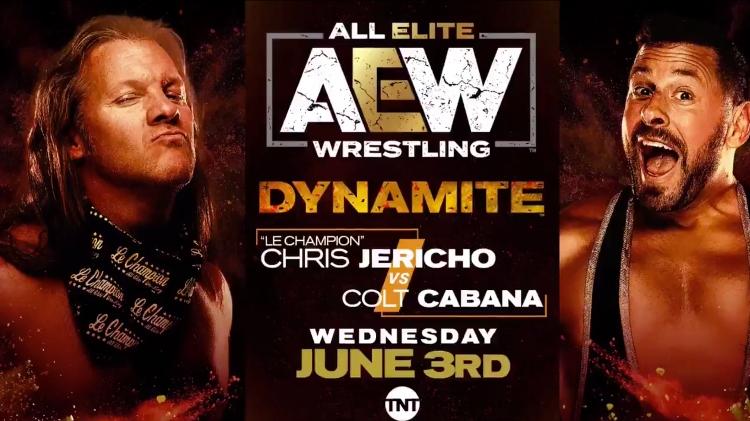 Jericho blames Colt for not knocking out Tyson last week, which leads us to this match. Jericho is lead to the ring by Sammy Guevara, attempting to Jericho's Fozzy theme.
Cabana strikes Jericho
repeatedly
and counters everything Le Champion throws at him. That is until Hager gets involved to send Cabana into the ring post. After the break, Jericho has control and is slowing the pace down and keeping the advantage on Cabana.
Jericho sets Cabana up for the superman to roll through to the Walls of Jericho. Colt tries to run up the turnbuckle but missteps before turning into a Judas Effect.
Winner – Chris Jericho
Jericho gets on the mic and tells everyone what happened to Colt will also happen to Tyson. Le Champion wants to taste the blood of Tyson and calls him out right here right now.
Jericho calls out for the baddest man on the planet. This leads to Orange Cassidy, sauntering down to the ring.
Cassidy rolls under Hager and Jericho's clotheslines before leaving through the crowd with Best Friends
.
It's announced that Fyter Fest will be a 2-night show. Page and Omega will defend the AEW Tag Team Championships against Best Friends. And Moxley will be defending his AEW Championship against Brian Cage.
AEW Dynamite Weekly for 6/3/20
Big Swole vs Nyla Rose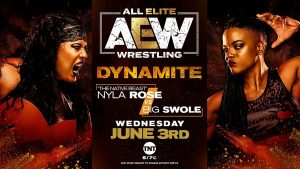 Swole takes on Nyla in her first match since losing the AEW Women's championship. Big Swole uses her quickness and wrestling ability to keep Nyla down. But Rose
eventually
uses her superior strength to stop Swole in her tracks. Some stiff shoulder blocks puts Swole down. Big Swole is able to tire Nyla out and comes close to getting an upset win. But Nyla's spinebuster is too much for Big Swole.
Winner – Nyla Rose
Britt Baker interrupts Big Swole after her match before
being driven
away from the ring.
Tony Schiavone tries to get a word from Darby Allin. He promises he'll have the last laugh over Brian Cage.
Tony then sits down with AEW's newest tag team, FTR. We find out can that FTR means whatever you want it to be. They talk up all the tag teams in AEW but omit the Young Bucks from the list. Tony asks why FTR didn't bring up the Bucks? FTR talks about having to read all the awards and accolades that the Bucks have. How angry FTR is about reading them. The Butcher and The Blade interrupt the interview and a match
is made
. Next week's Dynamite – The Butcher & The Blade vs FTR
Alex Marvez speaks to Colt Cabana. Colt's upset that he's not been able to get a big win.
Just
then The Dark Order approaches him. Brodie Lee tells Colt he can help him…
TNT Championship
Cody vs Jungle Boy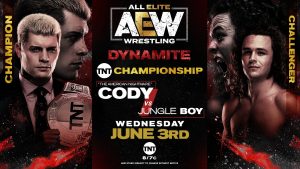 Jungle Boy won a Battle Royal on last week's Dynamite. Winning his shot at Cody's TNT championship tonight.
Both men wrestle and escape each other's holds to start the match off
quickly
. Jungle Boy hits a hurricanrana and ducks under Cody before Cody gets some strikes in at the corner. Cody starts working the legs to nullify Jungle Boy's speed. Jim Ross talks about the progression of Jungle Boy who now holds a sixty percent win record in AEW.
Jungle Boy hits Cody with a dive to the outside before Cody dumps him over the guard rail on the second attempt.
After the break, Cody misses a headbutt and connects with the concrete wall. Jungle Boy and MJF argue at ringside. Cody's head is
severely
busted open after the missed headbutt. Jungle Boy tries to capitalize in the ring. Cody is able to hit a bicycle kick to
temporarily
halt the momentum of Jungle Boy. Cody hits a delayed superplex from the second rope before Jungle boy counters a figure four. Both men fight on the top rope before both falling through a table at ringside. Cody gets it back in the ring and manages to hit a Crossroads on Jungle Boy for the win.
Winner – Cody
Cody celebrates his win and embraces Jungle Boy after the match in a show of respect.
---
Be sure to stay tuned to the Pro Wrestling Post for this and additional stories from the wrestling world. Readers can rely on Pro Wrestling Post to be their daily source for all things past and present inside the squared circle from around the globe. As a result, readers can expect daily news, history, and so much more. Please visit AEW's official website for more information as well here.